Galaxy S9 and S9+ US pre-order info, prices and release date included
Vlad, 26 February 2018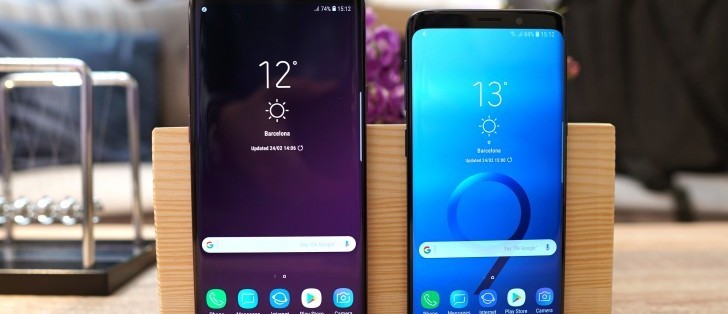 The Samsung Galaxy S9 and S9+ have taken over MWC today, and for good reasons. If you've already glanced upon our hands-on report, perhaps you're interested in exactly when you can order either one in the US and how much cash you'll have to pay.
In the States the phones will be sold by AT&T, Sprint, T-Mobile, US Cellular, Verizon, Xfinity mobile, Cricket, MetroPCS, Boost Mobile, Best Buy, Amazon, Costco, Sam's Club, Target, and Walmart.
They will be available in Lilac Purple, Midnight Black, and Coral Blue at all the aforementioned places except Cricket and MetroPCS which for some reason will only have the black versions. Note that the Enterprise Edition is just black too.

Pre-orders start on March 2, and the handsets will be released on March 16. Now let's take a look at the pricing and promotions.
Unlocked
Samsung.com and the Shop Samsung app will have the S9 unlocked for $719.99, or $30/month for two years. The S9+ will cost $839.99 or $35/month for two years.
You can save up to $350 with a qualifying trade-in, for a limited time. That sum will only be yours if you give up an S8/S8+ or iPhone X/8/8 Plus though. The full details are here.
AT&T
The S9 is $790.20 or $26.34/month for 30 months; the S9 Plus is $915 or $30.50/month for 30 months.
Verizon
S9: $799.99 or $33.33/month for two years; S9+: $929.99 or $38.74/month for two years.
You can save up to $350 with trade-in, and this is available to everyone (but a device payment purchase is required). The value will be provided as monthly credits. Like with buying unlocked, to receive the maximum amount you're going to have to trade-in an iPhone X, 8, 8 Plus, Galaxy S8, S8+, or Note8.
Note that Big Red will also give you a $150 prepaid MasterCard when you port in a new line of service. You can save 50% on select Samsung tablets with a two-year agreement when you buy one alongside the S9, and $100 off a Gear S3 smartwatch with the same conditions. Finally, a Samsung Fast Charge Power Bundle can be yours for $99.99.
T-Mobile
S9: $720 or $30 per month for two years with the Equipment Installment Plan (EIP) or $32 per month for Jump On Demand (JOD); S9+: $840 or $120 down then $30 per month for two years on EIP or $120 down and $31 per month with JOD.
You can get up to $360 with a qualifying trade-in, and you'll receive the maximum amount for any flagship that's an iPhone 6s, Galaxy S7, or newer. Bill credits are applied here too, so you'll need to purchase the S9 on the installment plan.
Sprint
S9: $792 or $33 per month with $0 down on Flex lease; S9+: $912 or $38 per month with $0 down on Flex lease.
Best Buy
The retailer will give you $100 off if you go with a Verizon, AT&T, or Sprint model, but only on March 2, the day the pre-orders begin. After that the discount turns into "up to $100", so it might be less for some carriers. Here too you can trade-in an older smartphone and get up to $350 off.
Related
Stupid, why not give 100 off for unlocked users as well best buy????
An awesome phone but with some annoying negative points(my personal opinion) 1-horrible Software, i hate Samsung experience or TouchWiz, it is just horrible. don't get me wrong it has really awesome features but ffs just make it a bit lighter an...
Popular articles
Popular devices