Honor 8 Pro review: Screentrooper
Screentrooper
GSMArena team, 25 April 2017.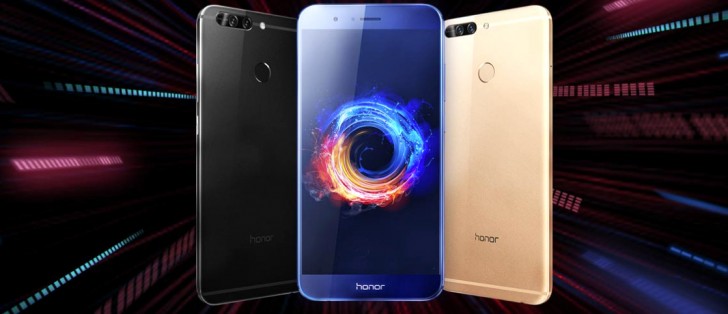 Gallery with Quick
EMUI 5.1 comes with an updated Gallery app. GoPro has partnered with Huawei to bring the Quik video editing app into EMUI's Gallery. With EMUI 5.1, Quik is responsible for all Highlights and custom video edits.
The gallery defaults to a timeline, which sorts your images by the date you've taken them. The pinch gesture is available for setting thumbnail size. You can opt for the standard Album view with all of your images sorted in different albums, and you can also have hidden albums, though that's more of an organizational tool than a privacy one - they are there when you hit hidden albums.
Highlights is a new gallery feature. By that we mean it isn't new for Android, but is now making its way to EMUI's default gallery app. While your phone is idle, the gallery will index your photos and sort them by places and people. GoPro's Quik integration generates video highlights from your best moments. It can detect faces and frame the picture accordingly, or it can even sync the whole video with music's beat. All of these new features are available in the new Discovery tab.
Opening a single image lets you quickly delete or rotate it, as well as gives you a host of sharing options. The info icon up top gives some pretty detailed information about the image, including a histogram.
The built-in editor is also pretty capable. It offers nifty light and exposure adjustments, including shadows and highlights. To top off the manual controls, there are also levels. If you prefer a more automated approach, there are quite a few filters (more than Instagram and Prisma combined) and beauty enhancements.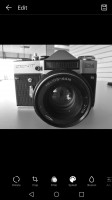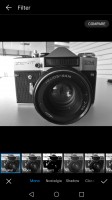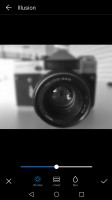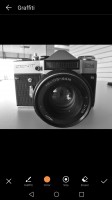 The image editor is quite capable
Video Player
By contrast, the video player is pretty basic. It still gets the job done, but the only extra features you really get are playback speed and a hovering windowed mode.
Music Player
The Honor 8 Pro has quite stylish Music app pre-installed. It offers four default playlists - songs, artists, albums, folders. You can create your playlists, too. The background of the app changes dynamically to match the album art, which is a nice little touch.
The Now Playing screen is pretty standard, it offers album art and lyrics. If you're especially into lyrics, you can have them overlaid on top of the homescreen.
Interestingly enough, we couldn't find any audio mixer adjustments. You can only opt for DTS setting on or off.
Audio output is very good
When plugged into an active external amplifier, the Huawei Honor 8 Pro delivered excellent clarity and average loudness. Since we don't often see issues with the accuracy of reproduction, we'd only call this par for the course.
Adding in a pair of headphones causes moderate damage to the stereo quality and introduces a tiny amount of extra distortion. The output is still nicely clean and we doubt anyone will detect issues with an untrained ear. The volume is once again average, but the overall performance is great.
| | | | | | | |
| --- | --- | --- | --- | --- | --- | --- |
| Test | Frequency response | Noise level | Dynamic range | THD | IMD + Noise | Stereo crosstalk |
| Huawei Honor 8 Pro | +0.04, -0.01 | -93.3 | 95.0 | 0.0018 | 0.0075 | -93.3 |
| Huawei Honor 8 Pro (headphones attached) | +0.15, -0.02 | -92.6 | 94.2 | 0.0023 | 0.100 | -63.9 |
| Samsung Galaxy A7 (2017) | +0.05, -0.28 | -91.9 | 92.2 | 0.0037 | 0.051 | -90.3 |
| Samsung Galaxy A7 (2017) (headphones attached) | +0.18, -0.05 | -91.0 | 91.6 | 0.019 | 0.230 | -57.9 |
| OnePlus 3T | +0.03, -0.01 | -94.3 | 94.3 | 0.0034 | 0.0063 | -93.4 |
| OnePlus 3T (headphones attached) | +0.53, -0.30 | -92.9 | 93.0 | 0.017 | 0.434 | -49.7 |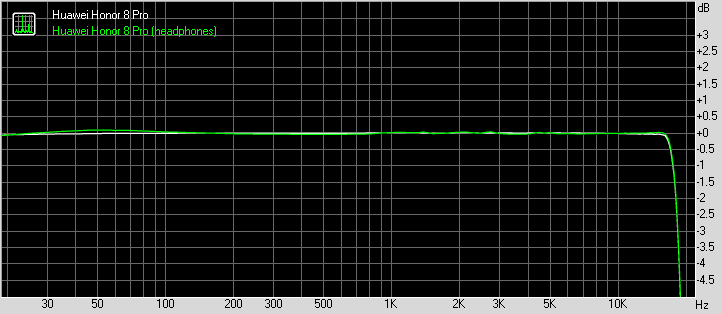 Huawei Honor 8 Pro frequency response
You can learn more about the tested parameters and the whole testing process here.
honor 8 pro.. its 6s not 7 plus or 8 calm down
honor 8 pro have face unlock option here?