Honor MagicBook Pro review
Ro, 10 September 2020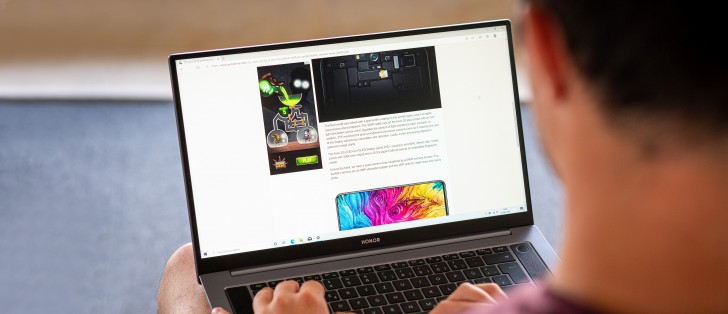 Introduction
Honor's MagicBook Pro isn't new, but the first edition was only available in China. Yet now that it got equipped with AMD's new Ryzen 5 4600H CPU its availability is expanding to global markets. Based on AMD's Zen 2 architecture utilizing the 7nm manufacturing process, this CPU is still ahead of Intel, and we believe it's also the better configuration in 2020.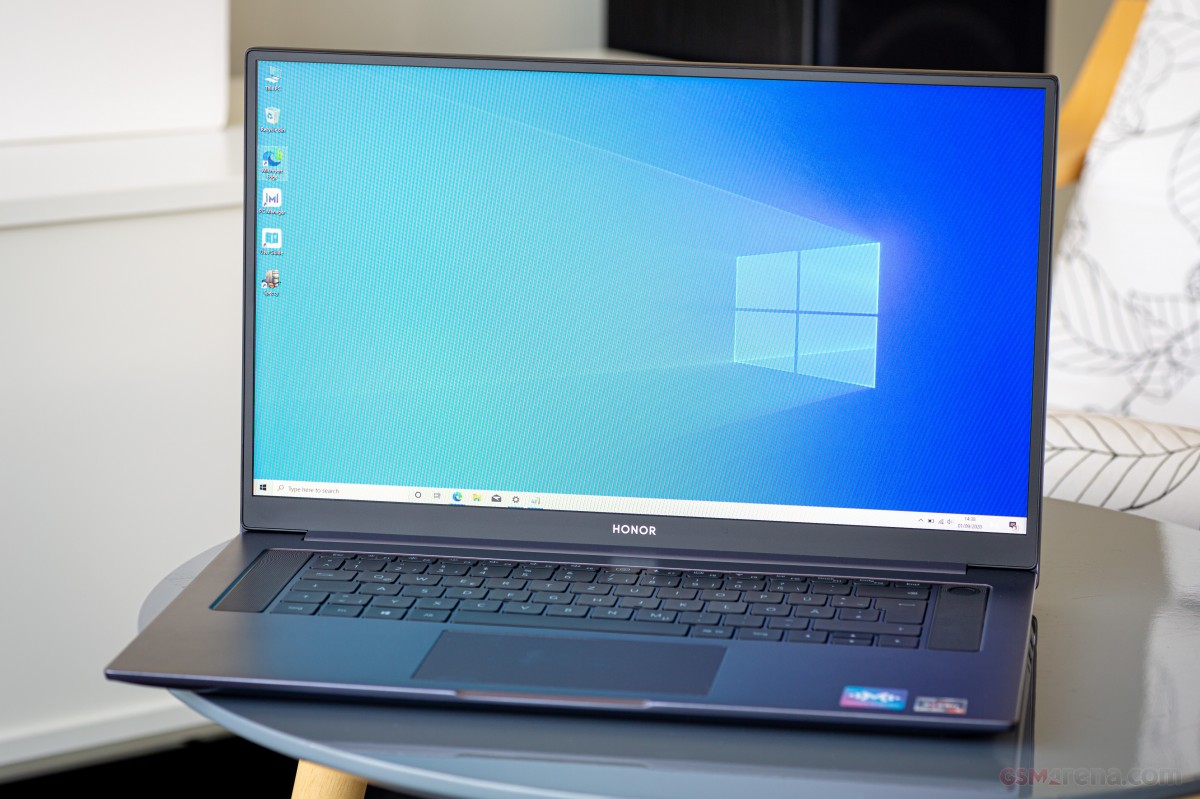 Despite the H CPU instead of the low-power U series the 16.1-inch MagicBook Pro doesn't have a dedicated GPU. And there are two reasons for that. For one, it's oriented towrds productivity and media-consumption and secondly, Honor believes it doesn't need one. Whether you agree with that largely depends on your needs. The integrated Vega GPU is fully capable of handling from light to moderately complex GPU tasks performing roughly on par with NVIDIA's entry-level GeForce MX250 discrete GPU. So light gaming is very much on the cards.
The MagicBook Pro also finds a niche of its own having a combination of two features - low price and big 16.1 panel. And that panel is IPS too. Asking just €900 - or €800 if you are fast enough - the Pro doesn't fall behind its smaller 14 and 15-inch siblings in terms of price/performance ratio.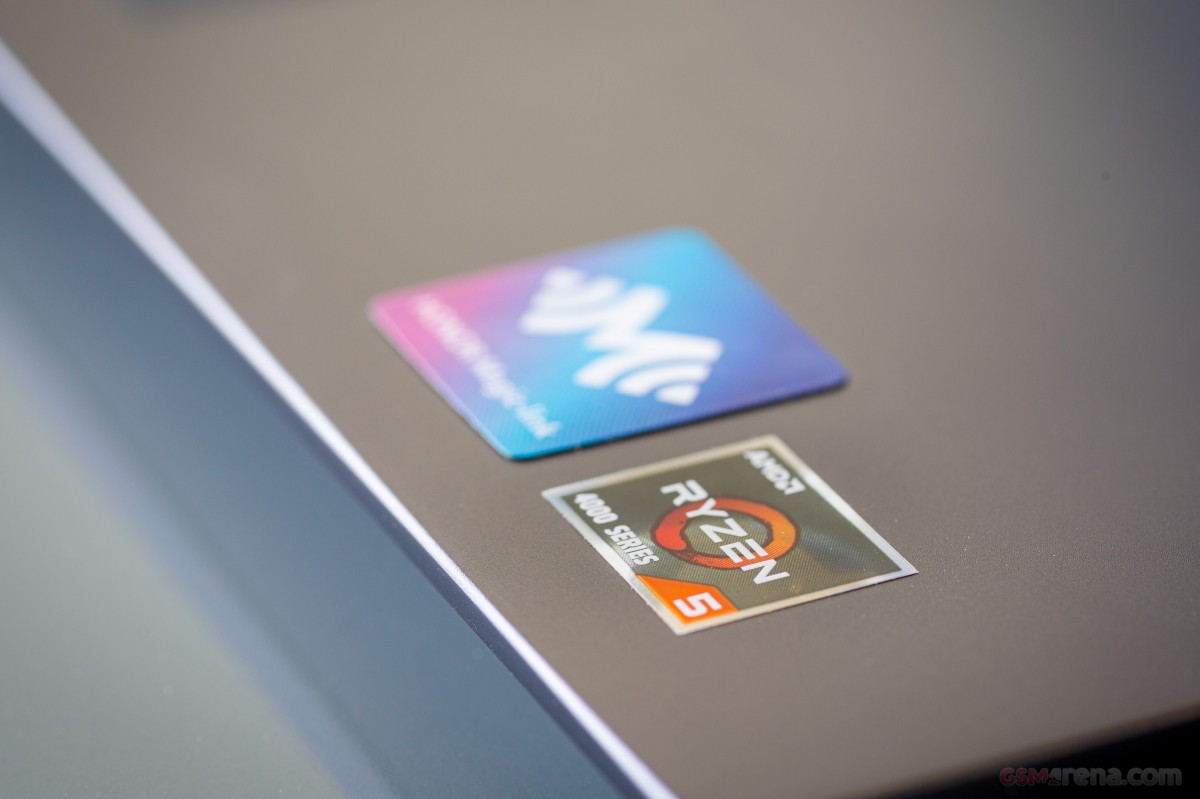 Still, some compromises needed to be made. Many would expect a productivity-focused 16.1-inch laptop to come with a numpad, while some might find the weight a dealbreaker altogether.
Design and input devices
The MagicBook Pro adopts a similar, if not identical design to its smaller 14 and 15-inch siblings. We get those razor-thin bezels around the screen, all-aluminum chassis and overall sturdy construction. We didn't find any excessive flex around the interior nor around the lid.
The latter is attached to the base with a very sturdy hinge spanning across the body. We feel that this design is rather necessary given the size of the display in order to provide stable support without flex. Unfortunately, though, the hinge is a little stiff so it takes two hands to open up the laptop.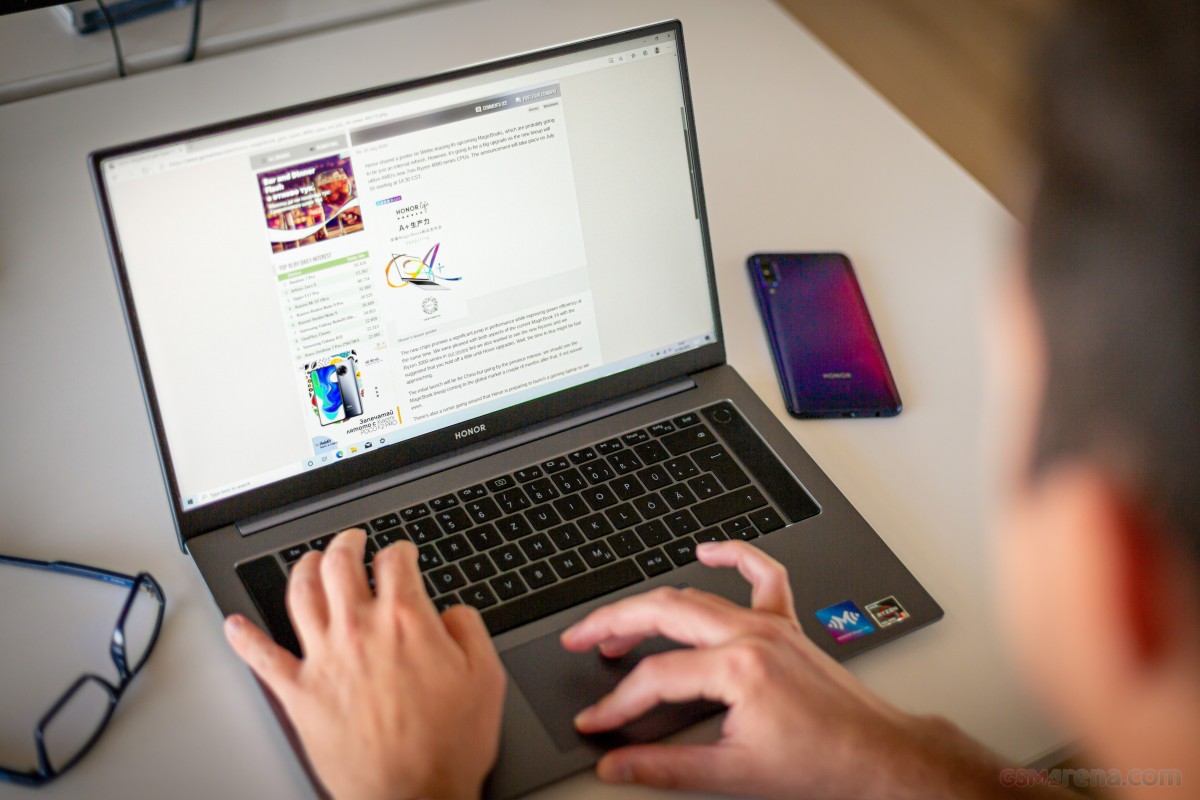 Speaking of the display, its diagonal is 16.1 inches and Honor says it can almost fit inside a standard 15.6-inch chassis. Seeing how the majority of 15.6-inch laptops in this price range use very thick bezels the claim is very valid.
Still, 16.1" is a lot and you can definitely feel that when carrying the MagicBook Pro's 1.7kg body around. Then again, to put things in perspective many of the 15-inch laptops weigh more while the 17-inchers often cross the 2kg threshold. So it's not the lightest laptop around, but if you are after one of those you should look into smaller form factors. And for its size the MagicBook Pro is actually doing a good job.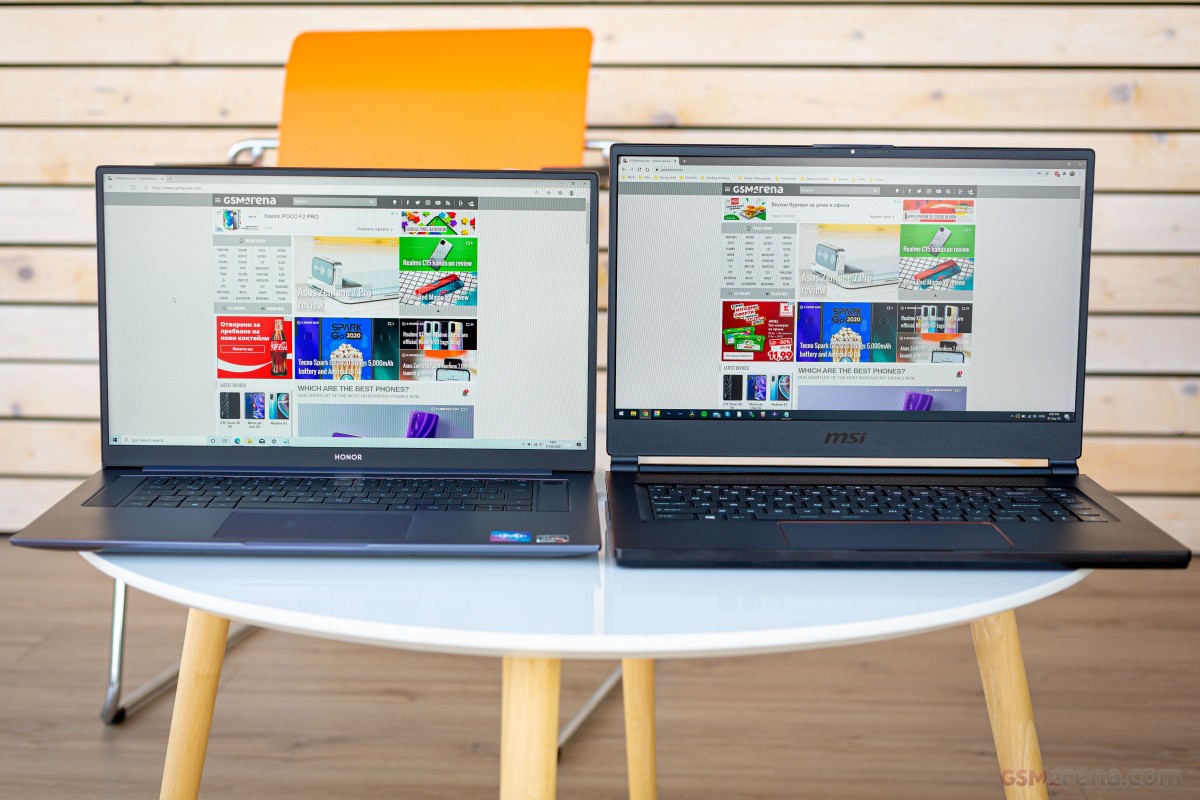 The 16.1-inch MagicBook Pro next to a 15.6-inch MSI GS65 Stealth
To go in line with the Pro moniker, Honor has removed the accented logo and chamfered edges around the lid. We really liked those on the 14-inch model we reviewed earlier this year and we are sad to see them axed in the Pro variant.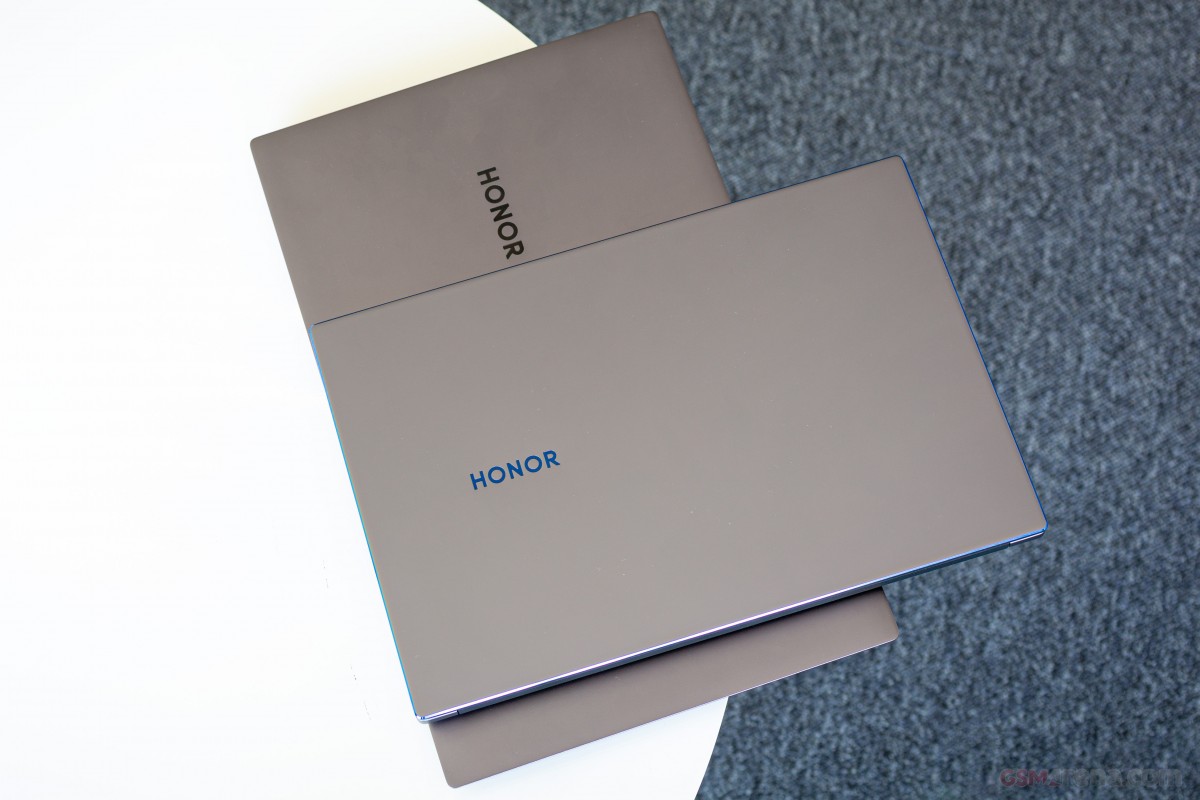 MagicBook 14 on top of MagicBook Pro
In terms of I/O Honor did a solid job, although ideally we'd have another USB-C connector - one on the left and one on the right so you can be more flexible with the charging. But this is definately nitpicking because there's an abundance of connectors and the provided USB-C connector supports DisplayPort out and 5Gbps transfer speeds. It's needless to say that charging won't be possible when you plug in an external monitor.
Anyway, the USB-C on the left side is accompanied by an HDMI port and a USB-A connector (USB 3.2, Gen.1, 5Gbps). Two more USB-A ports sit on the right side alongside the 3.5mm audio jack.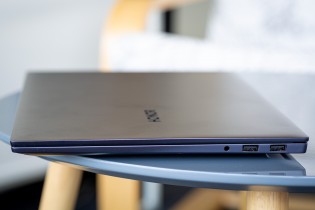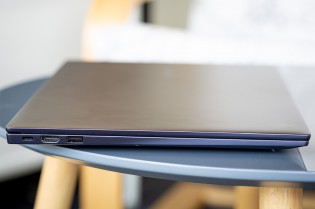 The MagicBook Pro from the side
The keyboard and the touchpad are a tad less impressive compared to the 14-inch MagicBook. It's not a major difference with the overall experience broadly the same but you would expect the more expensive product to do better and not worse.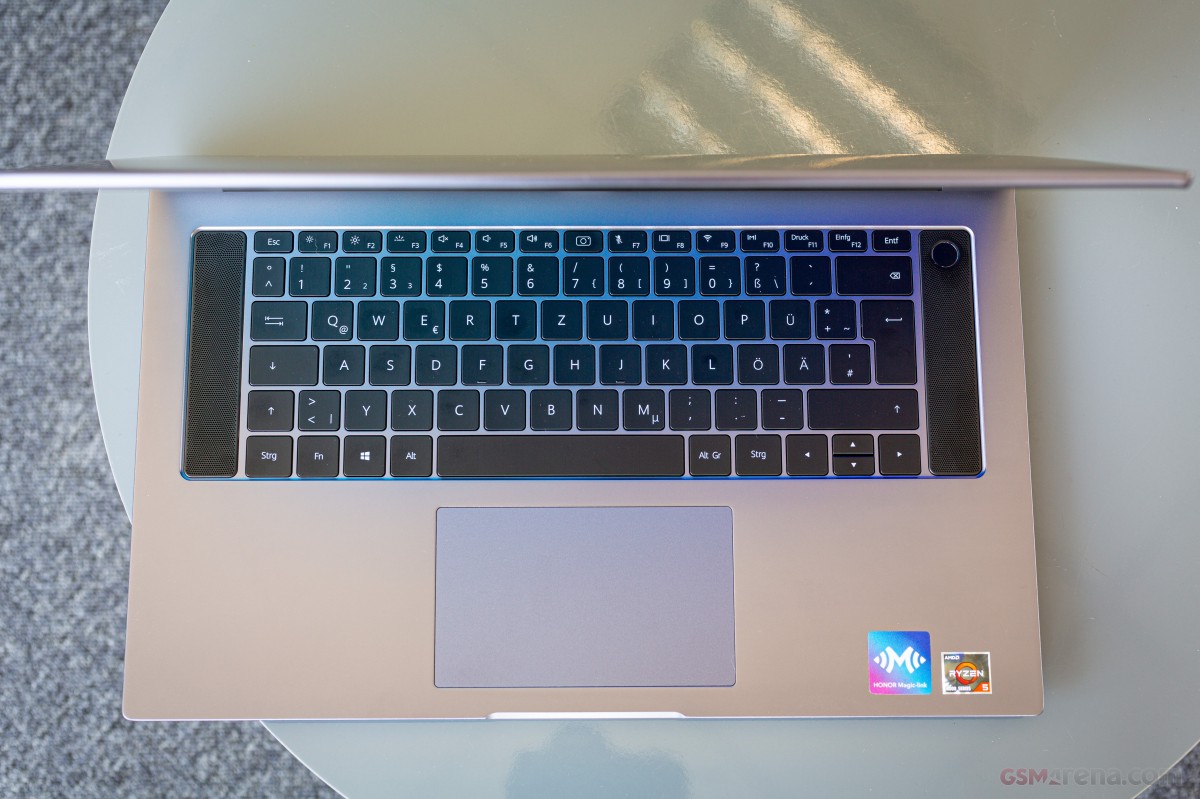 The keyboard is a bit shallower than the MagicBook 14's and it's not quite as clicky. If you are a fast typer and like to hover above the keyboard, the keys feel somewhat mushy. The tactile feedback is there, it's just barely noticeable.
The missing numpad is partially made up for with a pair of front-facing speakers. It's a move clearly indicating that multimedia consumption was higher on the priority list than productivity.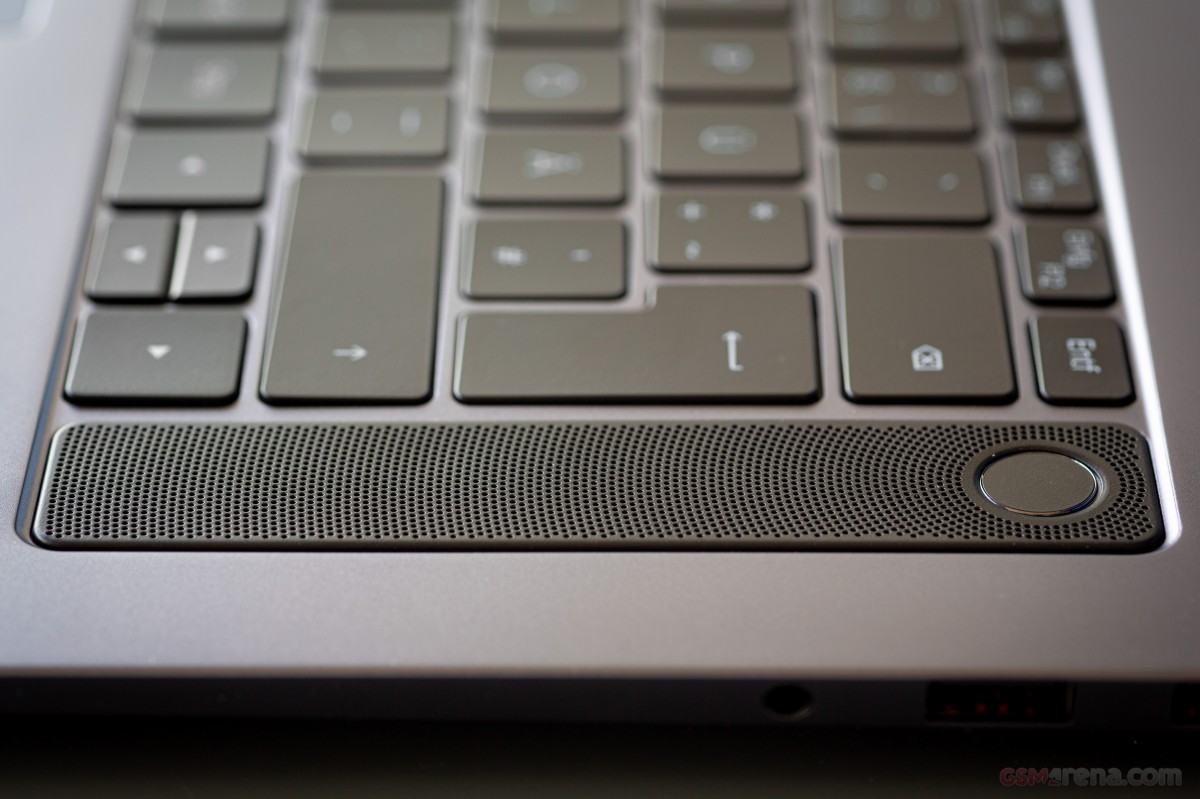 As an added bonus it also allowed Honor to center its touchpad, which by the way is large enough, if not quite the largest around. The 14-inch iteration has a touchpad with roughly the same size.
When it comes to functionality, it's a bit of mixed bag. The finish has a bit of resistance as fingers don't slide as smoothly. It's also a bit on the stiff side requiring quite a bit of a press to make a left or right mouse click.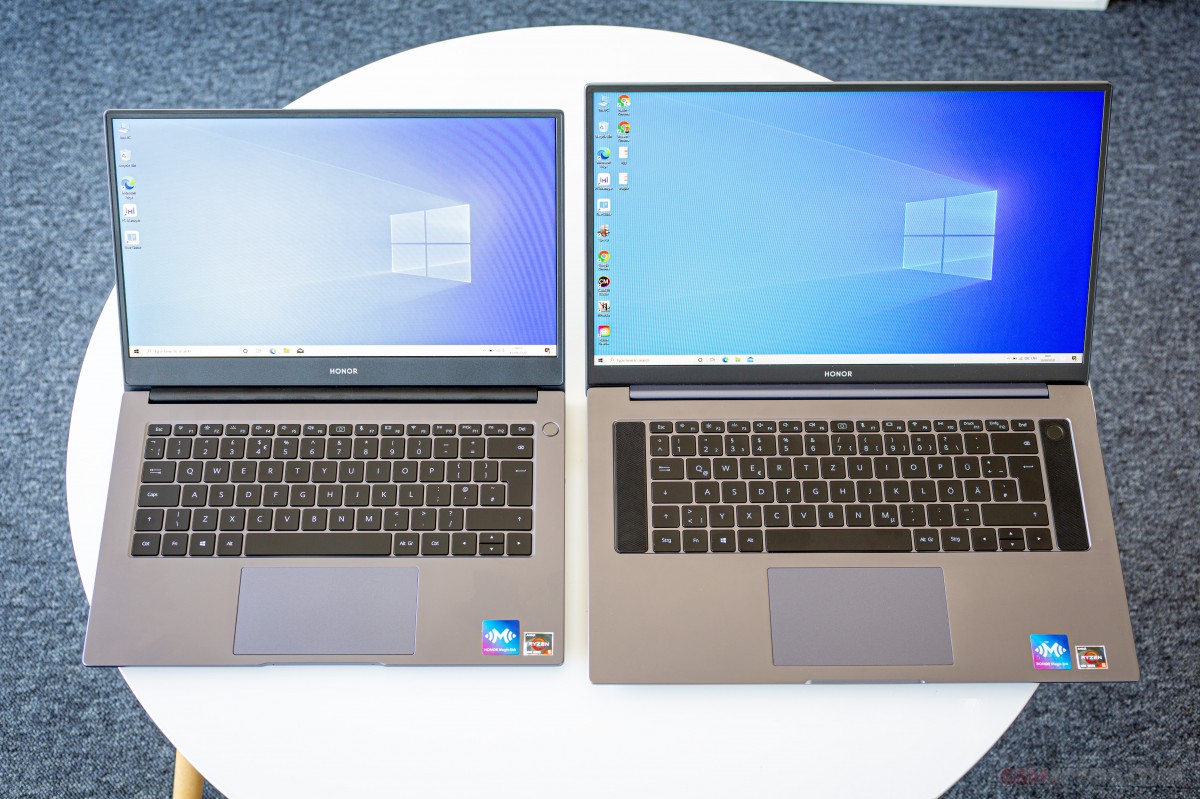 MagicBook 14 and MagicBook Pro
We felt the 14-incher's touchpad is easier to glide your fingers over and click. On the upside accuracy and consistency are just as excellent. The acceleration might come off as a little slow, though, so getting used to will take some time.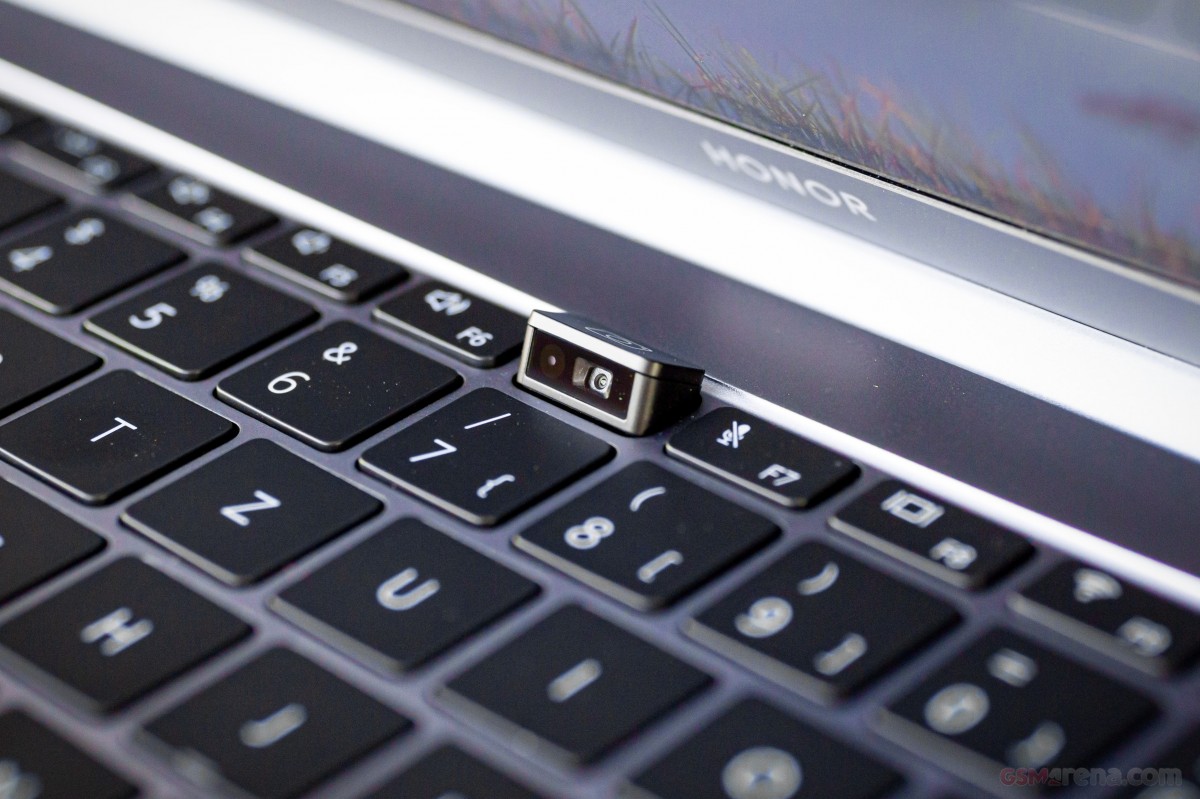 As for the fingerprint reader, it's integrated into the power button and we found it to be super fast and reliable. You can even turn on the system with a single tap and if you keep your finger just a little longer, the laptop will boot into the OS directly without asking you for identification.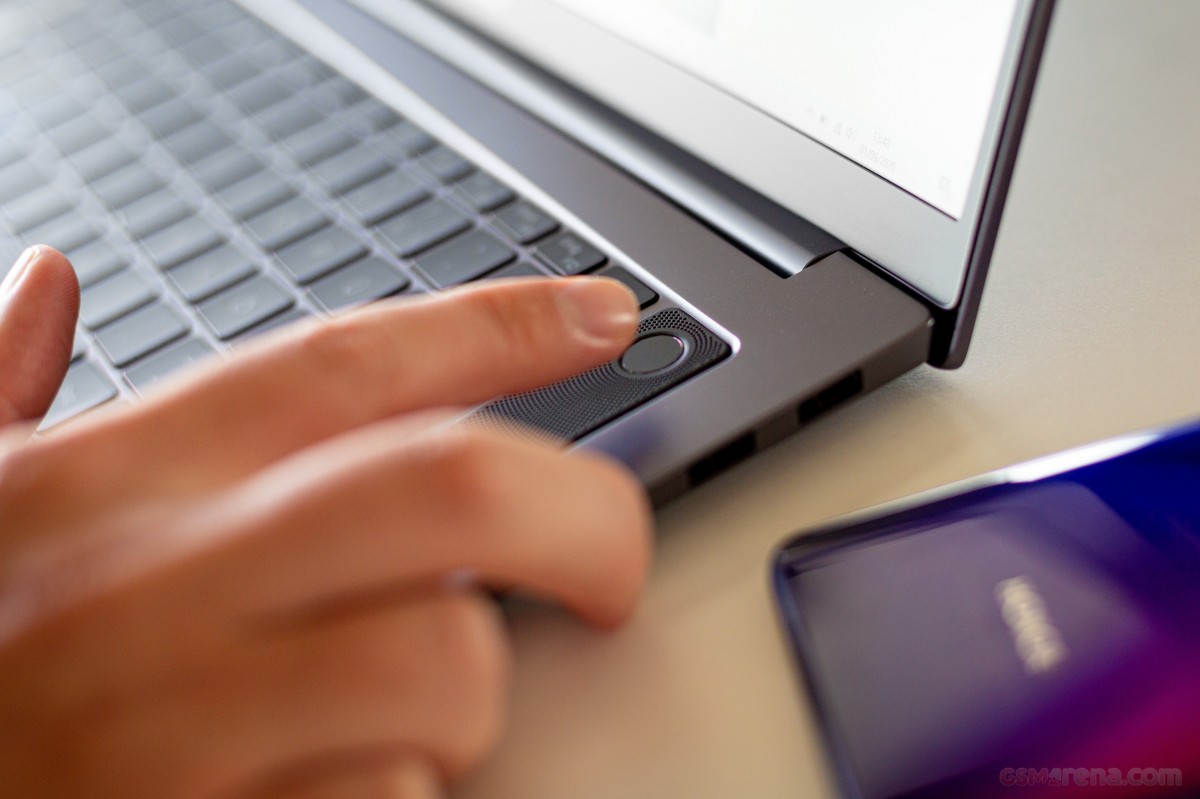 Display and sound
The notebook features a gorgeous 16.1-inch display with minimal bezels around. Even the bottom bezel is considerably smaller than what we are used to seeing which is the reason the webcam was moved inside a pop-up key on the keyboard positioned right between the F6 and F7 keys.
The panel has 1920 x 1080px resolution at 16:9 aspect ratio. We would have preferred a more squarish aspect ratio like 3:2 when it comes to productivity, although even as is the 16-inch diagonal gives you a big canvas to work with.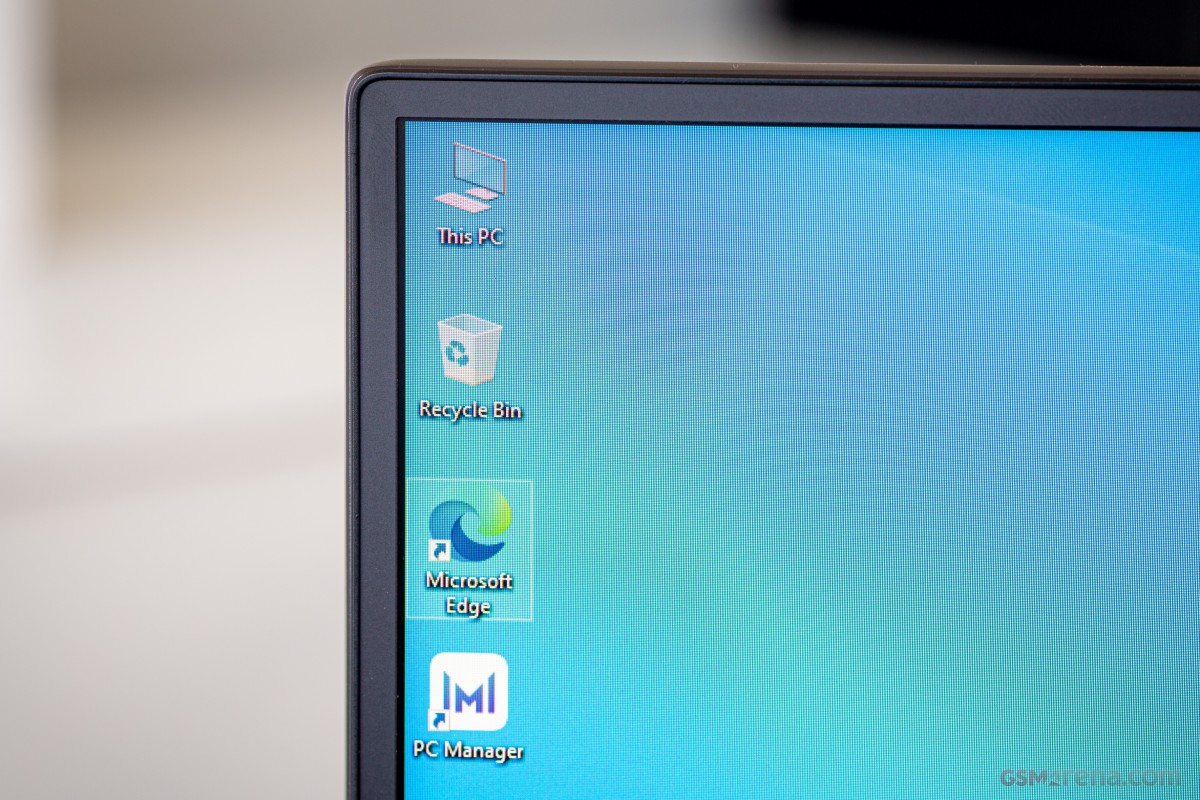 The maximum brightness we were able to measure on a fully white screen is 333 cd/m2 which is well above the advertised 300 nits. This makes it suitable even for outdoor use and the matte finish of the screen makes the viewing experience much more comfortable. The matte finish doesn't add grain while the contrast ratio is close to 1600:1 - again way above the advertised 1000:1. This means deep blacks, as far as LCD panels go.
Unlike the 14 and 15-inch models, this one uses a Chi Mei-made IPS LCD panel with model number N161HCA-EA3. It's a Taiwan-based company with significant if not necceserily huge market presence in the field. We suspect that there still aren't many 16.1-inch panel orders so Honor didn't have plenty of choices to begin with.
In any case, watching movies, displaying any kind of content and even working on this roomy 16.1-inch panel is a pleasure.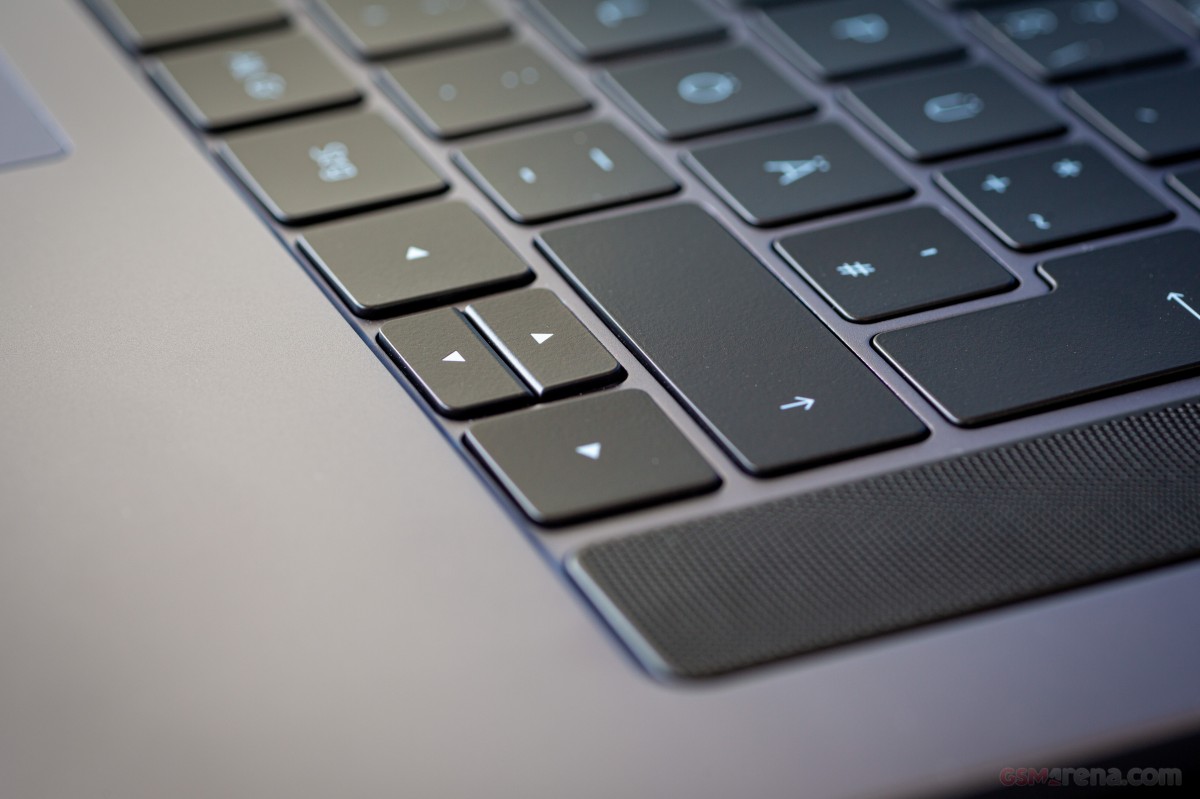 For complete multimedia experience, Honor used that extra space for stereo, front-facing loudspeakers. They fire directly at you and offer Nahimic audio software for fine-tuning. The sound itself is quite impressive for a laptop but as is often the case with thin and light machines, the bass is lackluster and the sound starts getting distorted at higher levels.
Again, those are minor issues and overall the Honor MagicBook Pro impresses with great clarity. Our only real complaint would be the maximum level. We would really appreciate if the next iteration boosts the maximum volume.
Battery life
For a 16" notebook, the 56Wh battery is about average. It's identical to the battery found inside the 14-inch MagicBook, even though Pro has a considerably more power-hungry CPU too - 45W vs 15W on the 14-incher. Which, of course, means that the battery endurance isn't nearly as impressive.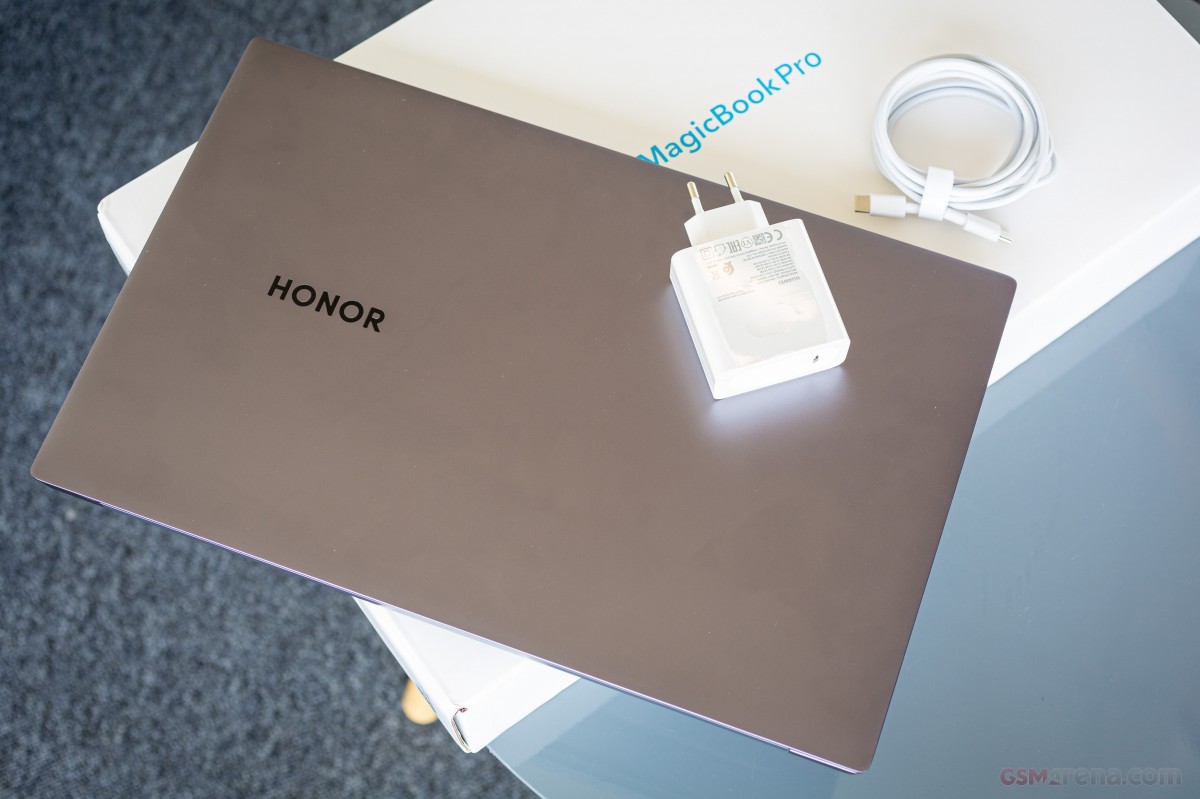 We still managed to get almost a full day of under normal usage, meaning browsing, typing and some video streaming as well. We also ran two battery tests - web browsing and video playback. In both scenarios the display brightness was set to 50%, which we found more than comfortable for typing in a well-lit room. On the web browsing test, the battery lasted 11:56h while a YouTube video playing on loop, the laptop went for 8:53h.
Those readings aren't chart-topping but they are decent enough not to bash the laptop for bad battery life. And the supported fast charging to 50% in just 30 minutes is a great feature to have and should mitigate the lack of extra long endurance.
Hardware and upgradability
The MagicBook Pro stands out as the performance-oriented laptop in Honor's portfolio, hence the beefier CPU options. While the 14 and 15-inch flavors settle for 15W TDP chips, the 16-inch variant utilizes a 45W TDP CPU from the H-series. The Ryzen 5 4600H is the heart of this machine carrying an integrated, yet relatively powerful Radeon RX Vega 6 GPU.
The CPU consists of 6 physical cores each having two logical cores bringing up the threads to 12. Since the chip is based on AMD's optimized 7nm manufacturing process and is built on the Zen2 architecture, the maximum operating frequency of all six cores reaches 4GHz with Turbo boost, although for a short period of time. In order to sustain a 45W TDP, the processor dials down to 3.7GHz on all six or 4GHz on a single core depending on the task at hand. The base core clock is 3GHz.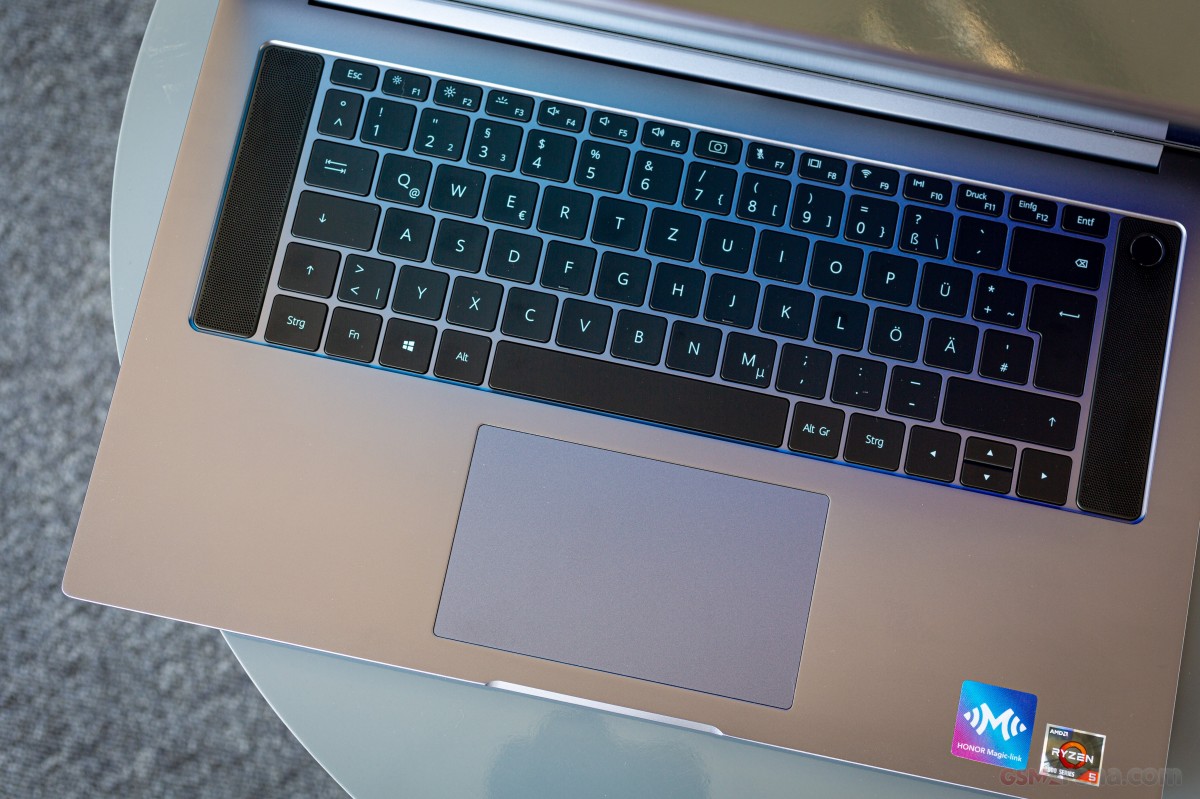 As for the GPU, it has six cores clocked at up to 1.5 GHz that provide a similar performance to a discrete Nvidia GeForce MX250 GPU. Which in turn means that some light gaming on this machine is possible.
Synthetic or real-world performance, no issues with the Ryzen 5 4600H. The chip handles pretty much everything you throw at it. Synthetic benchmarks show that the CPU has an edge over its direct competition, the Core i5-10400H, for example, and punches above its class matching the performance of the higher-end Core i7-10850H processor. After all, the direct rival of the Ryzen 5 CPU has a 4/8 core configuration while the Ryzen 5 4600H boasts 6/12 core configuration.
However, the biggest advantage of AMD's high-performance CPUs are the iGPUs inside. Benchmarks and gaming tests show decent gaming performance even in modern games. It all depends on how well the system's cooling design is and how much you are willing to trade visual fidelity for performance.
Moving onto memory, the laptop offers 16GB of 2666 MHz DDR4 memory and 512GB PCIe NVMe SSD (a WD SN730). The good news is that the latter can be further upgraded in the future and the bad news is that memory is once again soldered so you are stuck with what you have.
Cooling performance and system stability
So what about system stability and temperatures? We ran a standard CPU + GPU stress test for about an hour to check how the cooling system handles high loads over time. Do keep in mind that this is not an accurate representation of real-life use. It tests the hardware in extreme scenarios that wouldn't normally occur. After all, no one will utilize 100% of the CPU and GPU for such a long time.

We used the FurMark software to do this so we put all 12 threads at 100% load and the CPU managed to sustain 4.0 GHz on all six cores for a couple of seconds before defaulting to 3.6-3.7 GHz for the duration of the CPU stress test. After about an hour, the CPU's temperatures reached 84 °C while the clock speed for all six cores was 3.6 GHz. This speaks of very good thermal design.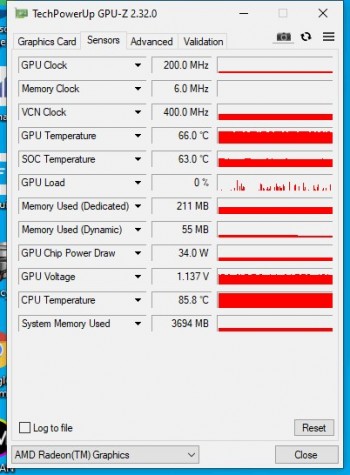 After an hour, we started the GPU stress test alongside the CPU one and as a result, the CPU's clock speeds fell to a 3.2 GHz, to give enough headroom for the GPU. The temperatures also fell down to 80 °C.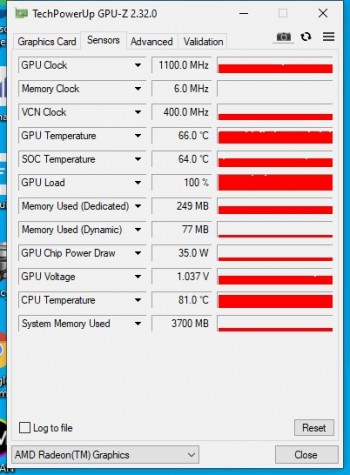 The best part is that the exterior didn't get too hot despite the heavy load. The only hot part was around the F-key row while the center of the keyboard and the wrist rest area remained cool throughout the whole test. This means that even if you go to the extreme by stretching the hardware to its limit, at no point you would feel discomfort.
Speaking of comfort and cooling, it's time to say a few words about the cooling system. Honor is very proud of its design, which consists of two cooling fans - one big and one small and each one is connected to the main heatsink using separate heatpipes. To anyone who is familiar with the typical notebook cooling design, this isn't exactly ground-breaking but it seems to be doing its job just fine. Even with a high-TDP processor like the Ryzen 5 4600H, the system is able to keep it cool.
More importantly, we didn't find the cooling system annoyingly loud and we didn't hear a flinch from the fans when using it for normal everyday tasks like office work, web browsing and multimedia. In fact, we found it to be more quiet than its 14-inch counterpart with its ultra-low voltage processor at 15W TDP. Perhaps the extra heatsinks and pipes dissipate the heat enough to offload the fans.
Software
The notebook comes with pre-installed Windows 10 and for this review, we had every Windows update installed on the machine. Aside from the so-called PC Manager app, there's not much to talk about really. Which is a good thing as you won't need to uninstall a bunch of bloatware. You could argue that even the PC Manager app isn't necessary but if you are using an Honor or Huawei phone and you want to sync your phone to the MagicBook Pro, you have to keep that one installed.
The sync function uses the NFC chip hiding right under the right side of the wrist rest area and once synced, you can reply to messages, receive notifications and even make phone calls right through the notebook.
Verdict and alternatives
The most obvious competitor of the MagicBook Pro is Apple's MacBook Pro 16 due to the display size. The latter, however, costs nearly three times as much and the Core i7 version of Apple's 16-incher falls behind in terms of efficiency and performance. There's no denying that the MacBook Pro 16 offers the better user experience overall - battery life, display, input devices and build, but there's also little doubt that the Honor device is much better value for money.
But aside from the MacBook Pro 16, the Honor MagicBook Pro has virtually no competition. For the asking price of €900 (€800 if you are fast enough), the laptop delivers in many ways other notebooks don't and it's the only 16.1-inch option on the market to offer that kind of hardware around that price point. The HP Pavilion Gaming 16 matches the size but as the name implies, it competes in a totally different category.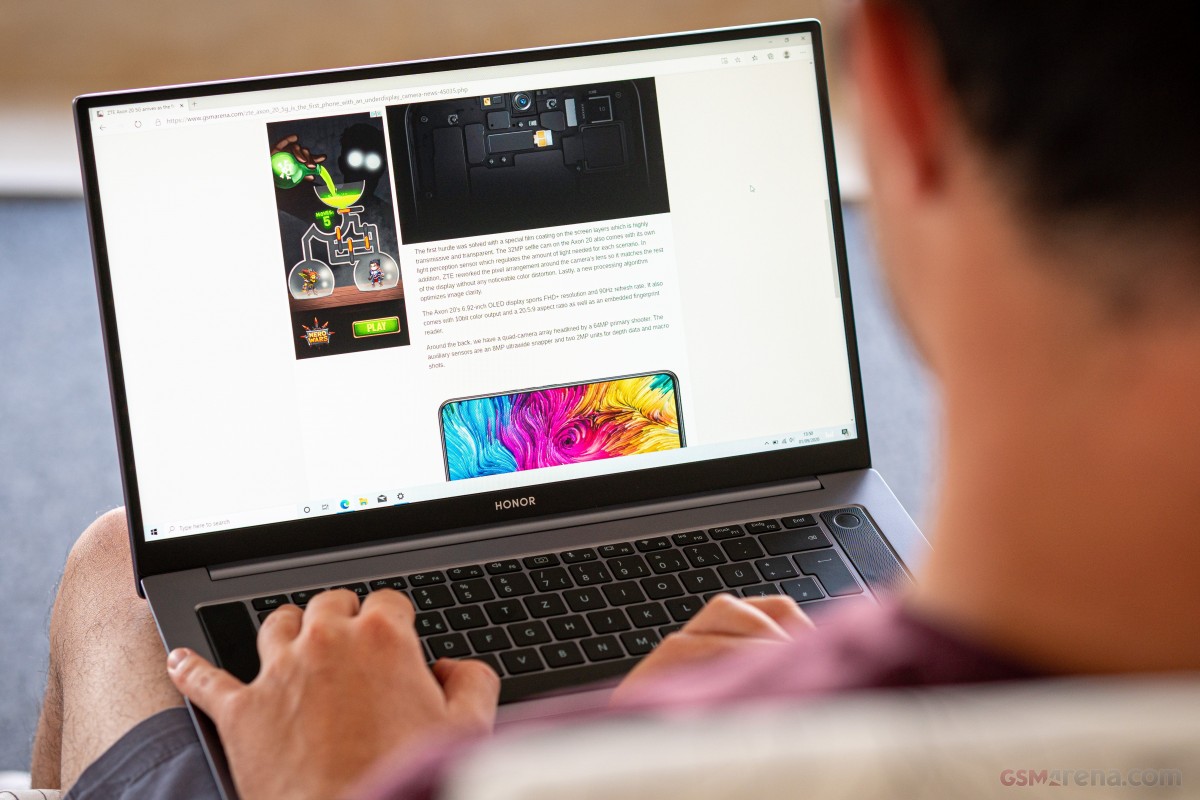 We called the 14-inch MagicBook a unicorn but with in the current landscape that description is more appropriate for the Pro model. Honor is getting really good at finding a comfortable spot for its products and combined with the excellent price/performance ratio on all of its notebooks, it's no wonder people are searching for Honor's Windows devices.
Despite the rather short keyboard travel, average battery life, quirky touchpad and suboptimal webcam positioning, the MagicBook Pro is an easy recommendation for anyone looking for powerful workhorse with big screen on the cheap.
We think that the limited upgradability should be your only concern, but with 16GB RAM you should be doing well for the forseable future. We suspect that the Ryzen 5 4600H CPU will go strong for years to come too.
And in case portability and battery life are high on your list of priorities, the 14-inch MagicBook would provide a great alternative, leaving you in the Honor family.
Pros
Excellent build, nice and clean look.
Big and bright 16-inch IPS panel.
Outstanding price/performance ratio.
Battery life is dependable, fast charging is a nice bonus.
Loud and great-sounding loudspeakers.
The I/O configuration is rather nice.
Quite portable for a 16-inch laptop, but at 1.7kg it's hardly a light device.
Cons
We expected a bit more from the touchpad and keyboard.
Limited upgradability (RAM is soldered).
Cool but suboptimal web cam placement.
Related
Anonymous
09 Jul 2021
tZ4
unless its using intel, thunderbolt is not available... at least while this model was designed, as thunderbolt is produced by intel. how many machines have you seen that run a AMD processor provide thunderbolt? usb3.1 / usb 4 does the same thing as a...
How to innstall SSD/HDD drive? what parts do we need?
Anonymous
19 Dec 2020
ucs
It's 2020 and Huawei decides that Thunderbolt 3 is unnecessary? What are they thinking??
Popular articles
Popular devices
Electric Vehicles