HTC Desire Eye review: Undercover flagship
Undercover flagship
Orlin Milinov, 24 November 2014.
HTC Zoe
HTC Zoe is a mini social network centered on sharing photos and videos. A landmark feature is the cool Highlights videos, which are created automatically for each album.
HTC Sense 6 features Zoe as a standalone multimedia app, which requires you to sign in with your HTC, Google, or Facebook account the first time you open it. Captured photos and videos are automatically compiled into a Zoe video highlight reel.
Creating a Zoe is easy. You simply choose from the available images and rearrange them in order you like. Themes and soundtracks are available in case you want to be extra creative. Once finished editing, you can easily share Zoes.
Zoe also allows you to collaborate with friends on the same project (the creativity suite is available for iOS too). You can send requests and combine your media content into the same Zoe.
Slideshow-happy gallery
The regular image gallery stacks photos together in albums, which can be organized by the date they were captured or the source they come from. Location-based sorting is also available.
As usual, there is an array of available options at your disposal. You can edit, share, highlight, and delete images. You can also set them as backgrounds, assign them to contacts, add them to a specific album, or print them.
Once you open an album, the first and biggest thumbnail is reserved for slideshows. Once you tap it you can customize if you want an effect added over the photos and what sort of music you would like to play.
The gallery supports viewing your images in their full resolution. You can easily pinch-zoom to 1:1 magnification.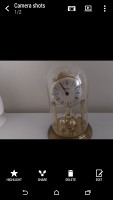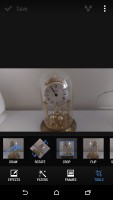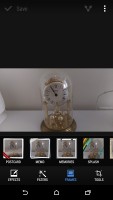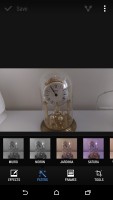 Looking at and editing a photo
The display on the HTC Desire Eye is more than adequate in both size and quality to allow for enjoyable image consumption.
Video player lacks subtitle support
The video player on the HTC Desire Eye has a rather simple interface. There isn't a dedicated app - you just pick a video from the gallery.
You get a Play/Pause button and a slider to scrub through the video, a button to capture images from the video, volume slider, and sharing options. All of these hide automatically after a few seconds.
The HTC Desire Eye managed to play most of the files we threw at it and had issues only with FLV, MOV and a few MKV files (those with the AC-3 audio codec). The AC-3 audio codec also caused issues with no sound. Otherwise the Desire Eye was a solid performer.
Subtitles were also not supported, with no options to enable them nor did they automatically playback if in the same folder as the video file.
You can always go to the Google Play store and download a more capable video app for free.
Great music player
The HTC Sense 6 music player features a similar layout as the one in the previous version. The flattened interface design however makes the setup look fresh.
Your music library is organized by Artist, Album, Songs, Playlists, Genres, Podcasts or Folders (we don't see this last option very often). The phone will also easily stream songs over DLNA.
The music player can automatically look for and download Album art and artist photos (you can limit it to Wi-Fi connections only), and search for lyrics.
There's no equalizer on board. You have the option to toggle BoomSound audio on or off when you have the headphones plugged in. Like we mentioned already, you cannot adjust this feature when playing through the speakers.
The FM Radio is aboard with RDS support. It automatically saves available stations and has one of the simplest interfaces we've seen. There are play controls - play, stop, skip and a loudspeaker option.
Audio output leaves nothing to be desired
Slowly, but steadily, HTC made the perfect audio output a trademark for its smartphones. Today, we don't even consider it surprising when one of their smartphones posts chart-topping scores. The Desire Eye is yet another phone in a line of top-notch audio performers that can easily outclass any of their competitors.
When connected to an active external amplifier, the Desire Eye managed excellent scores top to bottom with no weak points to its performance whatsoever. Loudness was off the charts too.
Even better, the degradation when we plugged in a pair of headphones was so minor that we would have considered the scores great even if that was a no-headphones test. The well contained increase in stereo crosstalk means the smartphone would handle large powerful headphones with ease, while still delivering some of the cleanest outputs in business. Good job!
| | | | | | | |
| --- | --- | --- | --- | --- | --- | --- |
| Test | Frequency response | Noise level | Dynamic range | THD | IMD + Noise | Stereo crosstalk |
| HTC Desire Eye | +0.02, -0.10 | -95.6 | 95.1 | 0.0012 | 0.015 | -91.3 |
| HTC Desire Eye (headphones attached) | +0.08, -0.04 | -95.3 | 93.8 | 0.0035 | 0.016 | -72.2 |
| HTC One (E8) | +0.02, -0.09 | -94.9 | 93.8 | 0.0010 | 0.013 | -90.6 |
| HTC One (E8) (headphones attached) | +0.03, -0.08 | -94.9 | 93.8 | 0.0034 | 0.031 | -75.5 |
| HTC One (M8) | +0.04, -0.10 | -95.4 | 93.4 | 0.0012 | 0.010 | -93.2 |
| HTC One (M8) (headphones attached) | +0.04, -0.08 | -94.9 | 93.9 | 0.0014 | 0.018 | -79.7 |
| Oppo Find 7 | +0.04, -0.10 | -93.8 | 93.1 | 0.0053 | 0.177 | -94.4 |
| Oppo Find 7 (headphones attached) | +0.70, -0.20 | -93.7 | 91.5 | 0.013 | 0.446 | -52.6 |
| Samsung Galaxy S5 | +0.02, -0.08 | -96.3 | 93.3 | 0.0017 | 0.0089 | -95.2 |
| Samsung Galaxy S5 (headphones attached) | +0.01, -0.08 | -96.3 | 93.3 | 0.0095 | 0.018 | -61.9 |
| LG G3 | +0.02, -0.08 | -99.4 | 98.9 | 0.0016 | 0.035 | -100.0 |
| LG G3 (headphones attached) | +0.02, -0.09 | -93.7 | 93.3 | 0.0060 | 0.032 | -78.5 |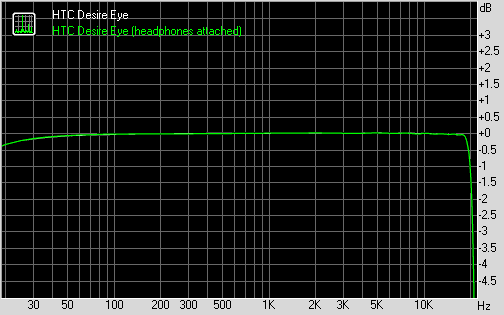 HTC Desire Eye frequency response
You can learn more about the tested parameters and the whole testing process here.
Htc eye not internet 2g 3g 4g why?
I have had this phone now for 10 month, I loved it, every single part about it. But now it has don't send error on camera and other apps can not even recognize that I have a camera. Can't decide to buy a new Eye or not, amazon won't take it back nor ...
what do u dislike in this phone and what about his sound because i will but it after 2 days >thanks