HTC DROID DNA review: Champion genes
Champion genes
GSMArena team, 21 November 2012.
8MP still camera
The HTC DROID DNA packs an 8MP camera that does stills of up to 3264x2448 pixels and records 1080p video @ 30fps. There's an LED flash / video light too.
The camera interface is the same for both the still camera and the video camera - no they don't "look alike", the camera just has the UI shared between both functions.
The right-hand side features the Effects button, shutter key, camcorder record key and a shortcut to the gallery that shows the last photo taken. On the left is the flash setting toggle, a front camera switch, general settings and shot mode (we'll get back to that in a moment).
To snap a photo, you tap the shutter key. To record video you tap the button below - and you can still tap the shutter key to snap a full-res photo, even while recording video. Another cool option is the burst mode, which we mentioned in the gallery - you press and hold on the shutter key and it will snap multiple photos and let you pick which one to keep (you can keep all of them of course).
The effects button brings out a tab on the left with the usual set of color effects (sepia, solarize and so on). There's also some other cool effects such as shallow depth of field , which lets you blur parts of a photo that fall outside a predefined circular area. It's like having Instagram built right into the camera app UI.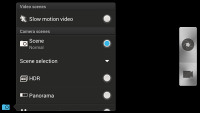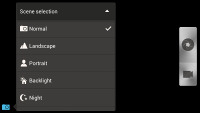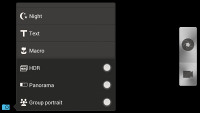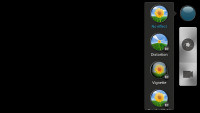 Additional options and effects
All this is pretty cool, but we had one problem with this combined interface - if you want full 8MP resolution still shots, you have to disable the Widescreen option. But then it becomes hard to frame a 16:9 video in the 4:3 view finder. That's made even worse when shooting 720p video. The field of view in that mode is narrower than what the viewfinder shows and framing involves a lot of guesswork. We hoped the Jelly Bean update would fix these problems, but that is not the case.
The HTC DROID DNA has touch focus and face detection; geotagging and smile shutter are also enabled.
Continuous autofocus is available too which is good to have on a phone like the DROID DNA with no hardware shutter key (the virtual shutter key cannot trigger autofocus either, it does burst mode). On the downside, the continuous autofocus may be way off in some shots - the only way to be certain you have it right is to tap and hold on the spot of the screen where you want the focus to be.
The shot mode button offers some more cool stuff - HDR photos, Panorama (with a gyro horizon), portrait, group portrait, landscape, whiteboard, close-up and, finally, low light.
Group portrait is quite cool - we've seen something like it before in the Scalado Rewind. It snaps multiple photos and for each face (and the DROID DNA can track many faces), the phone automatically picks the one where that person is smiling and didn't blink.
HTC DROID DNA features a camera with an f/2.0 aperture and a dedicated image processing chip, just like the HTC One X, so understandably the image quality of the photos produced with the two isn't all that different. The noise levels are moderately high and the resolved detail is good, if unspectacular. The color reproduction seems slightly better on the DROID DNA though.
We've prepared a bunch of samples for you guys below, check them out.







HTC DROID DNA camera samples
The camera captures images really fast, thanks to the built-in image processing chip. We also liked the fact that images (by default) don't get in the way - once you've snapped a shot it quietly pops-up in the preview box in the bottom right, without instant preview, and you're free to snap away.
The DROID offers HDR mode too. Here's a comparison of a scene with HDR off and on. The result is okay, but if you don't like the exaggerated HDR look, it might not be your thing.
HTC are bragging about the instant photo capture during video recording and we decided to give it a spin. The photos are taken in 16:9 aspect ratio and are in 3264 x 1840 resolution. The idea is that you can snap fast-paced pics while you're recording a video.
1080p video recording is quite good
The DROID DNA records 1080p or 720p videos at 30fps and it can snap photos simultaneously. You can also use touch focus and even toggle the video light - that's during recording!
Video recording turned out to be the better part of the HTC DROID DNA camera performance. The 1080p clip we recorded has a solid 30fps framerate and plenty of fine detail. Colors are pretty accurate too, while noise is kept well under control.
Worry-free connectivity
The HTC DROID DNA packs quad-band GSM and quad-band 3G to go with its CDMA/EV-DO talents. Naturally, you have Verizon's superb LTE network is at your service as well.
The local wireless connectivity has Wi-Fi b/g/n and full DLNA support (both client and server, for images, videos and music) and Bluetooth 4.0.
There is no death grip problem we saw haunting HTC devices of old so there's nothing to worry about. Wi-Fi reception is strong, as is the cell signal.
HTC has conveniently designed a special options screen, when you connect the DROID DNA with a PC. The long list of options includes PC Charge only, Disk drive (mass storage), HTC Sync, USB tethering (the phone becomes a modem) and Internet pass-through (the phone uses the computer's Internet connection). The Charge only and Disk Drive have large, easy-to-press icons, which comes in handy since they are used most often.
NFC connectivity with Android Beam is present too. We found it to work hassle free.
Last but not least is the HTC Portable Hotspot. It can support up to 8 devices, you can WEP, WPA or WPA2 encrypt the hotspot and you can enable "allowed users" only to connect or leave it open for all (unsecure, but the quickest setup).
The app can be set to power off automatically after 5 or 10 minutes of inactivity, saving your battery in case you forget to switch it off when you are done with it.
The HTC DROID DNA comes with an MHL port, so if you plug a MHL dongle in, you can output HD video over a standard HDMI connection. The phone's UI is mirrored on the TV and with the HD resolution of the display, watching on an HDTV is a joyful experience.
Even better Jelly Bean browser
HTC DROID DNA comes with the latest version of the Android web browser. Coupled with the Full HD display and powerful processing power of the DROID DNA, the Jelly Bean web browser performs without hiccups.
Most of its UI is out of sight, leaving the entire screen to the web page. And even when it does appear it consists of a single bar, which now holds the address field, the Tabs and Menu dropdown shortcuts.
HTC has also thrown in some extra buttons at the bottom of the screen, which seemed to pop up when you scroll back to the top of a page, which was getting a bit annoying at times. You see sometime those buttons appeared along with the top bar, whereas on other occasions they remained hidden when the top bar was showing.
Those mysteriously behaving buttons let you save a page in your bookmarks or reading list, view bookmarks, saved pages or tabs. You might want to enable Quick controls - they let you tap on any point on the edge of the screen and move your finger to select the desired option from a jog-dial menu.
Once you select some text, you can copy it, do a Google search with that text as the query or share the text over a message or social networking.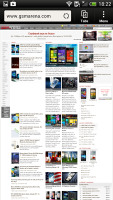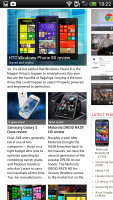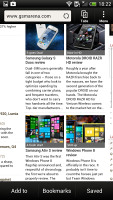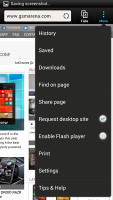 Web browsing is a pleasurable experience on the HTC DROID DNA
Tabs can be closed with an X button on their top right corner - they can't be swiped off the screen like you do in the app switcher. Incognito tabs are available if you want to browse without leaving traces.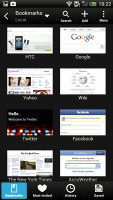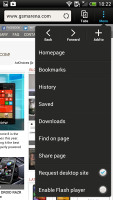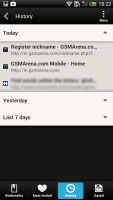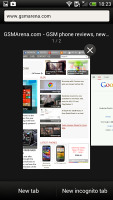 The bookmarks and History lists • The Tabs interface
The Menu options include a toggle to enable/disable Flash (yes, Flash is supported out of the box within the HTC's implementation of Jelly Bean) and another one to request the desktop version of a site, instead of the mobile one. Another cool feature is preloading search results that the phone believes are relevant, speeding up the whole process.
With Flash support present on the DROID DNA playing Flash videos was a walk in the park. Flash games work like a charm as well.
AnonD-129912
28 Mar 2013
4tJ
I do use it every day 4 hours of pure radio streaming over 4G LTE and using bluetooth, works fine whole day, if I don't use streaming radio, I have half of the battery at night... Same things with Galaxy NOTE 2 which has much stronger battery, and ye...
AnonD-129912
28 Mar 2013
4tJ
I like how do you say "ONLY 11 GB" couple of times so people can remember forever, ha ha, only 11 GB for your precious life and after that you're dead, show stops, world ends, unless you buy Apple 64 GB life is shit... Poor HTC DNA you woul...
man love HTC so much, but this nom expandable memory thing has got to stop