HTC Explorer review: The start of a journey
The start of a journey
GSMArena team, 14 December 2011.
Fixed-focus 3MP snapper, nice interface
The HTC Explorer packs a 3MP fixed-focus camera that does stills of up to 2048x1536 pixels. There's no LED flash to go with it, like the Wildfire S had.
The camera interface is very space efficient. Most of the controls are on the right side of the viewfinder, with the virtual shutter in the center. The still/video toggle is above the virtual shutter key and the Effects button along with the Gallery shortcut are below it. There's a virtual zoom lever on the left side of the screen.
By default the viewfinder image is cropped so that it fills the entire screen, but you can switch that off (note that cropping reduces the resolution).
Geotagging is available as an option with the HTC Explorer. The effects button brings out a panel on the left with the usual set of color effects (sepia, solarize and so on).
There's basic face detection which can be used for taking self portraits. You just turn on the option and point the camera at yourself. As soon as the Explorer sees your face, it snaps a photo. The face detection doesn't automatically pick what to focus on as on most phones - remember, there's no autofocus capability here.
Images snapped with the HTC Explorer are acceptable if you're going to upload them on Facebook where people will view them downscaled to fit their 15-22 inch monitors. Once you zoom in to 100%, you notice all sorts of things wrong with the photos.
For example, there's a lot of noise that has been oversharpened, which makes things worse. While contrast and exposure are OK, colors are much too dull. And don't count on good macro shots either. Still, this is all par for the course.
Photo quality comparison
The HTC Explorer enters our Photo Compare Tool to join the other 3MP shooters. The tool's page will give you enough info on how to use it and what to look for.
In the first chart, the Explorer does mostly okay, but you can still see the strong oversharpening "halo" and there's a pink spot too. On the next chart (that's not the black and white best-case scenario of the first) you can see the noise more clearly. The third shows decent colors and no tinting.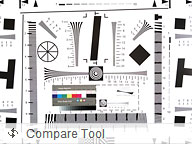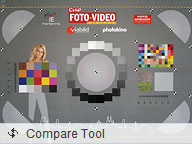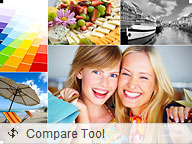 HTC Explorer in our Photo Compare Tool
Disappointing VGA video recording
The interface of the camcorder is similar to the still camera's and there are lots of customizable options with this one. You can set the video resolution, recording limit and add effects - Grayscale, Sepia, Negative, Solarize, Posterize and Aqua.
Videos are shot in .MP4 format in VGA resolution (that's 640x480 pixels) at 19 frames per second (well below the 24fps limit), so most of the videos are choppy. The video quality is below average, even for a VGA shooter. We really wouldn't recommend the Explorer's camcorder for anything other than an occasional video to post on Facebook.
Here goes an untouched sample VGA@19fps clip (0:10s, 2.5MB).
And here's a video uploaded to YouTube for convenience.
Great connectivity in a tiny package
The HTC Explorer has a complete connectivity set. There's quad-band GSM/GPRS/EDGE and blazing fast tri-band 3G: 14.4Mbps downlink and 5.76Mbps uplink thanks to HSPA. The local wireless connectivity has Wi-Fi b/g/n and Bluetooth 3.0.
You have a long list of options for connecting to a PC - Charge only, Disk drive (mass storage), HTC Sync, USB tethering (use the phone as a modem) and Internet pass-through (the phone uses the computers Internet connection). The Charge only and Disk Drive now have big, thumbable icons, which is great since they are used most often.
Last but not least, the HTC Portable Hotspot can support 1 to 8 devices, you can WEP, WPA or WPA2 encrypt the hotspot and you can enable "allowed users" only to connect or leave it open for all (unsecure, but the quickest setup).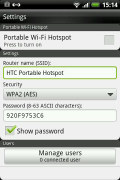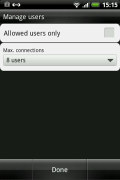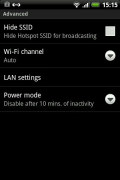 Starting the personal Wi-Fi hotspot
The app can be set to power off automatically after 5 or 10 minutes of inactivity, saving your battery in case you forget to manually switch it off.
Htc explorer when software upgrade this phone...
Hi Iam using htc explorer in one year I don't understand I dont no how to use htc likes,htc hub, plz help me
I m Qadir, I m using HTC Explorer last 1.5years. I m New in smart phone, I m quit satisfy my phone I like its resolution, but.when I received massage in Urdu or Arabic I couldn't not understand. I need upgrade htc model with extended Ram and Memo...