HTC HD2 review: Portrait of a rockstar
Portrait of a rockstar
GSMArena team, 17 November 2009.
The image gallery does multi-touch
The HD2 offers a nice thumbnail browser straight from the Photos and Videos tab on the Home screen and we already saw it in the UI section.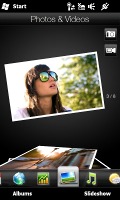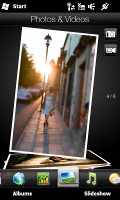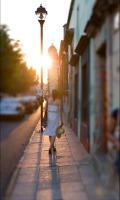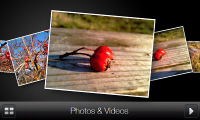 The Photos and Video tab: an image and a video on display
There's another thumbnail browser in the Album app available from the context menu on the Home screen or from the Programs menu.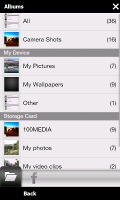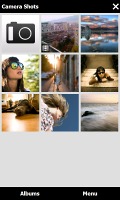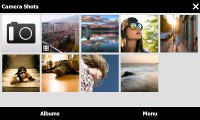 Browsing images as thumbnails in the Albums application
The image is opened automatically in landscape mode and there is no option to rotate it to portrait view. Still that's not a bad thing because it means the photos you take with the camera are always properly displayed fullscreen. Once the image is opened, you can zoom in or out using the pinch gesture or the double tab, or continue to the previous/next by finger sweeps.
As we mentioned before, zooming easily rivals – and perhaps outdoes – the iPhone, considering the HD2 is handling 5 megapixel photos.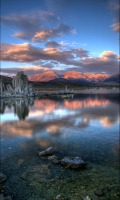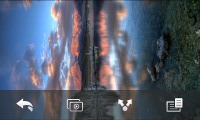 Opening an image • overlay controls
Now here's a demo of how the music player and image gallery look like in action. That video is really full of eye-candy. Good job, HTC!
Music player iPod-style
Just like recent HTC PocketPCs, the HD2 has a good music player that makes excellent use of Album art. The music player is accessible straight from the Sense home screen with a cool Apple-like Cover Flow animation for you to pick an album from.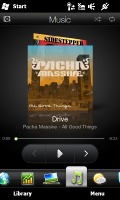 The attractive music player runs directly from the home screen
Like the gallery, the music player also features a fancy landscape view. It copies the iPhone Cover Flow again and will allow you to scroll all albums. If you select an album, a semi-transparent track list will appear on the right and you can view and play the songs from it. There are also dedicated music controls at the bottom bar.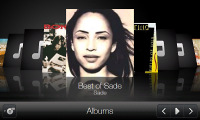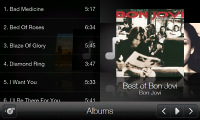 Music player in landscape mode
In case you want to filter tracks by other criteria beside album, the Library shortcut will take you to the player backend where you can sort music by artist, genre, composer, purchased tracks or simply create custom playlists. The visual interface of the library is fluid and eerily reminiscent of iPhone's very own music player.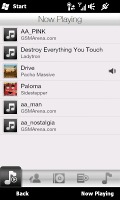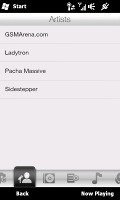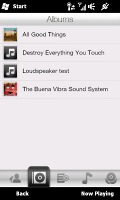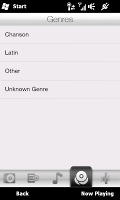 The music library: Now Playing tab • artists tab • albums tab • genres tab
Equalizer presets are available only when you have the headset plugged in. They are not part of the music player itself but of a separate application called Audio Booster. That setup allows you to make use of the presets when you watch videos or even when you listen to music on an alternative player.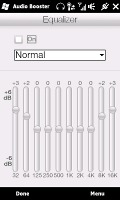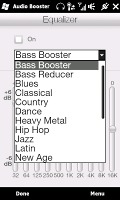 The Audio Booster app is a system wide setting
Thanks to the 3.5 mm audio jack you can plug your favorite headset in and worry not about the bundled headphones.
The FM radio does the job perfectly
The HD2 built-in FM radio naturally requires the headset to be plugged-in. It has an excellent interface much like the rest of the multimedia players on board and offers memory for some 20 radio stations.
RDS is available too - so overall, radio is handled pretty well on the HD2.
Audio quality
The audio quality of HTC HD2 is pretty good, save for the disturbingly high intermodulation distortion levels. The handset fared excellently in almost all other parts of our test achieving some pretty impressive scores.
The frequency response is good for most of the interval, the cut-off extreme treble being the only flaw. For the rest of the range it remains within 0.39 dB of the perfect straight line.
The noise level, dynamic range and stereo crosstalk readings are great, comparable to the best in class. Here go the results so you can compare it to some of the other handsets we have tested.
| | | | | | | |
| --- | --- | --- | --- | --- | --- | --- |
| Test | Frequency response | Noise level | Dynamic range | THD | IMD + Noise | Stereo crosstalk |
| HTC HD2 | +0.39, -2.99 | -89.0 | 89.1 | 0.057 | 0.960 | -87.5 |
| HTC Touch HD | +0.20, -2.29 | -86.7 | 89.2 | 0.024 | 0.253 | -86.1 |
| HTC Touch Diamond2 | +0.12, -0.60 | -86.9 | 89.1 | 0.022 | 0.191 | -86.8 |
| HTC Touch Diamond | +0.42, -2.46 | -84.0 | 87.0 | 0.023 | 0.338 | -85.6 |
| Samsung I8000 Omnia II | +0.17 -2.63 | -88.3 | 88.2 | 0.0024 | 0.133 | -32.8 |
| Samsung i8910 Omnia HD | +1.29 -2.74 | -87.6 | 86.6 | 0.0023 | 0.255 | -85.2 |
| Samsung i900 Omnia | +0.37, -1.15 | -79.3 | 79.3 | 0.0039 | 0.027 | -78.7 |
| Apple iPhone 3GS | +0.01, -0.05 | -92.1 | 92.1 | 0.0035 | 0.011 | -95.0 |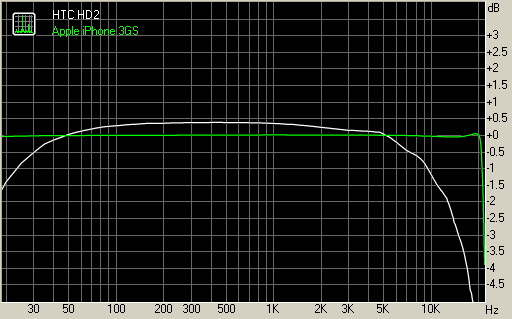 HTC HD2 vs Apple iPhone 3GS frequency response graph
You can find more information about our audio quality test here.
Can I download the app TextNow for free calls/texting???
i have this phone and got it updated to android jelly bean witch makes it a greater phone than it allready is. Like most phones when you play with it a lot battery goes fast , but when idle and systems off that are not needed a 2 day is possible...
Minus - pretty large phone.... Today smartphones are bigger than that... I can't think how about Samsung Galaxy Note II in 2009 :D