HTC U11 review: Squeeze U
Squeeze U
GSMArena Team, 09 June 2017.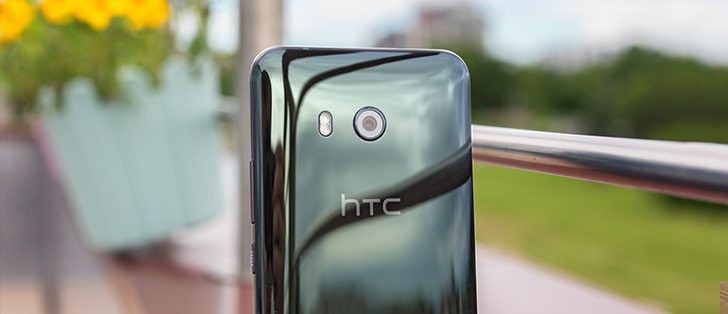 Unboxing
The HTC U11's packaging takes after the phone's appearance with rounded corners and edges. Laid out in a flat-box style, lifting the lid of box reveals almost everything in the package: the U11 smartphone, a Quick Charge 3.0 adapter, USB-C to USB-A cable, and HTC's U Sonic earbuds with different sized tips. There is also a USB-C to 3.5mm adapter.
The flap under the phone reveals a couple more things: a bonus plastic clear case, documentation and IMEI stickers, cleaning cloth, and a unique HTC-branded SIM tool.
Just so you know, this is the unlocked dualSIM Taiwanese model, so your region's retail package might be a little different.
Design
The U11 is stunning to look at. But you won't get the full effect of its "Liquid Surface" design until you can actually see one of these in person. Our review unit is called "Amazing Silver" and is a lot like a cross between silver and light sky blue.
Other color options are: Ice White, Solar Red, Sapphire Blue, and Brilliant Black. The black option has tinges of green while the red one will appear somewhat orange as well.
"Optical Spectrum Hybrid Deposition" is what HTC attributes to each color option's tinges of different color in the glass. Added layers of highly reflective minerals is what gives Brilliant Black its green hues and Solar Red its orange-ish tint.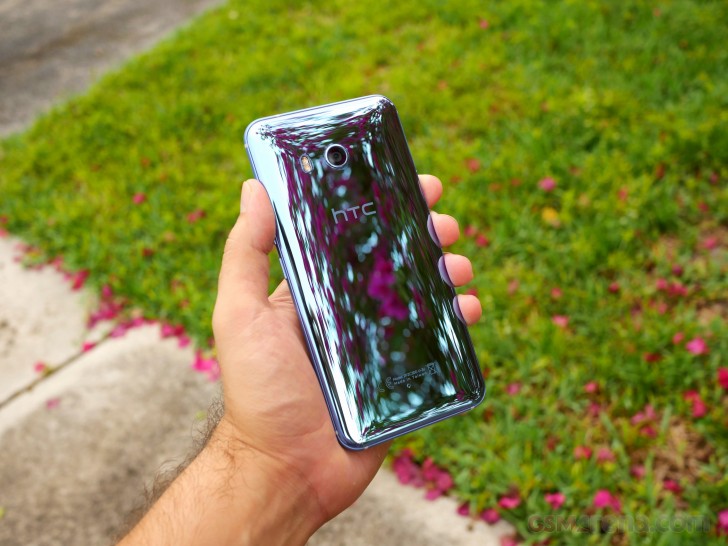 The metal unibody is no more and HTC explains that after four iterations of flagship phones with an all-metal jacket, it was time for a new look. This is, actually, why the U Ultra and U Play were launched. The U Ultra was never intended to be the flagship of this year, rather it was created as a platform for HTC to introduce its new design language on a global scale, hence the inclusion of the U Play.
The HTC U11's '3D glass' is progressively curved to form its shape. The color is laminated on the back of the glass as to prevent it from rubbing off. HTC admits that previous models with metal backs could scuff and chip off, but could the rear Gorilla Glass 5 hold up better than metal? Well, we will see about that down the line but so far we haven't seen even a scratch mark on it.
On another note, you might actually be able to convince someone that the backing is polished metal - the curve and fitment is what makes this idea believable.
Hardware
Let's start off with the front of the deivce: All color options come with black front bezels and we're glad to see that both HTC and Samsung did this with their 2017 flagship offerings. Give us a shout out in the comments if you don't like white bezels like us.
The front glass is also curved but only around the edges. Like the back glass, the front panel is also Gorilla Glass 5.
At the top is a small in-call receiver which, despite how small it is, is also a loudspeaker. To its right is a proximity and light sensor, a mic, and front facing 16MP selfie camera. Unfortunately, this one doesn't feature OIS or autofocus like the HTC 10's did. To the left of the speaker is an RGB LED for notifications.
The display is a 5.5-inch QHD Super LCD 5 panel with bright colors and dark blacks. Under the display is an oblong fingerprint scanner which doubles as a home button. On either side of the fingerprint sensor are capacitive navigation buttons.
Unlike LG and Samsung, who have worked hard to reduce the size of bezels, HTC kept the traditional aspect ratio and didn't focus as much on bezel reduction. If you don't like huge bezels, you'll be happy to know that the U11 still has a smaller footprint than the iPhone 7 Plus.
Moving on to the edges, the left of the phone has nothing but two antenna lines toward the top of the phone while the right side features three physical (and metal) keys which feel excellent with plenty of tactile feedback and aren't too soft. As an added touch, the power key has a ridge to tell it apart from the volume rocker without looking.
Although you can't see it from the outside, the left and right edges are also home to pressure sensors embedded in them. These enable HTC's new squeeze functions, which we'll cover in a later section.
Moving on to the top, there's another mic, and the nanoSIM/microSD card tray. The bottom of the phone has a USB-C port, two more mics (we'll get to the mics soon), and a speaker slot, one that looks a lot like the one on the Google Pixel - HTC did build the Pixel, after all.
The metal frame that goes around the phone is metal and has a high-quality matte finish. This frame blends very well into both pieces of glass. HTC says it has put a lot of effort into minimizing the tolerances of the fitment between parts, and it really shows in its craftsmanship.
Now we arrive to the back glass, which we have to say, is quite hard to photograph because of its reflectivity. But reviewer's hurdles aside, we like how the curved back of the U11 feels in hand ergonomics-wise. Combined with the curved corners of the phone, the U11 is a joy to hold. What isn't a joy is the amount of fingerprints you'll be cleaning off of the glass. That's unless you get the Ice White version, which hides them qute well with its almost pearl-like finish.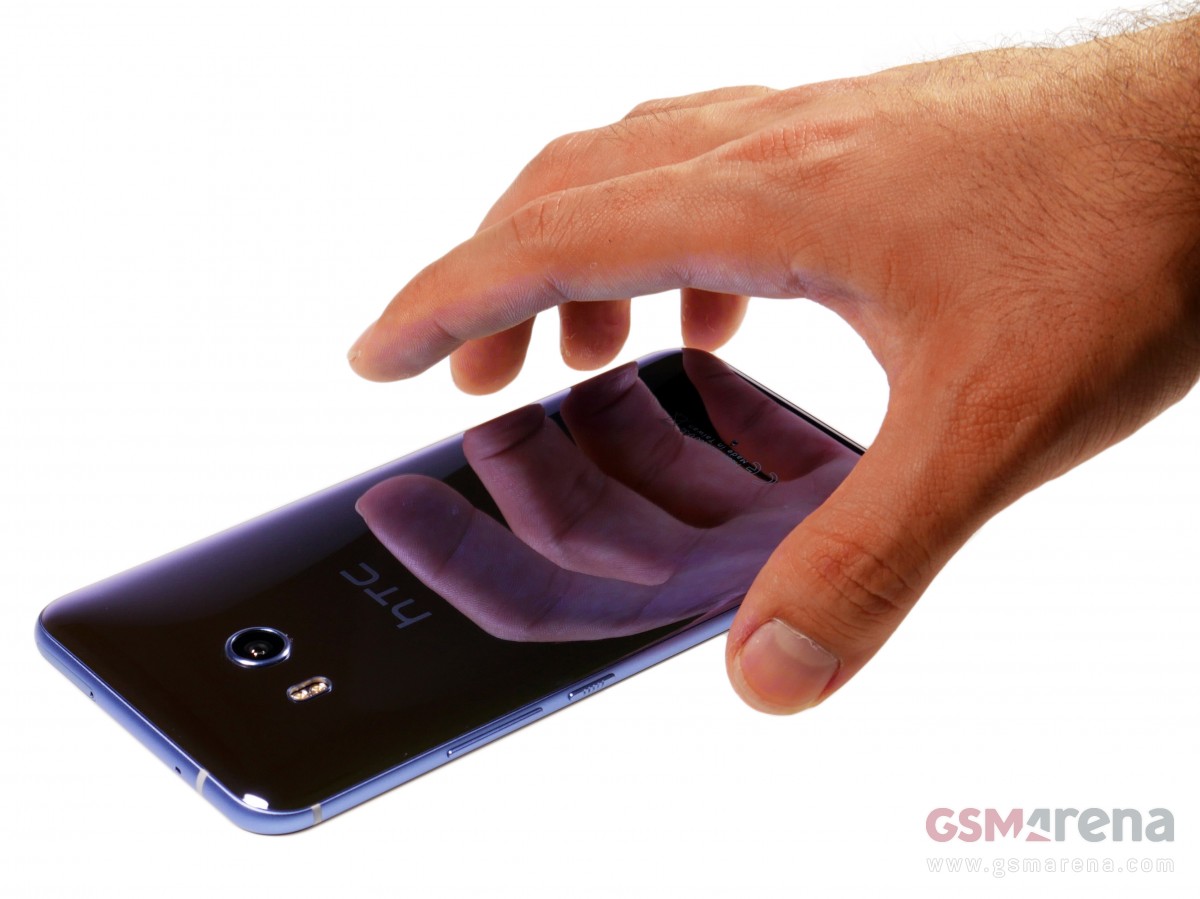 On the back, there are three glass cutouts: one for the 12MP camera, another for its dual-LED flash, and a pin-hole for the last mic. The reason for all these mics is HTC's 3D Sound recording in videos as well as Acoustic focus, both of which will be covered in the camera section. The four mics are also used to listen for a hotword - more on this in the UI section.
We like the overall design of the HTC U11: it's simple yet sophisticated, conservative yet bold. Durability and fragility over its previous metal-clad devices remain questionable and something we'll find answers to once we put some more mileage on it.
I have a HTC U11 for 3 yrs but put it down last year cause I upgraded to the U12+ and now my U12+ gotten stolen and my u11 not booting up, I'm getting the blinking light and I try every method to get it turn on back, so my question is if I re...
I brought this phone 2yrs back Within a month it fell down while charging due to its slippery smooth back and front glass cracked. Couldnt fix it. But other wise very smooth running and no battery complain .now since month I have trouble with...
Just 6 month back i bought .... gorilla glass???? but it's boricken both the side.....i don't think will get warranty... Not satisfied...in U11