HTC U Ultra 'flexes like a soggy twinkie' in a bend test
George, 20 March 2017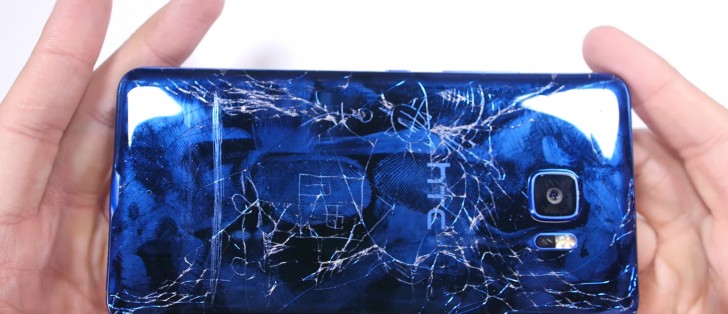 JerryRigEverything's durability tests on YouTube have become the defacto benchmark for smartphone bending resistance. As long as Zack doesn't compromise them by introducing major changes in his forearm strength, they make for nice comparisons.
The latest to suffer in his hands is the HTC U Ultra. The Gorilla Glass 5 front panel scratches at the expected 6 Mohs hardness level, but the front camera is well protected against razor blade attacks by that same glass. The fingerprint reader is powerless against it, though. On the plus side, the earpiece cover, made of a textile fabric, isn't as easily removed as on the Nokia 6.
Flipping over to the back, the razor blade doesn't do anything to the cover or the camera glass, but make sure you don't scratch the laser autofocus window, Zack warns. He then pulls out a Mohs level 9 pick and makes a total mess of the Ultra's back, before taking a lighter to the display, which is one of his traditionally less meaningful tests.
Finally, the bend test. The U Ultra fails here, its back breaking into countless pieces. While that may not have been the case if he hadn't drawn the entire story of Blue on the panel, the lack of a structural connection between frame and glass means that the panel isn't contributing to the phone's rigidity - so it 'flexes like a soggy twinkie'. It does work after the whole ordeal, so there's that.
If you have the stomach for it, watch the entire video below.
Related
Force Majeure
08 Apr 2017
m}J
Or HTC = High Telephone Cost? HTC has made some of the best looking devices over the years, but the price and sometimes the smaller batteries has been a stay away factor.
Yes it bends and if you run it over with your car it will stop working too. All this is nonsense............
Anonymous
22 Mar 2017
xCD
Breaking news: larger slab of glass breaks more easily than smaller ones. Longer phones also bend more easily.
Popular articles
Popular devices
Electric Vehicles