Huawei Ascend Mate review: Gentle giant
GSMArena team, 18 June 2013.
Stock image gallery
Huawei Ascend Mate comes with the stock Android 4.1 Jelly image gallery. The Default view of the gallery is Albums, which is what we're used to seeing - it lists all folders in the phone as stacks of photos.
Besides Album view, you also get Locations (photos are grouped based on where they were taken), Times (grouped by when they were taken), and People (if the photos have tagged faces in them).
Getting inside an album displays all the photos in a rectangular grid, which is horizontally scrollable. When you try to scroll past the end, the photo thumbnails will tilt to show you that you've reached the end.
When you view a single photo, you'll get Share, Delete and More Settings shortcuts above the photo. You can share a photo via DLNA, Bluetooth, Wi-Fi, Picasa, MMS, Google+, Hangouts, Facebook, Twitter, Email and Gmail.
The settings menu lets you do simple edits to a photo (rotate, crop) or go into a more capable editor with a lot more options. The editor offers light adjustments (so you can bring out the shadows or the highlights), effects, color styles, red eye correction, straightening a photo, sharpening and face glow (which detects faces automatically). Most of these options have a slider that lets you fine-tune the intensity of the effect.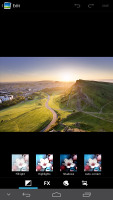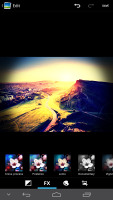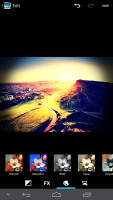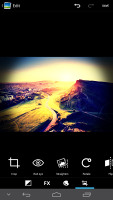 A more capable image editor is available too
An app called Movie Studio handles editing videos and it's quite feature-rich. You can add multiple videos to the timeline and trim their start and end points, you can add titles and effects (including transition effects) add music and there are multiple options available when you decide to export the video (resolution, quality, etc.).
It's an app that can completely eliminate the need of a computer for most people when creating videos. Plus Apple charges a good amount of money for the same functionality with their iMovie app. Same goes for the image editor too.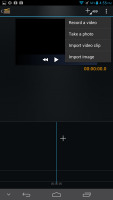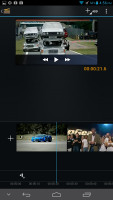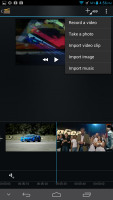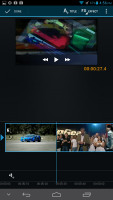 The Movie Studio app is a feature-full video editor
Video player is part of the gallery, will plays anything
The Ascend Mate doesn't have much of a video player - you just open videos from the gallery and that's that. On the up side, it handled most videos we threw at it - all the way up to 1080p, DivX, XviD, MKV and even WMV.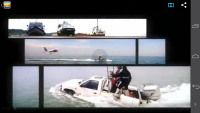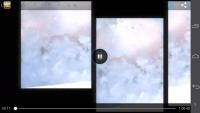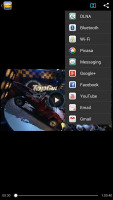 Not much of an interface for the video player
We had no issues with sound either - AC3 and DTS codecs give most phones a headache - and there's Dolby Mobile 3.0+ available to enhance the audio.
You get play/pause and a slider to scrub through the video plus a Dolby on/off switch. That's it.
The integrated video player (just like the Music player) offers non-customizable equalizer presets only when you plug a pair of headphones in. You can pop up the preset list with a tap on the Dolby Mobile virtual switch at the top of the Now Playing screen. In case you are using the loudspeaker, a tap on the Dolby logo will just turn on or off the Dolby Mobile enhancement.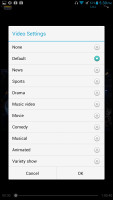 The equalizer presets are available only when headphones are plugged in
Subtitles are supported, you just need to name the subtitle file the same as the video.
The 6.1 HD display is great for watching movies on the go. In case you need more functionality, you can also download a third-party movie player.
Music player with Dolby Mobile
The Huawei Ascend Mate comes with an app called Music that is an updated version of the stock music player. It launches with three of the recently played tracks and a list of all available sorting options: All songs, Favorites, Playlists, Artists, Genres, Albums, and Folders. As soon as you choose one those, the interface switches to tabs.
The Now playing interface features more eye-candy including album art. You can swipe to skip tracks or tap on one of the floating album covers to bring out a list of all songs in that album.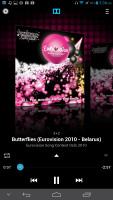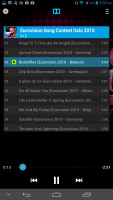 The now playing interface has simple and extended views
Below the album art is an upwards pointing arrow, which brings out a panel with the song lyrics.
The Music app offers non-customizable equalizer presets only when you plug in a pair of headphones. You can get to the equalizer with a tap on the Dolby Mobile key at the top of the Now Playing screen. In case you are using the loudspeaker, the Dolby logo will only toggle Dolby Mobile on and off.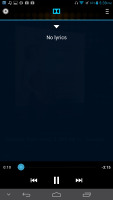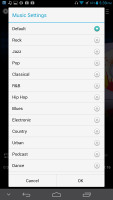 The phone will automatically look for lyrics • Equalizers
FM radio
The Huawei Ascend Mate has a built-in FM receiver. It can play through the headset or the loudspeaker, but you'll need to have the headset plugged in as it serves as an antenna. We were disappointed not to find RDS - radio stations need to be named by hand.
Solid audio output
The Huawei Ascend Mate was also subjected to our usual audio quality testing routine and its scores came out pretty good. It's output was rather quiet in both parts of the test, but it was clean enough to please the majority of users.
When connected to an active external amplifier the Huawei Ascend Mate managed excellent scores all over the field with no weak points to its performance.
When we plugged in a pair of headphones, stereo crosstalk increased quite rapidly and some intermodulation distortion crept in. It's good overall, but extremely demanding audiophiles might not be perfectly happy.
Here are the results so you can see for yourselves.
| | | | | | | |
| --- | --- | --- | --- | --- | --- | --- |
| Test | Frequency response | Noise level | Dynamic range | THD | IMD + Noise | Stereo crosstalk |
| Huawei Ascend Mate | +0.34, -0.14 | -86.8 | 86.9 | 0.0068 | 0.023 | -84.7 |
| Huawei Ascend Mate (headphones attached) | +0.42, -0.15 | -86.1 | 86.0 | 0.022 | 0.403 | -44.3 |
| Samsung Galaxy Mega 6.3 | +0.02, -0.19 | -90.4 | 90.3 | 0.0098 | 0.015 | -91.7 |
| Samsung Galaxy Mega 6.3 (headphones attached) | +0.16, -0.08 | -91.9 | 90.7 | 0.011 | 0.030 | -53.8 |
| Samsung Galaxy S4 | +0.03, -0.08 | -95.9 | 93.2 | 0.0030 | 0.0092 | -96.4 |
| Samsung Galaxy S4 (headphones attached) | +0.03, -0.08 | -96.0 | 93.3 | 0.0031 | 0.089 | -95.5 |
| Samsung Galaxy Grand | +0.19, -0.45 | -80.8 | 81.3 | 0.0047 | 0.022 | -80.7 |
| Samsung Galaxy Grand (headphones attached) | +0.28, -0.19 | -79.5 | 80.1 | 0.023 | 0.226 | -51.3 |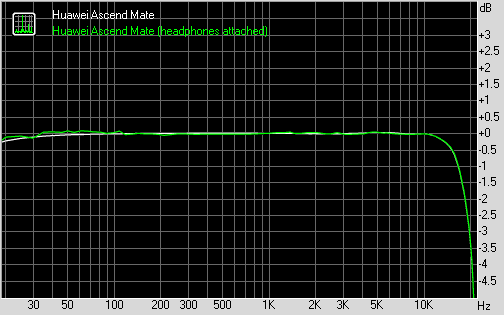 Huawei Ascend Mate frequency response
You can learn more about the whole testing process here.