Huawei FreeBuds 3 review
Ivan, 10 November 2019
Huawei's FreeBuds 3 are the world's first truly wireless open-fit earbuds with active noise cancellation and offer a lot of features for their €179/£170 price tag.
Inside these tiny buds is a Kirin A1 with support for Bluetooth 5.1 that enables a 2.5s connection time, something called Isochronous dual channel connection, which saves battery and ensures 190s maximum latency. The FreeBuds 3 are IPX4 splash resistant while their case offers both USB-C fast charging and wireless charging.
So let's check them out and see how well they do in real life.
Design and comfort
The Huawei FreeBuds 3 are an open-fit earphone, which means they don't have a silicone tip at the end that jams into your ear canal. Because of this they're generally less intrusive and more comfortable over longer periods of use, but they also don't isolate the outside noise as well and their bass isn't as focused.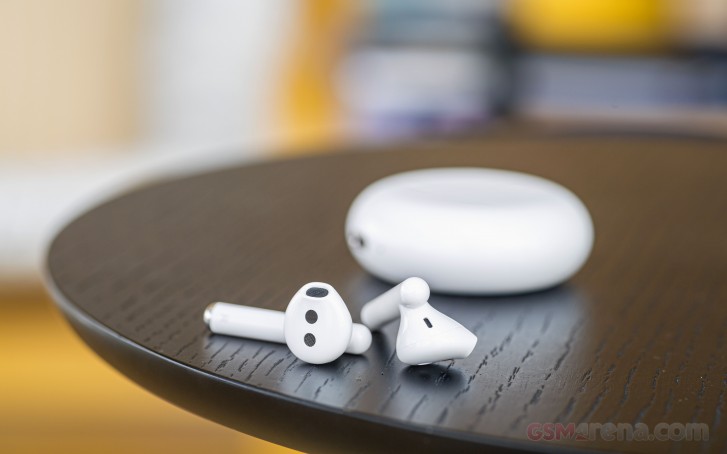 I'm one of those people that prefer open-fit earbuds putting convenience above fidelity, and found the Huawei FreeBuds 3 lovely to carry around in my ears. During my two week testing period I had them in my ears for multiple hours at a time and didn't experience any issues.
At under 5g per earbud the FreeBuds 3 are quickly forgotten.
Their case is also very light at a hair under 50g. It's a bit wider than the case of the AirPods 2 but disappears inside a pocket just as well.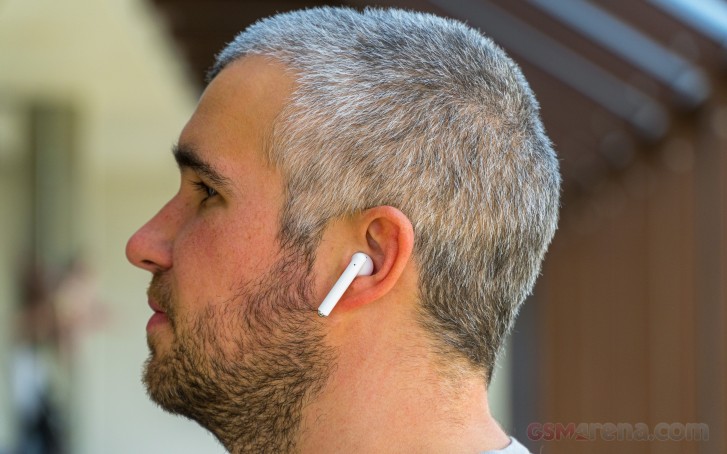 Let's get back to those AirPods. It's clear that the Huawei FreeBuds 3 are deeply inspired by Apple's ubiquitous earbuds. I'm sure that at first glance you didn't see that the AirPods (2-gen) and FreeBuds 3 in the image below are cross-placed. Upon further inspection you'd notice that the AirPods 2 have a slightly bigger driver opening and a more contoured stem design.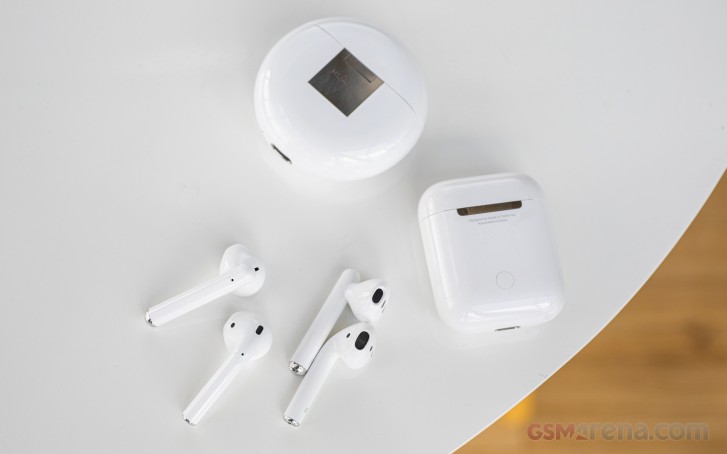 Another key difference is the battery. The Huawei FreeBuds 3 promise 4 hours of battery on the earbuds (each with 30mAh of battery) and another 16 hours through the charging case (410mAh inside). The AirPods 2-gen offer up to 5 hours of independent listening, while the AirPods Pro offer 4.5 hours - both better than Huawei's buds.
Features
The FreeBuds 3 work with every smartphone out there but are better suited for Android devices because of Huawei's AI Life app and work best with Huawei smartphones running EMUI 10.
Pairing is seamless and snappy - open the case and press and hold the pair button on its side, the FreeBuds 3 will show up in your Bluetooth menu. With Huawei smartphones the pairing is even easier - open the case and you'll get an immediate prompt from the phone to connect to the FreeBuds 3 - just like with AirPods on an iPhone or Galaxy Buds on a Galaxy smartphone.
You can control the FreeBuds 3 functions with a series of taps - a double tap on the left earbud enables or disables the active noise-cancellation while a double tap on the right starts or stops playback.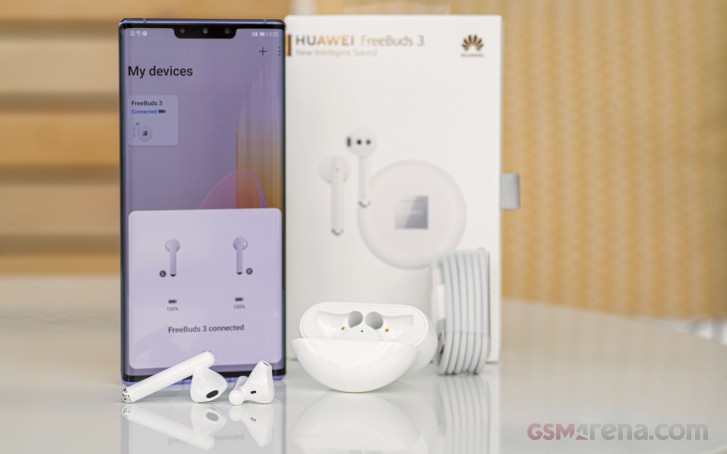 If you have an Android phone you should download the Huawei AI Life app from the Play Store (or Huawei's App Market). From there you can control what happens with the double tap gestures (you can disable it or set it to invoke the voice assistant), update the firmware of the earbuds or adjust the level of noise cancellation.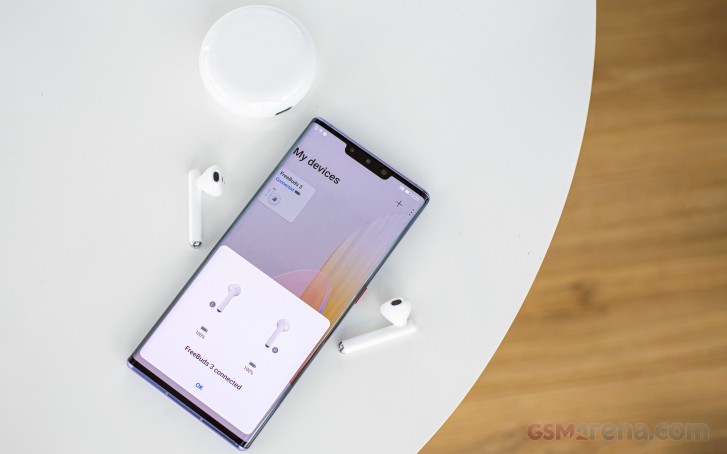 Noise cancellation and battery
The Huawei FreeBuds 3 offer up to 15dB of active noise cancellation and it's immediately felt, but not overly impressive. Noise cancellation works by analyzing the noise in your environment through the microphones on each earbud, creating a waveform of the noise and then creating a counter, phase-inverted waveform to cancel out the noise. This works best with constant low-frequency noise such as the hum of a fan or the drone of an engine.
ANC on the FreeBuds 3 works hard to neutralize noise but does a lackluster job. The biggest part of this is the open-fit design of the earbuds, which isn't able to isolate outside noise. The other part is a lack of consistency from the ANC - sometimes it will randomly let some noise through making the effect a bit jarring (for example a running faucet that suddenly becomes audible for a second or two).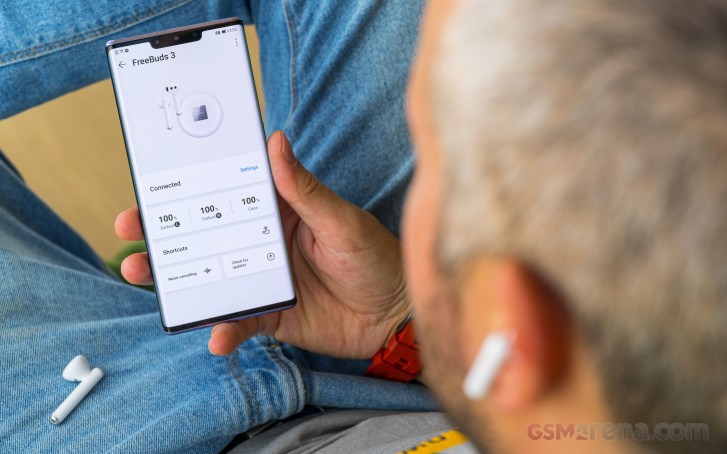 If you haven't used premium headphones with active noise cancellation you would be impressed by the Huawei FreeBuds 3 quieting effect. But if you've already have seen some of the best, you'll find the FreeBuds 3 a bit mediocre.
Battery life is good. I easily got 3-4 hours of music playback at around 90% volume and went through two full days of listening at work before the case started flashing red.
Then a 30 minute stay on the USB-C cable got the case back up to 100% - that's very fast. Huawei claims 6W of wired charging and 2W of wireless charging.
How do they sound?
The Huawei FreeBuds 3 sound great. Like other earbuds of this size, they have a powerful and rich midrange. There's a strong emphasis on vocals and instrumentals and there's good bass to give depth to the sound.
The FreeBuds 3 get quite loud but as you get closer to 100% volume, the sound becomes a bit tinny and piercing, losing its underlying bass.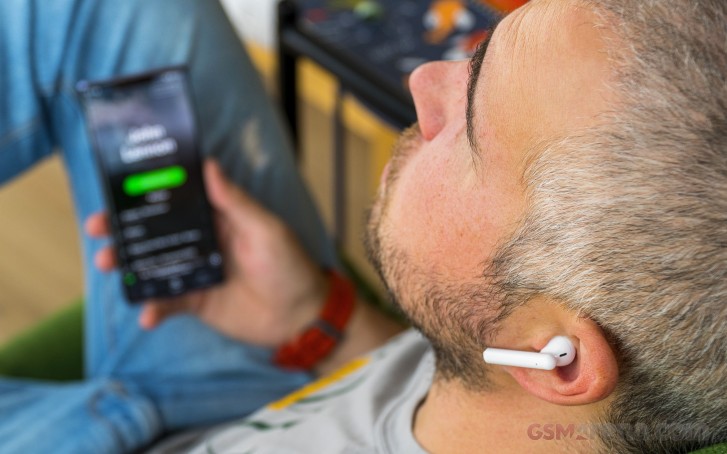 Compared to Apple's AirPods 2-gen, the FreeBuds 3 struggle. Apple's earbuds have stronger bass, a more dynamic sound and generally get louder. And with the AirPods Pro being in-ear, rather than open-fit, they'll likely sound even better.
Update: Regarding call quality, the FreeBuds 3 have dual microphones placed under an aerodynamic duct to fend off wind. We tested a few calls, the people on the other end reported loud and clear reception.
Verdict
But nobody uses AirPods with an Android device, which is why many people should consider the Huawei FreeBuds 3 over Apple's earbuds. For starters at €179/£170 the FreeBuds 3 cost the same as AirPods 2 with a regular case and nearly €100 less than AirPods Pro, while offering USB-C and wireless charging as well as ANC.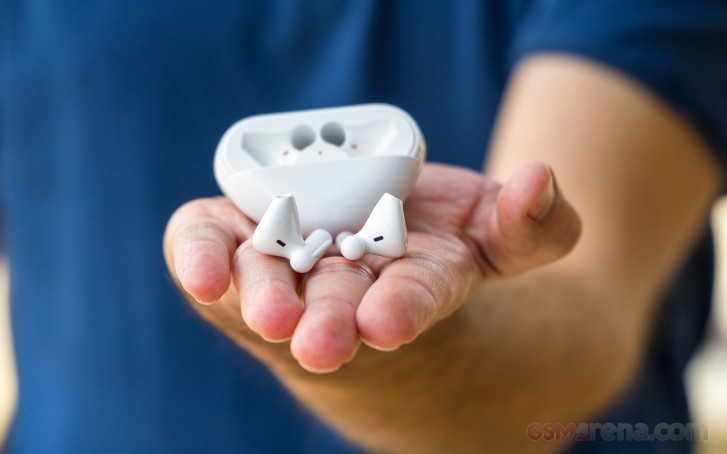 Plus the FreeBuds 3 are very comfortable for long use, which is also not a problem thanks to their good battery life. But what's most important - Huawei's FreeBuds 3 sound great.
Still, these aren't cheap and you could get better sound quality from some of their in-ear rivals or can even score a much cheaper but still great alternative if you're willing to go for Bluetooth earbuds with a cable in between. And if you don't care about the wireless part at all, then you're looking at better-sounding buds at below $30, but then why are you reading this review?
The Huawei FreeBuds 3 have convenience and comfort on their side. They're the ideal earbuds for audiobooks or music on the go and have the added benefit of some noise-cancellation. They're an even better proposition for Huawei owners thanks to perks like the automatic pause and play when you remove the earbuds.
It's probably a good idea to wait for some price cuts as we are nearing Black Friday and then the Holiday season.
Related
hello, I have my huawei freebuds 3i and haven't used it for a year and now I think the battery got drained easily, like I can use it for 2 minutes only. Didn't expect this will get damaged this way.
Hi! Does anyone know how to change the language of the Freebuds 3 or can it be changed? Checked the Huawei AI Life app but it does not have a language setting. Do I need to use a Huawei phone to access the language settings of the Freebuds? Hope some...
Brilliant earbuds,I don't agree that apple air pods2 are better,sound here crystal and good bass just don't over bass,very balanced and clearsound,very comfie,working little bit less than AirPods 2,but sounds better and come with wireless case,I boug...
Popular articles
Popular devices
Electric Vehicles