Huawei FreeBuds 4 review
Michail, 13 June 2021
Introduction
The latest high-end TWS earbuds from Huawei are the FreeBuds 4 and they bring an iterative upgrade over 2019's FreeBuds 3. Not to be confused with the recently launched FreeBuds 4i, the FreeBuds 4 feature open ear design with active noise cancellation which claims to filter out up to 25dB of surrounding noise. You also get the latest Bluetooth 5.2 connectivity and longer lasting battery life in a slightly more compact form factor compared to last year's model.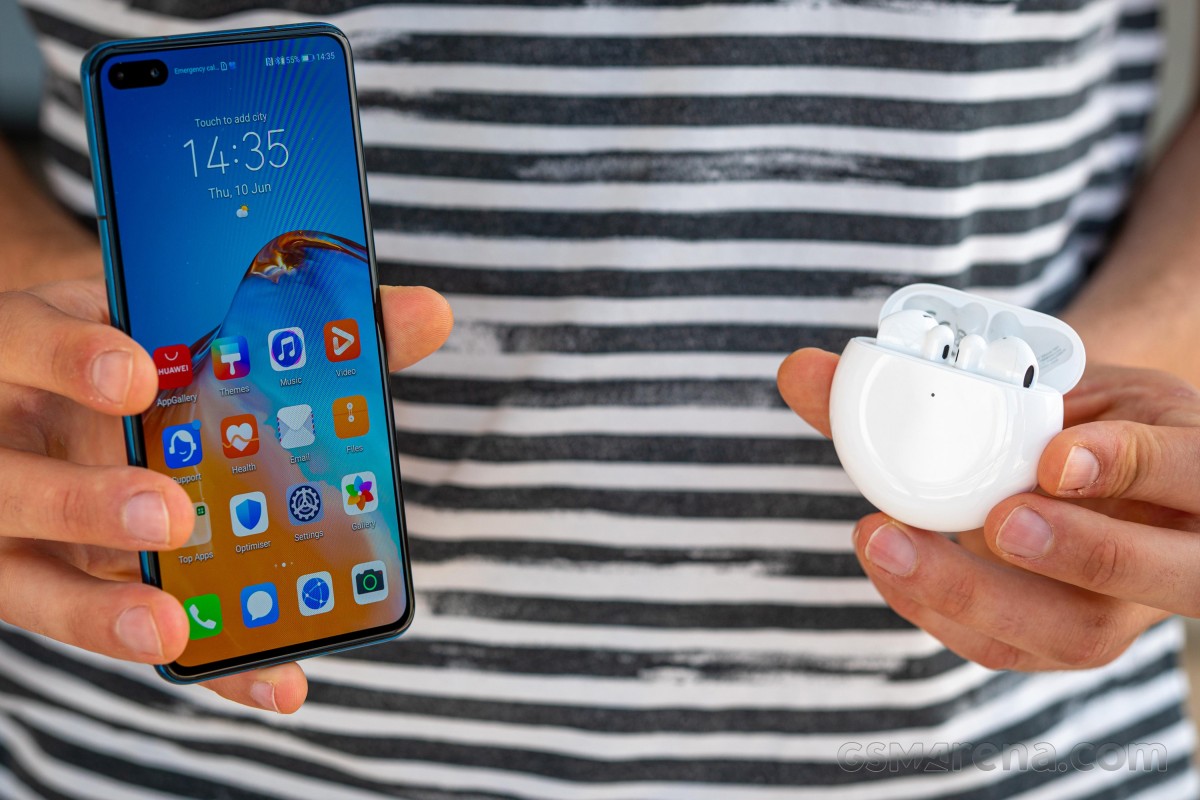 I got the chance to test out the new FreeBuds 4 for an extensive time, using them as my sole pair of earphones for work, travel, gym and everything in between. Let's see if the FreeBuds 4 are really a tangible upgrade over their predecessors. More importantly, can you really get reliable ANC from open fit earphones?
Design and build quality
FreeBuds 4 bring an open-fit style with long stems which immediately remind of Apple's regular AirPods and with the visual resemblance between the earphones is certainly present. The charging case is slightly smaller and weighs less than the one on the FreeBuds 3 which should make them fit easier in pant pockets and bags. It still looks like you're carrying around a dental floss kit and I personally prefer the squarer look of the AirPods' case.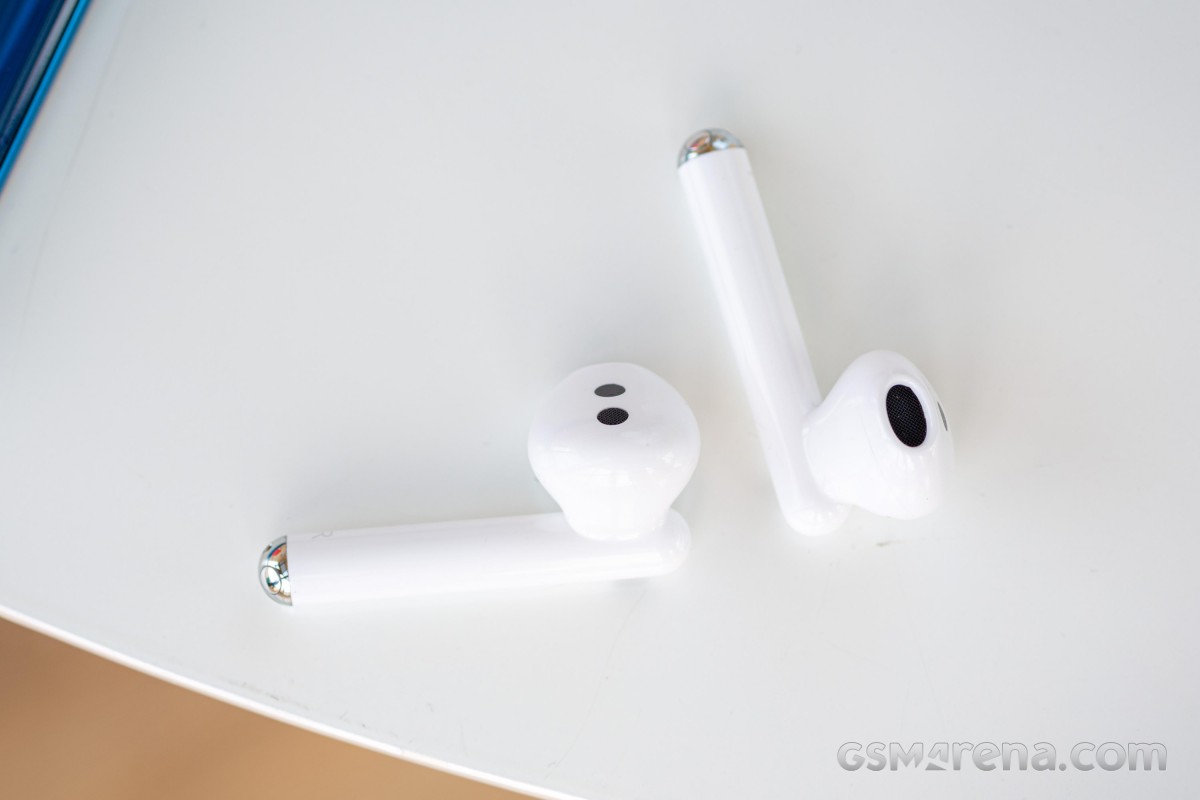 The moment I put FreeBuds 4 in my ears I noticed they would not really stay put and tend to loosen over time to the point where I felt they were going to slip out and fall. Other people who tried them on reported they fit just fine with their sound receptors so the problem was seemingly on my side.
Despite the lackluster fit, I still enjoyed the light and non-obtrusive form factor which contributed to multiple hour-long sessions of listening without any ear fatigue or soreness.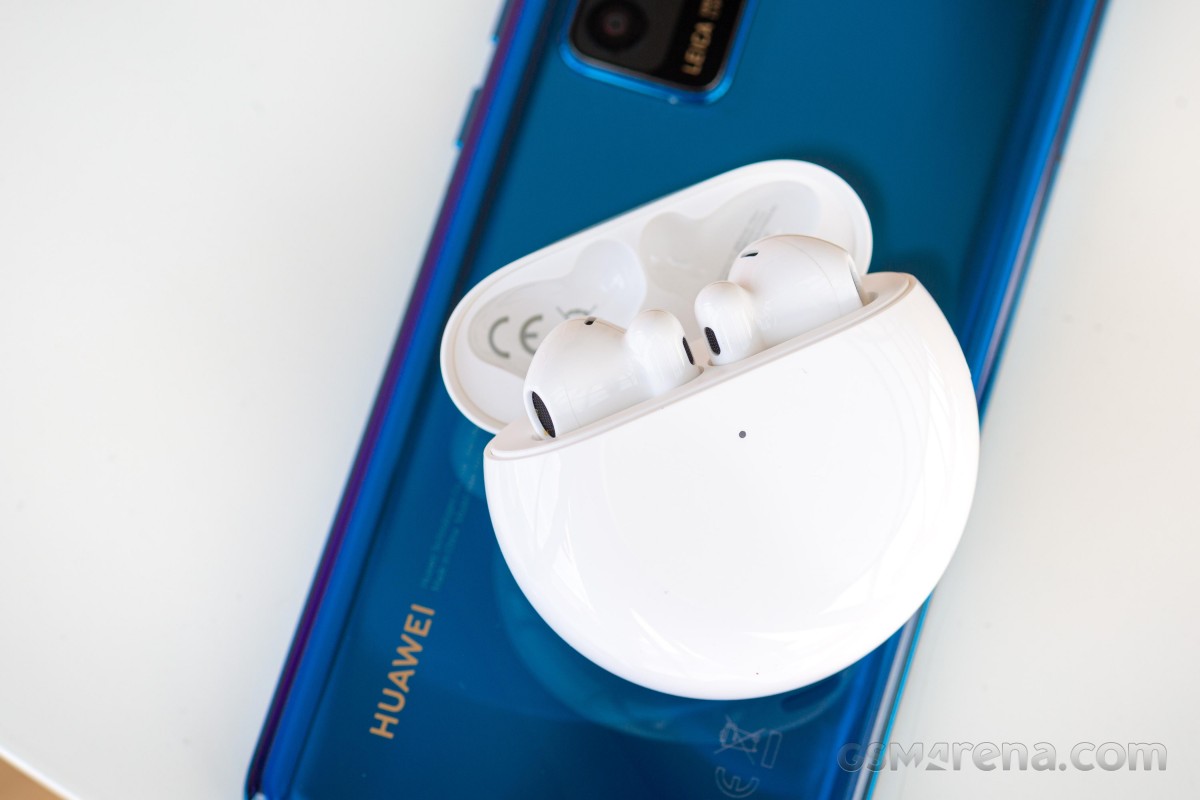 The charging case has benefited from a sturdier build this time around compared to the FreeBuds 3 and definitely feels more premium. The opening mechanism is rock solid and brings a satisfying snap when closing. The top lid can now support the weight of the entire case without shutting close which is a clear sign of the improved build. The earbuds themselves are well put together and survived the occasional fall from almost 2 meters on the ground without any scuffs or scratches.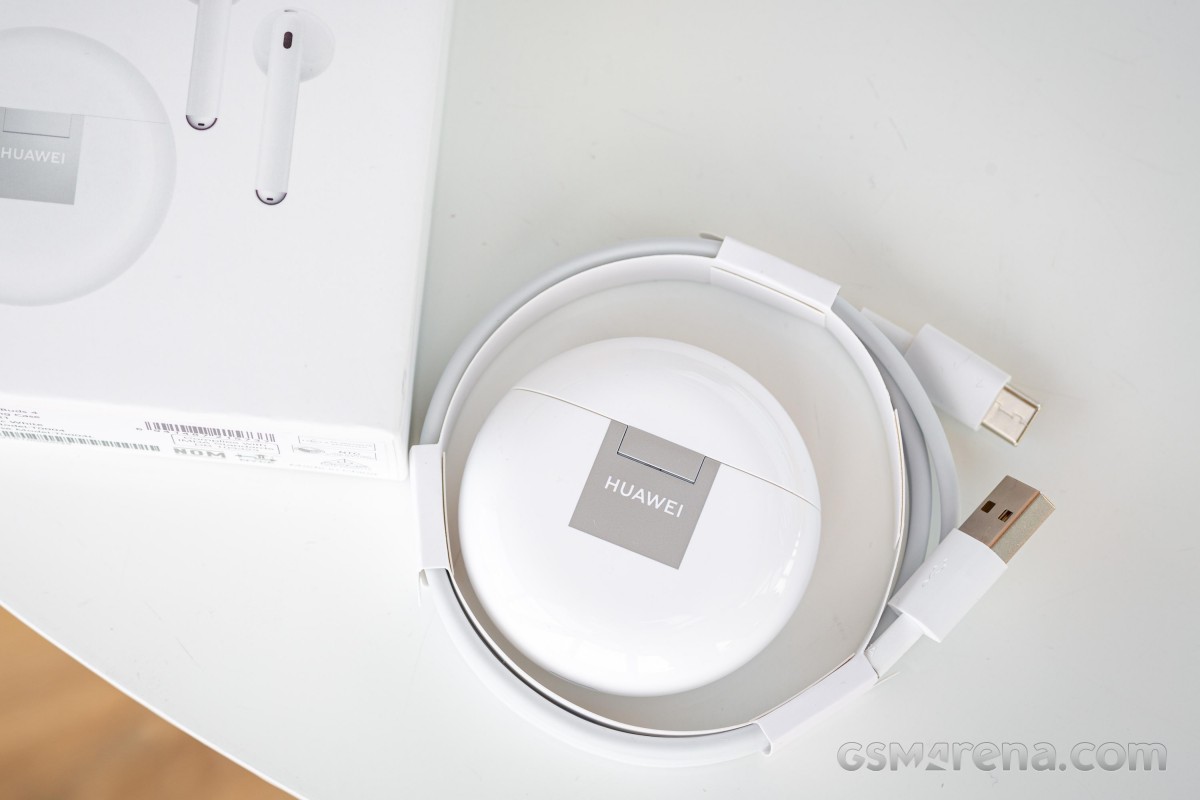 Huawei is selling two versions of the FreeBuds 4 with regards to the case – a wired charging version which was used for this review and a wireless charging model which is yet to be made available. In-box contents include the buds in their charging case, a USB-C cable for charging and some manuals. The buds are IPX4 rated for water and dust resistance.
Features
As soon as you put the earphones in your ear, you get an accompanying sound to let you know they are connected. You can use either of them separately which is cool if you want to share your music with a friend. Removing either of the buds instantly pauses all media including videos on smartphones, tablets and laptops.
The pairing process is the same as most other TWS earphones – you open up the case and hold the pair button for a few seconds and then select the FreeBuds 4 in the Bluetooth menu. Pairing on Huawei devices is instantaneous as soon as you pop the top lid. You also get a sleek animation of the buds to let you know they're connected.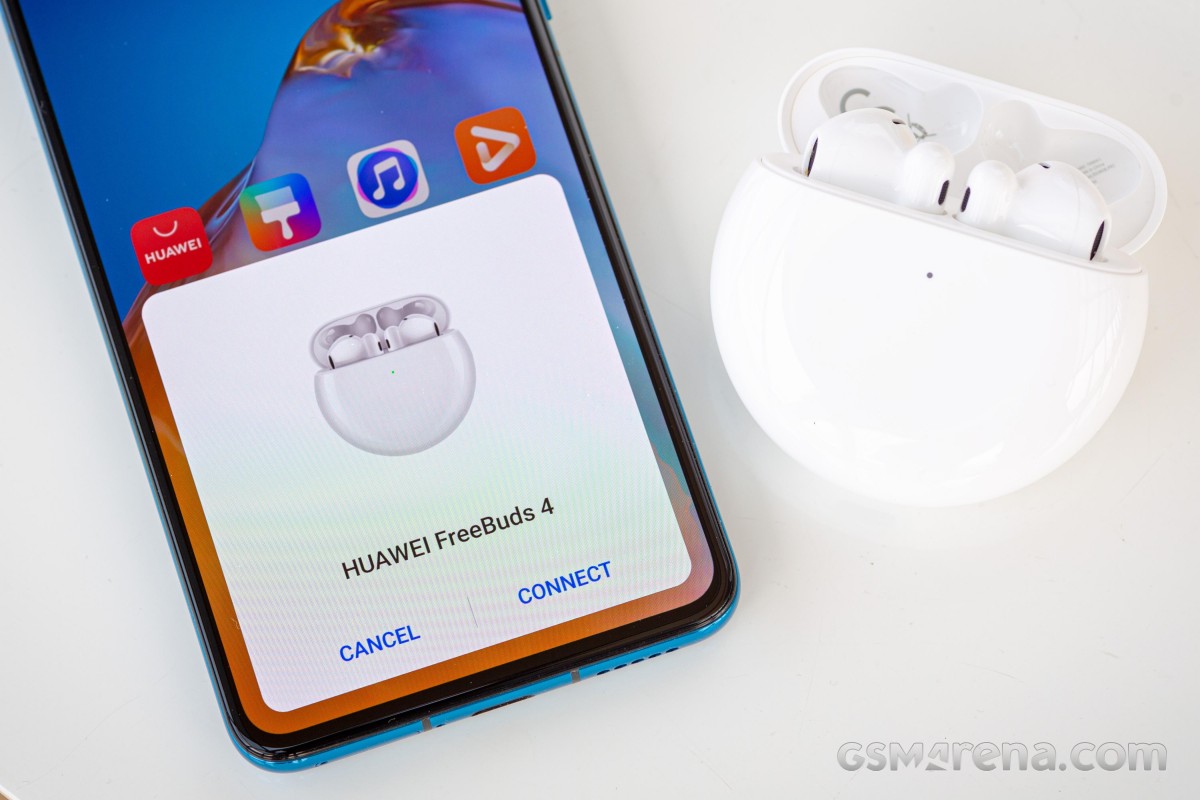 You can pair two devices simultaneously (your phone and laptop for example) and the earphones are smart enough to know which device you're using at the exact moment and can switch back and fourth between them. This feature also worked flawlessly on non-Huawei devices which is a welcome addition if you're not fully invested in Huawei's ecosystem.
Huawei's AI Life app is your one-stop-shop for controlling all functions of the FreeBuds 4. Even if you're using a non-Huawei phone it's best to sideload the app from Huawei's AppGallery Store as the Google Play version did not support the FreeBuds 4 for some reason. Once setup you are presented with battery status for both left and right earbuds as well as their case, a connection center of all your paired devices and plenty of shortcuts for the gesture controls.
The touch-sensitive stems on the FreeBuds 4 are definitely a strong point and worked exceptionally in my testing paired to Huawei devices and smartphones, tablets and laptops from other brands. There's a double tap and long press gesture on each bud as well as a vertical swipe to adjust the volume. You can re-map the double and long press actions while the swipes are rightfully reserved for volume adjustment.
The Find My Earphones feature is pretty self explanatory. The Buds can play a really high pitched noise to help you locate them if they've been misplaced.
A big new addition to FreeBuds 4 is the Open-fit Active Noise Cancellation 2.0 system. It brings automatic adjustments to noise canceling based on the surrounding environment with dual microphone hybrid noise reduction system instead of the single mic system on the FreeBuds 3.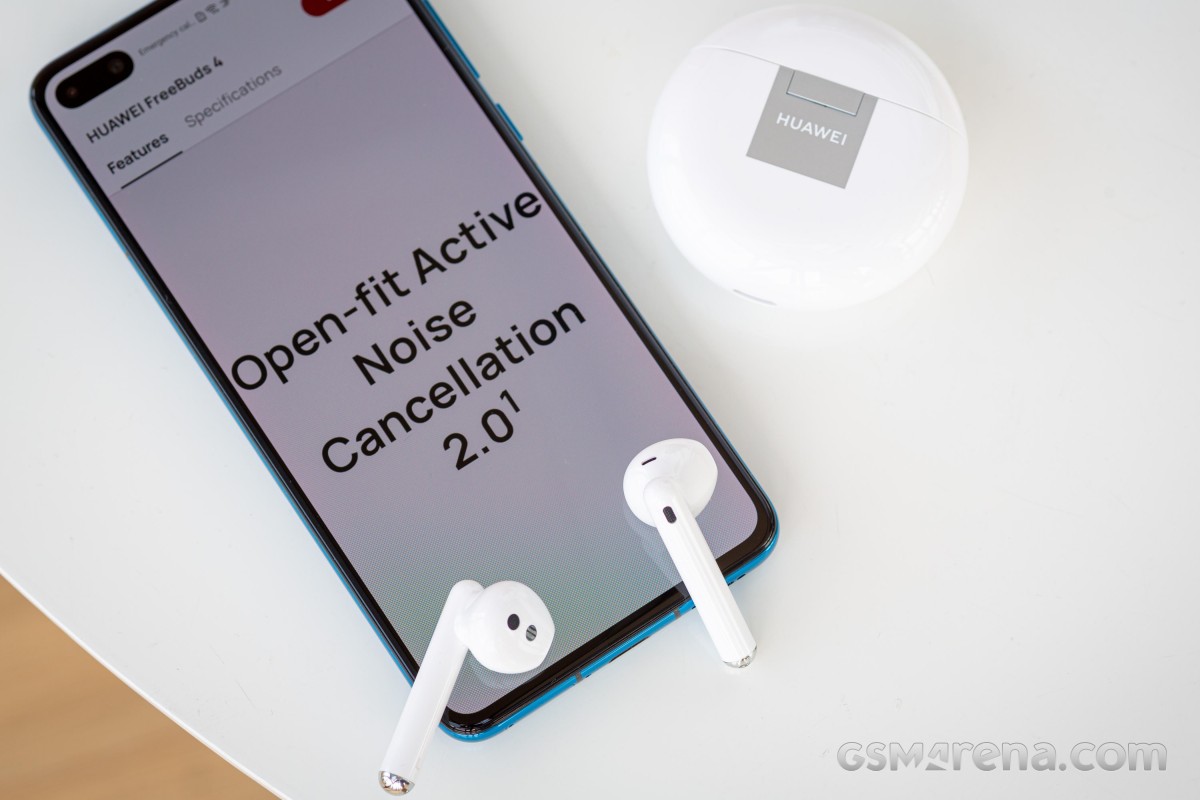 On paper, this means better ambient sound pick up and in turn improved noise canceling but in reality I could not tell the difference compared to the older model. The FreeBuds 4 can also detect your ear canal shape and then apply the best matching noise canceling mode.
This is where we should mention that ANC quality depends on the seal created by the earphones in your ear canal. So smaller ears will naturally be better positioned here. Compared to in-ear earphones with ANC, the FreeBuds 4 underperformed at isolating outside noises in my personal experience. People with smaller ear cavities could see different results so if you have the chance, do test out the fit before you go out and buy these.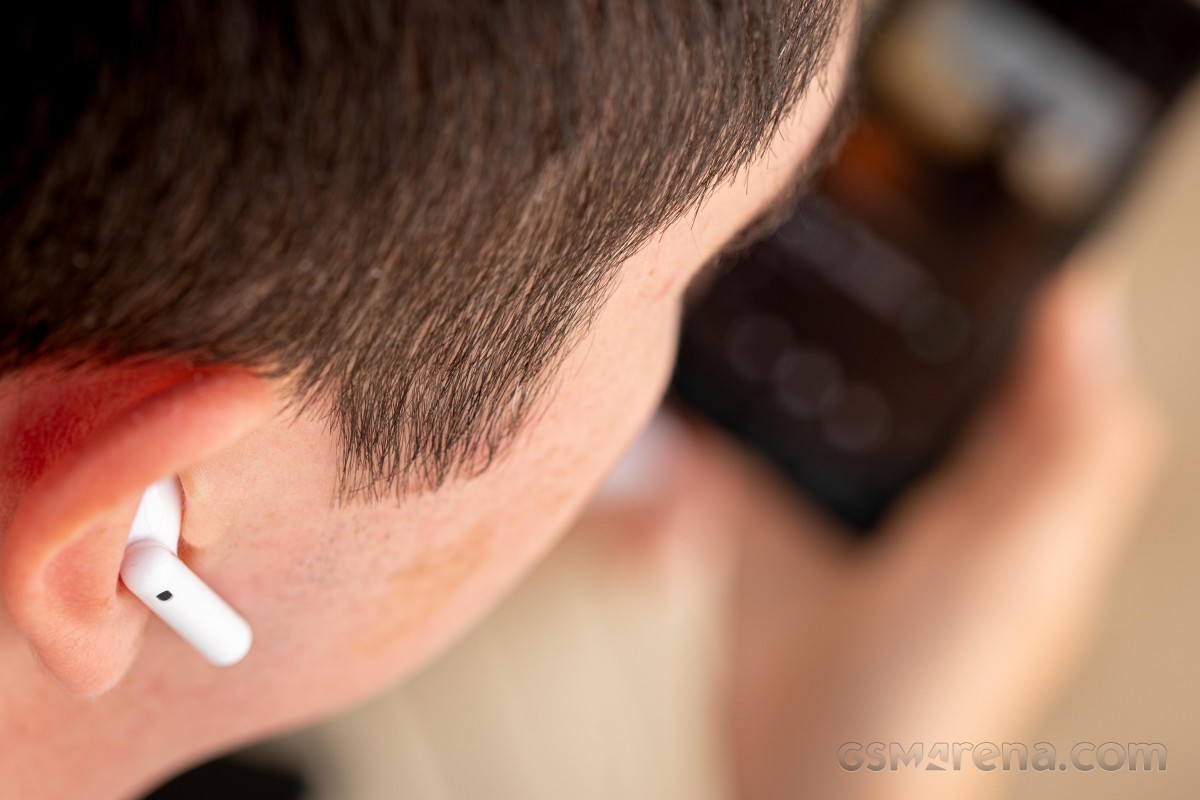 Huawei is also touting higher sensitivity mics that can record sounds with up to 48Khz sample rate which makes for a clear voice pickup even in noisier environments. You can find more details in the sound quality section below. There's also a low latency mode with a 90ms delay on HarmonyOS 2 phones (which we could not test yet) and 150ms on EMUI devices which is certainly a welcome addition for gamers.
Sound quality
FreeBuds 4 feature 14.3mm dynamic coil drivers. During my test period, I listened to various music genres alongside the occasional podcast, YouTube video and a few basketball games. The earphones delivered crisp, clear and rich sound in all use cases without over pronouncing bass. They aren't the loudest pair of TWS buds around but still offer a balanced sound profile which is a noticeable step above more affordable options we've tested in the past year.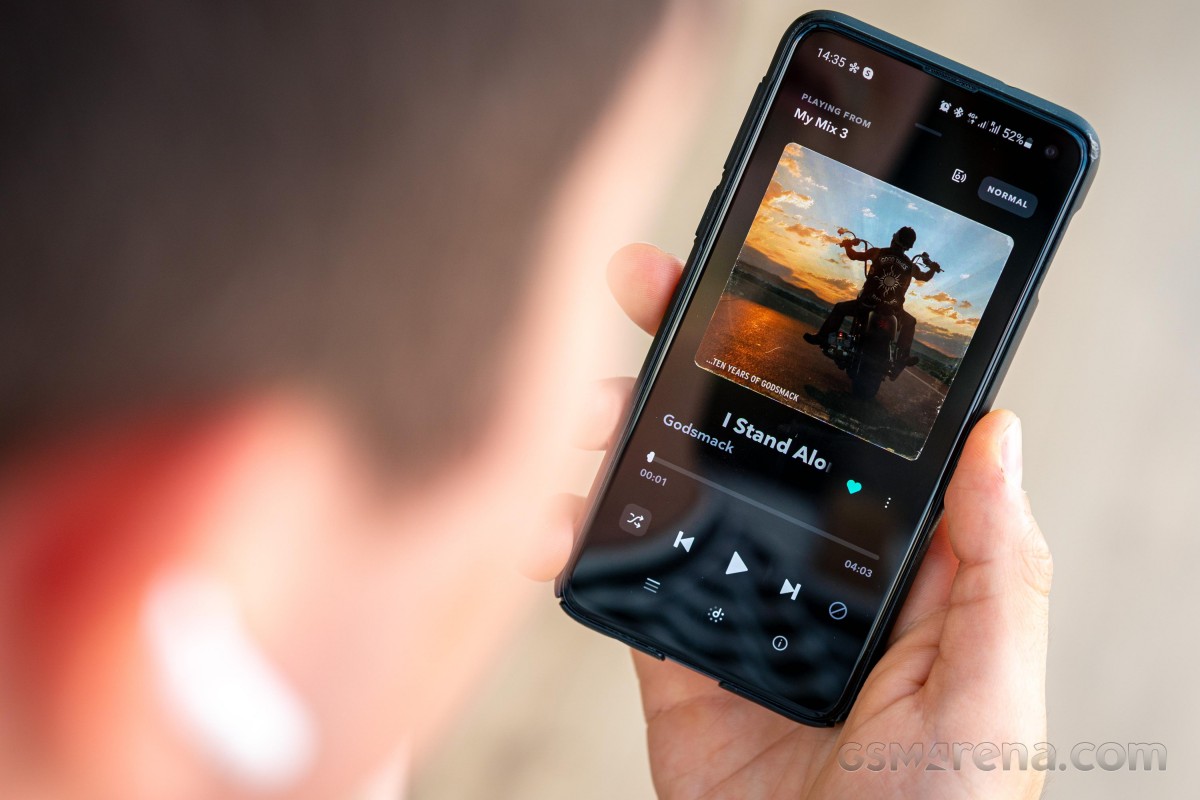 While the sound quality is above average for TWS earbuds, noise canceling is not that impressive. You certainly feel less outside commotion with ANC enabled but it's nowhere near the level of other premium in-ear buds like the AirPods Pro or Sony's WF-1000XM4. In my testing, I found the FreeBuds 4 to block out subtle outside noises like keyboard strokes or the hissing sound of the water dispenser at the office.
Outdoors or at the gym, the FreeBuds 4 failed to impress with their noise suppression but that has to do with the bad fit of my ears. This in turn makes it complicated to recommend them over an in-ear pair of earbuds with proper silicone tips that can create a better seal in your ear canal.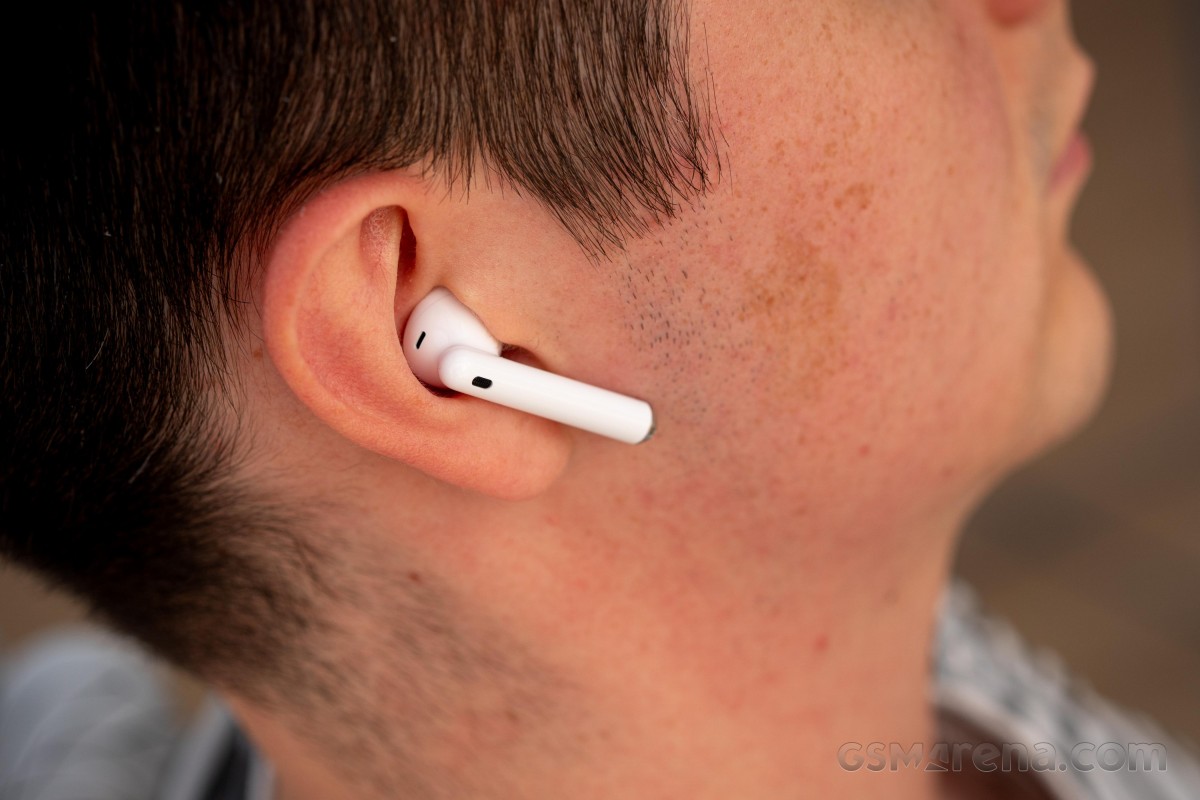 Voice pick up from the on-board microphones was decent yet recordings came out muffled. I did not see a big difference with Huawei's 48Khz recording rate enabled and I still find Apple's AirPods as the gold standard for true to life voice pick up. During phone calls, people on the other side reported loud and clear reception coming from my end. Huawei did place the microphones with a windproof duct which does an impressive job in windy environments.
Battery life
Huawei claims 2.5 hours of battery life with ANC enabled and up to 4 hours with it turned off. The charging case extends those numbers to 14 hours or 22 hours respectively. A quick 15-minute fast charge gets you up to 2.5 hours of music playback.
In my testing I found these numbers to be accurate. FreeBuds 4 manage to last me two full days of work and gym sessions before the low battery indicator came on. I usually listened to music at 60-80% volume. A full charge from 0 to 100% took around 30 minutes which is quite impressive.
Verdict
Huawei's FreeBuds 4 present a viable option for those looking at a pair of premium open-fit earphones that offer impressive sound and don't need stellar ANC. The upgrades over the FreeBuds 3 are iterative and felt most in the multipoint pairing, revised gesture navigation and improved microphone system.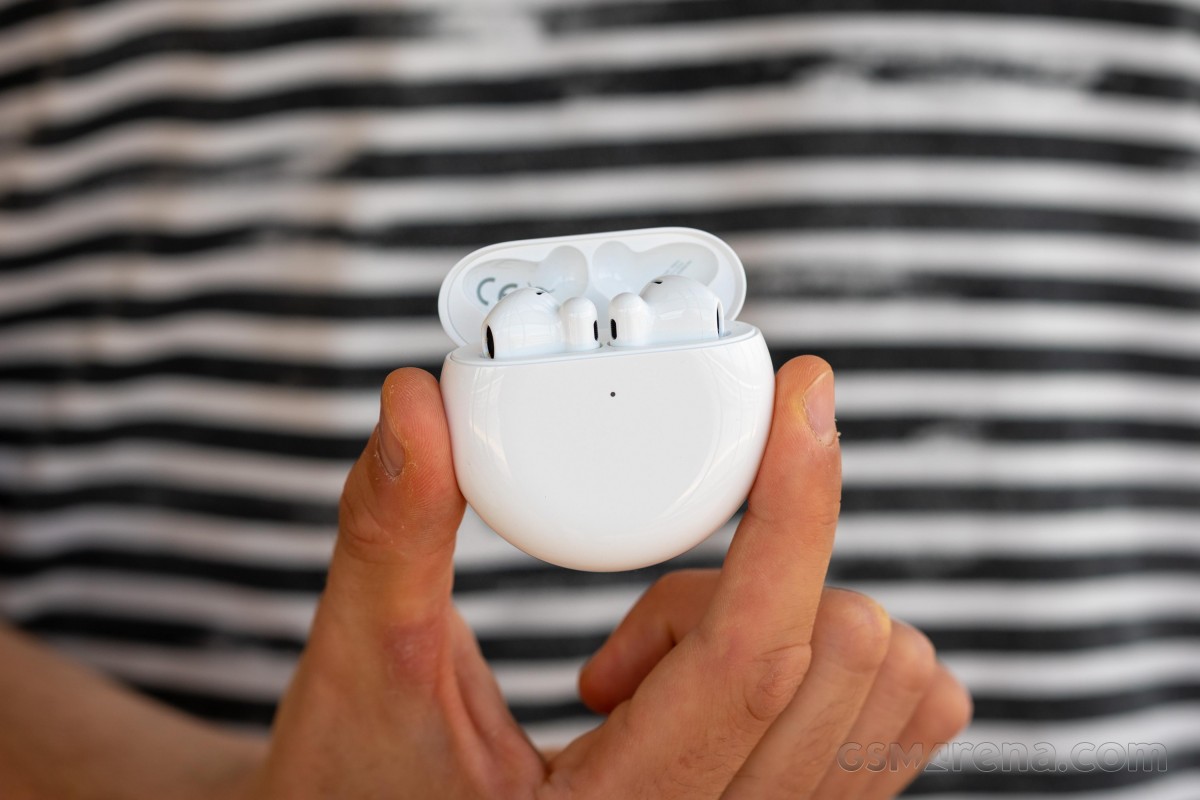 At €150/£130 for the wired charging model and €170/£150 for the wireless charging version once it launches in July, Huawei's FreeBuds 4 offer a tough sell considering the more affordable FreeBuds 4i are going for €100/£80 while last year's excellent FreeBuds Pro are down to €140/£130.
It's the in-ear fit that determines which model you go for and if you're the type that prefers the open-ear models then the FreeBuds 4 are for you but don't expect the same level of noise canceling as the other two models. Battery life is decent though not class leading.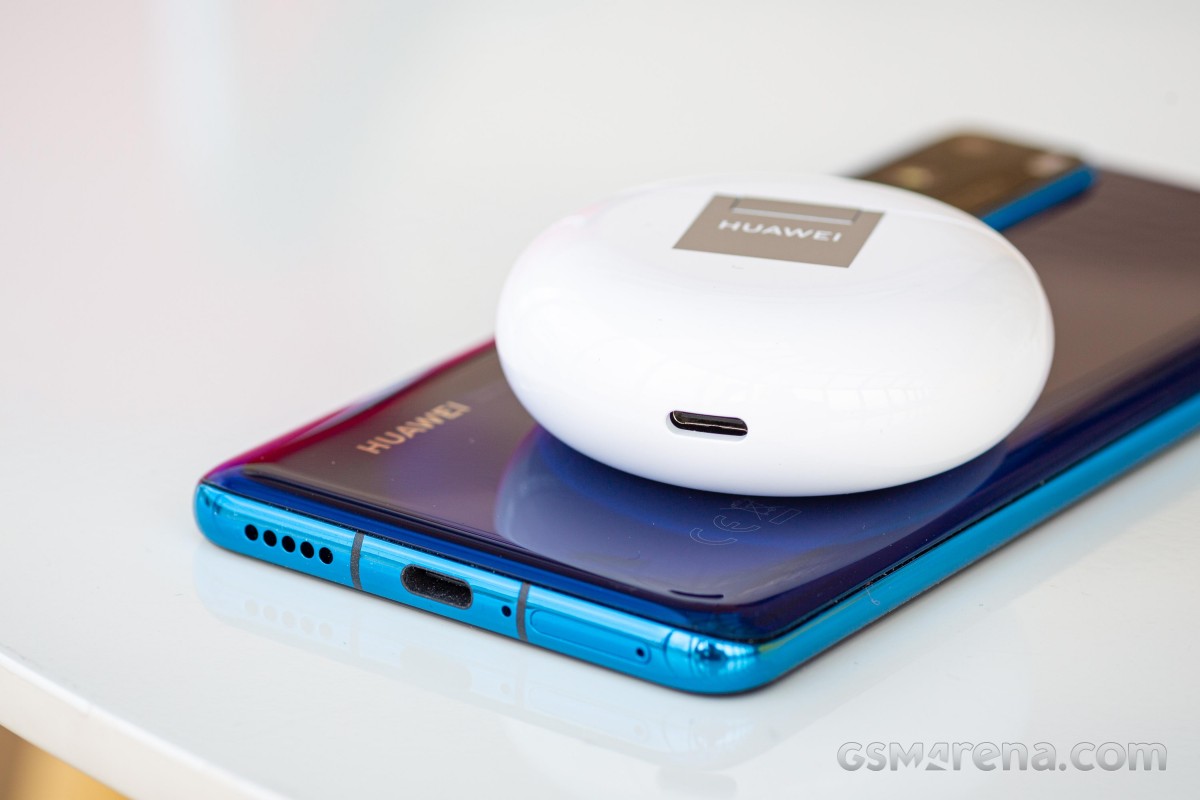 There's a lot to like here in terms of audio output and added functionality with flawlessly executed multi-point pairing and gesture controls yet it's hard to recommend the FreeBuds 4 due to their questionable fit. If you can snatch these at a sales event which Huawei usually brings down the line and your ear canals can hold them in without a problem, then the FreeBuds 4 are a worthy consideration in the rare breed of open ear TWS earphones.
Related
I have used both free buds 3 and free buds pro and they are way better than Samsung in terms of one fundamental thing: quick fit and good noise cancelation. Freebuds pro has a bit bulky case but it is the only case that has multi-point pairing which ...
Anonymous
14 Jun 2021
j%t
Apparently if it's any negativity towards huawei it is glazed over, at least on this site it is.
Anonymous
14 Jun 2021
Hku
A review without mentioning chipset used
Popular articles
Popular devices
Electric Vehicles