Honor 6X review: Amped up
Amped up
GSMArena team, 27 January 2017.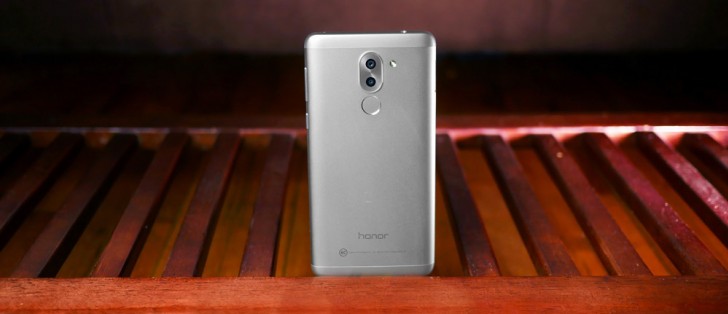 Telephony
The dialer's default screen is the number pad in front of the most recent call history. You may use the number pad for alpha-numeric typing of the name, and if you still can't find that contact you're looking for, the 'Contacts' tab is one tap away.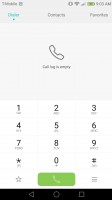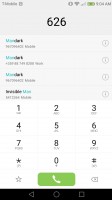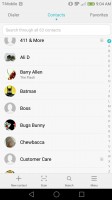 Dialer • Smart dialing • browsing through contacts
The in-call screen is nicely designed, we like the looping animations around the contact's picture. A continuous loop signifies an outgoing call, which then becomes a minute minder. When the animation makes it all the way around, it means a minute of talk time has just passed. Also, if you raise the volume past the highest notch, you enable a Loud Voice mode that lets you hear the other caller through anything.
That said, the Honor 6X's in-call noise canceling worked quite well. Our caller heard us just fine, even in noisy environments, and loud mode helped in some of these cases.
The Honor 6X is able to use dualSIM cards, but the second SIM is only capable of a 2G signal, while the primary SIM would connect to a 3G/4G connection. You can switch between slot 1 and 2 for which SIM you'd like to set as the primary one.
Text input
The Honor 5X comes with Google Keyboard out of the box. Sign into the Play Store and update it to the latest version; Google Keyboard is now called Gboard. Gboard has a refined appearance, you can perform a Google Search and input the results into text, right from the keyboard.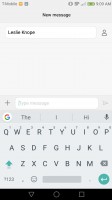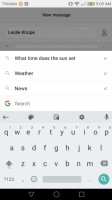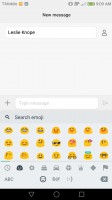 Google Keyboard standard view • Tap "G" for Google Search • Emoji
There is also a one-handed mode that shifts the buttons to either side of the screen to make one-handed text input easier.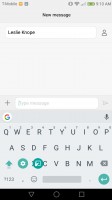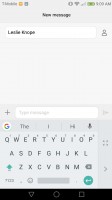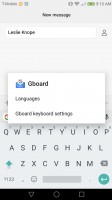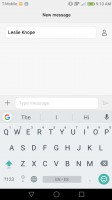 Enabling one-handed mode • One-handed mode • Add Gboard language • English + Spanish enabled
Pre-installed apps
The Honor 6X has a few pre-installed apps, but thankfully they are not intrusive and can be easily uninstalled if they bother you.
Of course, you get the standard Google Suite. None of these apps can be uninstalled, only disabled. Moving on, you have the stock EMUI SMS app, and Chrome is the primary browser. There are a few pretty good tools like a proper file management app, health tracker, email client, as well as a Phone Manager app.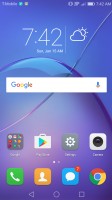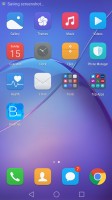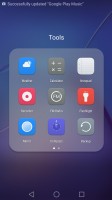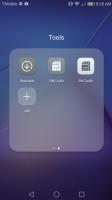 Home screen 1 • Homescreen 2 • Tools 1 • Tools 2
The Phone Manager is an all-in-one tool directory. It lets you optimize storage and RAM, kill battery-intensive tasks, manage locked apps, customize notifications, and it even has one large button that optimizes all aspects of the system in a single tap.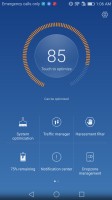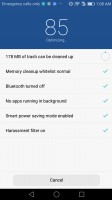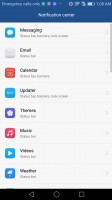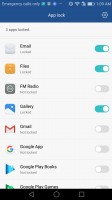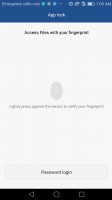 Phone Manager • Tap to optimize all • Notification center • App Lock • Locked app
There's a health app that comes pre-installed, and it has the basics to get you started with counting steps with the built-in sensor, and the ability to log your weight over time.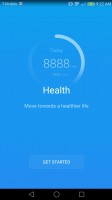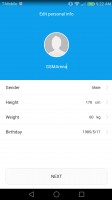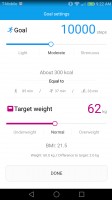 Health app • Basic details needed • Goal settings
There's even an FM Radio app, which requires a wired headset. There's also a straightforward voice recording app.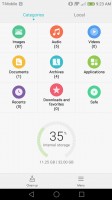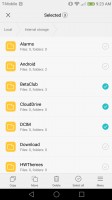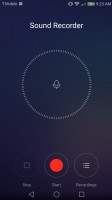 File manager • Select multiple files • voice recorder
The "Top apps" folder contains a few Honor apps and a bunch of third-party apps that you may or may not use. These are all removable, including the Honor shortcuts. The most obtrusive pre-installed app is News Republic. It will display a notification of news in the notification shade without warning and without having set anything up with the app.
Loudspeaker
Last year the Honor 5X's loudspeaker scored 'Average' in this test, so we are glad to see a louder speaker in the Honor 6X, which yielded a "Good" score. The speaker brings ample volume for ringtones and notifications, it's just fine for watching videos, listening to voicemails, or hearing audio clips, though it's quite tinny.
| | | | | |
| --- | --- | --- | --- | --- |
| Speakerphone test | Voice, dB | Pink noise/ Music, dB | Ringing phone, dB | Overall score |
| Lenovo K6 Note | 63.2 | 69.5 | 71.0 | Average |
| Huawei Honor 5X | 71.1 | 65.6 | 70.7 | Average |
| Moto G4 Plus | 64.0 | 70.4 | 73.0 | Average |
| Samsung Galaxy C5 | 67.4 | 69.0 | 72.9 | Good |
| Moto M | 64.5 | 72.9 | 72.0 | Good |
| Huawei Honor 6X | 68.4 | 67.0 | 79.1 | Good |
| Honor 8 | 67.1 | 66.2 | 82.6 | Good |
| Huawei P9 lite | 66.0 | 71.5 | 83.2 | Very Good |
When it comes to audio quality, like many phones, bass playback is near-non-existent; meanwhile, higher treble tones begin distorting when at the higher volume levels to the point that it just sounds off-key sometimes. It sounds what you'd imagine a water-proof speaker sounding after getting wet.
Anonymous
27 Apr 2022
rrH
The phone it look very nice
Using it since 2017 and never had any issues the best thing is it's screen i dropped it many time but never broke and now i got honor 20pro also for better camera but mostly using 6x 😅
Anonymous
19 Sep 2020
7WW
were did i gat the screen