Honor 7 Lite (5c) review: Lite and dark
Lite and dark
GSMArena team, 26 July 2016.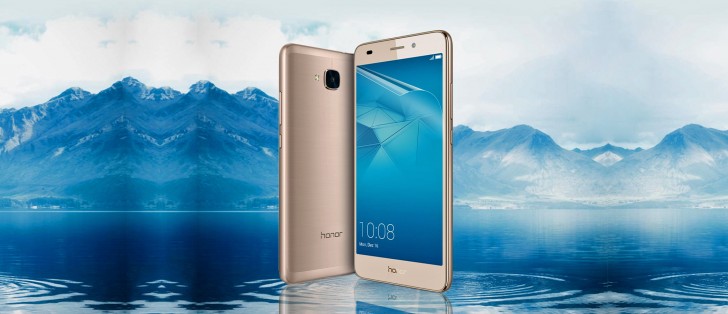 Video player
The Honor 7 Lite's video player features simple gesture control - swipe left/right for rewind/forward and up/down to adjust the brightness or change the volume (swipe on the left half of the screen for brightness, on the right for volume).
There's a pop-up play option so you can watch a video while using other apps. When using a headset, you can enable SWS sound effects ("Super Wide Sound," a proprietary virtualization tech). There's also the option to change playback speed.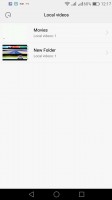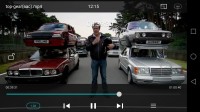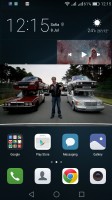 Video player • Watching a video • Pop-up video play
Simple gallery
Honor 7 Lite's gallery app offers a Timeline view, which sorts your images by the date you've taken them. Alternatively, you can opt for the standard Album or Map views.
One feature we love is that you can swipe the fingerprint reader like a mini touchpad to move between photos. This makes it so much easier to show photos to others without covering the screen with your hand.
Opening a single image lets you quickly delete or rotate it. The info icon up top gives some pretty detailed information about the image, including a histogram.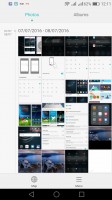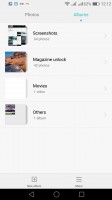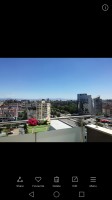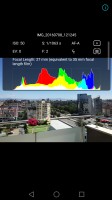 Chronological view • Album view • Viewing an image • Detailed info
You can also go into a more capable editor with options for light and exposure adjustments (so you can bring out the shadows or the highlights), filters and beauty enhancements. You can adjust levels and add individual watermarks for time, location, weather, food and mood.
Editing options include an Instagram-like feature that places your location, the weather and other info on the image. This way you can brag about the sunny weather on your beach photos or include the elevation after a hike.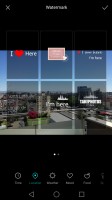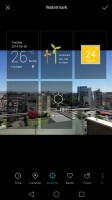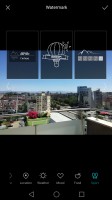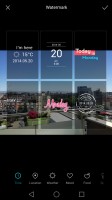 Adding time, weather and location info to photos as mementos
Pull down anywhere on the screen and you'll be able to take a quick photo without leaving the gallery. The image comes out in a square 1:1 ratio at 3,104 x 3,104px (another Instagram-inspired feature.
Music player
The Honor 7 Lite (5c) comes with Huawei's custom music player app, which offers some fun features, but the execution could have been better.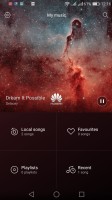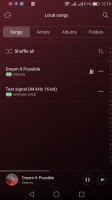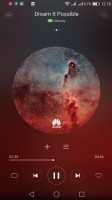 Music player • Selecting tracks • Now playing
You can enable lyrics, which are displayed karaoke style. You can also place lyrics on the homescreen and the lockscreen. However, the homescreen lyrics get in the way of other apps - yet you need to have them enabled before you can enable lockscreen lyrics.
On the plus side, you can also scroll through the lyrics and jump to that specific point of the song. Unfortunately, the player does not automatically download lyrics, you need to provide your own .lrc file.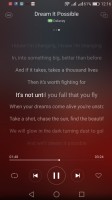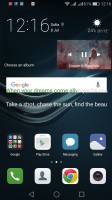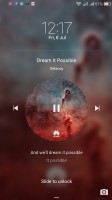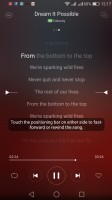 Lyrics in the app • On the homescreen • On the lockscreen • Fastforward
Smart headset control gives the three-button remote some more options. The buttons - Volume up, Play/Pause and Volume down - handle their own functions, but double taps on the volume buttons can also add a song to favorites or toggle shuffle.
The phone also has FM radio on board. It doesn't feature RDS, though (the feature that displays station name and other info). The app can play through the loudspeaker (it still needs the headset as an antenna) and has scheduled exit.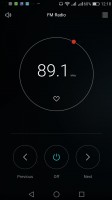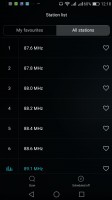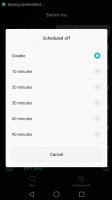 FM radio • All stations • Auto power off
Audio output is better than expected
The Huawei Honor 7 Lite (5c) had an excellent showing in the first part of our audio quality test. The affordable smartphone has loudness that's higher than average and no weak points to its output whatsoever.
The headphone test brought very little damage - volume dropped a tiny bit, while the stereo crosstalk hike was very well contained. It's much better than we are used to seeing from devices in this price range.
Test
Frequency response
Noise level
Dynamic range
THD
IMD + Noise
Stereo crosstalk
Huawei Honor 7 Lite (5c)
+0.03, -0.44
-90.4
90.9
0.0019
0.011
-87.9
Huawei Honor 7 Lite (5c) (headphones)
+0.04, -0.47
-90.3
90.7
0.0067
0.072
-73.1
Huawei Honor 5X
+0.02, -0.08
-93.4
90.1
0.0028
0.012
-93.4
Huawei Honor 5X (headphones)
+0.10, -0.03
-92.9
89.8
0.0048
0.071
-78.2
Samsung Galaxy J3 (2016)
+0.04, -0.24
-92.4
92.5
0.024
0.023
-91.3
Samsung Galaxy J3 (2016) (headphones)
+0.37, -0.04
-88.5
90.6
0.045
0.226
-56.9
Sony Xperia E5
+0.14, -0.81
-92.3
92.4
0.0072
0.0093
-91.9
Sony Xperia E5 (headphones)
+0.15, -0.88
-89.5
88.9
0.0090
0.370
-50.7
Motorola Moto G4
+0.02, -0.07
-92.4
92.5
0.0028
0.0084
-92.1
Motorola Moto G4 (headphones)
+0.04, -0.08
-92.0
92.0
0.0073
0.070
-63.8
Sony Xperia XA
+0.01, -0.18
-93.6
90.6
0.0030
0.010
-91.7
Sony Xperia XA (headphones)
+0.85, -0.18
-87.1
87.8
0.018
0.327
-54.9
Lenovo Vibe K5 Plus
+0.02, -0.08
-93.8
92.8
0.0037
0.034
-91.3
Lenovo Vibe K5 Plus (headphones)
+0.09, -0.03
-93.5
92.6
0.070
0.075
-49.0
Samsung Galaxy A5 (2016)
+0.02, -0.07
-94.3
92.2
0.0065
0.010
-95.0
Samsung Galaxy A5 (2016) (headphones)
+0.42, -0.01
-93.4
87.1
0.029
0.254
-53.0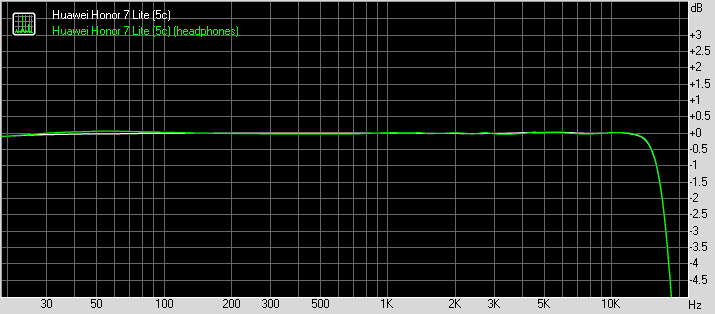 Huawei Honor 7 Lite(5c) frequency response
You can learn more about the tested parameters and the whole testing process here.
Anonymous
22 Aug 2021
sUv
Sir please update honor 5c update software.
After 3years of usage he survived all falls, made good pictures and videos, battery life is ok not the best but not the worst either. So definitely I'm sorry to say goodbye to him probably best phone I had in my life so far.
Stormrage
14 Dec 2018
reh
That no fingerprint reader in Europe is not true, at least not everywhere. I have it and use it on mine for year and half already. And no, I haven't ordered it from Asia or something. Got it from my mobile phone service provider as package.