Huawei Mate 20 Pro review
GSMArena team, 27 October 2018.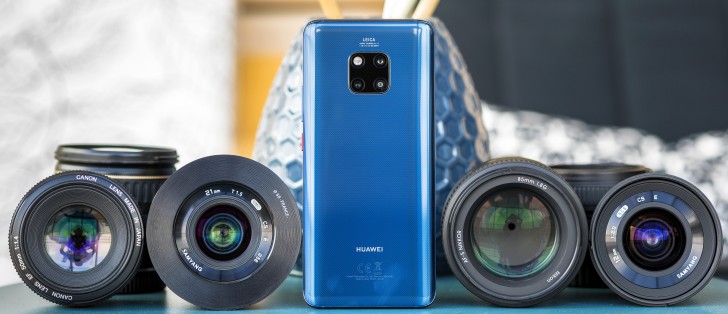 Kirin 980 powers the Mate 20 series
Huawei Mate 20 and Mate 20 Pro are the first smartphones to utilize HiSicon's latest Kirin 980 chip. This is the first chipset in an Android phone built on the 7nm manufacturing process and it's promising plenty of power and efficiency gains over its predecessor and other 10nm chipsets.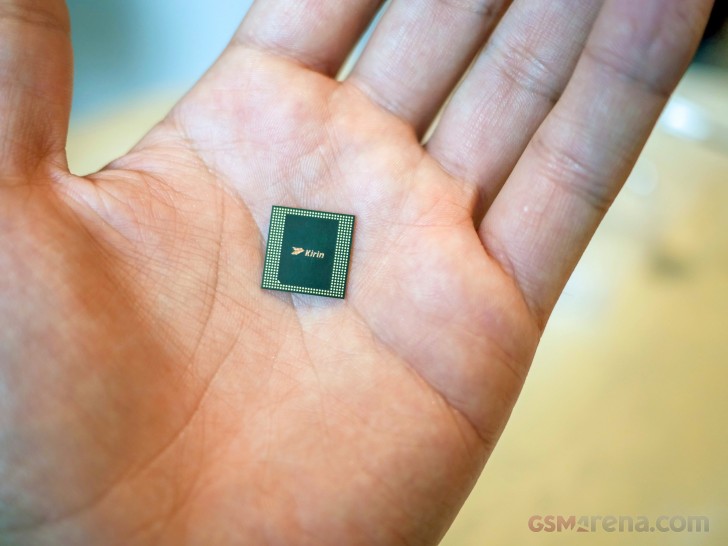 The Kirin 980 uses an 8-core CPU design with 2x high-performance Cortex-A76 cores running at 2.6GHz and 2x Cortex-A76 cores clocked at 1.92GHz and 4x power-efficient Cortex-A55 cores that go up to 1.8GHz. The processor makes use of ARM's DynamIQ architecture, which is the evolution of big.LITTLE and allows any subset of cores (or all together) to work simultaneously depending on the workload.
Kirin 980 SoC has a Mali-G76 MP10 (ten-core) GPU, which was announced back in May 2018, and offers tremendous performance and efficiency gains compared to its predecessor Mali-G72 in the Kirin 970. According to the press release, the GPU outperforms the previous generation by 46% and improves the power efficiency nearly twice. It can also take advantage of the new clock-boosting technology that recognizes when a demanding game is running and provides optimal gaming performance.
EMUI 9 supports GPU Turbo 2.0, which is supported by six games in total for the time being. It allows all those games to run smoothly and steady at 60 fps at full resolution. GPU Turbo 2.0 is new, but Huawei is also working with game developers to enable it in even more popular games though we won't be holding our breath.
Huawei points out that the Kirin 980 outperforms the 10nm chips by 20% and it's 40% more power efficient overall.
The 7nm manufacturing process isn't its only claim to fame. The chipset is also the first to support 2133MHz LPDDR4X memory and incorporates a dedicated dual NPU chip. Huawei calls the latter "Dual-Brain Power" and can help recognize up to 4,500 images per minute, which is around 120% faster than last year's single NPU chip on the Kirin 970 SoC.
Other notable features include 6.9 billion transistors crammed inside a 1cm² die (1.6 times more than its predecessor), 1.4Gbps Cat 21 LTE modem and blazing fast WiFi speeds of up to 1,732Mbps peak download/upload speeds.
Finally, the chipset comes with a new Image Signal Processor, which delivers a 46% increase in data throughput and better multi-camera support. It promises an improved HDR color reproduction, Multi-pass noise reduction that removes artifacts without hurting with the image details and better motion tracking.
And now it's time to run some tests.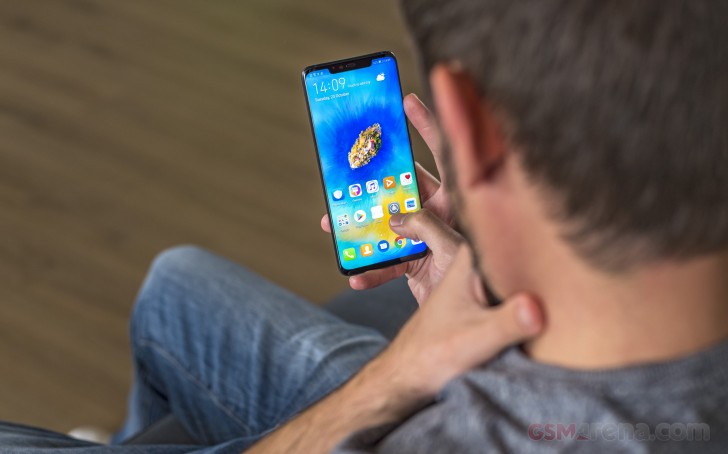 Benchmarks
Quite expectedly we start off with some GeekBench torture on the CPU. The Mate 20 Pro easily comes on top of the whole Android pile, when it comes to multi-core performance. It is bested only by Apple's most current. The Kirin 980 multi-core CPU performance also enjoys 40% improvement over the Kirin 970.
GeekBench 4.1 (multi-core)
Higher is better
Apple iPhone XS
11472
Apple iPhone XR
11437
Apple iPhone XS Max
11432
Apple iPhone X
10215
Huawei Mate 20
9793
Huawei Mate 20 Pro
9712
Samsung Galaxy Note9
9026
OnePlus 6
9011
Xiaomi Pocophone F1
9003
HTC U12+
9001
Razer Phone 2
8923
Samsung Galaxy S9+
8883
LG G7 ThinQ
8865
Sony Xperia XZ3
8607
Xiaomi Mi 8
8494
Samsung Galaxy S9+ (Snapdragon)
8349
Google Pixel 3
8146
Google Pixel 3 XL
8088
Oppo Find X
8018
Huawei Mate 10 Pro
6783
Huawei P20
6722
Huawei P20 Pro
6679
Huawei Mate 10
6625
Huawei Mate 20 Lite
5574
Its single-core result came just short of the Mongoose cores of the Galaxy Note9. The Apple cores are lightyears ahead as usual, but that's hardly relevant for the Android market, isn't it?
GeekBench 4.1 (single-core)
Higher is better
Apple iPhone XS
4823
Apple iPhone XR
4818
Apple iPhone XS Max
4777
Apple iPhone X
4256
Samsung Galaxy S9+
3771
Samsung Galaxy Note9
3642
Huawei Mate 20 Pro
3291
Huawei Mate 20
3284
Sony Xperia XZ3
2486
HTC U12+
2456
OnePlus 6
2450
Xiaomi Pocophone F1
2438
Xiaomi Mi 8
2431
Razer Phone 2
2424
LG G7 ThinQ
2395
Google Pixel 3
2377
Google Pixel 3 XL
2363
Oppo Find X
2322
Samsung Galaxy S9+ (Snapdragon)
2199
Huawei P20 Pro
1907
Huawei Mate 10 Pro
1902
Huawei P20
1897
Huawei Mate 10
1882
Huawei Mate 20 Lite
1595
So, the Kirin 980 once again introduces the fastest mobile processor intended for Android smartphones.
The Kirin 980 chipset has Mali-G76 10-core GPU in charge of graphics. The performance, while an improvement over the previous Kirin 970, was not that impressive.
In terms of sheer power the Mate 20 Pro is almost as fast as the Snapdragon 845, but almost. If we are to dig into numbers, the Adreno 630 is still 12% faster than the Mali inside the Kirin 980.
It is still a major improvement over the Kirin 970 of course and just as Huawei promised, the new GPU is over 40% faster than the old one.
And just so you know, Apple's latest GPU is of another universe, obviously.
GFX 3.1 Manhattan (1080p offscreen)
Higher is better
Apple iPhone XS Max
99
Apple iPhone XS
98
Apple iPhone XR
97
Apple iPhone X
65
Samsung Galaxy S9+ (Snapdragon)
61
Xiaomi Pocophone F1
60
HTC U12+
60
Oppo Find X
60
OnePlus 6
58
Google Pixel 3
57
LG G7 ThinQ
57
Sony Xperia XZ3
56
Huawei Mate 20 Pro
53
Huawei Mate 20
53
Xiaomi Mi 8
53
Razer Phone 2
51
Samsung Galaxy S9+
47
Samsung Galaxy Note9
45
Google Pixel 3 XL
44
Huawei P20 Pro
40
Huawei Mate 10
38
Huawei Mate 10 Pro
38
Huawei P20
36
Huawei Mate 20 Lite
14
GFX 3.1 Car scene (1080p offscreen)
Higher is better
Apple iPhone XS
60
Apple iPhone XS Max
60
Apple iPhone XR
60
Apple iPhone X
37
Xiaomi Pocophone F1
35
OnePlus 6
35
Samsung Galaxy S9+ (Snapdragon)
35
Oppo Find X
35
Google Pixel 3
35
LG G7 ThinQ
35
Razer Phone 2
35
Sony Xperia XZ3
35
HTC U12+
35
Xiaomi Mi 8
33
Huawei Mate 20 Pro
29
Samsung Galaxy S9+
28
Samsung Galaxy Note9
28
Huawei Mate 20
28
Google Pixel 3 XL
28
Huawei P20
23
Huawei P20 Pro
23
Huawei Mate 10 Pro
22
Huawei Mate 10
21
Huawei Mate 20 Lite
7.6
There are quite a few Android flagships to run on 1080p screens and this gives them a big edge over the 1440p crop where the Mate 20 Pro falls in. While the Mate 20 Pro does pretty well, it's nothing impressive really.
GFX 3.1 Manhattan (onscreen)
Higher is better
Apple iPhone XR
60
Apple iPhone XS Max
60
Apple iPhone XS
60
Google Pixel 3
55
OnePlus 6
55
Xiaomi Pocophone F1
53
Xiaomi Mi 8
50
Oppo Find X
50
Apple iPhone X
49
Huawei Mate 20
47
Huawei P20
39
Huawei P20 Pro
37
Huawei Mate 10 Pro
35
Samsung Galaxy S9+ (Snapdragon)
34
HTC U12+
33
Razer Phone 2
33
Sony Xperia XZ3
31
LG G7 ThinQ
30
Huawei Mate 20 Pro
27
Samsung Galaxy Note9
25
Google Pixel 3 XL
24
Samsung Galaxy S9+
24
Huawei Mate 10
23
Huawei Mate 20 Lite
13
GFX 3.1 Car scene (onscreen)
Higher is better
Apple iPhone XR
58
Apple iPhone XS
47
Apple iPhone XS Max
47
Google Pixel 3
33
OnePlus 6
33
Xiaomi Mi 8
33
Xiaomi Pocophone F1
31
Apple iPhone X
28
Oppo Find X
28
Huawei Mate 20
28
Huawei P20
23
Razer Phone 2
22
Huawei Mate 10 Pro
21
Huawei P20 Pro
21
Samsung Galaxy S9+ (Snapdragon)
20
HTC U12+
20
Sony Xperia XZ3
19
LG G7 ThinQ
18
Huawei Mate 20 Pro
17
Samsung Galaxy Note9
15
Samsung Galaxy S9+
14
Huawei Mate 10
13
Google Pixel 3 XL
12
Huawei Mate 20 Lite
6.7
Still, the GPUs of Kirin chipsets were always miles behind the competition for years, so the fact that the Mate 20 Pro can now trade blows with the best out there is a win in itself.
The compound AnTuTu benchmark brought a lot of reasons for Huawei to smile as the Mate 20 Pro beats almost any other Android flagship out there.
AnTuTu 7
Higher is better
Apple iPhone XS Max
353210
Apple iPhone XS
346379
Oppo Find X
291218
Razer Phone 2
285051
Sony Xperia XZ3
284555
Huawei Mate 20
273913
Huawei Mate 20 Pro
273913
Xiaomi Pocophone F1
265314
OnePlus 6
264200
Samsung Galaxy S9+ (Snapdragon)
264044
HTC U12+
263696
LG G7 ThinQ
259393
Google Pixel 3 XL
258244
Samsung Galaxy Note9
248823
Samsung Galaxy S9+
246660
Google Pixel 3
233699
Apple iPhone X
233100
Xiaomi Mi 8
217298
Huawei Mate 10
214037
Huawei P20 Pro
209884
Huawei P20
206906
Huawei Mate 20 Lite
136583
Huawei Mate 20 Pro and its Kirin 980 are worthy of a flagship status as far as performance is concerned. The chip offers the fastest processor on the Android market, as usual, while its GPU punch is close to what the most current Adreno by Qualcomm can do.
And while the Mali-G76 MP10 isn't the fastest GPU available, it is among the fastest - something we couldn't say for any previous Kirin chipset. Then there is GPU Turbo 2, and if a game is compatible with it, it will deliver smooth and consistent 60fps performance.
The Kirin 980 is manufactured by the high-end 7nm process, but if you expected it not to heat up - you'd be wrong. The chip does release a reasonable amount of heat and the Mate 20 Pro does have a few spots that get hot under pressure. The phone won't go as hot as the previous Mates though. Some throttling may occur after running consecutive benchmark tests but only then.
Huawei has delivered an all-around great chip once again with class-leading processor and competitive graphics core. It has better thermal control and less throttling than the previous Kirin 970, too. Overall, we think Huawei has done an excellent job this year.
Excellent phone, never crashes.
I got mine at Harvey Norman for $599
Where did you f get yours? Looking to cop one myself.