Huawei MediaPad review: On the rise
On the rise
GSMArena team, 21 February 2012.
Widescreen phonebook
Contact management is fairly straightforward on the Huawei MediaPad. The larger screen has allowed some modifications that reduce the number of clicks needed for some tasks by showing more info at once.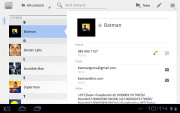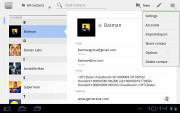 The Huawei MediaPad's contact manager
You get your contacts listed by either first or last name in the left part of the screen, while the details of the currently selected contact appear on the right. There is a handy search field in the top right corner as well as a shortcut for adding a new contact or deleting the selected one.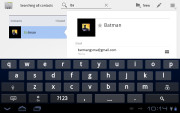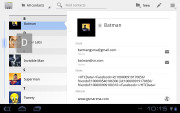 Search the contacts • Alphabet scroll
The advanced menu offers more options: edit, import/export, or join contacts, send or print namecards, get friends via social services, etc.
Editing a single contact is done via a popup window, where the available fields are organized in groups, with plus and minus signs on the right that let you remove or repeat details.
There's also an Add another field button at the bottom.
Custom field names aren't available at this stage.
Voice calls on a tablet
The Huawei MediaPad has great reception. As we mentioned in the hardware chapter, there's no earpiece on the tablet and while you can use the loudspeaker for calls, you'd probably be better off with a Bluetooth headset.
Once in a call, the screen will lock after a few seconds. There's no proximity sensor to lock it automatically (again, you're not supposed to hold it up to your ear).
We should note that our MediaPad came with no dialer app out of the box. A bit of Googling revealed that a small, bootleg APK can enable that but the dialer works only in landscape and looks like it came out of Android 1.5 Cupcake. You can grab the file from here.
Anyway, it is possible to make voice calls and send/receive SMS messages with the Huawei MediaPad, even if the experience isn't very polished (there's no smart dialing, for example). You can try one of the many third-party dialers if you don't like this one.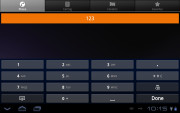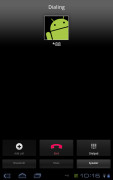 The dialer • the in-call screen
The call log is the tab next to the dial pad. It displays all the dialed, received and missed calls in one list sorting your call history by contacts.
The Huawei MediaPad came out of our loudspeaker test with a Good mark. It can be quite loud depending on the ringtone you use. You can find more about the test itself here.
| | | | | |
| --- | --- | --- | --- | --- |
| Speakerphone test | Voice, dB | Pink noise/ Music, dB | Ringing phone, dB | Overall score |
| Amazon Kindle Fire | 66.6 | 63.7 | 66.9 | Below average |
| Samsung Galaxy Tab 7.0 Plus | 66.2 | 65.7 | 65.9 | Below average |
| Samsung Galaxy Tab 10.1 3G | 66.2 | 66.0 | 70.9 | Average |
| Samsung I9100 Galaxy S II | 70.0 | 66.6 | 75.7 | Good |
| Motorola XOOM | 74.0 | 66.6 | 78.9 | Very Good |
| HTC Desire | 76.6 | 75.7 | 84.6 | Excellent |
You get messaging too
There's SMS and MMS available on the Huawei MediaPad to complement the voice call support. The experience is much like what you get on a phone.
Messages with the same contact are organized into threads, you have options to manage these threads and even individual messages in them (lock to prevent accidental deletion, forwarding, copying the message contents, etc.).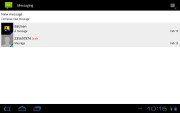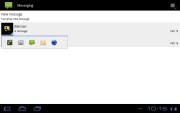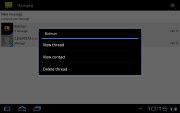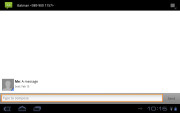 The familiar messaging department
You can easily attach multimedia files to your message (or capture new ones on the spot) to turn it into an MMS, plus there's a full blown editor that you can use for multi-slide MMS messages.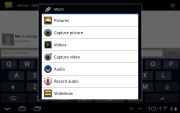 Attaching multimedia to a message
Email excellence
The Huawei MediaPad comes with both a generic Email app and Gmail.
The Email app has a split-screen interface and, initially, your folders are listed on the left and the emails in the currently selected one appear on the right. Upon clicking on a single email the list of emails moves to the left tab while the body of the selected one pops up on the right.
Bulk actions are supported too, so you will easily manage mailboxes that get heavy traffic. You can sign into multiple accounts and you get a combined inbox too.
You can set up the automatic email retrieval interval or you can disable that completely and check mail manually. There's also a handy setting that makes your client automatically download attachments only when you are connected over Wi-Fi.
The Gmail app offers a lot of these same features (no combined inbox though) but packs some extra punch with the trademark conversation style view.
Writing emails is quite comfortable with the virtual QWERTY keyboard occupying about half of the screen. Using it in landscape mode might be a bit of a stretch, but in portrait mode it's just right for typing with both your thumbs.
There's auto correction and auto capitalization available and you can enable sounds on key presses, but there's no haptic feedback.
Please send me settings for my Huawei Mediapad T3 so that I can use it as a normal phone e.g being able to call,receive calls, sms. I can see all names in my contact but I can't call! Facebook, WhatsApp is OK.
I have a question, during charging why its become hot the charger and also the unit? Im afraid one day if I will leave a house for a while it will be burn...pls reply whatto do
can we use ms office & pdf, quick reply please wanna buy one? , thanks