Huawei nova review: Life of a Star
Life of a Star
GSMArena team, 3 October 2016.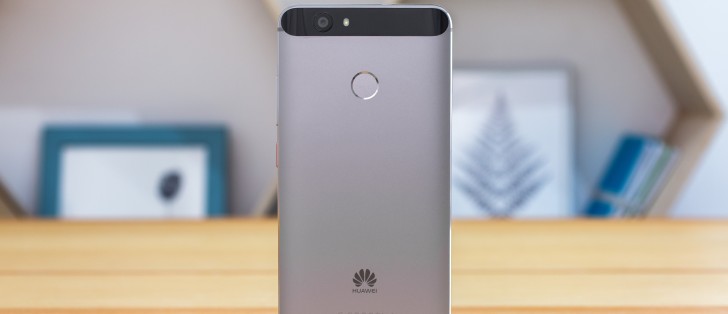 The gallery
The Huawei nova gallery app offers a Timeline view, which sorts your images by the date you've taken them. Alternatively, you can opt for the standard Album view with all of your images sorted in different albums.
Opening a single image lets you quickly delete or rotate it, as well as gives you some basic sharing options (including streaming it over DLNA).
The info icon up top gives some pretty detailed information about the image, including a histogram. Pulling down from anywhere on the screen lets you take a quick photo without leaving the gallery. The image comes out in a square 1:1 ratio.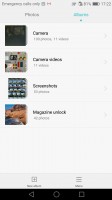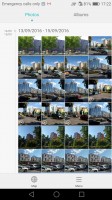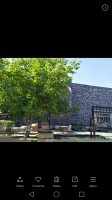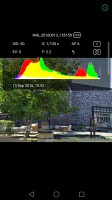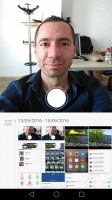 Album view • chronological view • viewing an image • detailed info • camera quick access
You can also go into a more capable editor with options for light and exposure adjustments (so you can bring out the shadows or the highlights), filters and beauty enhancements. You can adjust levels and add individual watermarks for time, location, weather, food and mood.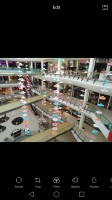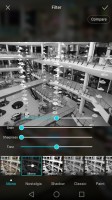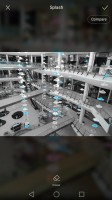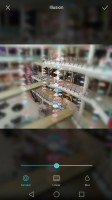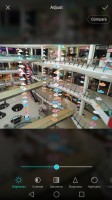 The image editor is quite capable
Video player
When it comes to playing videos, the nova default player is pretty basic. Its sole option is playback speed.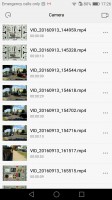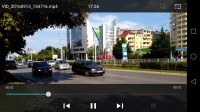 Simplistic video player with few options
Music player
The nova comes with Huawei's custom music player app. It offers four default playlists - songs, artists, albums, folders. You can create your playlists, too. The background of the app changes dynamically to match the album art, which is a nice little touch.
The Now Playing screen is pretty standard, it offers album art and lyrics. There are no equalizers to speak off, but the app does have a few extra features. It would try to pull album art, song info and lyrics automatically for you.
FM radio
The Huawei nova has a built-in FM receiver. It can play through the headset or the loudspeaker, but you'll need to have the headset plugged in as it serves as the antenna. We were disappointed not to find RDS support, so you'll have to name your radio stations by hand.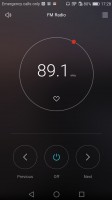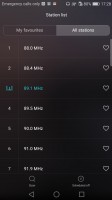 FM radio with favorites, but no RDS
Uninspiring audio quality
Just like its bigger brother, the Huawei Nova didn't do particularly well in the active amplifier portion of the audio quality test. Its volume levels were below average and its intermodulation distortion and signal to noise readings are particularly bad.
When we plugged in a pair of headphones, the stereo crosstalk rose an average amount, but the distortion and noise readings actually improved. Volume remained low however so it's another performance not worth writing home about.
| | | | | | | |
| --- | --- | --- | --- | --- | --- | --- |
| Test | Frequency response | Noise level | Dynamic range | THD | IMD + Noise | Stereo crosstalk |
| Huawei Nova | +0.03, -0.32 | -68.9 | 84.4 | 0.0075 | 0.972 | -95.9 |
| Huawei Nova (headphones attached) | +0.22, -0.03 | -89.1 | 86.0 | 0.0077 | 0.098 | -62.8 |
| Huawei Nova Plus | +0.03, -0.31 | -70.7 | 83.2 | 0.0064 | 0.875 | -95.4 |
| Huawei Nova Plus (headphones attached) | +0.05, -0.10 | -89.9 | 86.5 | 0.0057 | 0.062 | -58.0 |
| Samsung Galaxy C5 | +0.06, -0.02 | -93.1 | 92.7 | 0.133 | 0.183 | -68.3 |
| Samsung Galaxy C5 (headphones attached) | +0.10, -0.06 | -93.3 | 92.2 | 0.046 | 0.092 | -79.4 |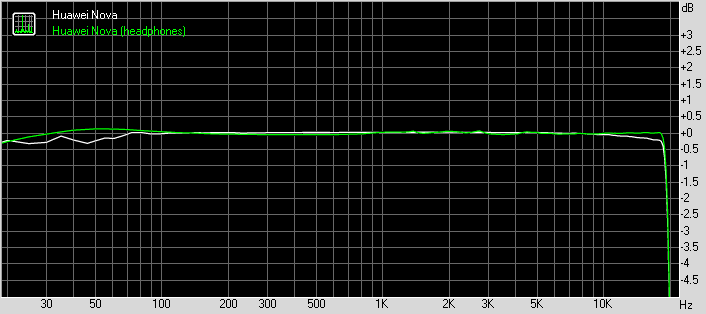 Huawei Nova frequency response
You can learn more about the tested parameters and the whole testing process here.
It says here that up to 256 GB of memory is allowed and in the support center they told me that it is allowed up to 128 GB. What is right?
The Huawei Nova was the very first Hauwei I have used. I LOVE the device! It is smooth to operate and hasn't given my any hassles. I am definitely sticking to Huawei from here on out...
FYI - not sure about the version above here but any of the ones I've seen on Aliexpress (Chinese ones anyway) DO NOT have NFC! I bought 2nd hand based on stats above and got caught out - maybe worth flagging in the stats.