iFixit's teardowns of the Galaxy S22 and S22 Ultra reveal still-poor repairability scores
Enrique, 04 March 2022
In the latest teardown post, Samsung's Galaxy S22 Ultra and Galaxy S22 both get torn down and rated for their repairability by iFixit. We've previously seen another teardown of the S22 Ultra by PBKreviews so we'll breeze through the important stuff.
The first thing noted is that Samsung offers an official repair guide for opening the device, though it is in French. iFixit speculates this is likely due to France's semi-new repairability index, which incentivizes companies to sell devices that are (or appear to be) repairable. The guide recommends gel packs and low heat. Samsung is known in the past to use expensive rigs designed to take the devices apart. Here are X-rays of both devices provided by Creative Electron.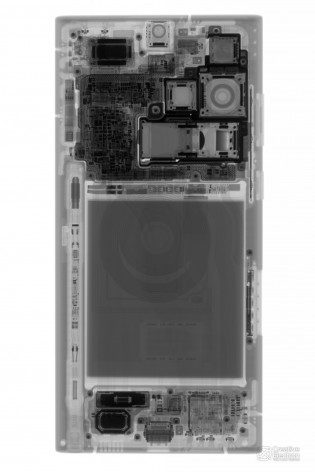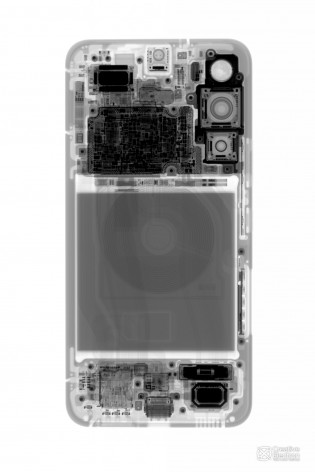 Galaxy S22 Ultra and S22 X-rays; Source: iFixit
Even with heat and careful breaking of the adhesive, the curved back panel of the S22 Ultra broke as it was being removed. Here's proof that even those who've done it hundreds of times may still break fragile components.
Two things that take up a lot of space in the Galaxy S22 Ultra are the S Pen silo, and the 10X periscope camera assembly. To aid in this, Samsung had to relocate the vibrate motor, integrating it into the lower speaker assembly.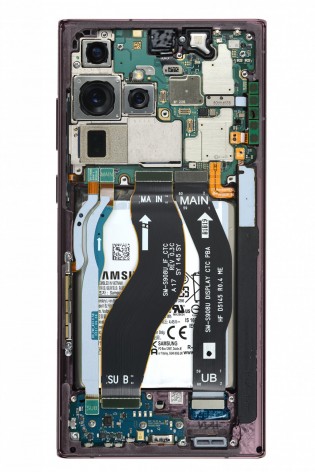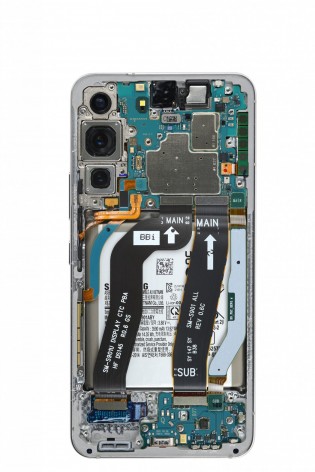 Samsung Galaxys S22 Ultra and S22 with their back panels removed; Source: iFixit
The teardowns point out that there is much graphite tape, thermal paste, and the larger vapor chamber. All these efforts show that the more powerful chips are trying to catch up with Apple silicon, but at the expense of more generated heat. iFixit suggests that Samsung should make the phones slightly thicker so it can more efficiently drive heat away from the chip, while also adding room to throw in some battery pull tabs – which the phones don't have.
iFixit also published each device's chip guides, if you want to peep into what components are used throughout the phone and their locations.
The phones were both given 3/10 repairability scores. The only advantage for repairability is the use of standard Philips screws, but the battery replacement is still difficult without pull tabs, the phone's design doesn't prioritize screen repairs, and currently, Samsung doesn't offer any free service manuals for its phones.
Related
Anonymous
08 Mar 2022
PWD
Says who?
Anonymous
07 Mar 2022
Q%m
i don't know about you, but all i see here now is people defending samsung's bad repairability score by mentioning ifixit's score doesn't matter because normal people don't repair their own phones? where's the apple or s...
Samsung and Apple removed the headphone jack to boost bluetooth headphones. Remember that.
Popular articles
Popular devices
Electric Vehicles