Infinix S5 Pro review
GSMArena team, 09 Mar 2020.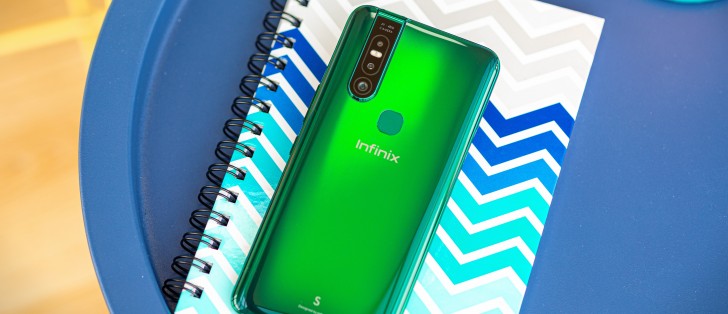 Android 10 and XOS 6
The Infinix S5 Pro boots XOS 6.0, which is actually a proprietary launcher running on top of the latest Android 10. It is heavily skinned, with lots of customization options, and comes with a few pre-installed third-party apps probably part of an advertising deal made to lower the S5 Pro price down even more.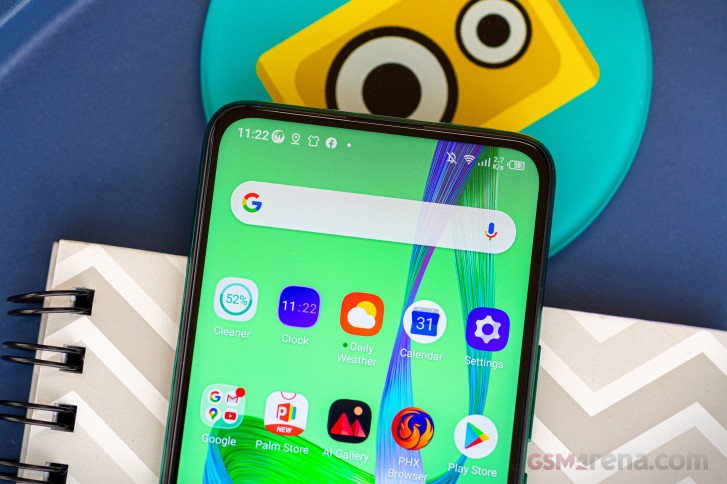 Upon successful screen unlock with the so-so fingerprint reader, you will be taken on a homescreen that's basically the same across all launchers - a Google widget, and shortcuts for the most important apps.
The leftmost pane holds cards, which are is another word for widgets. There is a ton of those, some of them contain ads, but you can disable those (thankfully).
There is an app drawer if you decided to use one - the strange A-Z orange icon at the bottom.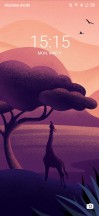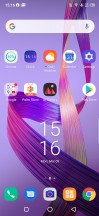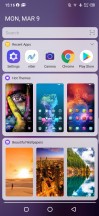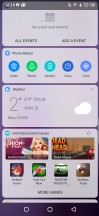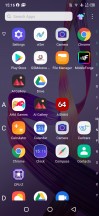 Lockscreen • Homescreen • Cards • Cards • App drawer
The notification shade itself is nothing out of the ordinary. It can fit three rows with six quick launch icons for each row and right under the icons, you will find the screen brightness slider.
Multitasking is a familiar affair and the task switcher allows for split-screen mode.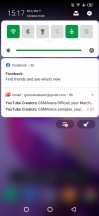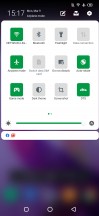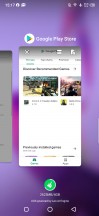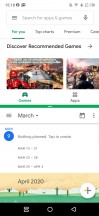 Notifications • Toggles • Task switcher • Multitasking
There are a ton of useful settings such as battery saving options, themes, smart panel, social turbo, gestures, and what not. The side panel is turned on by default and it's a floating piece with various shortcuts, which you can move anywhere anytime.
Infinix provides its own Gallery, Weather, Files, FM radio apps. For music purposes there is YouTube Music, but you can install any player from the Play Store.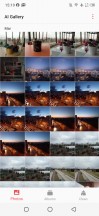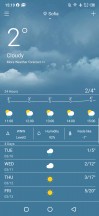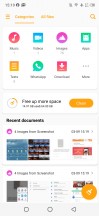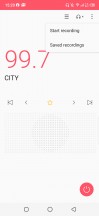 Gallery • Weather • File Manager • FM radio
There are many other apps installed on the S5 Pro and some of them may pop some ads in the notification area - especially the default Phoenix web browser.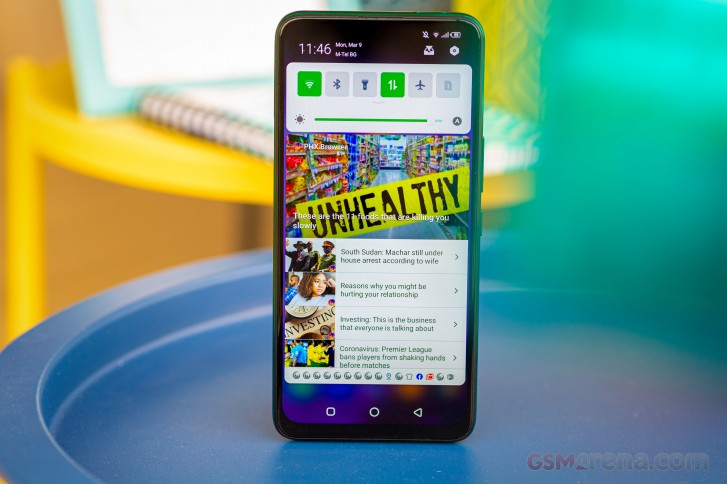 You can get rid of them, sure, but they are still annoying. We guess that's the price to pay for the low retail price, pun intended.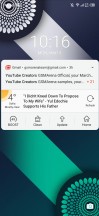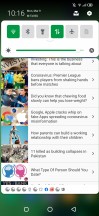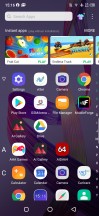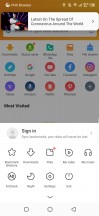 Lockscreen with ads • Notification area with a ton of ads • App drawer with ads • PHX Browser
Performance and benchmarks
The Infinix S5 Pro is powered by the Helio P35 chip by MediaTek. It's far from impressive SoC, but it is still the most powerful one Infinix has used so far.
The Helio P35 is manufactured on TSMC's 12nm FinFET process and contains an octa-core Cortex-A53 processor (4x2.3GHz +4x1.8GHz). There is also a PowerVR GE8320 GPU. Finally, you can get the S5 Pro with either 4GB or 6GB of RAM depending on the storage option.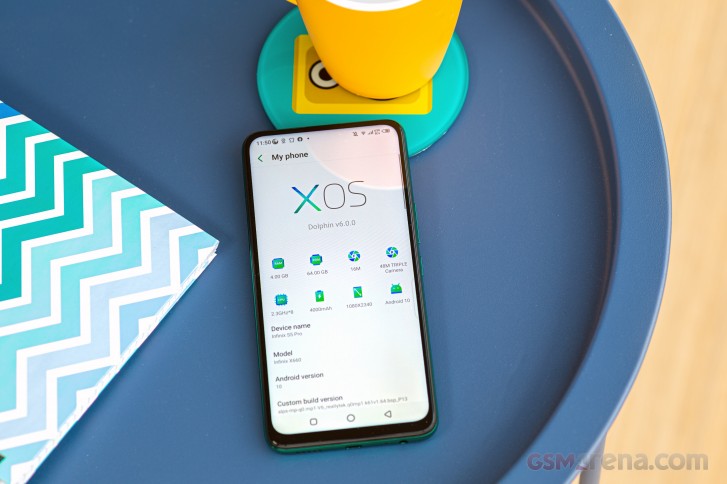 We ran a couple of benchmarks and you should not expect much.
The Cortex-A53 is a dated core and the Infinix S5 Pro has got eight of those. Whether it's a single- or multi-core performance, the A53 generation is well behind the curve already.
GeekBench 4.4 (multi-core)
Higher is better
Xiaomi Redmi Note 8T
5620
Realme 5s
5596
Realme 3
4936
Infinix S5 Pro
4226
Sony Xperia 10
3985
Xiaomi Redmi 8A
3030
GeekBench 4.4 (single-core)
Higher is better
Realme 5s
1533
Xiaomi Redmi Note 8T
1519
Realme 3
1482
Infinix S5 Pro
911
Xiaomi Redmi 8A
853
Sony Xperia 10
848
GeekBench 5.1 (multi-core)
Higher is better
Realme C3
1262
Infinix S5 Pro
1039
Sony Xperia 10
990
GeekBench 5.1 (single-core)
Higher is better
Realme C3
347
Infinix S5 Pro
187
Sony Xperia 10
179
The PowerVR GE8320 is a feeble GPU and while it will do for arcade games and not-so demanding shooters, smooth and hiccup-free experience is not possible no matter what you run. Don't hold your breath for multiplayer games either.
GFX 3.0 Manhattan (onscreen)
Higher is better
Realme 3
34
Realme 5s
31
Xiaomi Redmi 8A
18
Xiaomi Redmi Note 8T
16
Infinix S5 Pro
11
Sony Xperia 10
11
GFX 3.1 Manhattan (onscreen)
Higher is better
Realme C3
27
Realme 3
26
Realme 5s
24
Xiaomi Redmi 8A
13
Xiaomi Redmi Note 8T
11
Sony Xperia 10
7.8
Infinix S5 Pro
7.3
GFX 3.1 Car scene (onscreen)
Higher is better
Realme C3
15
Realme 3
15
Realme 5s
12
Xiaomi Redmi 8A
7
Xiaomi Redmi Note 8T
5.9
Sony Xperia 10
4.3
Infinix S5 Pro
3.2
Well, there are slower phones than the Infinix S5 Pro, sure, AnTuTu will definitely show you some. But that's not much of a consolation.
AnTuTu 7
Higher is better
Xiaomi Redmi Note 8T
141077
Realme 5s
139103
Realme 3
132764
Infinix S5 Pro
90446
Sony Xperia 10
89697
AnTuTu 8
Higher is better
Realme C3
192223
Realme 5s
168635
Xiaomi Redmi Note 8T
167395
Infinix S5 Pro
117533
Sony Xperia 10
112198
Xiaomi Redmi 8A
89901
Well, on a positive note - the Infinix S5 Pro runs quite cool. It handles 1080p movies very well and unless it's gaming, you will have no problem with the S5 Pro performance even it a hiccup happen do happen here and there.
Gaming is possible, too, but not all games will run smooth, while some will look like a slideshow. You do get what you are paying for though, so nobody should be surprised by these findings.
Take to d nearest phone repairer