Intel details Thunderbolt 4: two 4K monitors or one 8K, 4-port docks and 100W charging
Peter, 07 July 2020
Intel announced Thunderbolt 4 in January but left plenty of people scratching their heads – it's no faster than Thunderbolt 3, so what has changed? Today the company unveiled more details about the new standard and why it will be the one port to rule them all.
First, it will be compatible with USB4. Both standards will debut with the Tiger Lake platform later this year. USB4 supports 20 Gbps throughput and can go up to 40G bps with the right hardware. That would match the 40 Gbps throughput of TB4 (USB4 itself is built on top of Thunderbolt 3).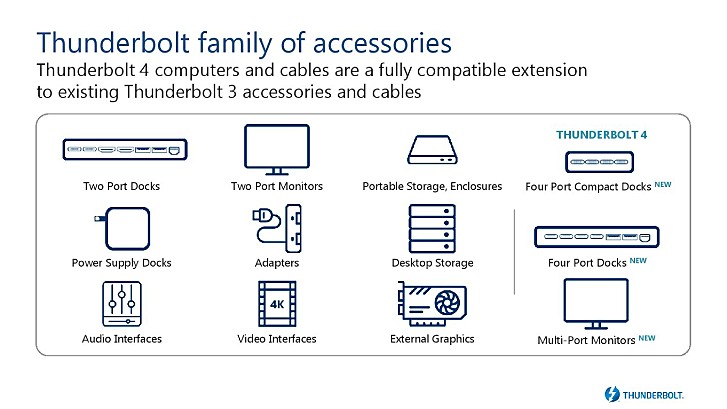 Thunderbolt 4 will support up to two 4K external displays or one 8K. It can carry a PCIe connection at 32 Gbps (which will be a boon for external GPU enclosures). Also, the port can be used to charge a laptop at up to 100W.
TB4 docks are natively supported with four ports total – one upstream and three downstream. Peripherals connected to the dock will be able to wake the computer. It will also be more secure as it requires Direct Memory Access protection.
Check out this video for a demo of the new dock design, plus other uses of TB4:
The Thunderbolt 4 standard is free for manufacturers to use, but they will need to pay to license the name and logo. The DMA protection requires Intel's VT-d, which may limit TB4 to Intel-powered systems only (it's up to AMD and Apple to figure out a way to support the mandatory security feature).
Here's a table that breaks down the differences between Thunderbolt 3, 4, USB 3 and 4: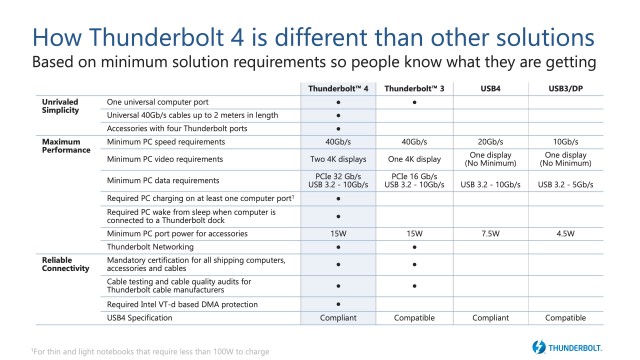 Thunderbolt and USB standards compared (click for full size)
Related
That's why I made my fictional concept smartphone, as it have 2 SIM + 2 SD card slot, IR emitter, non physical button but with click through physical buttons backup (pressing through the top and bottom of the side displays) and a removable batte...
Since I own a pixel, the SD card is a sore spot for me. But as the headphone jack is going away, the IR emitter, physical buttons, removable battery - all things that I would like to have in a phone - I would suspect it's not long before the car...
But it is still already done. I don't think nor don't hope so, for retrocompatibility, ease of use, slower time and many other things, just plugin an USB cable from a computer to a smartphone will always be better than wireless which is l...
Popular articles
Popular devices