Intel will open the Thunderbolt 3 standard to the public royalty-free
Victor, 25 May 2017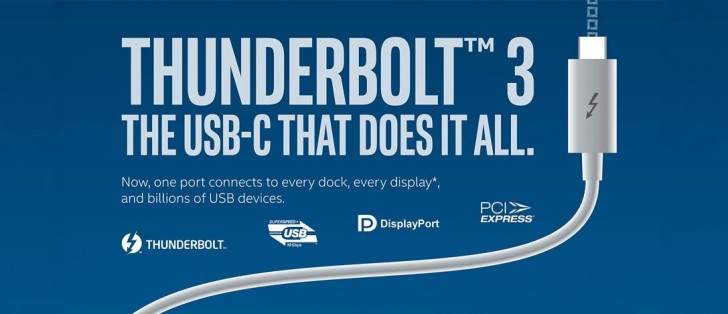 As a tech enthusiast, it's hard not to instantly fall in love with Intel's Thunderbolt 3 standard. Combined with the Type-C connector, it is the absolute embodiment of universal and versatile connectivity. However, current adoption is far from universal, mainly due to its proprietary nature and royalties involved - two problems that Intel is now planning to resolve.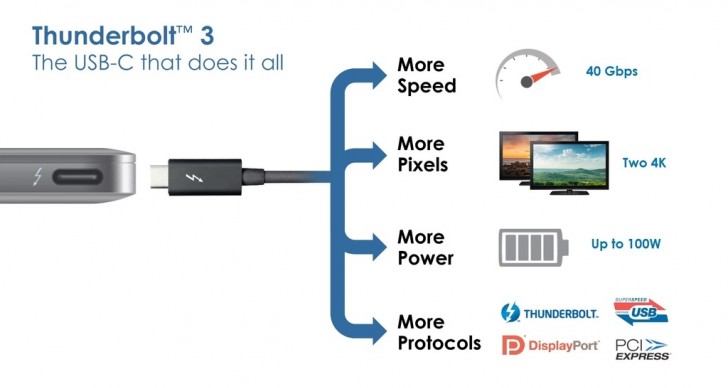 The chip manufacturer just announced its plans to offer the Thunderbolt 3 spec to third-party partners royalty-free and also embed the technology in most of its future chips. The latter sure sounds like something that should already be a thing, but actually most of Intel's current chipsets, including last year's Kaby Lake line don't have Thunderbolt 3 support built-in. In most devices that currently offer the feature, it is powered by a dedicated chip, codenamed "Alpine Ridge" and released all the way back in 2015.
Since then, under proprietary conditions, it has been one of the only ways to add Thunderbolt 3 to a device. This is enough to slow adoption in itself, but, to make things worse, both ends of the fast Thunderbolt connection generally have to have an expensive "Alpine Ridge" chip installed. Intel's move to infuse the technology in its chipsets should instantly boost adoption in the PC world. AMD will likely be the first in line to sign a partnership with its blue rivals.
This moves opens up even more interesting possibilities in the mobile realm. A future adoption of Thunderbolt 3 in the ARM world could bring about a veritable revolution in mobile device connectivity, since the true power of Thunderbolt 3 lies in its interoperability and versatility.
In its current PC form, the standard almost magically incorporates support for fast USB 3.1 connectivity, DisplayPort output for up to two 4K streams, as well as HDMI, DVI and even VGA with passive adapters. It also comes with power delivery at up to 100W.
Last, but not least, there is the extremely exciting external PCI Express support, which is is already being leveraged for attaching powerful GPU's and other high-bandwidth peripherals to supported PC's. Just imagine all that freedom embedded in your smartphone.
Related
usb c is the worst fraud connector ever! you can use it for usb 2, usb 3, usb 3.1, thunderbolt... what the heck!
i just hope pc no need a lot cable accept for power for pc and power for monitor, the rest wireless
Popular articles
Popular devices