Concept: How we hope battery management in iOS 11.3 will look [Updated]
Paul, 25 January 2018
Update: Since publication Apple has released iOS 11.3 Beta which gives us our first look at Battery Health within iOS.
Apple has officially confirmed what Tim Cook announced in a speech earlier this month.
"iOS 11.3 adds new features to show battery health and recommend if a battery needs to be serviced. These can be found in Settings -> Battery and are available for iPhone 6 and later.
Additionally, users can now see if the power management feature that dynamically manages maximum performance to prevent unexpected shutdowns, first introduced in iOS 10.2.1, is on and can choose to turn it off".
Apple is still working on these features, so they didn't make the cut for the first iOS 11.3 beta. Before that, and putting all thoughts of how Apple got to this point aside, we thought we'd have a bit of fun and conceptualize what this feature would look like and highlight some of the challenges Apple is facing.
First though, a little background
Apple has form in this area as they already provide several ways to see the condition of your laptop battery within macOS. Within System Information, select Power and youíll see the condition of your battery and Cycle Count. Alternatively, clicking on the battery icon within macOSís menu bar while pressing the ALT key will also show the battery condition.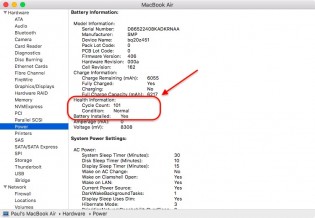 macOS reports battery condition
With macOS Apple has four battery states: Normal, Replace Soon, Replace Now and Service Battery.
iOS 11.3 Battery Health and Performance Management Concepts
Is it a simple case of Apple 'bubbling' this functionality up in iOS? Even with the close family ties between macOS and iOS, it is not as straightforward as you would think.
So the low hanging fruit first, our first concept shows how Apple could allow you to check the health of your battery, simply by going Settings->Battery, where you will be shown: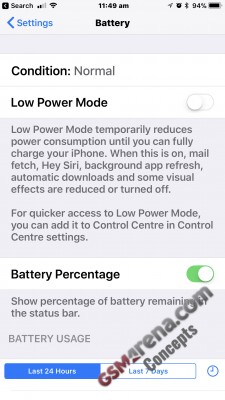 Concept: battery health reported within Settings > Battery
iPhone 8, iPhone 8 Plus and iPhone X are not 'yet' included in the power managment system, so will we be able to see our battery health? Our guess is yes for consistancy.
The next question is at what point, if any, do Apple inform the user that their battery condition has changed state? So in this scenario, one day your phone battery is healthy, and the next day it isn't. This will also occur when Apple decides your iPhone 8, iPhone 8 Plus and iPhone X are eligible for Dynamic Power Management - probably after an iOS sub-point release. Here are some of the options Apple could adopt:
Don't inform the user - let them keep checking their settings and face the public outcry
When first installing or upgrading iOS
During day to day use
Given the politics surrounding this subject, Apple has to inform the user as soon as the battery state changes resulting in Performance Management dynamically managing maximum performance to prevent unexpected shutdowns. The following concept visualizes what that notification might look like on the iPhone lock screen: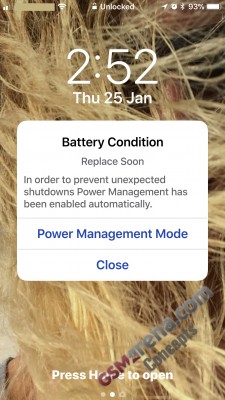 Concept: notification indicating a change of state in your iPhone battery
Notice here that we're using the macOS battery health conditions, Apple will undoubtedly use different terminology. In our concept, we give the option to go directly to the Power Management Mode within settings, similar to when Low Power Mode kicks in. Will Apple want to encourage users to do that though?
It also makes us wonder what the average user would make of this and Apple's wordsmithing will need to be spot on - otherwise, those of us who act as our parent's support hotline will be inundated with 'what does this mean son?' calls.
Once the state of the iPhone battery has changed, and Performance Management has kicked in, the Battery screen could look something like: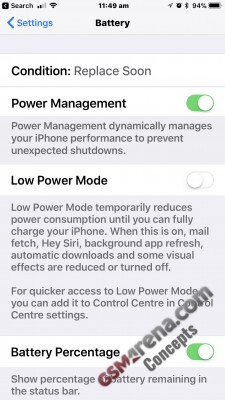 Concept: battery status for an aged battery and the option to toggle Performance Management
Here you can toggle on and off the Performance Management Mode. Again, it will be interesting to see the exact wording that Apple will use on this screen to make it clear to users why they shouldn't turn off Performance Management.
So there you have it, a couple of fun concepts that give a possible direction that Apple could go in when implementing these features in future beta's of iOS 11.3.
Related
Hi Ratman, Sometimes it's a case of re-calibrating your batter. Try the below and it might help Charge iphone fully (Do Not Use While Charging), use phone until it shuts its self off, fully charge again (Do Not Use While Charging), do a w...
I believe this is a very nice feature to have. My iPhone 5S is nearly 4 years old, and I haven't replaced the battery yet. I cannot trust my battery indicator when it goes under 40% because I've had my phone shut down with over 35% battery left; alas...