iPhone 4S over iPhone 4: Should I stay or should I go?
Should I stay or should I go
GSMArena team, 20 October 2011.
Introduction
A lot of people are wondering which iPhone is the right one for them - both people looking to upgrade their own one and people who are just joining the Apple phone party. How much more do you get with the 4S, over the iPhone 4? If you're wondering just that, we're here to help by putting the two head to head.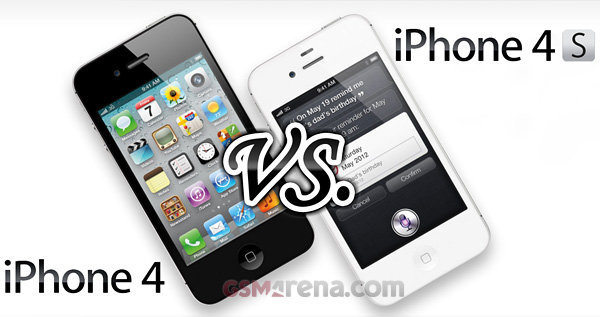 Apple seems to have adopted a Tick-Tock strategy. The 3GS improved on the 3G, but wasn't a completely new design, that came with the iPhone 4. And now the iPhone 4S improves on the previous model, again without being a complete redesign.
It's a strategy that works, the previous generation of iPhone well proved that. But are the changes enough to justify an upgrade? Some people were underwhelmed when they heard there's no "iPhone 5", while others cheered when they saw Siri and the beefier hardware.
Here's the short list of changes that say "Yes, it's worth it!" and also a few things that could potentially discourage you from upgrading to the iPhone 4S:.
Reasons to buy iPhone 4S:
Dual-core processor and 7x more powerful GPU
Siri natural language commands and dictation engine
8MP camera with improved low-light performance and capture speed
1080p video capture with stabilization
GSM/CDMA dual-mode device
No more death grip thanks to dual antenna design
64GB option
Power-efficient Bluetooth 4.0 connectivity
Reasons to stay with iPhone 4:
Same design
Same screen too, both in terms of size and resolution
The amount of RAM is the same
Siri doesn't work too well for people outside the US
You'll manage to snap more photos and longer videos and avoid 1080p playback problems
This isn't an in-depth review of the iPhone 4S - there will be a separate article for that. Here, we focus on the differences between the 4S and the iPhone 4.
It's for people who are pondering an upgrade from the 4 to the 4S and for people who have an iPhone 4 and are considering whether or not to wait for the iPhone 5. It's for people buying their first iPhone too (get the cheaper iPhone 4 or the newer 4S?).
We know most people who will be getting the iPhone 4S are current iPhone users, so a straight forward review would be no good for them. This is why we're focusing on the differences between it and the iPhone 4, rather than describing details they are well familiar with, which wouldn't be very helpful with the upgrade or not question.



The superficial resemblance conceals the improved hardware
Let's start with the hardware - not a lot of changes at first glance, but there are still very important hardware changes. We'll be looking at the camera too, the performance and Siri.
Anonymous
09 Oct 2020
qpn
Listen iphone I (icloud)????
Ainaaaa16
09 May 2018
Rxn
no.
Adnan Khan
11 Jan 2017
gMx
Can iPhone 4s support jio if yes then how