iPhone 6s vs. Galaxy S6 vs. Xperia Z5: Blind test revealed
GSMArena team, 22 October, 2015.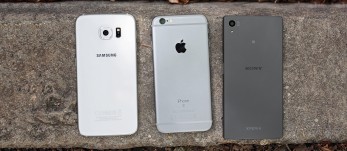 Introduction
Update: voting is now closed! Which phone hides behind which letter is revealed on Page 2.
There are many contenders to the title of "best phone camera" and today we have three of the latest and certainly, some of the best-known. The Apple iPhone 6s, Samsung Galaxy S6 and Sony Xperia Z5 will compete on more than just camera tomorrow in our three-way comparison, but today they take part in our blind camera shootout.
You should know how it works by now - we present you with anonymized camera samples and you pick the one you like best. This way voting happens without existing affections and preconceptions about how good each camera is.
As for our contenders, we're glad Apple finally left the 8MP camera age. The iPhone 6s brings a 12MP camera with f/2.2 aperture and 4K video capture (a first for an Apple device). It's the only phone here with a dual-LED flash, but the smaller iPhone still doesn't share in the Plus' OIS.
Samsung widened aperture down to f/1.9 and settled on a 16:9 sensor. The Galaxy S6 also brought in optical image stabilization system, which will help out in videos (in tomorrow's full article we'll include a stabilization test too).
Sony split the difference in aspect ratio and went with a Nokia-style hybrid sensor. It shoots 23MP photos in 4:3 mode and 20MP photos in 16:9 mode. Also, a brand new electronic image stabilization is on board as well.
Note that for this blind test we've downscaled the photos to 1,600 x 1,200px, otherwise it would have been very obvious which photo came from which phone. Don't worry though, we're including 100% crops for a closer look at the quality before you cast your vote and you'll get the chance to see the full res shots tomorrow.
Cast your vote for each scene using the widgets below the samples. You have roughly 24 hours to vote (we will close the polls around 2pm UK time).
Scene #1: still camera, daylight
We kick things off with a couple of photos taken during the day. We suggest you focus on detail and color here, we'll look at dynamic range in the next chapter. We've included 100% crops for pixel peepers since, again, the camera samples have been downscaled to 1,600 x 1,200px to conceal which phone is which.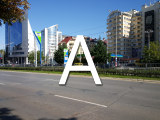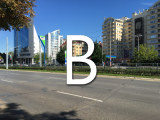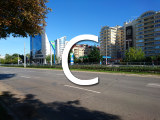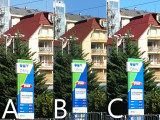 Scene #1: still camera: daylight
Cast your votes below.
Scene #2: still camera, daylight
Here's a second daylight shot. Light here was a bit less favorable and there are deep shadows, so you can judge digital noise in the shadows.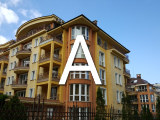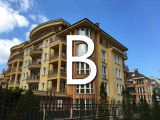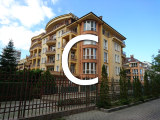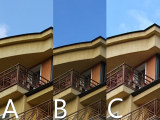 Scene #2: still camera: daylight
Cast your votes below.
Scene #3: still camera, dynamic range
For the next shot, the sun was shining bright, but a tall building was cast a deep shadow. That's areal stress test for the dynamic range of each camera. We included the histograms to help you out.
The bright part of the scene is exposed just fine, but what happens in the shadows? Notice how the trees disappear into the shade in one of the photos. Which phone could have done that?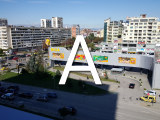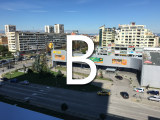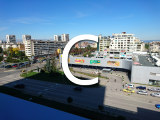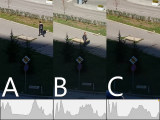 Scene #3: still camera: dynamic range
Cast your votes below.
Scene #4: still camera, dusk
We waited until the sun started to set and snapped a few images. Here's one at dusk. We included shutter speed and ISO, since the EXIF has been scrubbed from the sample images. The Galaxy S6 has OIS, so maybe it used it to drop the shutter speed. Or maybe one of the other two took their time in order to keep ISO (and noise) low. So, what do you think?
Cast your votes below.
Scene #5: still camera, flash
We picked a subject by for the flash test. These were taken after the shots above and by that time it has gotten quite dark already. Only the iPhone 6s has a dual-tone, dual-LED flash. On paper it should be obvious which shot below was taken by Apple's darling, but is it?
Cast your votes below.
Scene #6: 4K video, daylight
Okay, let's move on to moving pictures. 4K video is the standard for a modern flagship, and even Apple made the jump. Here are a few frames from the videos shot by the three phones.
Cast your votes below.
Scene #7: 1080p video, daylight
Full HD is still the most popular resolution, it's more sparing on your storage and not everyone has a 4K TV yet so why even bother you'd say. Also, 1080p allows phones to go up to 60fps for smoother actions. For this comparison we used the 30fps videos, but we'll include 1080p @ 60fps samples in the big shootout.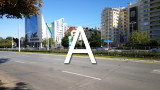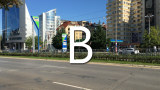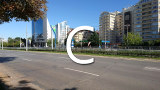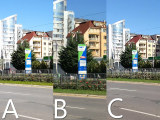 Scene #7: 1080p video: daylight
Cast your votes below.
Scene #8: 4K video, dusk
We recorded some 4K footage at dusk, before the sun had completely set. Even so the three phones found it challenging. Maybe the trio will do better at 1080p?
Cast your votes below.
The phone identities and the crowd favorites will be revealed tomorrow in roughly 24h from now, which would mean around 2-3pm London time. We also plan on publishing a detailed comparison of the three where many of the questions will be answered. Until then, enjoy these photo samples and cast your votes.