Apple iPhone XR review
Test results are in
GSMArena team, 23 October 2018.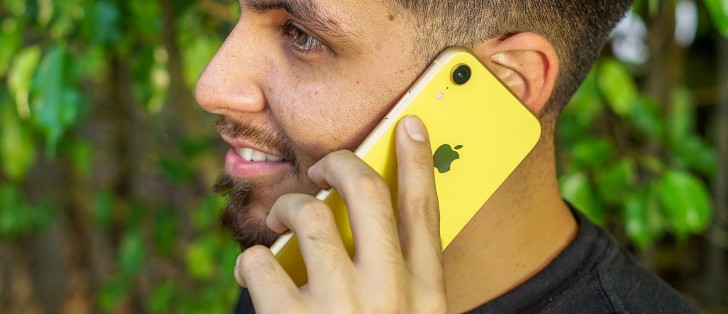 Software
The iPhone XR ships with iOS 12, or to be precise, iOS 12.0.1. We have covered iOS 12 in the past and the software experience is generally similar or identical to other iPhones, from the most expensive iPhone XS Max to the five-year-old iPhone 5s.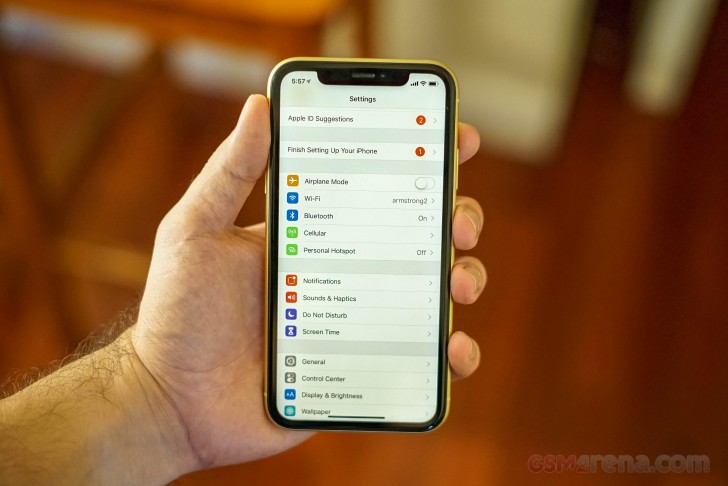 Where the iPhone XR and the iPhone X-series devices separate themselves is with the new gesture-based UI. Although Apple was hardly the first to implement such a system, in the current era, no other company has such a comprehensive gesture-based implementation that is fully reliant on gestures and built around it, rather than it being added on as a secondary measure.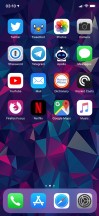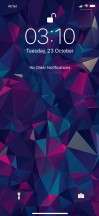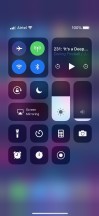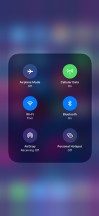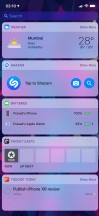 Homescreen • Notification Center • Control Center • Widgets
A good example of this is the unlock process. You pick up the phone and it wakes up the screen. By the time you swipe up, the Face ID system has finished scanning your face and you go straight into the home screen or wherever you left your phone previously. It's a fairly simple gesture that requires no tapping, pressing or waiting for things to happen.
Most other phones with facial recognition just unlock the phone automatically without requiring an additional swipe. iOS requires a deliberate swipe gesture, otherwise, it will show you your lock screen with notifications. Apple has implemented another clever feature here, where the notifications only expand when the phone scans your face and knows you're looking at the phone. Otherwise, they remain collapsed with just the name of the app and sender visible.
The gesture-based interactions come into full force once you unlock the phone. A swipe up takes you home from anywhere in the UI. A swipe up and hold shows open apps and with iOS 12, you can swipe on each window to close it. Within an app, you can swipe from the left edge to go to the previous screen. If you want to go to the previous app, just swipe sideways on the home bar at the bottom.
What makes the whole system work is that first of all, it was built from the ground up to support gestures. Secondly, all gestures are followed by appropriate transition animations, which flow in and out at silky smooth 60fps and the powerful hardware makes sure it stays that way. The gestures are also intuitive by design and once you learn about them, it's deceptively easy to get used to them, so much so that you start using them on other phones out of habit.
To make things more effortless, other parts of the software and hardware also help immensely. For example, iOS 12 adds two very useful features. One, where third-party password managers are now integrated within the keyboard and secondly, when you get an SMS with OTP, the keyboard suggests it automatically.
This means you could be in an app and it asks for your password. The keyboard pops up and you see your password manager is already offering you an option to fill it in. Before it does that, Face ID will quickly pop up for a split second to check if it really is you and the password gets filled in. If on top of that you get an OTP SMS, the keyboard will then suggest the number from the received message, which can be entered with one tap automatically into the field. And just like that, you are signed in. No switching of apps, no messing about with notifications. You stay where you are and everything comes to you.
Apple also still has by far the best implementation of haptics. The Taptic Engine inside creates precise vibrations that can accurately simulate a button press. iOS also makes liberal use of tiny vibrations everywhere in the UI that are deeply satisfying and effective without being distracting.
With a multitude of minor usability changes such as these in iOS, along with the fluid gesture-based UI and the powerful hardware to chug everything along smoothly, makes using iOS on the iPhone XR one of the most gratifying and user-friendly experience.
However, as much as Apple has worked hard to make iOS more usable in some places, it still stubbornly lags behind in others.
If you get a call on your iPhone, it still takes up your entire screen and if you don't want to answer it, you are left staring at your now useless screen till the caller decides to end it. The volume bar in many apps still takes up a huge chunk of the screen and often covers up the thing you're trying to see. The battery low message will rudely interrupt whatever you are doing and demand your full attention.
The iPhone X-series of devices also has the Control Center, an often-used part of the interface, at the top right corner of the display, which is out of reach even on the iPhone XR. The Reachability gesture helps a bit but it just adds additional swipes to the process.
It's still not possible to set default apps in iOS. You can choose to manually open a particular file or a link in a particular app but you can't choose a default as the OS does it for you.
iMessage users still complain about their messages not being synced properly, despite it being an important feature that most use on a daily basis. iMessage UI is also quite convoluted at this time, with way too much functionality crammed in that many people will never find or know how to use.
Then there are other inanities, such as the settings for first-party apps like Camera and Safari are not within the app itself. To adjust Camera settings such as resolution, you first have to go to the main Settings app and then Camera. The settings are also confusing; the resolution option controls the resolution and frame rate for both front and rear cameras at once, and nowhere in the UI is this is specified in any way.
The Settings app, in general, is a bit of a maze to anyone not used to iOS. Apple relies heavily on this app to house all of its settings and some of them are kept in places where you'd never expect to find them. Even as someone used to iOS by now, we still often have to pause and think about where exactly the option is that we are looking for, then proceed to not find it and eventually use the search function. Ideally, you shouldn't have to need search inside a Settings app, but that's just how it is now.
Apple also continues to offer a practically insulting 5GB of iCloud storage by default to every Apple ID. 5GB is not enough to backup anything, let alone the 4K60 videos these phones are now capable of recording. Not only do you get 5GB, but the backup feature is also enabled by default, so all your photos and videos are being backed up without you even knowing. While the higher storage tier options aren't expensive, it's not too much to ask for enough storage to backup at least the base 64GB models completely without having to pay extra.
None of these niggles sound like a deal-breaker on their own, and they aren't. But put together, they can be a source of annoyance and diminish some of the work Apple has put in elsewhere in the UI to make it all work well. The sad part is that many of these are easy fixes should Apple choose to correct them, but it seems like it just doesn't want to at this point.
Take a toothbrush and clean the earpiece speaker. You will be amazed at the results.
Go for iPhone XR if you're a gamer .Otherwisego for Onep
Should I go for Oneplus 8 pro or iPhone XR?