Kantar: Android grows as iOS and Windows Phone decline in Q3
30 October, 2014
According to the latest Kantar WorldPanel report on mobile operating system market share, Android continues to take the lead marking a slight growth. Its main rivals, iOS and Windows Phone, declined slightly in their respective market share numbers.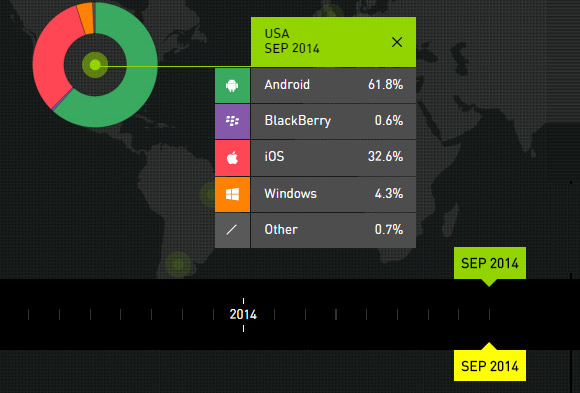 In both Europe (EU5) and the US, Android leads its competitors with a market share of 73.9% and 61.8%, respectively. In Europe, Apple takes 15.4% of the market, while Microsoft with Windows Phone manages 9.2%. Interestingly, iOS marks a decline in the US of 3.3 percent points to 32.6% compared to Q2. Windows Phone's presence is also shrinking and is now 4.3% from 4.6%
As far as manufacturers go, LG and Motorola have been doing great in the US and Kantar sees them in a better position to fight with Samsung and Apple than ever. LG is counting on the G3, while Motorola is betting on the Moto X.
In China, Samsung is also feeling pressure from uprising manufacturers such as Xiaomi. It now boasts 30.3% market share whereas Samsung's market share fell to 18.4%. Interestingly, 16% of all smartphones sold in China were with a screen size of 5.5" or larger.
Related
Yea, WP is terrible. The IE Browser sucks on it. Why no forward/back buttons? Idiots and MS haven't figured out you should make your software that is available on the desktop platform have features which are identical to their mobile platform. ...
Exactly! See my previous comment.
Ok, let's say your S5 is actually lagging because you've loaded a bunch of programs that run in the background. So what have you actually done about it? I mean, have you looked to see what you've loaded that's using up the memory? Seve...
Popular articles
Popular devices