Kantar: iOS market share grows in the US and Great Britain, shrinks further in China
09 November 2016
Market researchers Kantar Worldpanel have published their Q3 2016 report detailing smartphone buying trends.
The iPhone 7 and 7 Plus lead the way in the US, commanding a 17.1% market share for the month of September, with the 6s generation coming in second. All that leads to an iOS share of 34.2% in the US for Q3, up 5 percentage points from last year's result. Meanwhile, Samsung posted a 4.1pp decline year-on-year, now down to 33.8% share, with Android down to 63.4% altogether (compared to 66.7% for Q3 2015).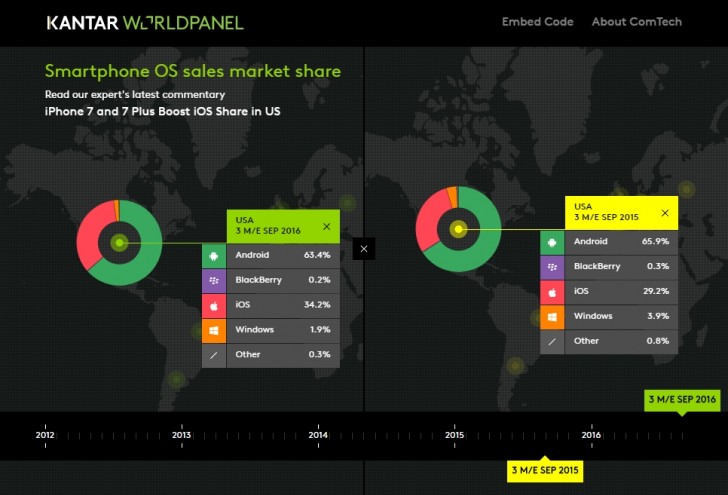 The proportions are slightly different in Great Britain, though the iPhone 7 still ruled the month of September, claiming 15.1% of sales. The iPhone SE accounted for a surprisingly large 8.5% share of sales in Q3, fueling iOS' 2.4pp growth YoY to 40.6%. It's the only market where Samsung recorded any gains, securing a 30.4% market share.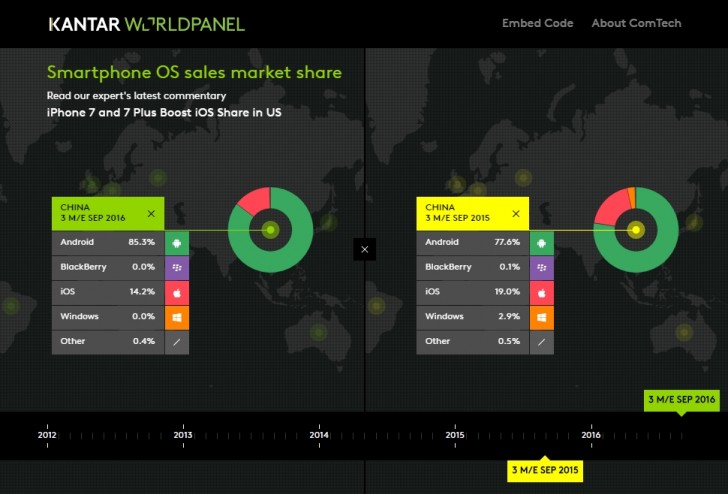 Compare Apple's figures in the Western world to China, and it's not looking as good for the Cupertino company. iOS share went down 4.8pp year-on-year to 14.2%. Android, on the other hand, gained 7.7pp to 85.7% while Windows Mobile shrank into oblivion.
Related