Latest Meizu campaign offers to swap your OnePlus 2 for a new PRO 5
Vince, 20 October, 2015
Meizu started a smartphone exchange campaign yesterday offering OnePlus 2 owners the chance to swap their phone for a new PRO 5.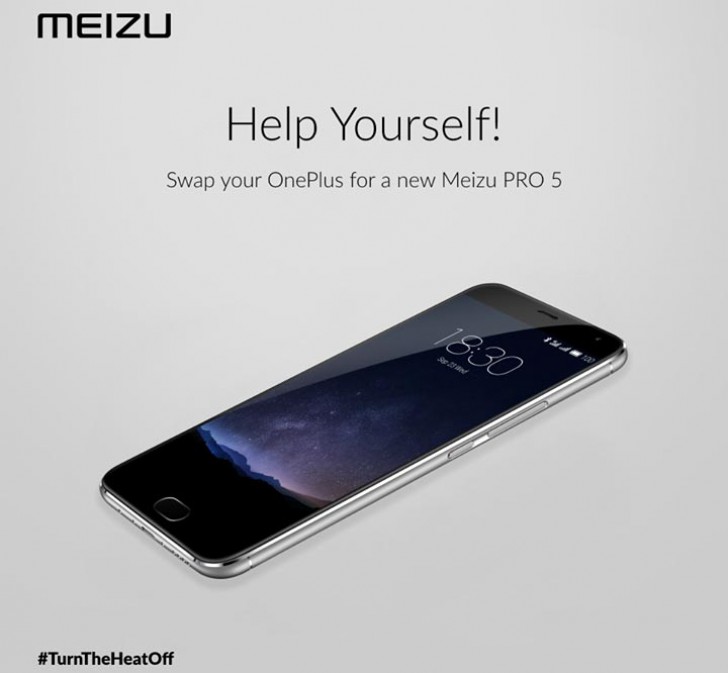 In order to participate, you have to fill out a form telling Meizu why you want to "#TurnTheHeatOff" - an obvious reference to the heating issues of the Snapdragon 810 chip that powers the OnePlus 2. The company also continues to mock the OnePlus for the lack of NFC with the hashtag #TurnNFCOn.
Winners will receive an email later this week. It's not yet certain if Meizu will be giving 3GB or 4GB version of the PRO 5 for those participating. The exchange program isn't open to OnePlus One owners.
The Meizu PRO 5 has been on sale since October 12 and the 3GB RAM version costs $439, while the 4GB variant with 64GB storage goes for $490. As a reference, a 64GB OnePlus 2 retails for $389.
Related
Anonymous
22 Oct 2015
HjB
Exchange s6 edge for oneplus two. Then exchange again oneplus two for meizu pro5. Who else next? Exchange your meizu for htc one a9. All of these chinese company keep fighting each other.
Correction: Lower spec'd phone that doesn't lag :p
Everyone has different needs. An iPhone will meet some people's needs. An S6 will meet others' needs. Perhaps a Z5 will be for others. There are hundreds of phones in the market today. Surely there's a phone that suits your needs out there - go ...
Popular articles
Popular devices
Electric Vehicles