Leak: new DJI OM 6 gimbal on the way with new rotary dial, cheaper DJI OM SE will join it
Peter, 20 September 2022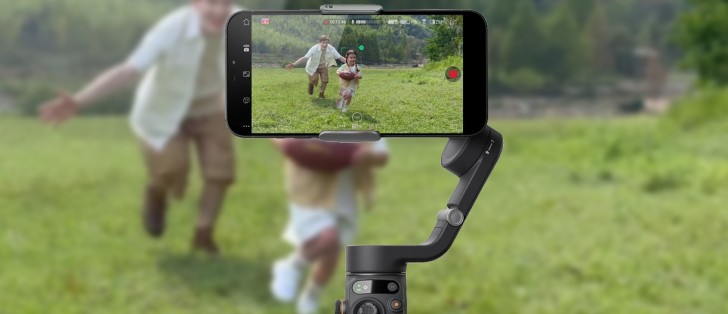 A while back DJI unveiled the Avata FPV drone and more recently the DJI Osmo Action 3 camera, soon the company will present the next generation of smartphone gimbals – the new DJI OM 6 and a cheap DJI OM SE.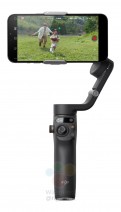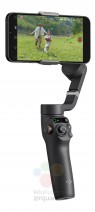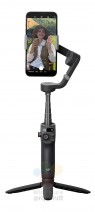 DJI OM 6 (leaked images): note the new dial on the left
The DJI OM 6 has a new look and a new control – a rotary dial on the left side, which will be used to accurately control zoom and/or focus. The gimbal features 3-axis stabilization and a new ActiveTrack 5.0 (a system that automatically keeps a moving subject in frame).
Also, the OM 6 has a built-in extension rod and tripod legs, just like its predecessor. The gimbal itself weighs 309g and the magnetic clamp you use to attach the phone to the gimbal is 31g. The motors can handle smartphones up to 290g.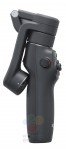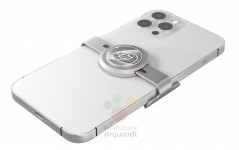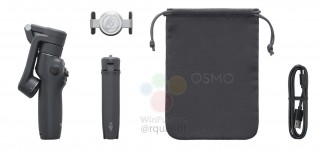 DJI OM 6 (leaked images) • The magnetic clamp • The contents of the retail package
The 1,000mAh battery is good for 6.5 hours of operation and will need 1.5 hours to fully recharge. These numbers are effectively the same as on the DJI OM 5.
The DJI OM SE is a cheaper version with a design that is closer to the older OM 5. There is no extension rod, but it does keep the tripod legs. Like its more premium sibling, the SE gimbal can handle phones up to 290g.
Interestingly, the OM SE will have a much larger battery – 2,600mAh, according to the leaked data acquired by WinFuture. However, this won't translate into two times the battery life, instead the SE is rated at 8 hours of running time. And it is heavier too, weighing 352g on it on (that's 43g more than the OM 6).
The DJI OM 6 will reportedly cost €180 at launch, which is a bit more than the OM 5 was (€160, now down to €130). On the plus side, the DJI OM SE will be cheaper - €110, just over the current price of the DJI OM 4 SE.
The official announcement of the two new gimbals should be soon, but we don't know the exact date (the Osmo Action 3 came three weeks after the Avata and it has been a week since the Action 3).
Related
this would be useful in case if you have a device with no electronic or optical stabilization support. such as reno 6
Anonymous
21 Sep 2022
7km
It's coming on 22 September. DJI said so in the email newsletter
The OM6 is basically a repainted repackaged OM5, and while the hardware may be pretty good, the software is childlike and lacking, it needs a few better modes, it needs a bit faster operation, I will wait for the announcement before casting judgement...
Popular articles
Popular devices
Electric Vehicles