LG G6 confirmed to sport the Snapdragon 821 chipset because otherwise it would have launched in May-June
Vlad, 10 February 2017
If you're someone who still held up hope that the LG G6 would rock Qualcomm's Snapdragon 835 chipset instead of the SD821, it's time to give up that hope now. Past reports have said that Samsung, who is producing the SD835 for Qualcomm, will be keeping the entire initial production run for its Galaxy S8 smartphone, thus leaving no chips for competitors such as LG. If you were praying that those reports would turn out not to be true, well, here's some bad news.
The image you can see below was snapped at CES, and it shows a confidential slide from LG regarding the G6. You can barely make out a bit of the phone's profile on the left, and its overall shape fits with every single leaked render and live image we've seen of it so far. What's more, the 'Full Vision' branding for the 2,880x1,440 18:9 screen is confirmed, along with the fact that the phone will be water and dust resistant and will have a rear-mounted fingerprint scanner. There's also the mention of a quad DAC, though this may only be available in certain markets.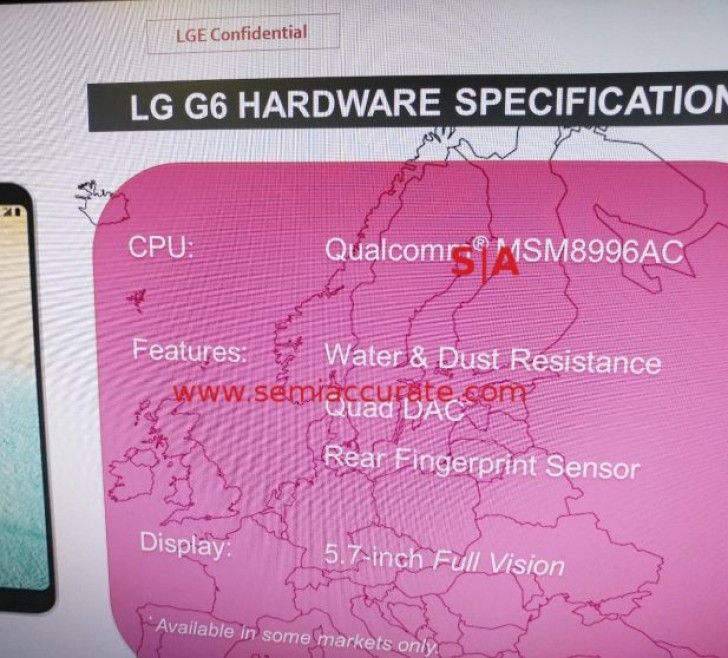 All that said, the most important thing in this picture is the "CPU" field, because this confirms once and for all (well, before the official announcement of the G6) that LG has indeed chosen last year's Snapdragon 821 for its next flagship smartphone.
Today's report goes into more detail about the Korean company's reasoning for this move. Because of the way mobile chipset manufacturing works, paired with Samsung's expected sales numbers for the first few weeks of the Galaxy S8's availability, it turns out that other smartphone makers will, at best, be able to launch SD835-powered devices in late May to early June. It's also possible that Samsung's fab would at that point only be able to churn out enough chipsets for the Galaxy S8 and just one other device. It's unclear what a company would have to do to make sure it's second in line for the SD835, by the way.
And even if LG was it, this means that the G6 would have become available around three months later than it will sporting the SD821. The phone is widely expected to go on sale in March following its introduction at MWC on February 26. Furthermore, by launching its direct competitor to Samsung's Galaxy S8 around six weeks after it, LG would have possibly lost a lot of sales.
On the other hand, its current strategy means that the G6 will not have to deal with competition from the S8 for almost six weeks in South Korea. That time will be less in other markets, but the G6 will be available everywhere before the S8, and LG thinks that's worth the risk of turning spec junkies off with its SoC. We'll have to see how this pans out, and we assume that pricing of both the G6 and S8 could play a part in how successful LG's device can become.
Related
The only faults is LG fault, every respectful smartphone manufacturer has their own chipset, so things like that did not happen. HTC, Sony and LG is a joke, no wonder no one bymuys their phones
Anonymous
16 Feb 2017
0RT
I know what you mean... My tablet has IPS LCD and it is still as white as it can get but my S6 has a yellow hue and stuff is starting to burn into the screen. If I put a full screen white image on my phone you can see remnants of all the icons at the...
Anonymous
16 Feb 2017
wjm
I prefer the IPS LCD. OLEDs get a strange hue after extensive use. Go into any store that's got an OLED model coming up on a year on display and you'll know what I mean.
Popular articles
Popular devices
Electric Vehicles