LG G7 One, G7 Fit hands-on review
GSMArena team, 30 August 2018.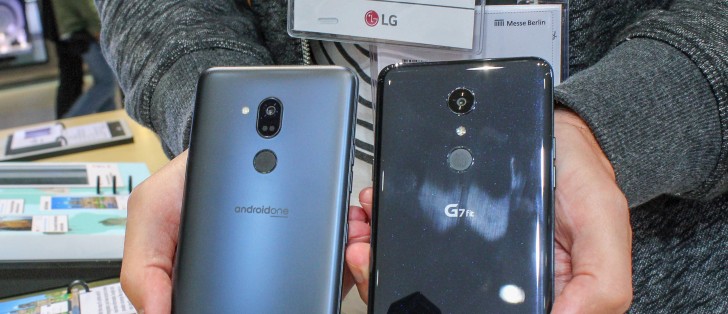 LG G7 One
Let's ask again: how much is Android One worth to you? More than having the latest chipset? If you were looking at a Nokia, Xiaomi, Motorola Android One phones, we already know the answer - most models don't go above Snapdragon 660.
What about a dual camera? The answer is largely the same, most Android One dual camera solutions boil down to "depth sensors". Even the venerable OnePlus 6 (not technically One, but still) doesn't have a wide or tele camera. Not even a black & white camera.
And here's the thing, for regular photos the LG G7 One should be as good as the ThinQ model. It has a 16MP sensor with a bright f/1.6 lens (but the same tiny pixels, 1.0µm), same focusing tech as well.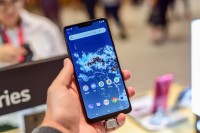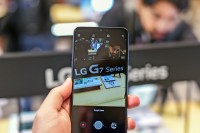 Same Super Bright Display • A single 16MP camera
The LG G7 One has premium features too, like the 6.1" screen with QHD sharpness and HDR10/Dolby Vision support. And it supports Always On Display. The Huawei P20 Pro can't claim none of those.
The One uses the same Super Bright LCD screen as the G7 ThinQ, which was ridiculously bright - 920nits! - and offered a very high contrast ratio. This is done with the help of an RGBW PenTile matrix.
That's not the end of it either. Many will look at the Pocophone as the phone to beat in terms of bang for the buck, but remember that that one has no waterproofing. Neither does the Zenfone 5z or the OnePlus 6.
The G7 One still has a glass back, but rather than the polished finish of the V30 and G7, it has a frosted finish (similar to the OnePlus). We quite liked it, it feels premium and for a second we thought it was metal.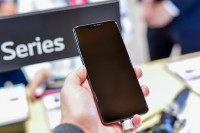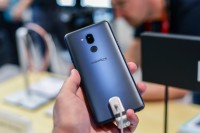 Same on the front • New frosted glass on the back
The LG G7 One gets the full IP68 rating (1.5m underwater for 30 minutes) and better still, it's MIL-STD-810G compliant so it can face terrestrial dangers too.
LG has been building audiophile-friendly phones for years now and this one is no exception. Yes, it has a 3.5mm jack and yes, it's powered by a 32-bit QuadDAC setup (with DTS:X 3D surround sound to boot).
The Boombox speaker on the bottom is built into an internal cavity that works as a resonance chamber. LG promises double the base and it delivers - the audio is loud, crisp and deep.
While not the best ever, the LG G7 ThinQ camera offered solid shots and the freedom to shoot expansive scenes from up close with the wide-angle camera. Unfortunately, the wide camera is not present on this model.
The LG G7 One keeps most of the main camera, though it loses OIS. It has a 16MP sensor behind a bright aperture (f/1.6), but pixels are fairly small (1.0µm). It features Lase AF and Phase Detection AF.
LG's Super Bright Camera mode is available so you get get a good low-light shot out of those tiny pixels (but at the cost of resolution, it drops to 4MP). Despite the change in software, LG's AI CAM will also be available, though at a later date.
We've been putting it off, but it's time to talk about the chipset. It's a Snapdragon 835, aka the same chipset used in the LG V30 and V30S ThinQ. It's still faster than the Snapdragon 710, especially the GPU, so we're fine with this as a choice of chipset.
We're less happy with the change in memory. 4GB of RAM is starting to feel a little restrictive, especially on a phone that will be getting updated to new Android versions. Same with the storage, 32GB is going to be tight as Android grows new features. There's a microSD slot, but that's slower than built-in storage.
I am using LG g7 and reasonably good phone but i am disappointed with its face unlock it opens with the close eye as well
why the hell are they releasing with only 32gb internal? such a good phone with only 32 gb option! serious?
And having bootloop as bonus? Cheap and freeze go grab poco & 6+, I prefer motorola z3