LG GM360 Viewty Snap and GT400 Viewty Smile review: One for everybody
GSMArena team, 20 September 2010.
User interface has S-class looks
The software on both the LG Viewty Snap and the Viewty Smile is traditional LG with some S-Class eye-candy. The homescreen has a widget page and a page for favorite contacts and the Snap also has a Livesquare homescreen that's missing on the Smile.
Let's start with the widget-enabled screen that allows you to arrange several mini applications as you please.
A touch on the marker in the bottom right corner of the homescreen pulls out the Widget tray, which holds all of the currently unused widgets. You can choose the ones you want and drag them onto the screen or stash the ones you don't need back in the tray.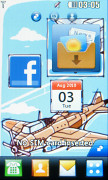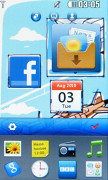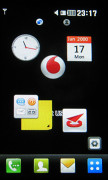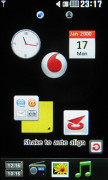 Widget homescreen (Snap on the left, Smile on the right)
The LG Viewty Smile and Viewty Snap offer a clock widget, a mini FM radio, a mini music player, a Notes app, image slideshow, a calendar and a few others. The Snap has a Facebook widget too, we'll get back to it when we look at the full Facebook app.
There's only one non-scrollable widget screen and the LG GM360 Viewty Snap has an additional limitation – you can only use three widgets at a time. The LG GT400 Viewty Smile lets you have as many as you can fit on the screen.
Unfortunately, new widgets cannot be added. That's the main disadvantage compared to the competing touch UIs.
The contact homescreen doesn't work with widgets, but lets you arrange favorite contact icons instead. Again the two phones differ slightly – the Viewty Snap lets you have up to 9 contacts, while the Viewty Smile can hold three panes of up to 6 contacts each.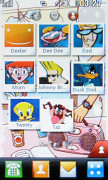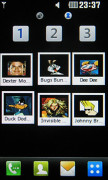 Contacts homescreen (Snap on the left, Smile on the right)
When you tap a contact four buttons appear to the sides of the contact's photo – call, send SMS, Edit and remove from speed dial.
The LG Viewty Snap has a Livesquare – check out our other LG Cookie Gig review for more details on that. It's a practical concept with a rather childish implementation.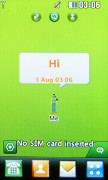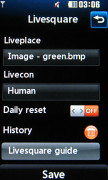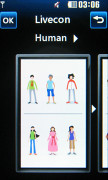 Selecting multiple contacts in Livesquare • Livesquare options
The Viewty couple makes use of a Task manager allowing you to run several Java and native applications simultaneously and effortlessly switch between them. It's complemented by a secondary "Favorite apps" tab that hosts a number of configurable shortcuts to various applications. There're up to nine slots for shortcuts on the Snap and the Smile again beats it – it lets you have as many as you want.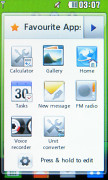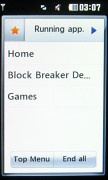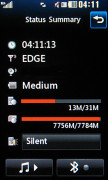 The task manager and the favorite apps shortcuts • the status screen
The Status screen is something borrowed from the Android playbook – tapping on any of the icons on the status row on top (next to the clock) opens up a screen with signal, battery and memory stats, and allows you to quickly toggle the ringing profiles, music player and Bluetooth. It's not quite as useful as the Android solution, but as close as a feature phone can get.
The LG GM360 Viewty Snap comes with a Social Network menu, which lists Orkut, Facebook, Twitter, Picasa, Flickr and MySpace. However only Facebook and Twitter have apps, the rest are simply bookmarks to the respective sites. Facebook gets a widget too.
The Facebook application is custom-made and nicely touch optimized. Its interface feels quite familiar, so you can get going straight away. While the widget only shows the last couple of status updates, the app can handle the rest of the functionality.
The Facebook widget shows status updates from your friends and serves as a shortcut to the full-blown Facebook application.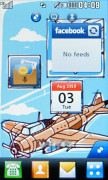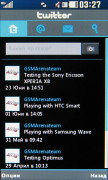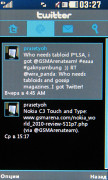 The Facebook widget • The Twitter Java app is not very touch optimized
The Twitter app on the other hand is a Java app with smallish controls. It's not the most thumb-friendly app we've seen, but it's a full-featured Twitter client. You can post tweets, read other peoples' tweets including a special section for @replies and search is enabled as well.
Telephony and messaging are nice
A few quick words about the telephony and messaging. Both the Viewty Snap and the Viewty Smile have good reception and the in-call sound was loud and clear.
Both phones support Smart dialing, but the Snap is more advanced. It looks for both names and numbers, while the Smile looks at just numbers (almost-useless ).
During a call the screen is locked – you have to unlock it manually as there's no proximity sensor to take care of that automatically.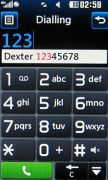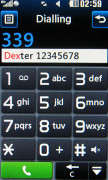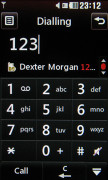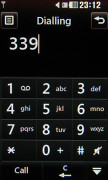 Smart dialing - Snap on the left, Smile on the right
The messaging department on both devices is fairly straightforward. Email setup was automatic (just enter email address and password) though it suffered from restrictive file size limitations (you can't send or receive files much bigger than 2MB).
You can choose between an on-screen keypad in portrait or a QWERTY keyboard in landscape (on the Smile they switch automatically thanks to the accelerometer, but Snap users have to do it manually) and there's handwriting recognition too.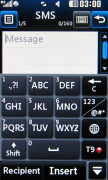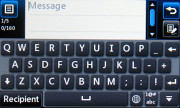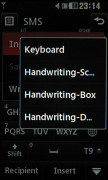 The input methods on the two Viewty phones
Using the LG Viewty Snap and Smile for day-to-day telephony was fine in both cases. Here's how they rank in our loudspeaker test:
| | | | | |
| --- | --- | --- | --- | --- |
| Speakerphone test | Voice, dB | Pink noise/ Music, dB | Ringing phone, dB | Overall score |
| Samsung I9000 Galaxy S | 66.6 | 65.9 | 66.6 | Below Average |
| Samsung I5700 Galaxy Spica | 66.6 | 62.1 | 75.7 | Average |
| LG GD880 Mini | 67.7 | 66.5 | 76.1 | Good |
| LG GT400 Viewty Smile | 72.6 | 66.2 | 77.9 | Good |
| LG GM360 Viewty Snap | 74.6 | 69.5 | 77.0 | Very Good |
| LG KM570 Cookie Gig | 75.1 | 69.5 | 82.7 | Very Good |
| Samsung S5230 Star | 82.7 | 76.0 | 80.2 | Excellent |
| LG GD510 Pop | 76.6 | 76.2 | 85.0 | Excellent |
Problem here with this phone is that it takes a step back from what the LG Viewty Renoir and Arena have established. Missing things like a 8MP HQ camera, 8GB memory, accelometer, capacitive touch screen, 3.5mm jack, Dolby surround MP3 player, wifi, 3...
i cant view youtube in mg lg gm360..it appears not supported...what should i do to make it work? pls help me...thanks
Artilecs like this just make me want to visit your website even more.