LG KU990 Viewty review: Eyes wide open
Eyes wide open
GSMArena team, 25 September 2007.
Multimedia comes to mind
The LG KU990 comes with a good 100MB of internal memory (The Prada phone had only 16MB) and a microSD memory card slot. It's really mind-boggling why the memory card slot is not available to the user without removing the battery as this represents a serious hit on user-friendliness.
The file manager appears as a My stuff item in the menu. It includes separate factory-preset folders for different multimedia content. You can copy or move files to the external memory or send them via Bluetooth, and for all of those options you can rely on multiple selection. However, we did notice a huge lag in folder browsing, once the memory card started to fill up.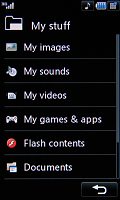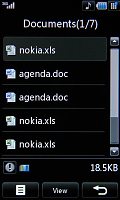 The My Stuff menu item • opening the documents folder: you can view office documents
The LG Viewty file browser has a quick fix for your underexposed images (the dark ones taken in low light conditions). It's called Smart Light and applying it to your images produces surprisingly good results - otherwise unusable photos turn into nicely looking snaps with preserved colors and natural brightness with no extra noise added.





Applying Smart Light technology to underexposed images: no other editing is done on the photos
The LG KU990 also has office document viewer functionality thanks to the Picsel viewer. As we managed to confirm, the viewer supports MS Word documents, MS Excel files and PDF files. Unlike the Prada phone, scrolling and zooming on the documents is really fast. In fact, we've never seen the Picsel viewer work that fast. It's only on PDF files that you notice certain lags. You can even view your documents in landscape mode.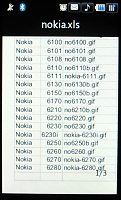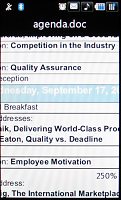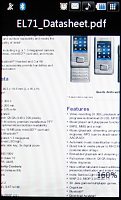 Opening an Excel document, a Word document, a PDF document: you can even go landscape
The main functionality of the image gallery remains the same as the one of the Prada phone, only browsing thumbnails is now faster and zooming on pictures is available. Images can be viewed both as thumbnails and as a list.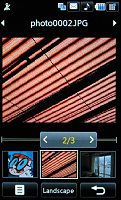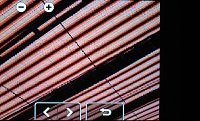 Browsing pictures in thumbnail view and in filmstrip view
The KU990 offers an upgraded MP3 player, as compared to the one in Prada. When it comes to track filtering, the Prada phone didn't have any options at all. The LG KU990 Viewty can filter tracks as any other modern music player - by artist, album, genre, playlist, recently played and several more. The handset itself has a Flight mode, which really makes it an adequate solution as a portable music player. On the other hand, there are still no equalizer settings for you to use to enhance the player sound. A certain drawback of the music player is that when you change the interface theme to some of the other available ones, the player stays black and ruins the uniform silvery look. The Prada phone had a solution for that - the player had its own black and white skin. That option is nowhere to be found here. Naturally, the music player runs in the background without any problem. The same goes for the FM radio, too. It also has RDS support but unfortunately sound cannot be turned over to the external loudspeaker. The radio stores up to 12 stations - way too little if you ask us. The KU990 is also equipped with a flash player which easily plays .swf files.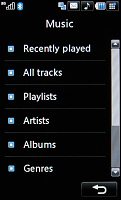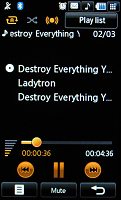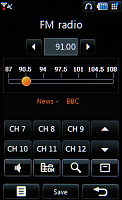 Music player menu • music player interface • FM radio
The video player of the LG KU990 is much like the one seen in the Prada phone - it is really nice and you can watch videos in fullscreen landscape mode, with or without semi-transparent overlay of player controls. You can also opt for both normal and widescreen aspect ratio. The greatest improvement in the video department is that the Viewty is now capable of playing DivX 5 videos (files with up to VGA resolution at 30 fps). Most of the videos that we tried played smoothly and offered the same image quality as seen on PC. There were few exceptions but we couldn't find out where the difference came from. Anyway, having such a portable device play DivX videos is another great step (remember Samsung F500!) in the right direction for the mobile community.
| | |
| --- | --- |
| Most of the videos that we tried played smoothly and offered the same image quality as seen on PC. There were few exceptions but we couldn't find out where the difference came from. Anyway, having such a portable device play DivX videos is another great step. | <#AdRectangle#> |
We tried playing XviD and DivX 6 videos too, but obviously the encoding is not supported, which is a pity, since XviD videos nowadays are far more popular than the DivX ones.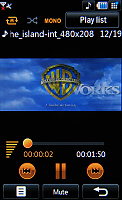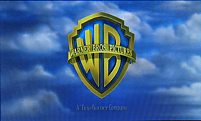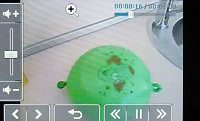 Watching video in portrait mode • watching in widescreen landscape mode • watching in normal landscape mode with overlay controls
When it was first announced, the KU990 was supposed to have direct YouTube integration, but later on in the development process the feature was cancelled since most of the carriers didn't want their customers to have that feature. As LG stated the feature will be available only on Viewty units made for T-Mobile and Hutchinson.
Update 29 Nov: After we received a final retail unit, we are now able to confirm that the LG KU990 Viewty comes with YouTube integration. You can upload your video files to YouTube - directly from your file manager. All you need to do is select the video to upload, tag it, and finally input your YouTube account details - it's really that easy. We are glad that the LG team has decided to put the feature on-board.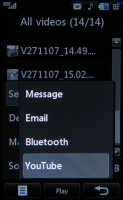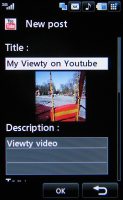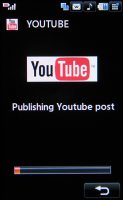 Uploading a video to YouTube is as easy as picking it up from the file manager and setting the minimum publishing details
Audio quality test
Until recently, sound quality used to be a subjective matter in our reviews. Realizing that mobile phones are evermore used as portable music players, subjective just won't do any more. That is why we at GSMArena will be including a new audio test in our reviewing routine to give you a more objective view of how the music players in all those handsets perform. Soon we will publish a separate article to describe our analysis procedures and serve as a reference point for all the handsets we've had a chance to analyze. For now, we suffice to say that all the sound tests are done on M-Audio Fast Track Pro external audio interface and RightMark Audio Analyzer 6.0.5 software with special sound samples. This gives us the opportunity to create a controlled environment, which should produce accurate and comparable results throughout all the units tested. So here are the results of the LG KU990 Viewty and its graph compared to Apple iPod 5th generation (better) and Nokia 7500 Prism (worse). Since we still don't have a large database with sound analysis results, we can only say that the LG KU990 performs much like the Sony Ericsson K770 (a review is coming really soon).
Audio quality test results

| | | | |
| --- | --- | --- | --- |
| Test | LG KU990 Viewty | Nokia 7500 Prism | Apple iPod 5G |
| Frequency response (40Hz to 15kHz), dB | +0.29, -2.07 | +1.11, -1.50 | +0.41, -1.16 |
| Noise level, dB (A) | -86.8 | -72.6 | -91.6 |
| Dynamic range, dB (A) | 83.8 | 72.1 | 91.8 |
| THD, % | 0.020 | 0.017 | 0.0043 |
| IMD + Noise, % | 0.124 | 0.094 | 0.015 |
| Stereo crosstalk, dB | -86.6 | -71.6 | -83.6 |
Frequency response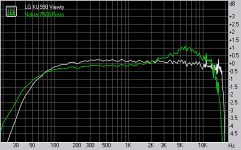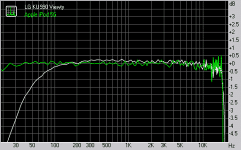 LG KU990 Viewty vs. Nokia 7500 Prism • LG KU990 Viewty vs. Apple iPod 5G
Taking the peek in the separate graphs (pun intended!), the KU990 head-to-head with Apple iPod and Nokia 5700 makes us guess that LG has put some low frequency filter which suppresses the low frequencies (below 100Hz). Doing that with an external loudspeaker might be justified, but remember that we are testing the sound output from the headphones jack here. Normal headphones would have been able to play those sounds if it wasn't for this filter, so there goes a poor mark to LG
USB portable drive
The phone features high-speed USB Mass Storage support and the LG USB cable comes along in the retail box. When connected to a PC, the Prada phone made the phone memory and the memory card both appear in the Windows Explorer as removable drives with no special drivers needed. With the KU990 you only have the memory card appearing, and the internal memory is not accessible.
As far as network connectivity is concerned, the phone features tri-band GSM/GPRS/EDGE plus HSDPA 3.6 Mbps. There is also Bluetooth 1.2 with A2DP stereo support.
Tabbed web browsing
The LG KU990 enjoys a wonderful web browser with rich options. It does manage to put the screen real estate to its advantage and you can browse web pages with or without the controls visible. Turning the screen to landscape makes browsing even more enjoyable. There is even a mini-map to help you find your way around spacious web pages. And if all that is not enough, it supports tabbed browsing allowing you to forget about linear browsing and open your links of interest in separate tabs that you can close independently later on. The only drawback we found with it is that it scrolls somewhat slowly (nothing still beats the Symbian OS 9.1 3rd web browser).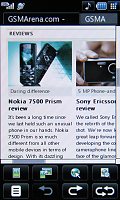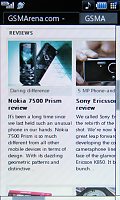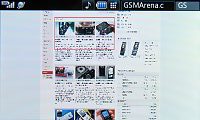 The web browser is great - take a look at gsmarena.com
Time management and applications
The Calendar is pretty straightforward, it offers a monthly and a weekly view and you can navigate the dates with your finger. A large orange square denotes the current date. When you touch on a date, a pop-up appears so you can see what's under your finger. Unlike the Prada phone, you can choose which day should be the first day of the week by default. You can also choose the default view - weekly or monthly. Adding an event is made really simple. You can have up to 100 calendar events. There's a separate Tasks application and it can also store up to 100 tasks. There is also a Memos feature that allows storing some notes. Unfortunately, you can store as little as 5 of them. The Alarm clock has 5 available alarm slots (the Prada had only one).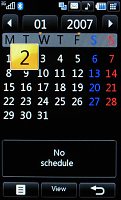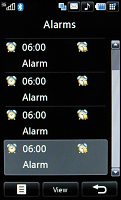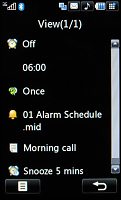 Calendar • alarm slots • setting an alarm • memos
The LG KU990 also has a Calculator, a Unit converter and a World Time application.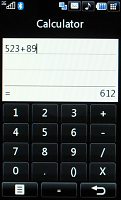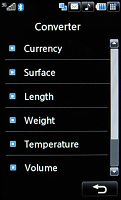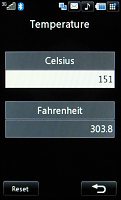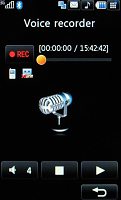 Calculator • unit converter • voice recorder
The World Time application is among the few things in the LG KU990 Viewty that have been downgraded from the Prada phone. The application in the Prada phone was among the most atractive we've come across and we saw the same one used in LG KE970 Shine. But the World Time application in the KU990 is nowhere near that.
Update 29 Nov: After we received a final retail unit, we found that the LG Viewty comes with a preinstalled Google package. The package includes a shortcut to Google search, a shortcut to Gmail, a shortcut to Blogger, a shortcut to YouTube mobile web version and finally, Google Maps for Mobile application. All shortcuts are loaded in the web browser, the GMaps is the only real application that comes with phone.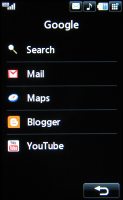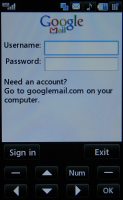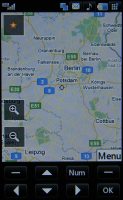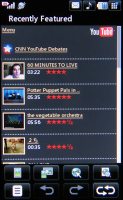 The Google package is extensive, yet most features are only shortcuts to access the services online
We really liked the Muvee Studio application - you can feed it in with photos that've taken, for example, and it will create a MP4 movie clip out ouf them. The created movies vary by the style you choose for them. They change the background music, the transitions, the color effects and the speed of the slideshow. The resulting video clips resemble the slideshows generated by Sony Ericsson K850, however here you can share them with friends.
Here is a sample video created with several of our photos. You can also look at the screenshots of the process.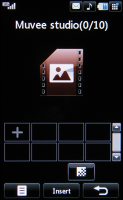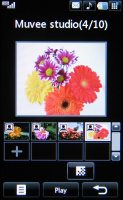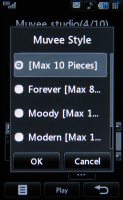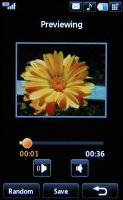 The Muvee Studio is a really nice aplication that turns shots you've taken into slideshow animated MP4 movies in QVGA resolution
The LG KU990 phone has support for Java MDIP 2.0, so you can install third party Java applications to suit your needs. We tried installing the Opera mini browser and it worked like a charm.
Shooting stars
The only game that KU990 Viewty had was the LG Space Commando game. It offers rich 3D graphics for a mobile phone and somehow made us think that the handset had a hardware video accelerator like the Nokia N95. This shooter game is amusing and offers 3 gaming modes - piloting a spaceship, first-person shooting on human enemies and first-person shooting on aliens sneaking up on you, crawling on the walls, etc. Trying the game out was a fun pastime - the spaceship/character is controlled by the game and all you are left with is shooting (tapping on the screen in the KU990 case).
A nice innovation with the Java games/applications, as compared to the Prada phone, is the large virtual keys in the bottom of the screen. They take some of the screen real estate but they have two positive effects. First, it allows the games/applications to work in the more standard (QVGA) resolution and, secondly, potential problems with the touch-sensitive navigation in any of the new games you'll be trying are dealt with by having additional controls at your disposal.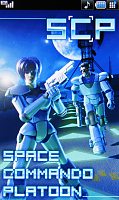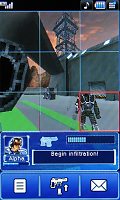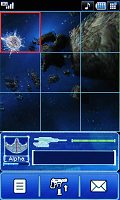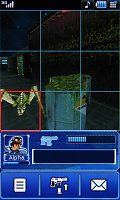 LG Space Commando different gamplay modes: shooting people, taking down spaceships or shooting at insect-legged aliens
Shamim reza rubel
04 May 2015
ubI
It is very very very good & good phone.
Anonymous
24 Feb 2015
t0L
this phone can recover?
Anonymous
25 Apr 2014
fsV
Cn i watsap?