LG Optimus G Pro vs. Samsung Galaxy Note II: Sumo wrestling
Sumo wrestling
GSMArena team, 21 March 2013.
Introduction
Back in 2011 the smartphone landscape was seemingly starting to settle, when Samsung stirred things up by taking a wild leap with the original Galaxy Note. The 5.3" slate was called a monster back then and we all had to re-think our idea of the smartphone as a productivity tool. It certainly made a splash. Ugly and gargantuan to some, a real godsend for others, the original Note was a pioneer at heart and opened up doors to a whole new market segment. It sold over 10 million units and even helped coin the notion of phablet - a phone, which dares step in tablet territory.
While Samsung's rivals were still rubbing their eyes in disbelief, the Note II came along. It quickly became a solid hit, already passing the 5 million units sales mark and guaranteed to beat the achievement of its predecessor.
But enough with the history lesson. As you would imagine, the competition wouldn't just sit at the sidelines and watch Samsung do victory laps. It was only a matter of time before somebody sent an equally capable rival the Note's way.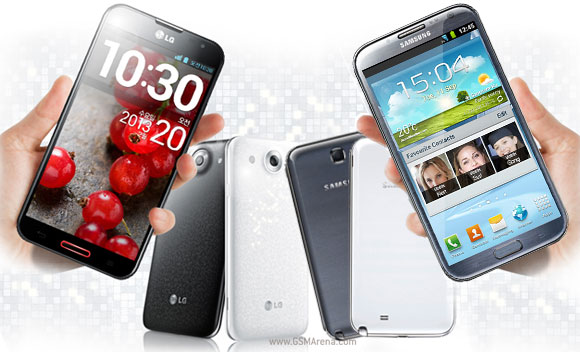 Meet the LG Optimus G Pro - a device built for the single purpose of running for the best phablet title.
As such, the Optimus G Pro just begs to be pitted against the Galaxy Note II. Let's see the most important advantages each of the contenders holds over its rival.
LG Optimus G Pro over Samsung Galaxy Note II
Higher resolution 1080p display, higher pixel density
Smaller footprint and a tad lighter body
13MP camera with HDR support
Faster CPU (1.7GHz Krait 300 vs. 1.6GHz Cortex A9) and Faster GPU (Adreno 320 vs Mali-400)
True Full HD IPS LCD has more accurate colors than Super AMOLED
Built-in IR sensor for advanced remote-control functionality (if you care for that)
Samsung Galaxy Note II over LG Optimus G Pro
AMOLED screen with superior contrast
Readily available in stores
Cheaper
S Pen and Wacom digitizer
Right off the bat, the LG Optimus G Pro trumps the Galaxy Note II with a next generation chipset, giving it an edge in performance and, theoretically, power efficiency.
LG continues to deal heavy blows in the display department. The Optimus G Pro boasts the best display on an LG device yet: 1920 x 1080 pixel True IPS+ LCD unit. The Note 2's 720p Super AMOLED display simply fades in comparison.
The camera department promises to be a nail-biter too. Both smartphones boast Sony-made camera sensors with LG having the upper hand with a 13MP unit, against Samsung's 8MP sensor. Megapixels mean nothing without good image processing, so we'll see how the Optimus G Pro stacks up against the Note II, which already proved to be a very solid performer.
Hardware aside, both phablets enjoy the software optimizations that Android 4.1.2 Jelly Bean provides whilst boasting the numerous proprietary features that their custom user interfaces add on top. Samsung has a bit of an edge there with its S Pen functionality, which takes the Galaxy Note II to a whole new level of possibilities.



Samsung Galaxy Note II live images
Whichever way you look at it, LG had the better part of a year to unleash a true Galaxy Note II killer. But is this going to be one-way traffic or can the prey outsmart the predator? We're about to see, starting with a physical right after the break.
Awesome phone.... Guys let me tell you this,is the real facts LG pro is the smartest phone u can ever had...good in Gaming and super fastest speed can ever have���&#56­­843;���&am­p...
I think that due to s -pen support note II is better then LG optimus G pro.... U can add many gistures with it... Many shortcuts.... U can cut out ani thing from any where and directly share on social media... And 1 more thin NoteII dose not cause t...
Gpro is nice smart phone best in gaming hd grapics so fast processor nice gpu :))