LG's OLED EX TVs produce 30% more brightness and thinner bezels than conventional OLEDs
Ricky, 29 December 2021
LG is introducing its next generation of TV panels called OLED EX. These new panels can output up to 30% more brightness while reducing the size of the bezels needed around a TV. Based on a 65-inch TV, the bezel has been reduced from 6mm down to 4mm thin.
The "EX" bit comes from "Evolution" and "eXperience" which is a cute acronym for LG, but what does that really mean aside from marketing speak?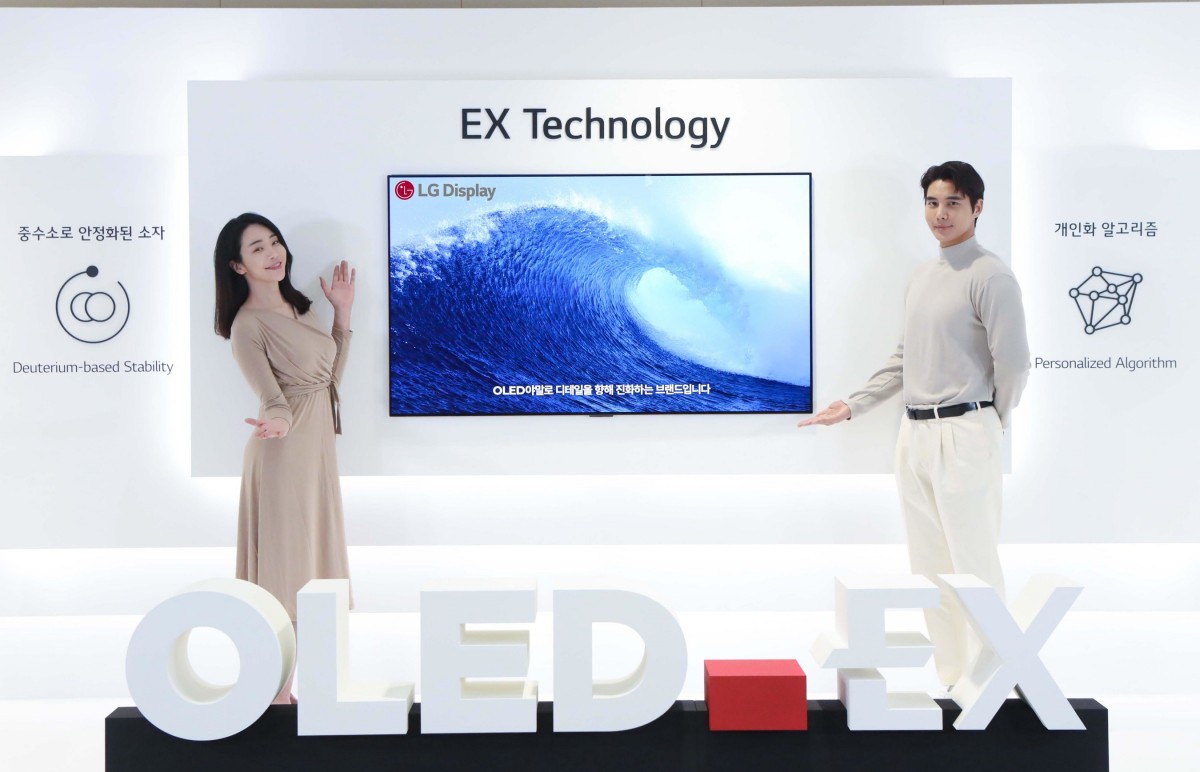 The improvements come from deuterium, one of the two stable isotopes of hydrogen. LG Display has figured out how to extract deuterium (also known as 'heavy hydrogen') from water to apply it to the organic light-emitting devices. Deuterium lets the display emit brighter light than using hydrogen with higher efficiency over time.
The other half of OLED EX is a 'personalized algorithm' developed by LG Display that predicts the power usage of individual pixels and can improve the power efficiency of the panels' output.
LG will begin the transition of all its OLED products to OLED EX at LG Display's OLED production plants in Paju South Korea and Guangzhou, China in Q2 2022.
Despite the global TV market experiencing a 12 percent decline this year, we still observed a 70 percent growth in OLED sales […] With our new OLED EX technology, we aim to provide even more innovative high-end customer experiences through the evolution of our OLED technology, algorithms and designs." – Dr. Oh Chang-ho, Executive Vice President & head of the TV Business Unit at LG Display
LG will be showcasing its next generation displays, translucent screens, and high-end TVs at CES 2022 in Vegas kicking off next week.
Related
Both technologies have their strengths and weaknesses. LCD is more likely to keep on living side by side with micro LED, than OLED in it's current form. OLED is weak at brightness and color volume compared to LCD. OLED also struggles with n...
Anonymous
01 Jan 2022
JF7
Also it doesn't matter. Even with worn down organic leds (5 years in owning an OLED TV) still looks way better than any LCD. Imagine not buying an OLED in fear that it will end up *still* way better than LCD. LCDs are bought worn down and b...
Anonymous
01 Jan 2022
yJt
The new Hisense LCD TV is better for movies and shows in a dark room compared to LG OLED according to Rtings. But you don't even own them so ofcourse you'd say that
Popular articles
Popular devices
Electric Vehicles