Mediatek's 5G SoC coming to the market in Q1 2020
Yordan, 02 August 2019
Mediatek held a press conference to announce its financial results for the first half of the year. The Taiwanese company reported 16.8% monthly increase in revenue and 1.8% on a yearly basis, but another announcement grabbed our attention.
Company CEO Cai Lixing announced the company will deliver samples of its 5G SoC with the Helio M70 modem in Q3 2019. Mass production of the chip will start in Q1 2020, right in time for the 5G revolution, said Cai.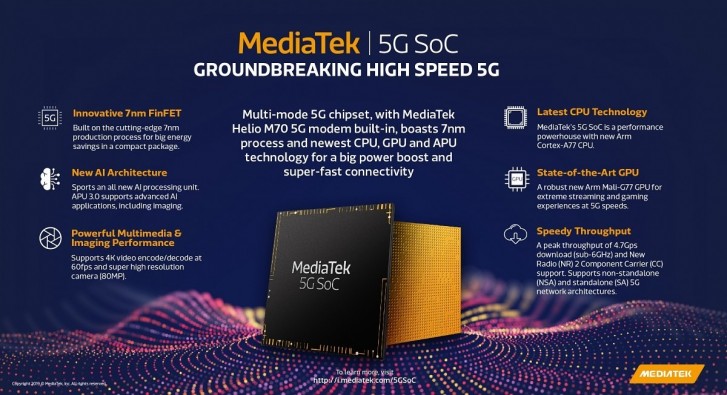 We already saw the details about the 5G modem, which is built in a chipset, but the actual chipset's name is not yet confirmed. However, we know it will have ARM architecture with Cortex-A77 CPU and Mali-G77 CPU.
The baseband will support the Sub-6 GHz frequency; other specs include third-generation AI processing engine, camera support of up to 80 MP and 4K 60fps video recording.
Some of the manufacturers that partner with Mediatek are Oppo and vivo, and it is likely that the two BKK subsidiaries will be among the first to adopt Mediatek's 5G chipset.
Related
Few Snapdragon processors aren't optimized. But all MedaiTek processors aren't optimized. Can't you see the difference? Are you blind?
How many time it takes for Qualcomm to optimise 64bits soc? Snapdragon 615...not optimised Snapdragon 616...not optimised Snapdragon 617...not optimised Oh we had to wait for Snapdragon 625 for that. Here are first gen octo-A53 compar...