Microsoft offers up to $650 discount for Galaxy Note10 or Note10+ with trade-in
Peter, 12 September 2019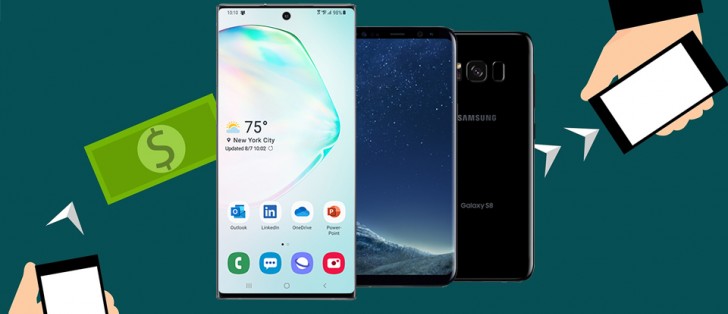 Microsoft is selling the Samsung Galaxy Note10 and Note10+ through its online store and here's the interesting bit – as part of its recycling program, Microsoft can give you up to $650 of store credit towards buying a new Note10. The deal ends on September 22.
Check out the table below for details on how much you can get for various devices. The fine print is important here – you need a working device, no cracks on the screen and all the original accessories. Another downside of this deal is that it's available only in-store – Microsoft.com will point you to the nearest store.
In the table you'll find some good deals (e.g. it's hard to get $450 for a Pixel 2 XL on eBay) and some bad deals (a working OnePlus 6T is worth more than $100).
There's even some opportunity for arbitrage – Google will sell you a brand new Pixel 3 XL for $600, Microsoft will give you $650 for it (in store credit when buying a Galaxy Note10 or Note10+). Just a month ago, the Pixel 3 XL fell down to $500, so that's something you may want to keep an eye on (Google has been changing the price about once a month and the Pixel 4 is close to being announced).
| | | | | |
| --- | --- | --- | --- | --- |
| | US (USD) Up to | Canada (CAD) Up to | Australia (AUD) Up to | UK (GBP) Up to |
| Samsung Galaxy S10's | $650.00 | $850.00 | $730.00 | £550.00 |
| Samsung Galaxy S9's | $450.00 | $600.00 | $420.00 | £370.00 |
| Samsung Galaxy S8's | $350.00 | $450.00 | $250.00 | £300.00 |
| Samsung Galaxy Note 9's | $650.00 | $1,000.00 | $620.00 | £500.00 |
| Samsung Galaxy Note 8's | $450.00 | $800.00 | $300.00 | £300.00 |
| iPhone X's | $650.00 | $950.00 | $1,200.00 | $700.00 |
| iPhone 8's | $450.00 | $550.00 | $550.00 | £420.00 |
| Google Pixel 3's | $650.00 | $550.00 | $500.00 | £450.00 |
| Google Pixel 2's | $450.00 | $450.00 | $260.00 | - |
| Google Pixel's | $350.00 | $350.00 | $60.00 | - |
| iPhone 7 Plus | $130.00 | $180.00 | $180.00 | - |
| iPhone 6S Plus | $70.00 | $100.00 | $100.00 | - |
| iPhone 6 Plus | $50.00 | $70.00 | $70.00 | - |
| LG G7 ThinQ | $50.00 | $75.00 | $75.00 | - |
| OnePlus 6T | $99.00 | $130.00 | $140.00 | - |
Related
Wow nice try Microsoft....IN STORE CREDIT...either way Microsoft makes the money...smh
Popular articles
Popular devices
Electric Vehicles