Microsoft reconsiders, lets you keep your 15GB of OneDrive storage
George, 12 December, 2015
Remember when in the beginning of November Microsoft announced that it will be introducing changes to the quotas for its OneDrive cloud storage service? Effective as of the beginning of 2016, unlimited storage was no longer to be offered, and neither were 100GB and 200GB plans, for existing and new accounts alike.
Most important to casual users, however, was the company's choice to limit free storage to 5GB instead of 15GB and to cancel the 15GB camera roll bonus.
Well, Microsoft appears to be backing out on that last bit, at least. You can now opt to keep the 15GB of storage + 15GB camera roll and the procedure is dead simple. You just need to follow the Source link below (nothing fishy, it's on the OneDrive website) where you'd be asked to login, and that's it. We tried it and it worked. Just make sure you do it before January 31, when the offer expires.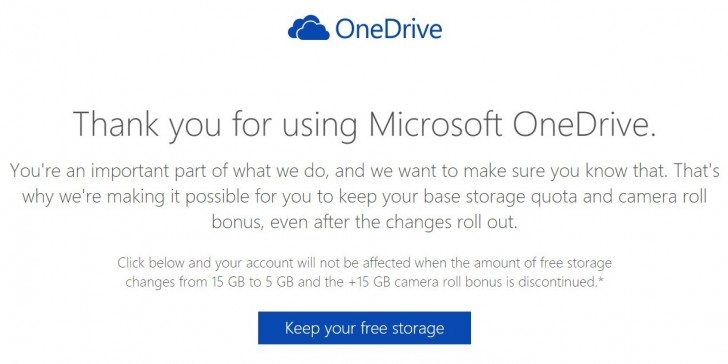 It's an understandable move on Microsoft's part, we take it. It's pointless to allocate space for dormant subscribers who don't use the service, but there's also little benefit to aggravating users of a modest 15GB (okay, potentially 30GB, but still).
Related
just tried is and it worked, try it anonymous
Thx gsmarena...this made my day...
Popular articles
Popular devices