Microsoft Surface review: Ripples of change
Ripples of change
GSMArena team, 19 November 2012.
1.2 MP stills and 720p video
The Microsoft Surface has two 1.2 MP cameras on board capable of 720p video capture. There's also an 800p option, which produces 1280 x 800 pixel videos.
The interface is basic to the point of being almost nonexistent. A tap anywhere on the screen is how you snap a photo or start recording video. You can switch between the front and back cameras, adjust picture size, enable a 3 second timer and toggle picture and video mode.
As you might expect, the Microsoft Surface wasn't made with photography in mind. The two cameras on board are merely there to serve as web cams for those Skype calls.
Images have a resolution of 1280 x 800 pixels and their quality is poor. The camera also appeared to have some lens issues, which we gather from the overly smudgy left side of the images.




Microsoft Surface camera samples
The videos produced by the Microsoft Surface's back camera are atrocious. There's almost no resolved detail and colors are way off. The Surface at least records stereo sound during playback with a bitrate of 169 Kbps and 44 kHz sampling rate. The video bitrate is around 8 Kbps and the framerate nails down 30 fps.
We've uploaded a sample to YouTube, here it is.
Here's an untouched 720p@30fps sample for direct download.
Two Internet Explorers take care of browsing
Windows RT comes with two browsers preinstalled and offers no other options for now. Internet Explorer 10 handles the web and comes in two forms - one in the Modern UI with a touch-centric interface and the more conventional Desktop version, which is basically a port from Windows 8.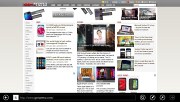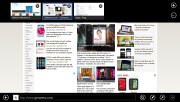 Internet Explorer 10 touch-optimized
In Modern view, IE 10 runs in full screen by default. A swipe from the bottom or top edge of the screen reveals the opened tabs on top with a New Tab option, a new private tab and close all tabs. At the bottom is a back button, the unified search/URL bar and options to refresh, pin the current page to start, forward and an extra menu with find on page, view on desktop and "get app for this site" options.
Sharing pages can be done via the Charms menu. Pages can be shared over Mail or the People app, meaning Facebook or Twitter.
Interestingly, if you want to change preferences or settings you can only do so in desktop IE 10.
IE 10 in desktop mode features a unified URL and search bar, the opened tabs and three virtual buttons for home, bookmark and settings. Opening up a new tab prompts a thumbnail collection of recently opened tabs.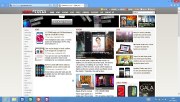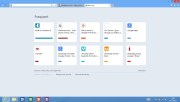 Internet Explorer 10 in Desktop mode
IE 10 is fully Flash-enabled. Watching videos inline is done exactly as you would on any desktop PC. We didn't experience any problems with videos at 720p and even 1080p.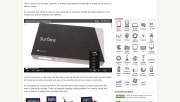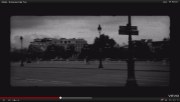 Watching a YouTube video in the browser
Internet Options is a direct port from IE 10 on Windows 8. You can set a home page, choose the level of security, privacy, control the intern content connections, etc. There's an option to open links directly from Internet Explorer in Modern or Desktop mode.
Internet Explorer has come a long way and isn't the once clustered, slow browser many people used only for downloading Firefox and Chrome.
In our web browsing test the Microsoft Surface achieved almost 8 hours of constant browsing.
Web browsing
Apple iPad 4
10:20
Apple iPhone 5
9:56
Motorola RAZR MAXX (ICS)
9:12
Apple iPad mini
9:05
Samsung Galaxy Note II N7100
8:48
Microsoft Surface RT
7:57
HTC One X+
7:56
Motorola DROID RAZR MAXX
7:23
HTC Radar
7:17
Motorola RAZR i
7:06
Apple iPhone 4S
6:56
HTC One V
6:49
Motorola Atrix HD
6:40
BlackBerry Curve 9380
6:40
Samsung I9300 Galaxy S III (JB)
6:27
Samsung i937 Focus S
6:15
HTC Windows Phone 8X
6:01
Sony Xperia ion LTE
5:56
Samsung Rugby Smart I847
5:53
Pantech Burst
5:51
Samsung Galaxy S Blaze 4G
5:45
HTC Desire V
5:44
HTC Evo 4G LTE
5:41
Samsung Wave 3 S8600
5:34
Sony Xperia T
5:33
Samsung Captivate Glide
5:33
Samsung I8530 Galaxy Beam
5:28
Samsung Galaxy Note LTE
5:24
Samsung Galaxy S Duos
5:23
HTC Sensation XL
5:20
Meizu MX 4-core
5:19
Samsung I9300 Galaxy S III
5:17
Sony Xperia acro S
5:16
HTC Rezound
5:16
HTC Desire X
5:16
LG Optimus G
5:15
HTC Rhyme
5:08
Samsung I9103 Galaxy R
5:07
HTC One X (AT&T)
5:03
Sony Ericsson Xperia Pro
4:50
LG Optimus Vu
4:49
HTC Vivid
4:46
Samsung Galaxy Ace Duos
4:45
Meizu MX
4:35
Nokia N9
4:33
Samsung Galaxy S II
4:24
Sony Ericsson Xperia neo V
4:20
HTC One X
4:18
Nokia 808 PureView
4:14
LG Optimus 3D Max P720
4:10
Nokia Lumia 900 for AT&T
4:10
Nokia Lumia 800
4:07
HTC Titan II (LTE)
4:05
HTC One S
4:03
BlackBerry Bold 9790
4:02
LG Nitro HD
4:00
LG Optimus 4X HD
3:59
Sony Xperia P
3:59
Nokia Lumia 710
3:51
Samsung Galaxy Pocket
3:47
Samsung Galaxy Note
3:35
Huawei Ascend P1
3:23
Samsung Galaxy Nexus
3:01
The Surface did a good job in the JavaScript benchmark SunSpider, finishing fourth in our rankings.
SunSpider
Lower is better
Apple iPad 4
880.1
Apple iPhone 5
915
Samsung Galaxy Note II
972
Microsoft Surface RT
1012
Samsung Galaxy S III
1304
Meizu MX 4-core
1312
LG Optimus G
1353
Apple iPad mini
1432
Apple iPad 3
1436.9
HTC One X (Tegra 3)
1468
Google Nexus 7
1703
Apple iPad 2
1773
It has Powerful processing and beautiful design unite on Surface but is it worth for that price.
AnonD-10315
30 Dec 2012
fXw
Thanks.... Hope you are not being sarcastic....:)
i bought this yesterday nice table faster than all other tablet.