Misfit Shine 2 tracks your activity, doesn't need charging
Prasad, 21 October, 2015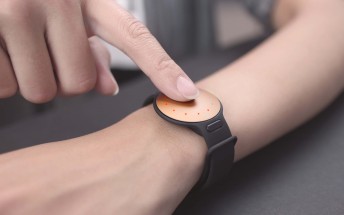 Misfit Shine 2 is a new activity tracker that pairs with your phone tracks everything you do. It keeps track of your sleep, your workout, reminds you to move around when you're still for too long, vibrates to alert you of your phone's notifications, and keeps track of your goals with the companion app. It's also waterproof and can be taken underwater up to 50m.
The device has a capacitive touch surface which you can tap to initiate certain functions. There are LEDs circling the edge that light up in various patterns and colors to alert of different functions and even tell the time. Shine 2 can even remote control things such as your music player, phone camera, and smart home devices such as the lights in your house with Misfit Link.
Shine 2 has an integrated replaceable battery that doesn't require charging. It lasts for six months and when it dies you can replace it with a simple button cell.
The Shine 2 comes with a standard black band but more bands and a pendant option will be coming soon. The device can also be attached to your shoe while cycling to track better.
The Shine 2 is priced at $99.99 and works with iOS and Android devices. It comes in carbon black and rose gold colors.
Related
second paragraph. second sentence. please read.
Great price and everything but it really bugs me that this doesn't tell the time.
Looks fake. You just wrote that up yesterday huh? Nice.