Our mobile chipset guide: The 2017 edition
The 2017 edition
GSMArena team, 07 February 2017.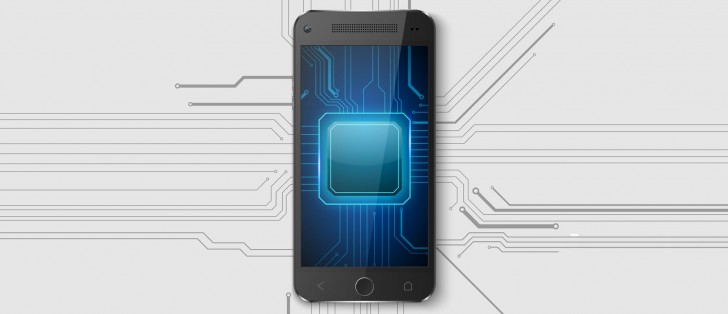 Chipset performance charts
On this page, we'll take a look at the four of the most noteworthy mobile chipset families - the Snapdragon chipsets by Qualcomm, the Exynos chipsets by Samsung, the Kirin chipsets by Huawei and finally, MediaTek's lineup of smartphone silicon.
If you want to see how all the chipsets in the past few years stack up performance-wise, we've compiled the following performance chart that will give you at-a-glance info that you can easily return to as a reference.
We are looking at GeekBench 3 multi-core scores here - a purely synthetic set of CPU tasks. These don't necessarily reflect real-world performance, where the number of variables is simply too high to account for.
The full chipset performance chart (GeekBench 3)
Higher is better
Kirin 960
7290
Kirin 955
6558
MT6797T (Helio X25)
6427
Kirin 950
6380
Exynos 8 Octa 8890
6311
Snapdragon 821
5956
Snapdragon 821
5543
Snapdragon 820
5520
Snapdragon 820
5422
Snapdragon 810
5362
MT6797 (Helio X20)
5166
Snapdragon 625
5103
Exynos 7 Octa 7420
5095
Snapdragon 652
4759
MT6795 (Helio X10)
4537
Exynos 7 Octa 7870
4140
MT6752
4067
Kirin 655
3938
Kirin 650
3799
Snapdragon 650
3796
MT6595M
3647
Exynos 7 Octa 7580
3619
MT6752M
3557
MT6595
3556
Snapdragon 808
3522
Kirin 935
3475
Snapdragon 805
3394
Kirin 930
3380
MT6755 (Helio P10)
3242
Exynos 5 Octa 5430
3214
Kirin 925
3165
Exynos 5 Octa 5422
3120
Snapdragon 617
3083
Kirin 920
3081
Exynos 7 Octa 5433
3059
Snapdragon 430
3044
Snapdragon 801
3011
Snapdragon 616
2874
Kirin 620
2813
MT6753
2745
MT6750
2713
MT6592
2581
Snapdragon 415
2493
Snapdragon 800
2453
Snapdragon 615
2375
Exynos 5 Hexa 5260
2172
MT6732
2111
Exynos 4 Quad 4412
2000
Snapdragon 600
1972
Snapdragon 400
1937
Kirin 910T
1895
MT6737T
1804
Exynos 5 Octa 5410
1579
Snapdragon 400
1510
Snapdragon 400
1492
MT6735
1490
Snapdragon 410
1437
MT6735M
1352
K3V2
1315
MT6580M
1196
MT6737M
1191
Snapdragon 400
1181
MT6582
1180
Exynos 3 Quad 3470
1123
Snapdragon 400
1120
Exynos 3 Quad 3475
1083
MT6589
1079
MT6735P
1079
Exynos 4 Dual 4210
684
The muti-core scores cited are normalized a bit among different devices with each chipset, in order to account for different OS versions, ROMs and other hardware and non-hardware variances. Of course, isolating all of the variables is impossible, but we do feel the numbers we ended up with are a good representation of the overall performance of these chipsets as we've come to know them.
Hovering your mouse over any one of the chipsets (if you are on PC) or tapping its name (if you are on a mobile device) would give you more information about the specific model name and the type of cores and fabrication process used.
Qualcomm chipsets
Qualcomm is currently the largest and most well-known fabless semiconductor company in the world. What this means, is that the US-based giant has no foundries of its own, yet still manages to turn out a hefty profit and have a huge impact on the industry, mainly due to its focus on technology licensing. The company's history can be traced back to 1985. Besides a few dips in email and specialized logistics systems, Qualcomm rose to prominence by developing the CDMA technology, which would later become an industry standard.
After a few hardware ventures, in the 1990s Qualcomm abandoned handsets and base stations, to focus solely on technology licensing. It was likely the more lucrative path to take since both 3G and 4G wireless interfaces still require some CDMA standard to be licensed out from Qualcomm and innovation didn't stop there.
Since 2007 Qualcomm has been best known for its lineup of mobile chipsets sold under the Snapdragon brand. These have gone through quite a few iterations and are currently theoretically split into three tiers. Of course, the division goes beyond that, but on mobile, you typically have entry-level models in the 4xx line, mid-range ones with a 6xx notation and the 8xx top of the line models. Some of the highlights of the current lineup include the feature-rich Snapdragon 430, the highly energy-efficient 14nm Snapdragon 625 and the flagship Snapdragon 821.
There is a cutting edge 10nm Snapdragon 835 right around the corner if announcements are to be believed – we still haven't seen any products featuring this one.
Below you will find a performance chart showing how Qualcomm's chipsets from the past couple of years stack up against each other. The list is quite hefty, but far from exhaustive. We limited our selection to the most popular smartphone chips, as far as smartphones are concerned.
Snapdragon chipset performance (GeekBench 3)
Higher is better
Snapdragon 821
5956
Snapdragon 821
5543
Snapdragon 820
5520
Snapdragon 820
5422
Snapdragon 810
5362
Snapdragon 625
5103
Snapdragon 652
4759
Snapdragon 650
3796
Snapdragon 808
3522
Snapdragon 805
3394
Snapdragon 617
3083
Snapdragon 430
3044
Snapdragon 801
3011
Snapdragon 616
2874
Snapdragon 415
2493
Snapdragon 800
2453
Snapdragon 615
2375
Snapdragon 600
1972
Snapdragon 400
1937
Snapdragon 400
1510
Snapdragon 400
1492
Snapdragon 410
1437
Snapdragon 400
1181
Snapdragon 400
1120
We went back as far as the Snapdragon 400, which came to market around 2014, or in other words, we left out anything that is not on Qualcomm's current list of chipsets. The five Snapdragon 400 entries at the bottom of the chart instantly pop out. This is not an error. Qualcomm had one implementation of the silicon, using four Cortex-A7 cores and another one with two Krait 300 ones. The rest of the performance variance can mostly be attributed to varying clock speeds.
The Snapdragon 410 offers a pretty nice illustration of how important the core efficiency is for the overall performance. Its clock speeds might be identical to the Snapdragon 400 cores, but the four Cortex-A53 cores it uses are far superior to the four Cortex-A7s the S400 has.
The very same thing can be observed further up the chart as well. The Snapdragon 600 and Snapdragon 800 - both quad-core and based on a 28nm process, but the latter has superior Krait 400 units that are simply faster.
Other times, performance (as measured in our benchmarks) can come down purely to clock speeds. This is what allows the Snapdragon 415 to inch ahead of the higher-tier Snapdragon 615 - a deficiency later corrected by the Snapdragon 616 and 617, which output the performance matching their designated tier.
Finally, we get a good an example of how the manufacturing process affects performance. With the Snapdragon 808 and 810, it was namely the thermal benefits of the 20nm process node that allowed the use of the more powerful Cortex-A57 cores.
On the flipside, the fabrication process is not the ultimate determining factor. We also have the 28nm Snapdragon 650 and Snapdragon 652, where the chipset performance equals Snapdragon 808 levels just by going with more efficient Cortex-A72 cores even with this older fabrication process.
Speaking of which, 14nm is currently the norm for Qualcomm's high-end models, with 10nm right around the corner. This manufacturing node is efficient enough to give the four powerful Kryo cores in the top-shelf Snapdragon 820/821 both the thermal properties and the needed muscle to practically reign supreme in the mobile realm as a whole, easily dwarfing octa-core chipsets.
The same 14nm process has allowed for the emergence of an interesting chipset like the Snapdragon 625, which is geared mainly towards power efficiency. Despite using older Cortex-A53 cores, it's now able to reach new performance heights with a higher clock rate, while providing stellar battery life. The Snapdragon 625 is still a rare breed, but hopefully, others will follow in its footsteps soon.
MediaTek chipsets
If a particular smartphone manufacturer is not already on Team Qualcomm, chances are, it is playing in Team MediaTek. This is the silicon you would typically find in low-end and mid-range handsets, especially the smaller brands, coming out of China.
MediaTek has always followed a strategy of catering to the sea of smaller manufacturers and doing the best it can to aid with their competitiveness and aggressive pricing. The company initially broke off from United Micro Electronics Corporation in 1997, becoming one of Taiwan's first semi-conductor companies by 1980. Just like Qualcomm, back then, before the mobile revolution, they dealt with the high-end technology at the time, like home entertainment centers.
MediaTek entered the feature phone scene around 2004 and did so with a bang. The key was in the company's unique approach of offering package deals. Vendors could not only pick up a SoC from MediaTek but a pre-loaded, compatible OS as well. This saved a lot of valuable time in research and development, and it quickly increased MediaTek's popularity as a chipset supplier and helped forge some strong relationships with companies like ZTE, Huawei, Gionee, and Alcatel. By 2012, smartphones were starting to dominate the phone scene, and MediaTek was in for a major restructure and it successfully reinvented its product portfolio. There was plenty of demand for cheap silicon and MediaTek was in a unique position to make the most out of it.
However, MediaTek's more recent history marks a significant and quite successful effort to move away from China and into more premium territory and the US market. MediaTek is already putting up some stiff competition to Qualcomm, even in the higher market tiers. The noisy marketing campaign for things like the "True Octa-core" moniker and bringing LTE to the masses have managed to propel MediaTek into the big leagues.
Recently, there has even been a move away from the formal numbering scheme and to a more user-friendly "Helio" naming. The Helio X20 and X25 currently stand out with their 20nm development process and a whopping tri-cluster, 10-core design.
While Qualcomm currently draws the line at eight processing cores, with a few true-octa solutions here and there, MediaTek takes core count to the extreme. The norm currently seems to be 10, with quantity being the patch of choice for new performance heights. This entails a tri-cluster design, with a set of cores specifically intended for lower, higher and middle-performance needs. MediaTek apparently felt that a third option is necessary. Synthetic benchmarks manage to take advantage of this approach, but that doesn't necessarily translate into real-world performance. The same logic applies to some octa-core setups, regardless of the manufacturer. Sadly, raw power doesn't translate directly into better performance. Still, having more of it definitely, can't hurt.
MediaTek chipset performance (GeekBench 3)
Higher is better
MT6797T (Helio X25)
6427
MT6797 (Helio X20)
5166
MT6795 (Helio X10)
4537
MT6752
4067
MT6595M
3647
MT6752M
3557
MT6595
3556
MT6755 (Helio P10)
3242
MT6753
2745
MT6750
2713
MT6592
2581
MT6732
2111
MT6737T
1804
MT6735
1490
MT6735M
1352
MT6580M
1196
MT6737M
1191
MT6582
1180
MT6589
1079
MT6735P
1079
As far as manufacturing process goes, MediaTek is lagging a bit behind market leader Qualcomm. The Helio X25 and Helio X20 have breached 20nm, which powers the tri-cluster setup. Anything lower than that is stuck on the less efficient 28nm nod. Just like with the Snapdragon 625, we can't fail to mention the MT6795 and how far running all eight cores together can take you regarding benchmark performance. Again there is the real-world performance note to be made here, although both chips do pretty well in actual device implementations.
Samsung Exynos chipsets
The modern mobile chipset scene may be dominated by Qualcomm and MediaTek but there are other chipset producers as well, and it's in the higher-end of the performance spectrum. Some of the major manufacturers, like Samsung, have taken upon themselves to offer a personal contribution and a unique take on chipsets. Despite the mostly good relationships with Qualcomm and MediaTek, Samsung's own Exynos line has been an alternative on most Samsung handsets as far back as the original Galaxy S and the Exynos 3 Single.
In recent years, each new generation of the high-end Galaxy S devices has typically come with a new generation of an Exynos chipset and performance has usually been up to par if not better than their Qualcomm-powered siblings.
Many tend to view the Exynos line as a manifestation of Samsung's sheer size, influence, and potential. Staying ahead of the curve is often an important sign of perceivable success. For instance, being one of the first around to offer a quad-core chip (Exynos 4412) simply fits well as a power move.
Then there is also the advanced production technology and capacity, Samsung has always prided itself with. Not many others can step up and handle the strain of pumping out chips for a new iPhone model. Samsung has done so, on more than a few occasions, thanks to its high-tech chipset making foundries.
Then again, there is also a point to be made for having a backup plan of sorts. Winds shift quickly on the dynamic tech scene. It doesn't hurt to have a plan "B" if you can afford it. The Samsung Galaxy S6 illustrates the point perfectly, as the astute among you will remember, it never got a Qualcomm version. The Exynos M1 "Mongoose" custom core is a design to keep a close eye on.
We also can't miss to mentioning the fact that Samsung is currently leading the crowd when it comes to manufacturing process advancements. Not only does the Korean giant spearhead the die shrinks on a design level, but it also tends to be first in modernizing its production plants on a large-scale level and then making quite a hefty profit by manufacturing third-party chips, using its infrastructure. The 10nm node should come in 2017, and we can only expect Samsung foundries will be first off the starting line once again.
Exynos chipset performance (GeekBench 3)
Higher is better
Exynos 8 Octa 8890
6311
Exynos 7 Octa 7420
5095
Exynos 7 Octa 7870
4140
Exynos 7 Octa 7580
3619
Exynos 5 Octa 5430
3214
Exynos 5 Octa 5422
3120
Exynos 7 Octa 5433
3059
Exynos 5 Hexa 5260
2172
Exynos 4 Quad 4412
2000
Exynos 5 Octa 5410
1579
Exynos 3 Quad 3470
1123
Exynos 3 Quad 3475
1083
Exynos 4 Dual 4210
684
HiSilicon Kirin chipsets by Huawei
If you have recently picked up a Huawei or Honor handset, then chances are, you got a Kirin chipset. Just like Samsung, Huawei is a force to be reckoned with, especially in the digital network realm.
As one of the biggest equipment suppliers worldwide, it is only natural for Huawei to invest heavily in silicon, starting with application-specific integrated circuit (ASIC) and solutions for the communication network and digital media. This was the primary occupation of the ASIC Design Center of Huawei Technologies, founded in 1991. After quite a few expansions, the division moved on to the challenge of SoC design, and was re-titled to HiSilicon Technologies in 2004 and now has over 120 chip designs to its credit. Just like Qualcomm and MediaTek, it runs a fabless business, outsourcing the actual manufacturing.
There are similarities with Samsung's approach to be observed as well. Huawei tends to rely on its own creations to power its high-end and many mid-range handsets. Unlike Samsung, however, there is rarely an alternative chipset option to be had. Plus, Kirin chips are yet to leave the boundaries of the Huawei family, while Meizu has already managed to snag some of Samsung's creations.
Most earlier Kirin chipsets were often criticized for falling short of delivering adequate performance in the GPU department. However, priorities have obviously changed, and the Mali-T880 in both the Kirin 950 and 955 is more than enough to take the competition head-on. As for their current flagship offer - the Kirin 960 – it brings four of the latest Cortex-A73 cores to the table - a true achievement, indeed.
Kirin chipset performance (GeekBench 3)
Higher is better
Kirin 960
7290
Kirin 955
6558
Kirin 950
6380
Kirin 655
3938
Kirin 650
3799
Kirin 935
3475
Kirin 930
3380
Kirin 925
3165
Kirin 920
3081
Kirin 620
2813
Kirin 910T
1895
K3V2
1315
You can clearly see the advancement of the Kirin chipsets from the performance chart above. A lonely 40nm quad-core sits at the very bottom of the benchmark chart, followed by a logical upgrade - a more efficient process and thus higher clocks on the same Cortex-A9 chips.
Then, they've moved on to a string of octa-cores, with performance very tightly bound to clock speeds as well.
In the higher register, HiSilicon is employing a 16nm manufacturing process. It might be a notch below Samsung's 14nm FinFET, but it is still a good deal better that the basic 28nm or even MediaTek's 20nm one. Furthermore, it has trickled all the way down to mid-range offers, like the Kirin 650 and 655. We can see these easily outperform older generation 9-series models.
Starting with the modern Kirin 950 and then the 955, we can see the importance of more efficient cores, like the Cortex-A72. The cutting-edge Kirin 960 takes things even further through the use of Cortex-A73 units, which manage to leave the Kirin 955 in the dust, despite their lower clock speed.
Final words
While we would have loved to give you a neat and tidy summary to top off the guide, that just doesn't seem feasible. This article has been envisioned more like a reference material that you would come back to from time to time instead of something you would read in one go.
We sincerely hope that each and every one of you has found at least a tiny bit of information worth taking away. Putting all of this together wasn't easy, but if it turns out to be useful, we promise to keep things up-to-date whenever major changes on the mobile scene come up.
You can easily follow along by bookmarking this article or simply be on the lookout for update notices on our end. There is still a lot that can be covered, and we already have some ideas brewing. That being said, we value your input and would love to hear your suggestions. Do you like the format and would you like to see more projects like this in the future?
anonymous
26 Dec 2020
Kxc
can you give list of armv7 mobile chipset list from major company like Qualcomm, mediatek, nvidia, .etc, big hope for mobile devices list too
م&#158
23 Mar 2020
gLm
Are you planning on updating this guide?
Anonymous
13 Oct 2019
j{9
Hi! From Puerto Rico. I really like gsmarena. I was looking for info about chipsets and found info in your site but......from 2017...... : (