More than 80 new monsters are landing in Pokemon Go this week
Vlad, 15 February 2017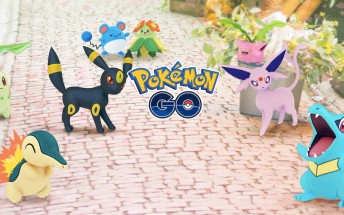 The makers of Pokemon Go have announced that the game will finally add loads of new monsters later this week. Over 80 new Pokemon should be up for discovery in the next few days, including Chikorita, Cyndaquil, and Totodile. The new monsters were discovered in the Johto region in the Pokemon Gold and Pokemon Silver video games.
Additionally, you'll start seeing Pokemon with gender-specific variations. There will also be more opportunities to evolve your Pokemon - for example, some Pokemon originally discovered in the Kanto region will soon be able to evolve into Pokemon that inhabit the Johto region. So you have to be on the lookout for new Evolution items at PokeStops, since you'll need these in order to evolve some Pokemon.
There's some updated Pokemon encounter gameplay in the app, so you shouldn't be surprised if the monsters start to react in new ways as you're trying to catch them. New carousels will allow you to select Berries and Poke Balls straight from the encounter screen.
If you spin the Photo Disc at PokeStops, you might get two new berries, namely Nanab Berries and Pinap Berries. Giving a Pokemon the former will slow its movements, making it easier to catch, while the latter doubles the amount of Candy you'll receive if you're successful in your next catch attempt.
Finally, your avatar will be customizable with a new selection of hats, shirts, pants, and other items from an expanded wardrobe.
Related
Would continue play if I wasn't always getting authentication error and not able to get in!!! Search on how to fix it and still no help. Played on laptop and got no issue at that time till they stop the ability to do so.
that's true. i hatched the 5km eggs, i keep getting psyduck, krabby, spearow, meowth, oddish, paras, and no sign of togepi!!!! where's togepi!!!! it's been over 1 month and still no sign of it!!!
Popular articles
Popular devices