Motorola Moto G50 debuts with 5G and a 90Hz 720p display
Peter, 25 March 2021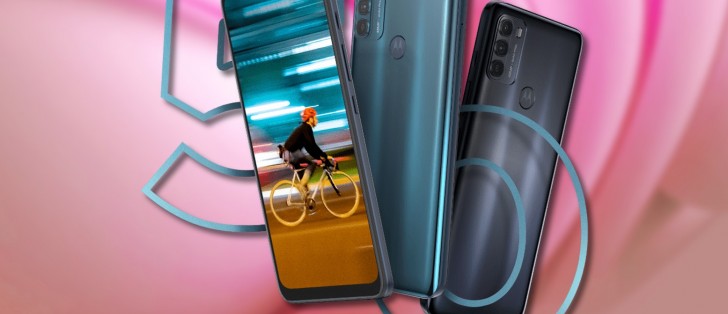 When you looked at the Moto G10 did you think "this would be awesome if it had 5G and cost €250 instead of €150"? Well, maybe you didn't, but someone at Motorola HQ clearly did. This may not the introduction the Moto G50 would have wanted, but it is the one it deserves.
It is notable because it could become the first phone with the Snapdragon 480 5G chipset to launch in Europe. This 8nm chip is better than the S460 that powers the G10 thanks to a pair of Cortex-A76 derived cores (replacing four A73-based cores). And it has a better GPU.
Though the 720p 90Hz display won't stress the GPU much. That resolution is a bit of a stretch on the 6.5" panel and we're not sure the high refresh rate makes up for the lack of sharpness. On a sub-€200 phone we could maybe look the other way, but at €250? It makes little sense when you can pick up a Moto G 5G (with a 6.7" 1080p display and Snapdragon 750G) for around the same price.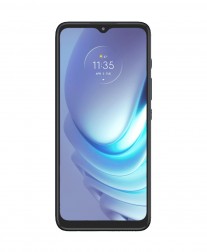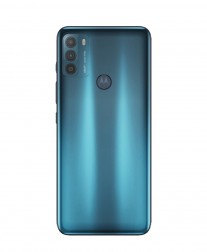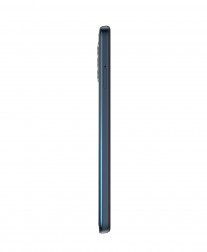 The Motorola Moto G50 is a 5G upgrade over the Moto G10
On the upside the phone comes with Android 11 out of the box and Motorola has committed to "at least one" major OS update.
The camera department leaves us scratching our heads too. The Moto G50 has a 48MP main camera, seemingly the same module as on the G10 (same pixel size and lens, same inability to record 4K video). But then it omits the ultrawide camera, offering only a 5MP macro cam and a 2MP depth sensor instead.
Also, apparently the budget couldn't accommodate a fast charger, so you get a basic 10W power adapter in the box. That will take its sweet time filling up the 5,000 mAh battery. The good news is that the phone supports 15W charging, but you'll have to supply your own.
Interestingly, the Moto G50 comes with a headset in the box (in some regions at least). And it plugs into the phone's 3.5 mm jack, which is always good to see. Other thing to note are the plastic body with water repellent design, USB-C port (USB 2.0), NFC and rear-mounted fingerprint reader.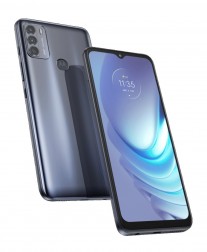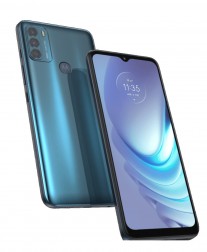 Moto G50 in Steel Gray and Aqua Green
The Moto G50 will go on sale in select European markets a few weeks from now. Note that the €250 price appears to be for the 4/64GB model, some countries will also get a version with 128GB storage. Others still will get the base version at €229 due to tax variations.
Some phones are single-SIM models, they will have a dedicated spot for a microSD card. If you pick up a dual-SIM model, then you'll get a hybrid slot instead (meaning you lose SIM2 if you use a microSD).
If you're interested, you can have a closer look at the G50 on Motorola's British, German and Italian sites. As we noted the price may vary by country.
Related
Stop complaining. Motorola had the best mid-range phone FOR THE PRICE over the last several years.
Anonymous
29 Mar 2021
yKU
What the ****. I was almost certain to buy this phone, if it was decently speced regarding its pricerange, which it sounded like. But 720p? Not even my 9 yo daughter got a 720p phone.. Argh.
Email to motorola. They are kicking themselves. They are blind about their competitors and market.
Popular articles
Popular devices
Electric Vehicles