Moto X Developer Edition for GSM networks is now available
21 September, 2013

The GSM networks capable Moto X Developer Edition is now available for purchase directly from Motorola. The smartphone with unlocked bootloader is priced at $649 for a version with 32GB of built-in storage.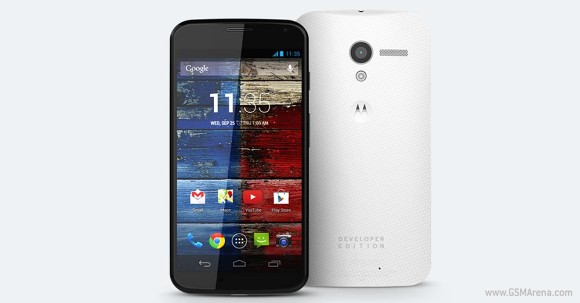 The GSM Moto X Developer Edition is available in woven white color scheme and will work on the LTE networks of both AT&T and T-Mobile. It sports a Developer Edition on the back to set it apart from its carrier-branded siblings.
The GSM Moto X Developer Edition is listed as being in high demand in Motorola's online store. It might take up to seven days to ship.
Related
can u tell me the name of the seller from whom you are buying the phone.
Hi Am planing to buy the Moto x developers edition from US to India by a seller. will it get 4.4 updates and does it have India Endlish option when it starts. also will it understand the voice command ? any other problems
I'm not asking about KitKat. I'm asking about the OS; is it the Motorola modified Android OS, or comes with Stock Vanilla Android?