Motorola announces the DROID RAZR, slimmest smartphone yet
18 October, 2011

Well, we got a glimpse of it, and now after numerous leaks Motorola has finally dropped the curtain of the LTE-boasting Motorola DROID RAZR. Although it's the successor of the once hugely famous Motorola RAZR, the only thing it shares with it is the name.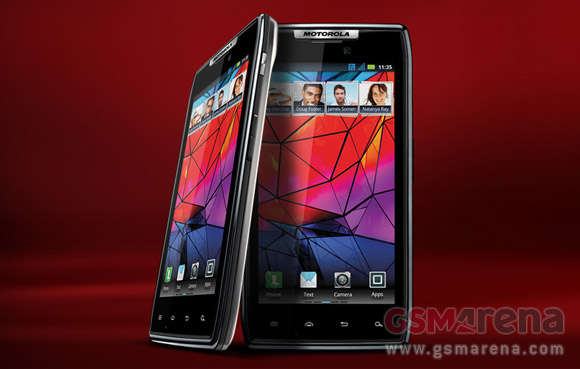 For starters, the new DROID RAZR is a looker to behold. It features a 4.3-inch qHD Super AMOLED display, covered with Gorilla Glass display on a very slim and lightweight Kevlar-infused body, which at it's thinnest is just 7.1mm. This makes it the thinnest smartphone in the world. Mind you, there's also a noticeable hump at the back to house the 8MP 1080p video recording snapper.
Speaking of hardware, the Motorola DROID RAZR doesn't disappoint there either. It's powered by a OMAP 4430 chipset with a 1.2GHz dual-core Cortex-A9 processor running Android 2.3 Gingerbread and 1GB of RAM. Onboard storage is 16GB, but if you need more it's expandable via a microSD card.





Motorola Droid RAZR official photos
Motorola also promises 12.5 hours of talk time (on the Verizon network) and 8.9 of video playback thanks to the 1800mAh battery under the hood. The most interesting part of this phone however is not the hardware, but the material with which the hardware parts are wrapped into. Motorola say it's a special, water resistant stuff, which will protect the internals of the DROID RAZR if it gets accidentally drown.
The new DROID RAZR is expected to go on sale worldwide some time in November, although Verizon will start accepting pre-orders on October 27. As usual, there are some accessories you could pick up as well, most interesting of which is the Webtop laptop-like dock.
Related