Motorola demos wireless charger that works at 3m, handles four phones simultaneously
Peter, 08 September 2021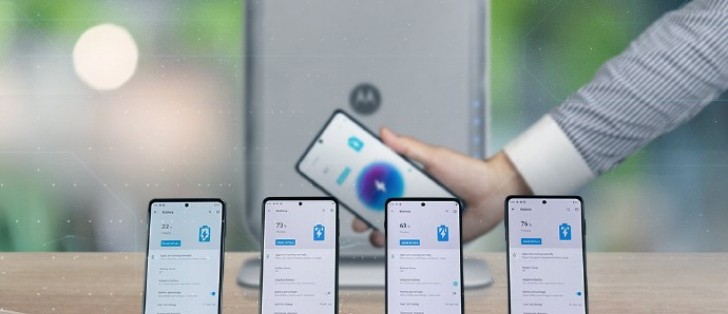 During CES at the beginning of the year Motorola demonstrated a new wireless charging technology – unlike typical Qi chargers, it allowed phones to be charged at up 1 meter away (3.3 ft). And it could handle two devices simultaneously. The company has developed the second generation of this technology with much improved capabilities.
Phones can now be charged at up to 3 meters (10 ft) of clear air between them and the charger. It's one hefty charger equipped with a phased array with with a whopping 1,600 antennas. The charger covers an arc of over 100º, so it can beam power to phones even if they are off to the side.
And since it covers more territory, the new charger can handle up to four phones simultaneously, double what the original device could manage. The charger can even handle some obstructions between it and the phone.
This means that the phone can be charged while it's in your hand or your pocket. The charger can detect your body and aim the beam away from it so that it hits just the phone.
This last year we've seen some competing technologies like Xiaomi's Mi Air Charge, which uses a 144 antenna array to deliver 5W to a phone "within a few meters". This one is able to handle two phones simultaneously. There's also Oppo's Air Charging tech, which promises up to 7.5W, though it only works at 10 cm (4 in) distance and doesn't seem to handle multiple devices.
Related
DaniNocchi
30 Aug 2022
n$j
this thing of the motorola long-range charger is good to, for an example: charge your PS4 controller + your phone + your smart-whatch + your notebook simultaneously
Considering how plants react to WIFI radiation, you are right that being in such close proximity to large amounts of beamed energy is lunacy and that cell tower radiation for example is a localized affair with the best option to be as far away from t...
Anonymous
10 Sep 2021
sR1
👍👍👍
Popular articles
Popular devices
Electric Vehicles