Motorola Edge 30 Neo review
GSMArena Team, 07 October 2022.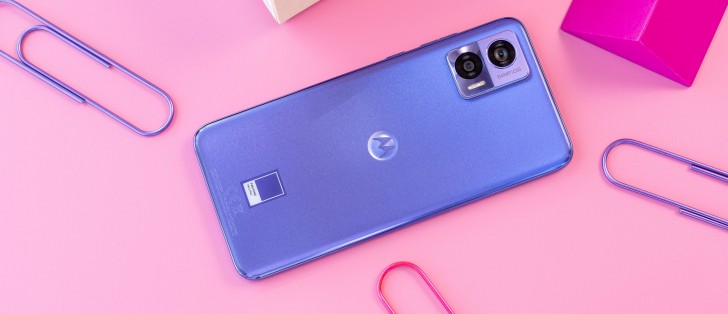 Flagship-level OLED panel
The Motorola Edge 30 Neo features a compact 6.28-inch P-OLED screen running at a 120Hz refresh rate. Although this display sounds like any other on paper, it's quite impressive, considering the device's price point.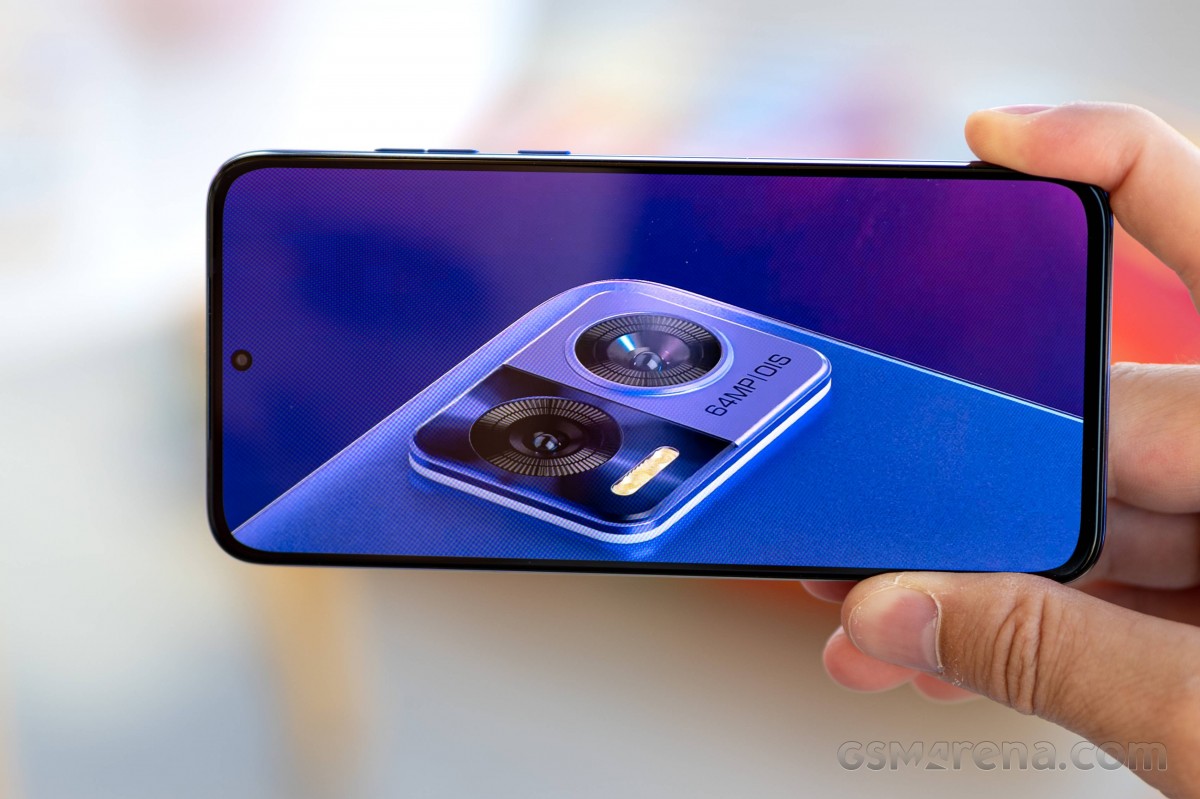 In manual mode, we got up to 489 nits of maximum brightness, but in manual mode, the panel peaked at a whopping 1,004 nits. To put things into perspective, some considerably more expensive devices, flagship phones at that, don't go up to 1,000 nits. We are pleasantly surprised to see Motorola using such a high-quality OLED panel for its budget device.
Display test
100% brightness
Black,cd/m2
White,cd/m2
Contrast ratio
Motorola Edge 30 Pro
0
485
∞
Motorola Edge 30 Pro (Max Auto)
0
685
∞
Motorola Edge 30 Fusion
0
516
∞
Motorola Edge 30 Fusion (Max Auto)
0
946
∞
Motorola Edge 30 Ultra
0
499
∞
Motorola Edge 30 Ultra (Max Auto)
0
1047
∞
Motorola Edge 30 Neo
0
489
∞
Motorola Edge 30 Neo (Max Auto)
0
1004
∞
Poco X4 GT
0.395
470
1190:1
Poco X4 GT (Max Auto)
0.496
600
1210:1
Google Pixel 6a
0
505
∞
Google Pixel 6a (Max Auto)
0
876
∞
Samsung Galaxy A53 5G
0
427
∞
Samsung Galaxy A53 5G (Max Auto)
0
830
∞
OnePlus Nord 2T
0
449
∞
OnePlus Nord 2T (Max Auto)
0
636
∞
Realme 9 Pro+
0
433
∞
Realme 9 Pro+ (Max Auito)
0
613
∞
Color accuracy is also great in the Natural color mode achieving average dE2000 of just 1.2 within the sRGB color space. Whites and grays lack that typical blue-ish tinge, which is great.
HRR control
The refresh rate control is quite simple, and Motorola has been using this logic ever since their first HRR phone came around. If you are not interacting with the display, it dials down to 60Hz, and it will do so in video player apps such as Netflix and YouTube as well.
To our surprise, most third-party apps ran at 90Hz instead of 120Hz. We've only seen the maximum refresh rate in system menus and a couple of system apps. The easy workaround is to set the display at static 120Hz, but that would ask more of the battery as the screen will run at 120Hz at all times.
Battery life
Although the battery capacity is just 4,020 mAh, the results from our tests are not bad. In fact, the video playback test returned an impressive score along with the standby test. The web browsing test and the 3G call one were both rather low, which is understandable given the limited battery capacity.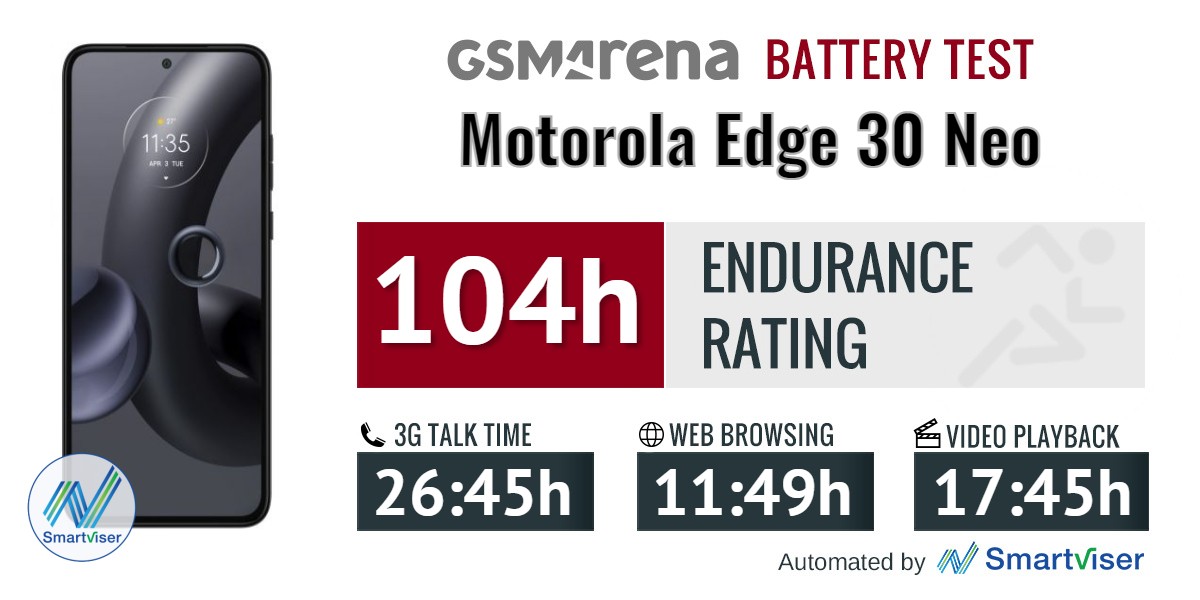 Our battery tests were automated thanks to SmartViser, using its viSerDevice app. The endurance rating denotes how long the battery charge will last you if you use the device for an hour of telephony, web browsing, and video playback daily. More details can be found here.
Video test carried out in 60Hz refresh rate mode. Web browsing test done at the display's highest refresh rate whenever possible. Refer to the respective reviews for specifics. To adjust the endurance rating formula to match your own usage patterns check out our all-time battery test results chart where you can also find all phones we've tested.
Still, an overall endurance score of 104h is respectable given the size of the handset. it's nearly impossible to fit in a 5,000 mAh battery in this small body to compete with larger phones, so some compromises were made. Obviously, the 104-hour score falls a bit short of the competition, which often runs bigger batteries with bigger screens.
Charging speed
A combination of not particularly big battery and fast charging ultimately results in blazing-fast charging times. Don't get us wrong, though, the Edge 30 Neo has a 6.28-inch screen, so we can't expect the usual 5,000 mAh cell we see on much bigger phones.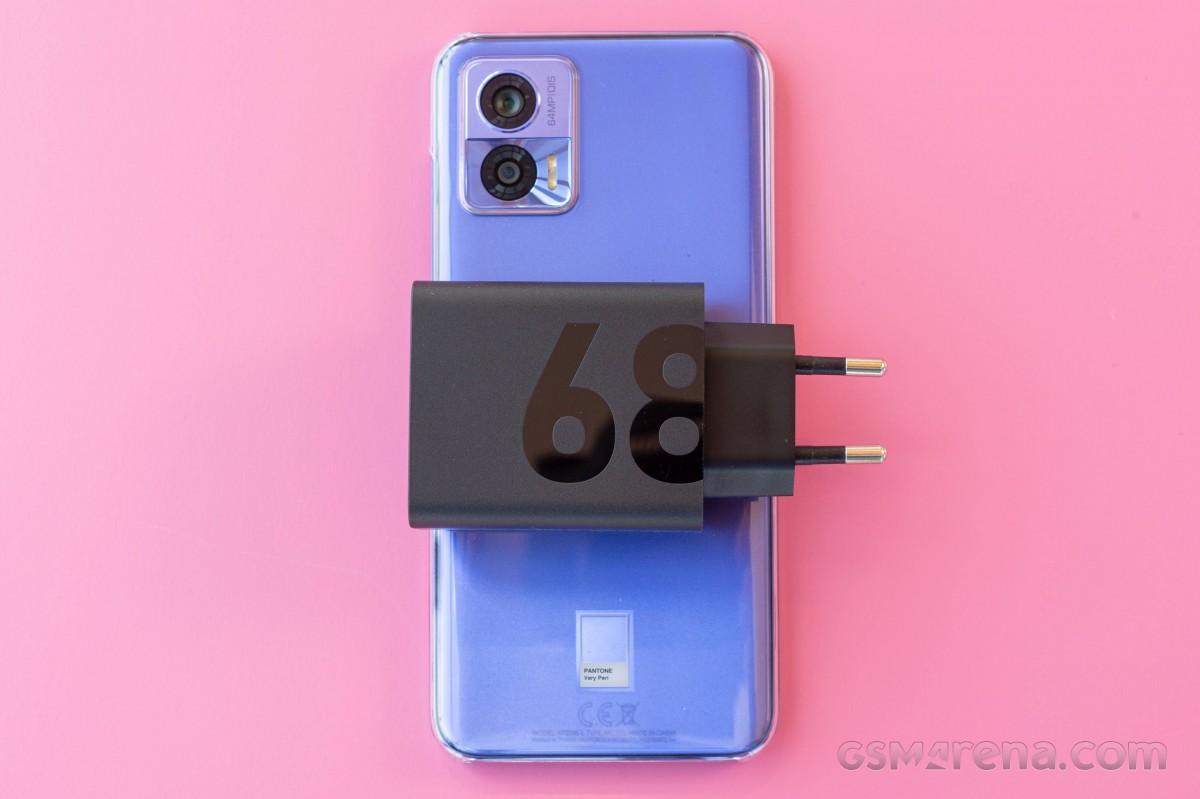 Anyway, the device relies on a 68W charger working over the USB Power Delivery protocol. The device charged from 0 to 100% in just 40 minutes, while the first 30 minutes got 92% of the juice back. Excellent results.
30min charging test (from 0%)
Higher is better
OnePlus Nord 2T
99%
Motorola Edge 30 Ultra
95%
Motorola Edge 30 Neo
92%
Motorola Edge 30 Pro
85%
Motorola Edge 30 Fusion
82%
Realme 9 Pro+
77%
Poco X4 GT
75%
Samsung Galaxy A53 5G
45%
Google Pixel 6a
42%
Time to full charge (from 0%)
Lower is better
OnePlus Nord 2T
0:32h
Motorola Edge 30 Ultra
0:33h
Motorola Edge 30 Neo
0:40h
Realme 9 Pro+
0:49h
Motorola Edge 30 Fusion
0:52h
Motorola Edge 30 Pro
0:53h
Poco X4 GT
0:57h
Samsung Galaxy A53 5G
1:24h
Google Pixel 6a
1:51h
In addition to the fast wired charging, the Edge 30 Neo offers wireless charging as well. The wireless charging is rated at 5W, which isn'tvery fast, but bonus points to Motorola for including this feature, which is a rare sighting in this price bracket.
Speakers
The Edge 30 Neo features a set of stereo speakers in the usual configuration - a bottom-firing one and a loudspeaker on the top that also takes the role of an earpiece. To our surprise, this particular setup is quite balanced as there's minimal difference in loudness between the top and bottom speakers. Overall loudness is also good - we got -26.4 LUFS.
Sound quality is more than decent as well. The highs start to ring a little at higher volumes, but vocals are generally clean, and bass is slightly above average compared to smartphones with a similar setup.
Use the Playback controls to listen to the phone sample recordings (best use headphones). We measure the average loudness of the speakers in LUFS. A lower absolute value means a louder sound. A look at the frequency response chart will tell you how far off the ideal "0db" flat line is the reproduction of the bass, treble, and mid frequencies. You can add more phones to compare how they differ. The scores and ratings are not comparable with our older loudspeaker test. Learn more about how we test here.
Nutbuster
03 Oct 2023
6jh
It's ok, depends on how picky you are and what you're gonna use it for I guess. Photos taken with the stock camera app look fine, but with GCam I can't really tell much of a difference between 3a/Neo when looking at the photos directly...
and how about the camera. iam also a pixel 3a user.