Motorola Edge 40 Pro review
GSMArena Team, 06 April 2023.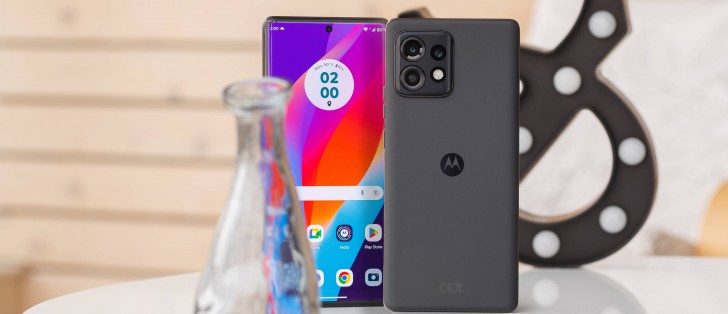 Extra smooth 6.67-inch OLED display
In typical Motorola fashion, the display of the Edge 40 Pro is smoother than most - and this time around, even more so. It supports a refresh rate of up to 165Hz, up from the 144Hz of previous high-end Motos and higher than what's become the de-facto standard 120Hz. Outside of this Moto and its Chinese alter ego, 165Hz is only available on a handful of phones, all of them gaming-centric.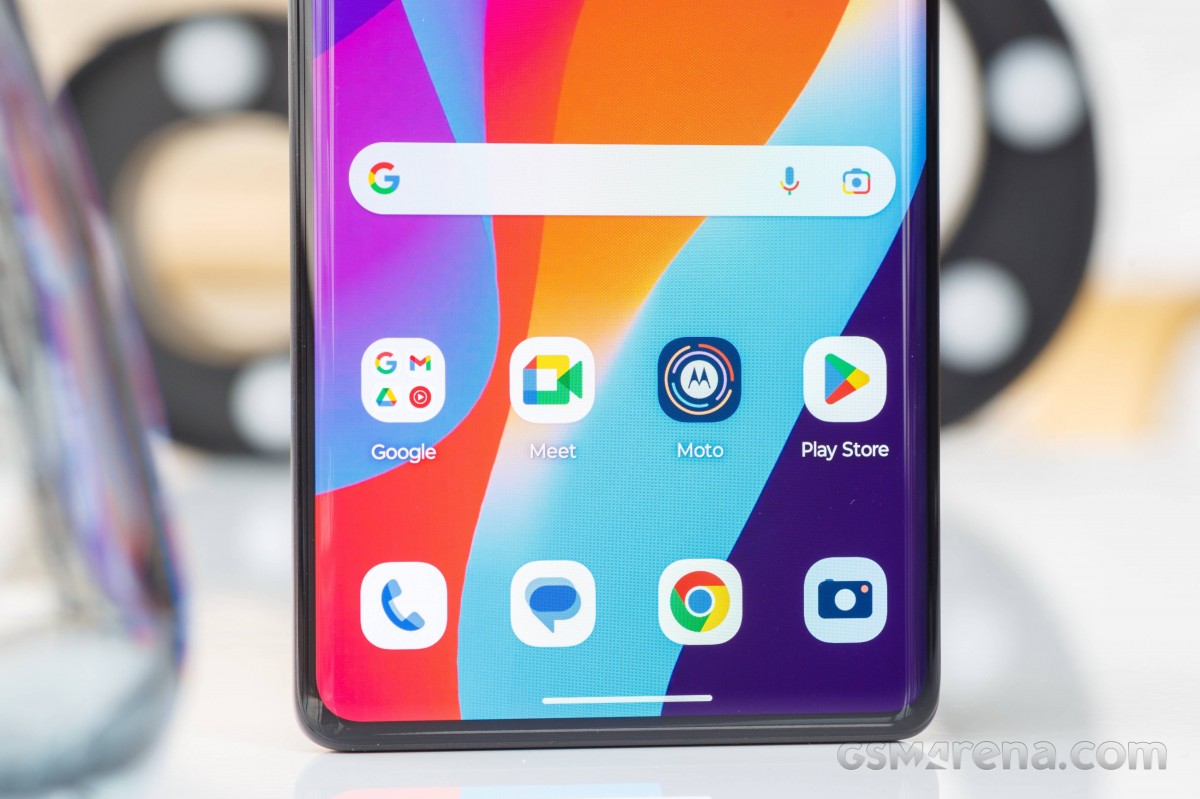 Other than the refresh rate (and, well, the rounded edges), the display is a reasonably ordinary 6.67-inch OLED with a 1080x2400px resolution in a 20:9 aspect ratio with a 394ppi pixel density. It does support HDR10+ and Dolby Vision.
Motorola makes no wild brightness claims in the Edge 40 Pro's promo materials, but the phone doesn't disappoint. We measured 1050nits in Adaptive brightness mode with the phone under bright light, almost twice the regular 516nits attainable manually. These are very similar numbers to the ones we got from the Edge 30 Ultra and a significant upgrade over the 30 Pro's performance.
The Moto is a match for the Pixel 7 Pro's nits, both phones brighter than the OnePlus 11. Some potential competitors are capable of going into the 1200s, but they are pricier than the Edge 40 Pro. Not that 1000nits will leave you wanting, of course.
Max display brightness test
White test pattern, 75% fill (nits)
Sort by
Name
Manual mode
Auto mode
Xiaomi 13

1254

507

Honor Magic5 Pro

1227

761

Samsung Galaxy S23+

1205

471

iQOO 11

1174

488

Google Pixel 7 Pro

1090

588

Motorola Edge 40 Pro

1050

516

Motorola Edge 30 Ultra

1047

499

Motorola Edge 30 Fusion

946

516

OnePlus 11

767

487

Motorola Edge 30 Pro

685

485
Manual mode Auto mode
Color reproduction on the Motorola Edge 40 Pro is handled in a relatively straightforward way - you get two modes (the default Saturated and Natural) plus a seven-position temperature slider for simple adjustment. Saturated mode delivers a wide color gamut and overall very vivid colors, with only average accuracy for DCI-P3 targets and a noticeable blue tint to white and grays. Nudging the temperature slider one notch towards warm improves things somewhat, but further warm-ification makes things worse again. Natural mode, meanwhile, proved very accurate for displaying our sRGB test swatches.
The Edge 40 Pro's HDR10+ and Dolby Vision support does not materialize in Netflix, but we did get HDR streams from YouTube. Normally, we'd think it's a matter of time for Netflix to whitelist specific devices for the capability to appear, but the 40 Pro's documentation specifically says Amazon HDR playback and YouTube HDR playback, with no mention of Netflix, so it may not happen at all. You will be getting FullHD streams, at least.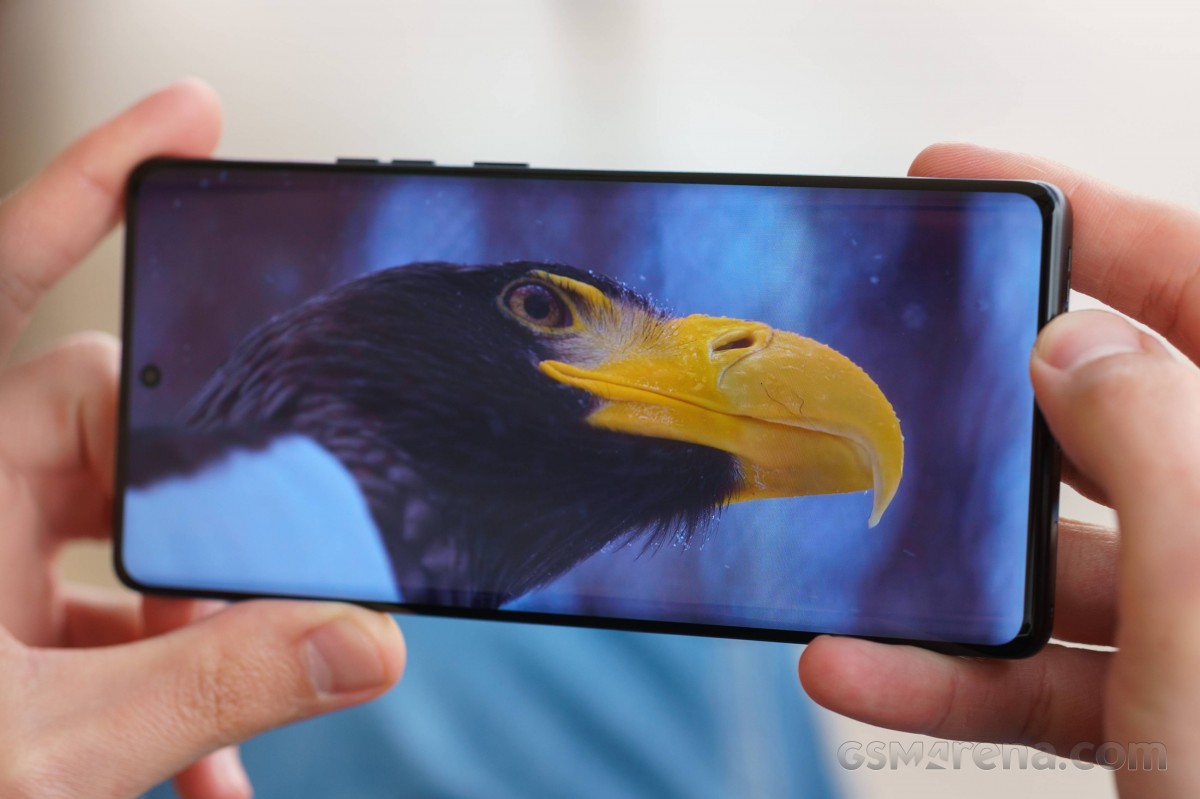 Motorola has always been pretty honest with its high-refresh rate implementation, and that's what we observed on the Edge 40 Pro. All three of the numerically labeled modes - 60Hz, 120Hz, and 165Hz, will maintain the respective refresh rate with little regard for what's being displayed (with small exceptions) or if you're interacting with the phone or not.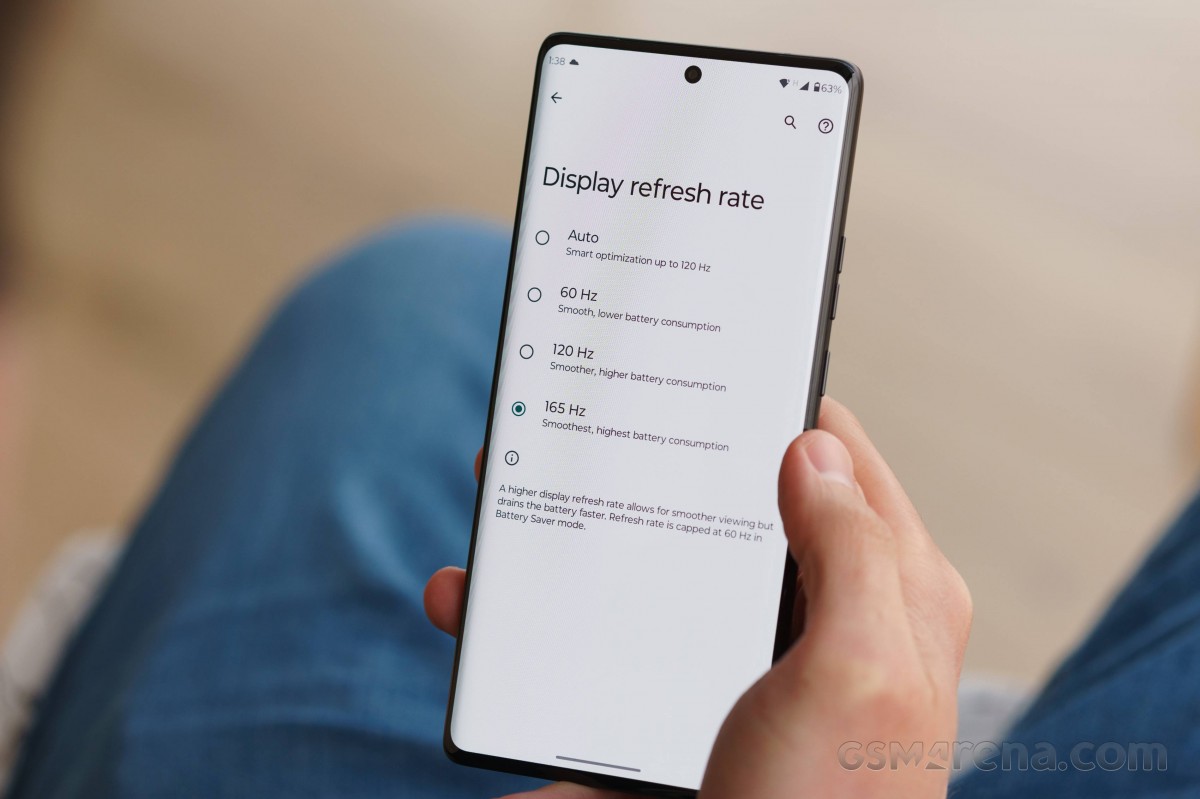 The Auto mode does introduce a more varied variable behavior, and it will do some switching based on apps and activity. It will also use 90Hz on occasion, in addition to 60Hz and 120Hz, but won't go as high as 165Hz, nor did we observe it using the 48Hz mode, which the phone reports to support.
Browsers will maintain 120Hz when you're scrolling or when there's moving content but will otherwise drop to 60Hz. Video playback apps will default to 60Hz when displaying fullscreen videos, though a 120-90-60Hz switch is implemented for the UI outside of fullscreen playback. Games that support high frame rates will be allowed the 120Hz ceiling in Auto (though 165Hz is also available, whether as a global setting or on a per-game basis).
Overall, despite the lack of 24Hz and apparent absence of 48Hz modes for video playback, the Edge 40 Pro has a functioning refresh rate implementation that doesn't get in the way, while also being more inclined to use higher settings in more use cases than a lot of competitors.
Motorola Edge 40 Pro battery life
For the Edge 40 Pro, Motorola opted for a 4,600mAh battery - that's 10mAh less than what the 30 Ultra's specsheet reads, and 200mAh lower than the 30 Pro's capacity. However, we've been led to believe the Snapdragon 8 Gen 2 is a bit of a miracle worker when it comes to power efficiency, so the Edge 40 Pro's battery capacity may actually be good enough.
Easily so, our testing proved. We clocked 25:24h of looping our test video and a little under 16h in Wi-Fi web browsing. That last number is particularly remarkable because it was achieved with the display set to 165Hz, and as we mentioned above, the phone maintains it constantly. The voice call result was also excellent, at 36:40h.
With all the numbers dialed into our formula, the Motorola Edge 40 Pro achieved an Endurance rating of 117h.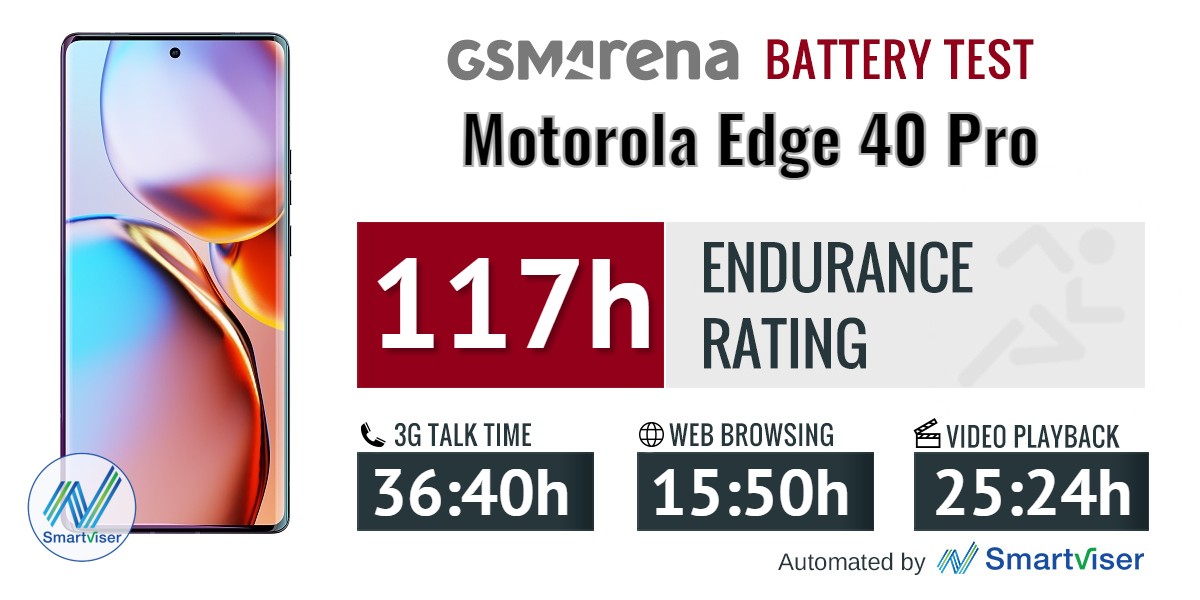 Our battery tests were automated thanks to SmartViser, using its viSerDevice app. The endurance rating denotes how long the battery charge will last you if you use the device for an hour of telephony, web browsing, and video playback daily. More details can be found here.
Video test carried out in 60Hz refresh rate mode. Web browsing test done at the display's highest refresh rate whenever possible. Refer to the respective reviews for specifics. To adjust the endurance rating formula to match your own usage - check out our all-time battery test results chart.
Our testing methodology states that we measure the web browsing longevity at the highest refresh rate we can possibly achieve, and for the Edge 40 Pro that is 165Hz. But you may not necessarily wish to keep your phone at 165Hz at all times and you could choose the Auto setting. While that give us 60Hz for video playback and consequently the same results for longevity in that task, web browsing stands to gain a few hours. We clocked an 18:56h result under that setting with the phone ramping up refresh rate to 120Hz for page loads and then dropping to 60Hz a second later. It's not an insignificant advantage for what isn't a hefty price to pay in terms of perceived smoothness.
Charging speed
Just like the Edge 30 Ultra, the 40 Pro supports 125W charging and comes with an adapter rated to match. It's a remarkably dense unit - relatively compact, yet pretty hefty at a little over 160g.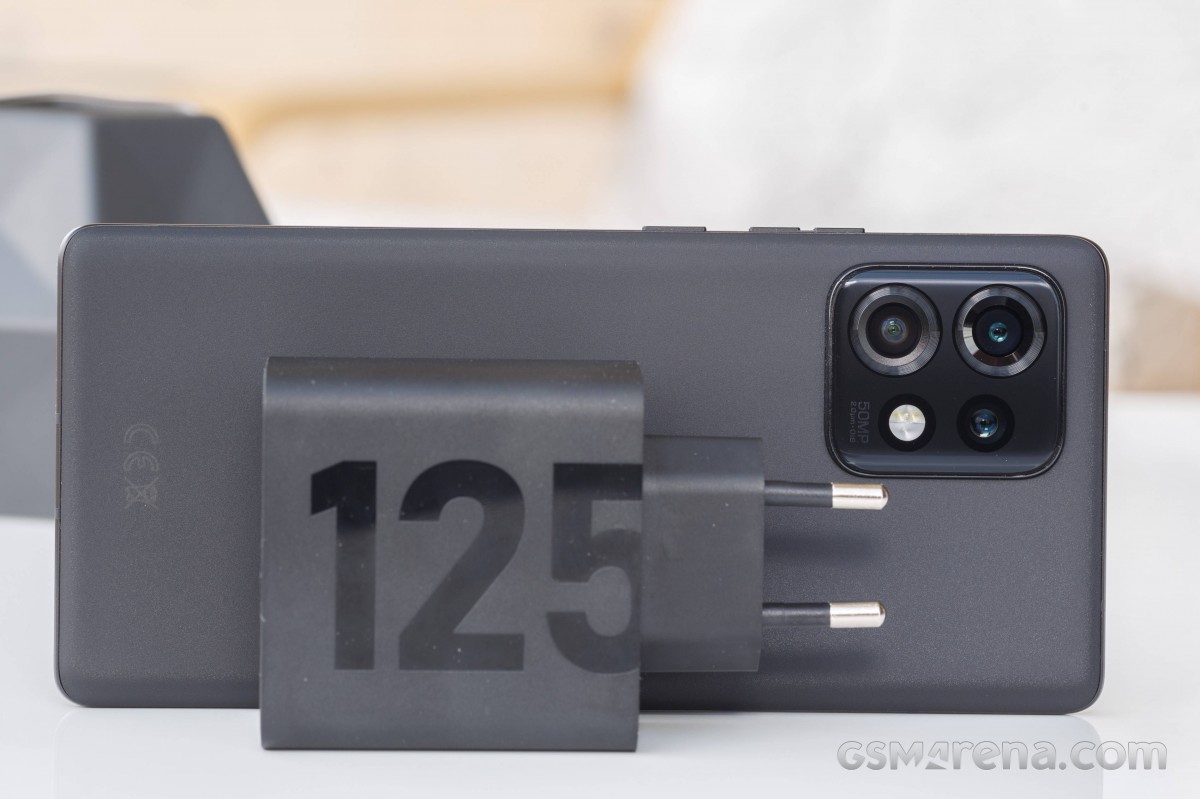 While the battery capacity is essentially the same, the Edge 40 Pro charges notably faster than the 30 Ultra. We clocked a full charge at 23 minutes, which is 10min faster than the old model. The first 5 minutes got us to 38%, while the battery indicator was showing 61% 10 minutes into the process. Pretty impressive numbers!
15min/30min charging test (from 0%)
Higher is better
Sort by
Name
15 min time
30 min time
Realme GT3

100%

100%

Motorola Edge 40 Pro

100%

83%

iQOO 11

100%

83%

Xiaomi 13 Pro

100%

81%

OnePlus 11

100%

77%

Motorola Edge 30 Ultra

95%

N/A

Xiaomi 13

83%

48%

Motorola Edge 30 Fusion

82%

N/A

Samsung Galaxy S23+ (25W)

58%

29%

Google Pixel 7 Pro

46%

24%
* Tap/hover over the device names for more info
% charge in 15 minutes % charge in 30 minutes
Time to full charge (from 0%)
Lower is better
| | |
| --- | --- |
| Realme GT3 | 0:11h |
| OnePlus 11 | 0:22h |
| iQOO 11 | 0:22h |
| Xiaomi 13 Pro | 0:22h |
| Motorola Edge 40 Pro | 0:23h |
| Motorola Edge 30 Ultra | 0:33h |
| Xiaomi 13 | 0:42h |
| Motorola Edge 30 Fusion | 0:52h |
| Samsung Galaxy S23+ (25W) | 1:06h |
| Google Pixel 7 Pro | 1:49h |
* Tap/hover over the device names for more info
The Edge 40 Pro can also be charged wirelessly. Unlike the Edge 30 Ultra, which was listed to support up to 50W (with proprietary pads), the Edge 40 Pro only claims it can take up to 15W. There doesn't appear to be a certification listing for the phone on the WPC website, but its Chinese alter ego is certified to comply with the Extended Power Profile for a maximum of 15 watts - so it all checks out.
Additionally, you can charge other devices off of the Edge 40 Pro's back thanks to reverse wireless charging - at up to 5W.
Speaker test
The Edge 40 Pro has the classic hybrid stereo speaker setup where the earpiece also works as an extra channel. It's assigned the left channel when in portrait and the phone switches channels in landscape depending on the orientation - Motorola even makes a mention of this otherwise most logical behavior in the sound settings. Each speaker gets its own channel only - there's no outsourcing of some (lower) frequencies from the earpiece to the 'main' speaker on the bottom.
That top speaker outputs sound both upwards and towards the front, so you may be getting a bit more directionality out of it. Conversely, it means that some of your voice calls will spill into the open.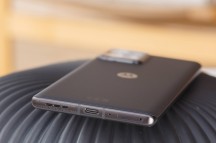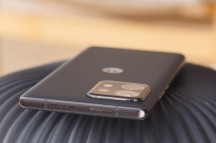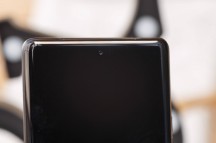 Bottom speaker • Top speaker • Earpiece
The Edge 40 Pro earned an 'Excellent' rating for loudness in our test, outscoring the 'Very Good' Edge 30 Ultra, which was just a little short of ranking in the higher tier.
The actual sound quality is more of a so-so affair. The output is mid-forward and a bit bathroom-y, but vocals do sound nice and prominent. It wouldn't be our top choice for music, but videos and TV shows should sound good enough.
Use the Playback controls to listen to the phone sample recordings (best use headphones). We measure the average loudness of the speakers in LUFS. A lower absolute value means a louder sound. A look at the frequency response chart will tell you how far off the ideal "0db" flat line is the reproduction of the bass, treble, and mid frequencies. You can add more phones to compare how they differ. The scores and ratings are not comparable with our older loudspeaker test. Learn more about how we test here.
Anonymous
20 Oct 2023
fwW
how does this compare to the xiaomi 13t pro
UPPU RAJU
15 Oct 2023
YQ8
Moto edge 40pro wts processer snapdragon or mtk
The curved class is nice to hold. There is an issue though. So far I have had 2 cases and am on my 3rd protective screen. There seems to be an issue with glass adhesive, apparently only on the curved edges, and the case mounting where the case is act...