Motorola Moto G10 Power hands-on review
GSMArena Team, 13 April 2021.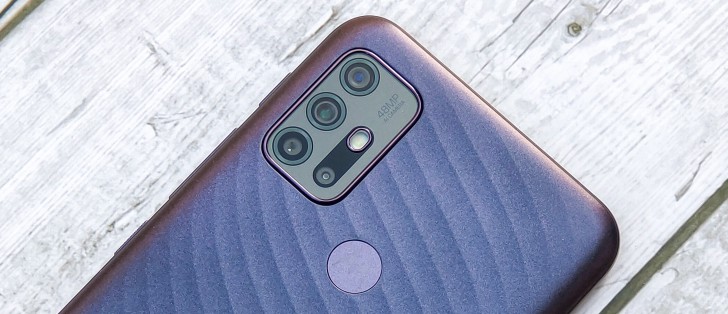 Design and build
The Moto G10 Power is hefty and compact at the same time. The 6.5-inch display makes it small enough for rather comfortable one-handed use, but the handset's heft takes away some bonus points. The 6,000 mAh battery is to blame here, tipping the scale at 220g. That's a lot of phone for a 6.5-inch diagonal, and you start to feel the weight over time.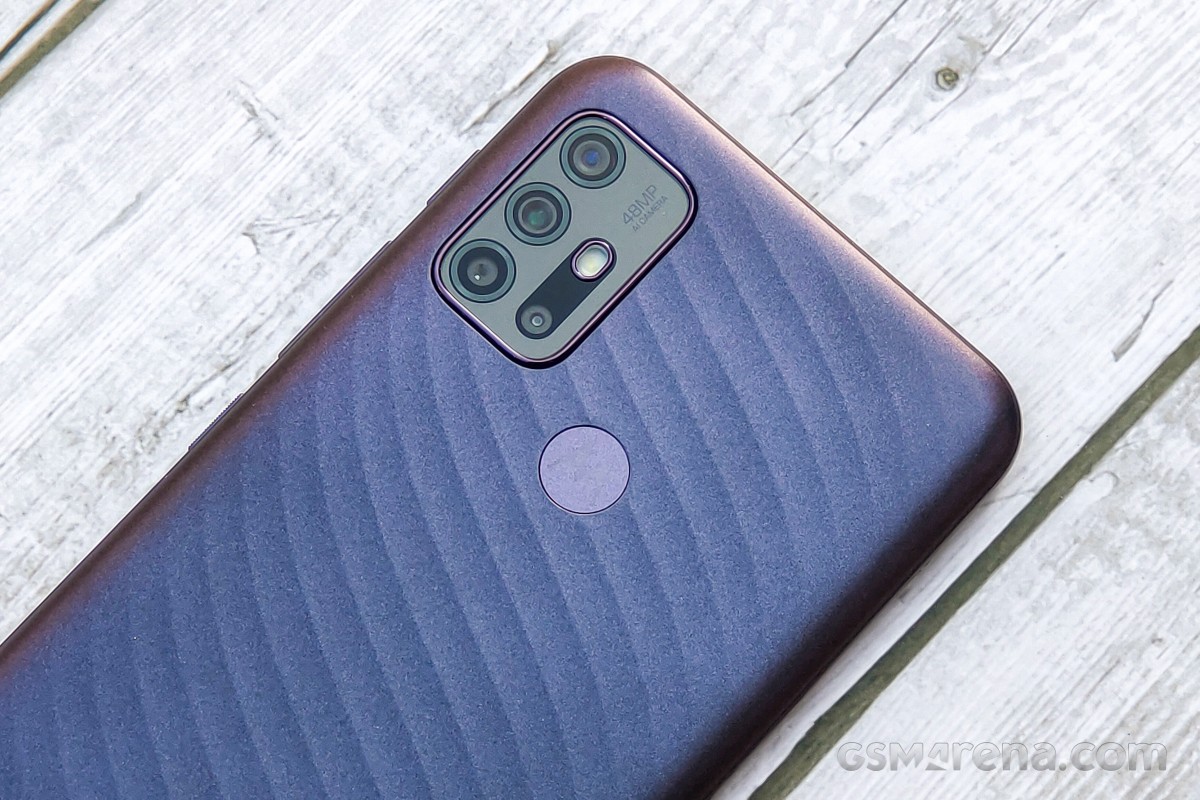 Needless to say - the chassis is entirely made of plastic, except for the screen, of course, and the back panel adopts that curly wave pattern that we saw with the Moto G30. It makes up for a nice feel, and it's nice to touch. The camera bump doesn't protrude as much, mostly because the phone's body is about 9.9mm thick, so there's not much headroom for the camera island. However, since it's not centered, it does wobble on a flat surface.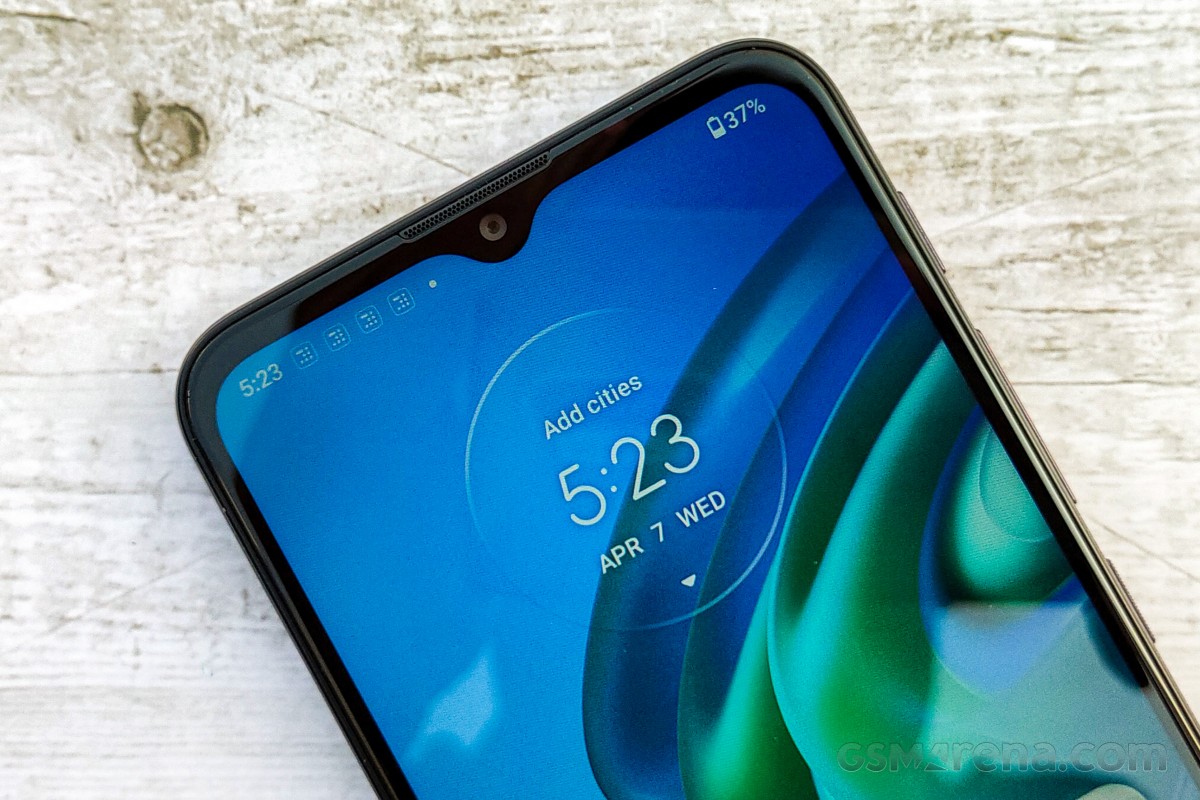 The buttons on the sides feel solid and provide rather clicky feedback, which is positive.
The fingerprint reader feels accurate and fast, but the actual unlocking takes some time. We suspect that the low-powered Snapdragon 460 is the culprit here.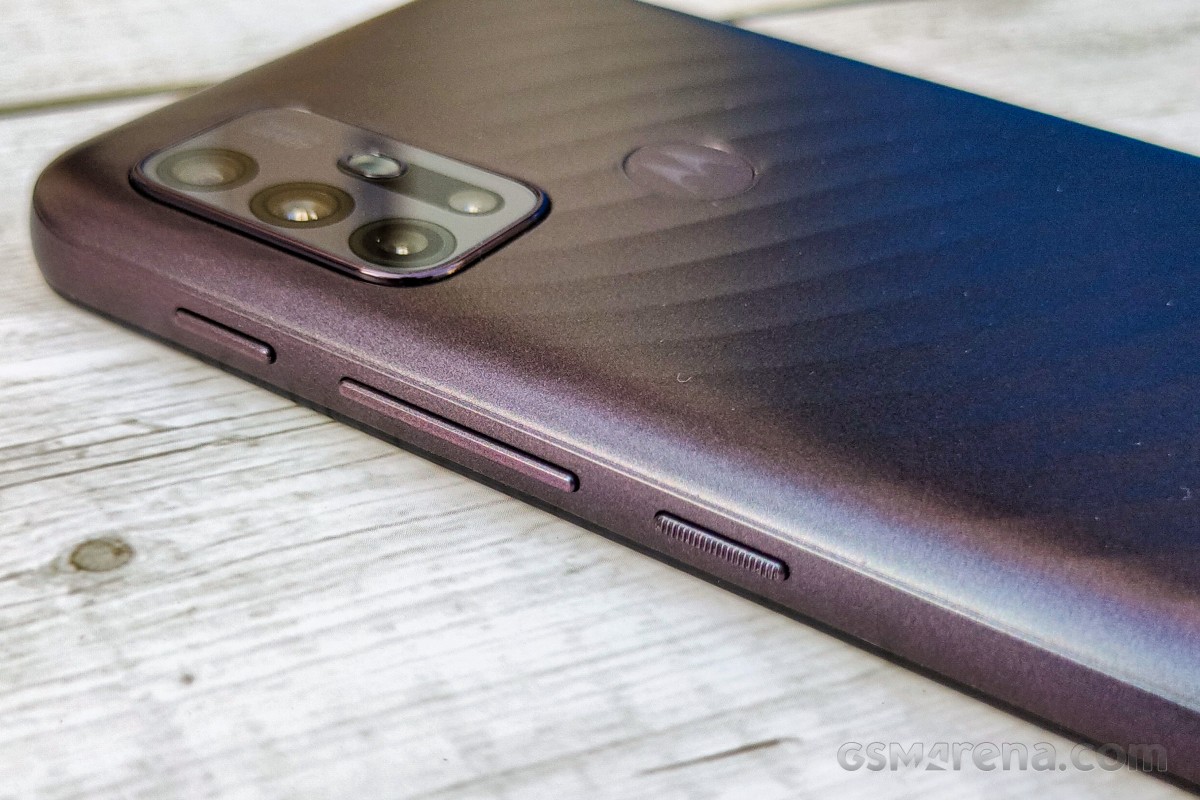 Motorola has already moved to punch-hole cutouts for the selfie cam on its higher models, but the notches are still prevalent at the entry-level. The waterdrop-styled cutout here is small and doesn't really get in the way too much.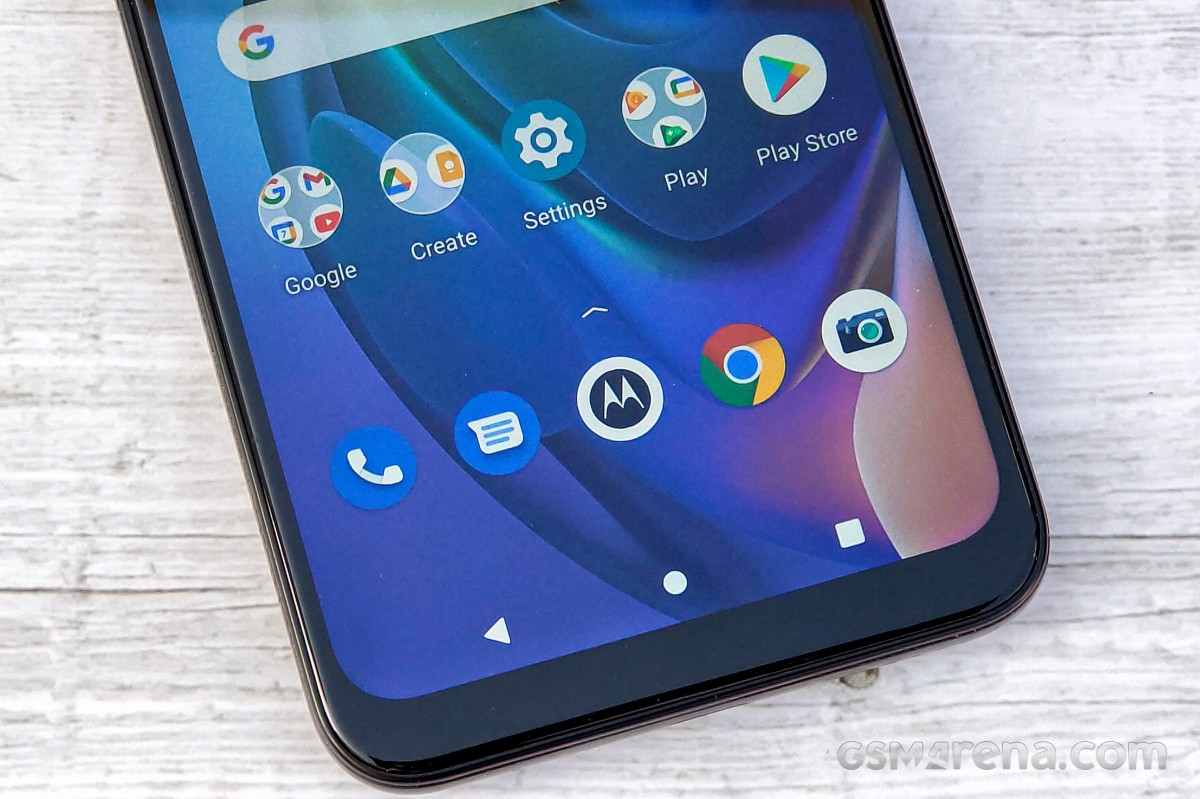 The bezels around the screen, as you'd probably guess, are not razor-thin but seem to be on par with the course, with the side ones a bit slimmer than the others.
Hardware overview
The G10 Power employs a Snapdragon 460 instead of Snapdragon 662 on the previous model and is paired with 4GB/64GB memory configuration instead of the 4GB/128GB setup. Since the new chipset draws less power, the G10 Power might beat the G9 Power in an endurance test stand-off as they both boast the same 6,000 mAh battery. Also, the G10 Power's display is smaller.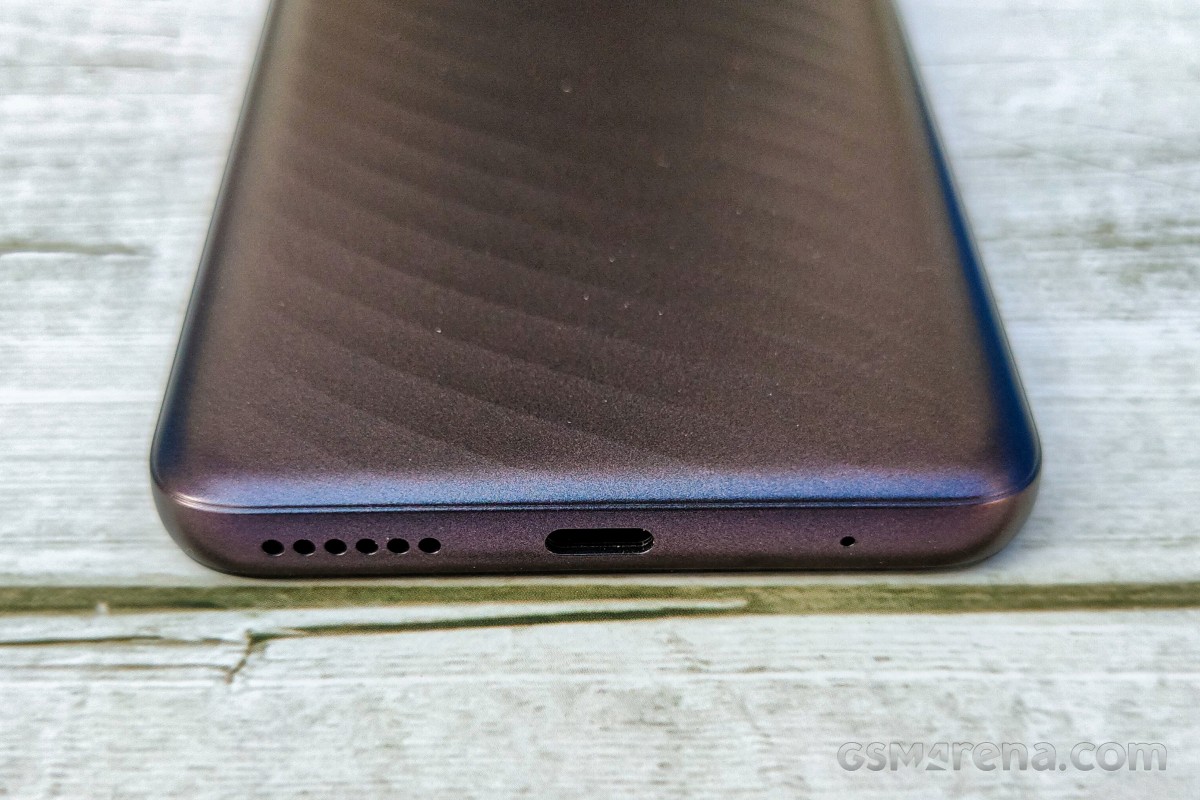 The screen has gone down from 6.8" to 6.5", which would ultimately benefit power consumption. The resolution, however, hasn't changed as much - 720 x 1600px at a 20:9 aspect ratio. It does seem to have Widevine L1 clearance for 1080p playback in the Netflix and Amazon Prime video apps, but that wouldn't matter since the display can't go up to that resolution anyway. When it comes to brightness, we found that it can provide good visibility outdoors for reading text.
The camera system adds an 8MP ultrawide snapper with 118-degree field of view and f/2.2 aperture and swaps the 64MP main camera for a 48MP unit, which has a fairly wide f/1.7 aperture. The same 2MP macro and 2MP depth sensors are at hand, although the macro unit is missing the autofocus feature. An 8MP camera takes the 16MP shooter's place on the front where the notch is.
Sadly, there's no NFC, but that won't be an issue for the Indian market where this phone is mostly aimed at.
The Moto G10 Power has clearly gone through some hardware downgrades compared to the Moto G9 Power. However, its launch price is lower to account for that, and the choice of the new hardware can potentially allow the 6000mAh battery to deliver even longer runtimes.
Performance
We ran the usual set of tests to see if the SoC performs as intended, and it does. But aside from the synthetic benchmarks, our overall impression is that the OS runs well with the current SoC, and we didn't notice any major slowdowns or hiccups. It's absolutely capable of carrying out your day-to-day usage but don't expect gaming to be smooth on this one. It just doesn't have the horsepower.
GeekBench 5 (multi-core)
Higher is better
Xiaomi Redmi 9T
1400
Motorola Moto G30
1265
Motorola Moto G10 Power
1144
Motorola Moto G10
1139
Samsung Galaxy A02s
495
GeekBench 5 (single-core)
Higher is better
Xiaomi Redmi 9T
307
Motorola Moto G30
306
Motorola Moto G10 Power
247
Motorola Moto G10
247
Samsung Galaxy A02s
131
GFX Manhattan ES 3.0 (offscreen 1080p)
Higher is better
Motorola Moto G30
20
Xiaomi Redmi 9T
19
Motorola Moto G10 Power
15
Motorola Moto G10
14
Samsung Galaxy A02s
9.3
GFX Manhattan ES 3.0 (onscreen)
Higher is better
Motorola Moto G30
34
Motorola Moto G10 Power
25
Motorola Moto G10
25
Xiaomi Redmi 9T
17
Samsung Galaxy A02s
16
3DMark SSE Vulkan 1.0 (offscreen 1440p)
Higher is better
Motorola Moto G30
1142
Xiaomi Redmi 9T
1107
Motorola Moto G10 Power
819
Motorola Moto G10
818
Samsung Galaxy A02s
489
I would happily take lesser specs, at least i don't get ads RAMMED in system apps and OS/FIRMWARE like the competitors, AND it is cheaper then other 6k mah phones.