Motorola Moto G30 review
GSMArena Team, 16 March 2021.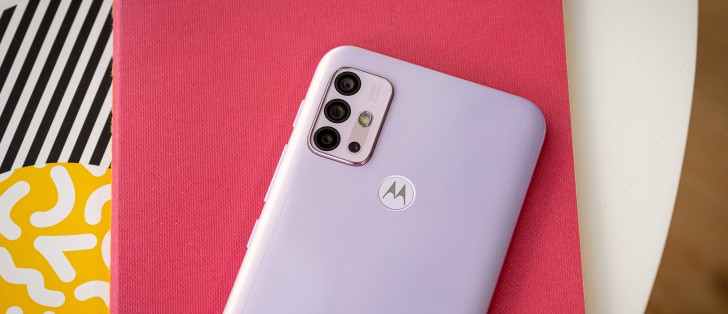 The Moto G30's LCD is low-res but high refresh rate
The Moto G30 is equipped with a 6.5-inch LCD with a modest 720x1600px resolution, and its pixel density works out to 270ppi - standard-issue numbers for the budget. The one number that stands out a little is the refresh rate - the G30's display supports up to 90Hz, and that makes it one of few devices in the company's lineup to go above 60Hz, plus it's also the cheapest of them.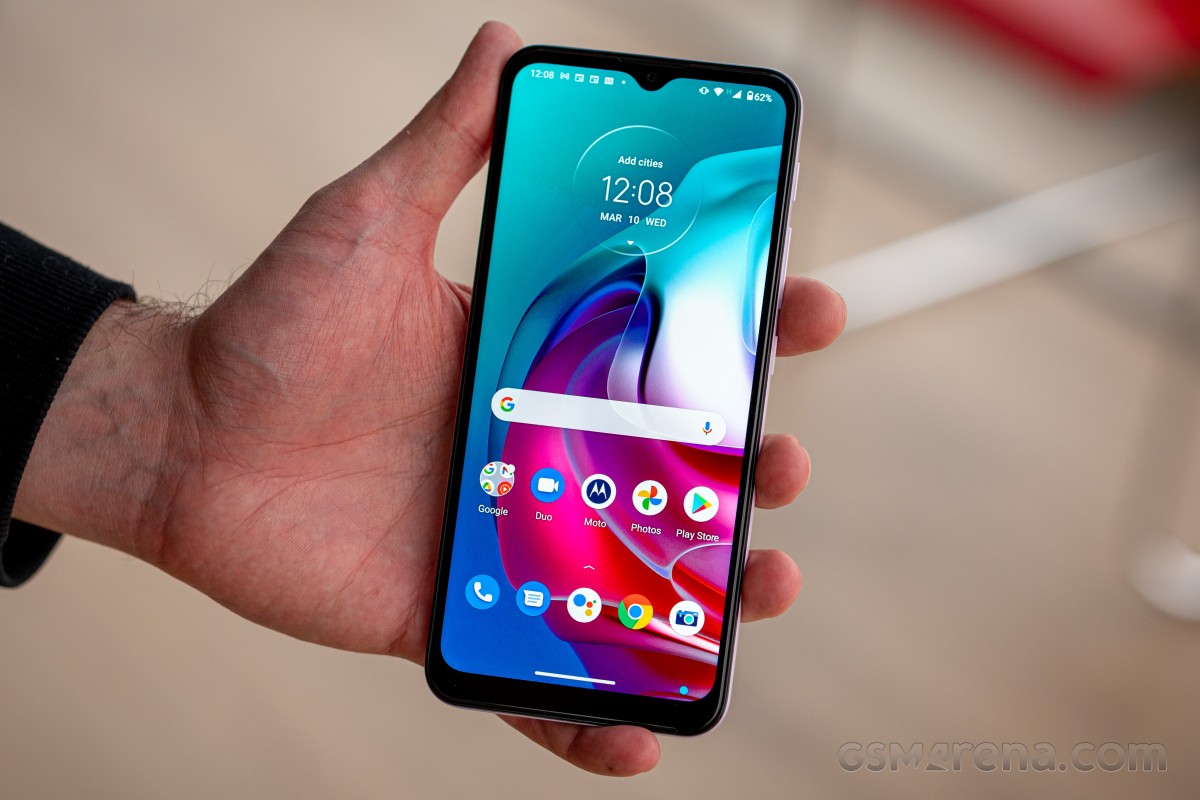 But before we get to how it goes about handling the refresh rate, let's get brightness and contrast out of the way. The Moto G30 posted a fairly unremarkable 403nits with adaptive brightness disabled, which got a little boost to 468nits with the feature turned on and the phone placed under direct light. That is, however, the ballpark of the results in the segment, with only the Poco X3 shining notably brighter.
What the Moto G30 is great at, on the other hand, is contrast - thanks to its deep blacks, the Moto G30 scores almost 2000:1 for contrast, higher than any non-OLED competitor. In fact, the lesser Moto G10 has excellent contrast too, even if it's slightly lower than the G30's.
Display test
100% brightness
Black,cd/m2
White,cd/m2
Contrast ratio
Motorola Moto G30
0.204
403
1975:1
Motorola Moto G30 (Max Auto)
0.241
468
1942:1
Motorola Moto G10
0.197
370
1878:1
Realme 7
0.31
457
1474:1
Realme 7 (Max Auto)
0.374
526
1406:1
Poco M3
0.252
395
1567:1
Poco M3 (Max Auto)
0.277
439
1585:1
Moto G9 Power
0.259
435
1680:1
Moto G9 Power (Max Auto)
0.325
521
1603:1
Motorola Moto G 5G
0.341
484
1419:1
Xiaomi Redmi Note 9T
0.337
413
1226:1
Xiaomi Redmi Note 9T (Max Auto)
0.412
471
1143:1
Samsung Galaxy A12
0.292
398
1363:1
Samsung Galaxy A12 (Max Auto)
0.349
472
1352:1
Xiaomi Redmi 9T
0.239
381
1594:1
Xiaomi Redmi 9T (Max Auto)
0.32
437
1366:1
Xiaomi Poco X3 NFC
0.354
460
1299:1
Xiaomi Poco X3 NFC (Max Auto)
0.515
631
1225:1
As in many other areas, the Moto G30 adopts the AOSP approach to dealing with colors, with Natural, Boosted and Saturated modes at your disposal, Saturated being the default one. It's lacking wide color gamut coverage, so you can't expect faithful reproduction of DCI-P3 content, but Natural mode does get very close to accurate rendition of our sRGB test swatches. Still, we'd prefer the more vivid Saturated preset, despite its relatively cold white point.
The Moto G30 has three modes in its refresh rate menu - 60Hz, 90Hz and Auto. The first one will have you locked in 60Hz for all tasks, and that's what we'd expect of it. In 90Hz mode, you'd be getting 90Hz for pretty much every task, including video playback - not optimal behavior in terms of battery life, but one that's at least honest.
If you do want to optimize battery usage, the Auto mode will try and help with that by adjusting the refresh rate down to 60Hz as soon as you stop interacting with the phone - so you'd be getting 90Hz when you touch the screen and scroll around, but it will drop to 60Hz once you stop touching the screen.
Now, while that battery optimization sounds plausible in principle, we've previously seen that running LCDs in 90Hz rarely has any significant detrimental effect on battery life. That was our experience with the Moto G30. Hence, we'd just keep it at 90Hz all the time.
Motorola Moto G30 battery life
The Moto G30 relies on a 5,000mAh battery to make it through the day. Make it through the day it does, and then some. We measured 16 full hours in each of our screen-on tests, with the display set to 90Hz (so, effectively, 90Hz in both web browsing and video playback, all the time). We re-ran the tests in 60Hz as well and got essentially the same numbers, within the margin of error.
The phone then continued its strong performance with a 46-hour result in voice calls and recorded minimal standby draw. Ultimately, the Moto G30 posted an endurance rating of 131 hours.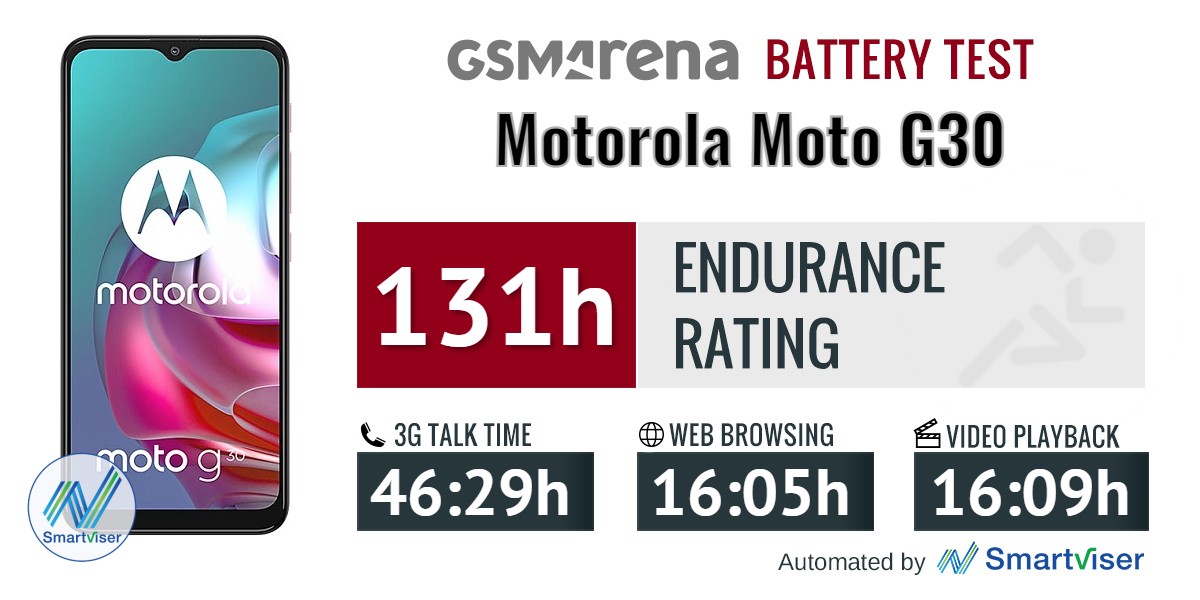 Our battery tests were automated thanks to SmartViser, using its viSerDevice app. The endurance rating denotes how long the battery charge will last you if you use the device for an hour of telephony, web browsing, and video playback daily. More details can be found here.
All test results shown are achieved under the highest screen refresh rate mode. You can adjust the endurance rating formula manually so it matches better your own usage in our all-time battery test results chart where you can also find all phones we've tested.
Charging speed
The Moto G30 ships with a 20W adapter that's rated at 5V/3A, 10V/2A, and 12V/1.67A. Our best efforts to find out what standard it supports indicate it is QuickCharge 3.0 compliant, mostly based on the SD662 chipset specification - in any case, the adapter's numbers are a bit unusual.
Regardless of standard, the Moto G30 charges from flat to full in two and a half hours. Starting from zero, you'd be looking at 32% half an hour into the process. These are hardly record-breaking numbers, but we'd call them acceptable for the class.
30min charging test (from 0%)
Realme 7
58%
Poco X3 NFC
55%
Honor 10X Lite
47%
Huawei P Smart 2021
42%
Motorola Moto G 5G
36%
Xiaomi Redmi Note 9T
33%
Motorola Moto G30
32%
Poco M3
25%
Xiaomi Redmi 9T
25%
Motorola Moto G10
22%
Motorola Moto G9 Power
20%
Samsung Galaxy A12
20%
Time to full charge (from 0%)
Realme 7
1:05h
Poco X3 NFC
1:15h
Huawei P Smart 2021
1:42h
Honor 10X Lite
1:47h
Xiaomi Redmi Note 9T
1:50h
Motorola Moto G 5G
2:11h
Motorola Moto G9 Power
2:19h
Motorola Moto G30
2:28h
Poco M3
2:30h
Xiaomi Redmi 9T
2:30h
Motorola Moto G10
3:00h
Samsung Galaxy A12
3:03h
Speaker test
Unsurprisingly, the Moto G30 has a single speaker firing out the bottom of the device - stereo setups don't typically inhabit this price bracket. On the other hand, there were a couple of Moto G8s (Plus and Power) that did have stereo speakers, and the Power was priced in the G30 ballpark. Oh, well.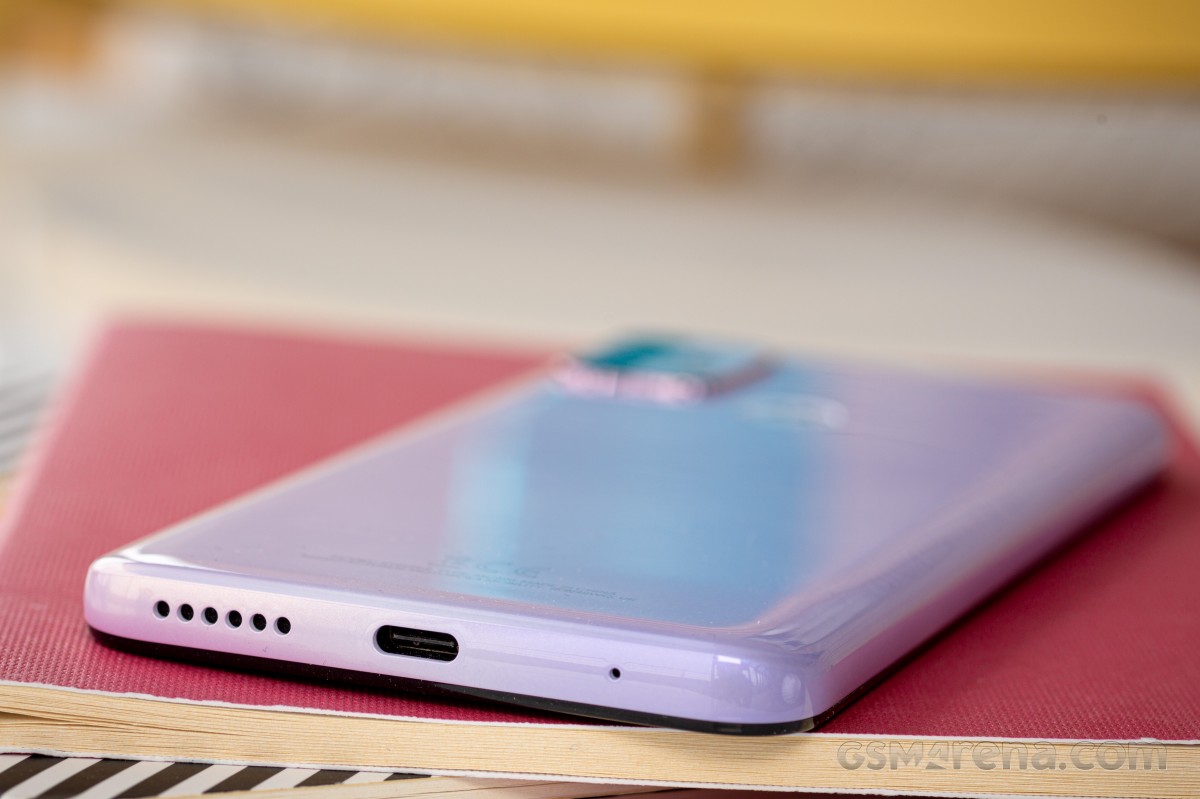 The Moto G30 scored an 'Average' rating for loudness in our loudspeaker test, same as the G10 we had for review. Oddly, the two do sound a little different, with the G30 being ever so slightly more likeable with its more colorful vocals and highs. Low-frequency response is about the same between the two. Mind you, a Realme 7 or a Poco X3 (NFC or otherwise) will be louder, with the Poco also offering stereo speakers.
Use the Playback controls to listen to the phone sample recordings (best use headphones). We measure the average loudness of the speakers in LUFS. A lower absolute value means a louder sound. A look at the frequency response chart will tell you how far off the ideal "0db" flat line is the reproduction of the bass, treble, and mid frequencies. You can add more phones to compare how they differ. The scores and ratings are not comparable with our older loudspeaker test. Learn more about how we test here.
Hey hope that you are enjoying your Moto G30-I have the same one as well as my secondary device-My dad has a Moto G32 and it's stereo speakers are just bonkers.Motorola has been releasing great devices lately-anyways so which one are you plannin...
Rahuljkrishna8
24 Dec 2022
u14
Mine is doing a great job as well😍Btw the newer Motorola phones are great as well-My dad has got the moto g32 and it's amazing.
Like are you guys serious ? The phone isn't even thick , you know what you should call thick ? The iPhones is very thick just so you know. And you can't ask for a thinner phone , what would it be then , a paper ? God !